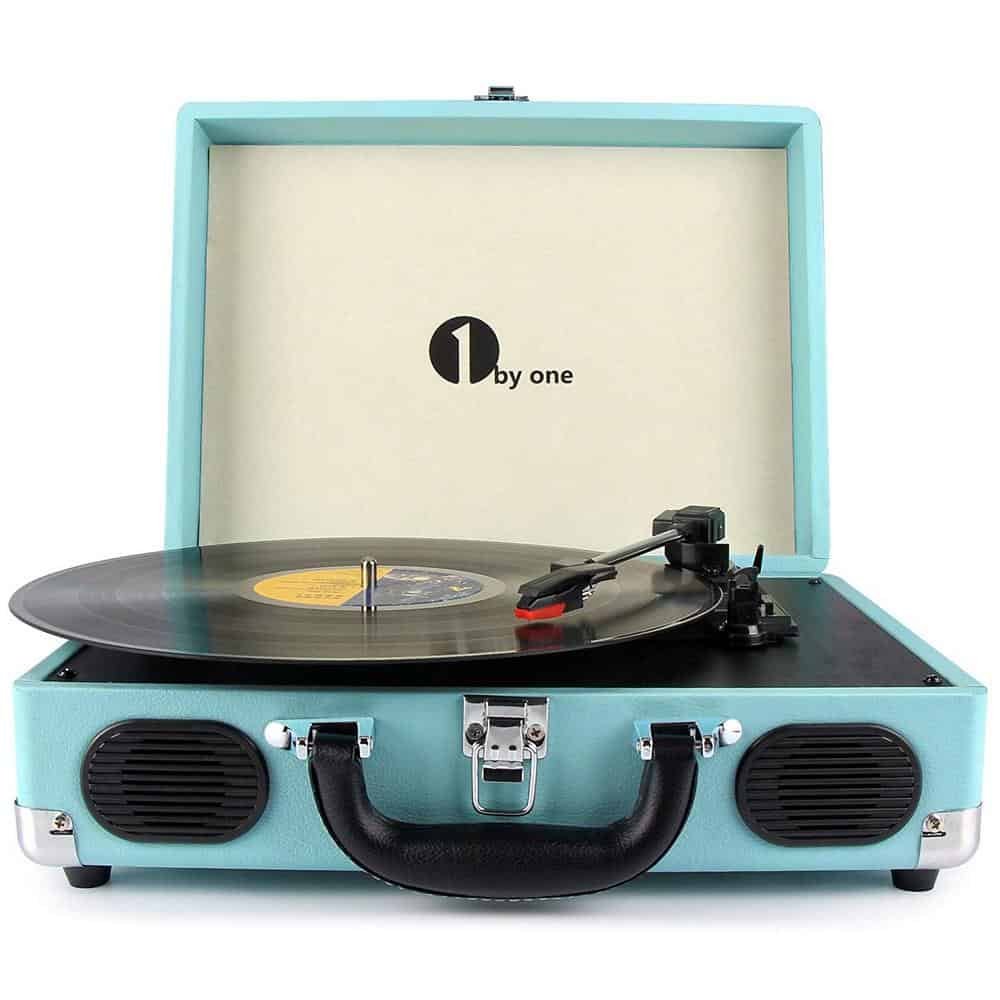 Suitcase style players are great.
They are lightweight and portable and allow you to enjoy your vinyl collection everywhere you go.
But they also have disadvantages.
And number one among them is sound quality. The internal speakers work well, but they just don't have the power that a set of real speakers has.
Does the 1byone 3 Speed Belt-Driven Portable Stereo Suitcase Record Player With Built-In Speakers suffer from this same problem?
It does.
While the speakers are better than most, they are not powerful enough to fill a room during a party, for example. Luckily, it has RCA outputs, so you can always hook it up to a set of great speakers.
Let's take a closer look and see where else this turntable excels and where it falls short.
1byone Suitcase Record Player: Overview and Features
1byone is a lesser-known brand that produces some of the best record players with speakers on the market in the budget category.
Their prices are reasonable, their product selection is better than average, and most of their models typically score high with users because they offer a variety of connection options and usually come loaded with some great components and extras.
This turntable is the total package and comes complete with built-in speakers. It not only offers a variety of playing options, but it also has that retro look that most audiophiles love.
Aside from the good looks, many people choose this style because it's highly portable. This model is a total reproduction of the suitcase turntables that were popular in the 1950s and 1960s.
The portable design makes it easy to bring your record collection with you when you're traveling or if you want to take your vinyl collection with you when visiting friends or family.
However, the portable design does take away from its durability. Luckily, the sturdy case does a great job of protecting the turntable during transport or storage. Overall, you'll find that the design will take you back to a better time when vinyl and radio ruled.
Speakers
The dual front-facing speakers provide great sound, despite their smaller size. If you're familiar with suitcase-style turntables, then the lower sound shouldn't come as much of a surprise.
If you're looking for louder sound you have the option of connecting external speakers to the turntable via the RCA output.
The models you'll find on that link are decent, but we always recommend some good floorstanding speakers. Nothing beats the best floor speakers for vinyl listening.
Speeds
You can choose from three speed settings including 33, 45, and 78 RPM. Most models will come with these three speed options. You'll rely on these settings based on the type of record you're playing. If you use the wrong speed when you're playing your vinyl, the music may sound too fast or too slow.
However, not all turntables are able to play 78 RPM records. Some systems will also require a special needle in order to be able to read the information from a record with that type of higher speed. Fortunately, this model is able to play all three speeds without the need for additional accessories.
Headphone Jack, RCA Output And Line In
The headphone jack, line-in, and the RCA output give you more ways to listen to music, increasing the turntable's versatility in terms of playing options.
Using the line-in, you can plug in external devices such as an MP3 player, smartphone, or any other type of compatible device. You can also use the RCA output to connect to external speakers if you need more sound.
Soft Damping Control
The tonearm features soft damping control, which basically means that the tonearm is equipped with a damper. This design helps to minimize the effects of surface warps on the cartridge and tonearm The damper is equipped with a low friction piston, which slides within the damper's housing.
While a tonearm with a damper can definitely allow you to get more use out of even damaged vinyl, it won't make much of a difference if you're dealing with severely warped records. However, it's a nice extra and one I didn't expect to find on a model in this price range.
Design
If you're in the market for a retro turntable, this model takes the cake. This classic style was all the rage decades ago, simply because it allowed the listener to take their favorite music with them, wherever they went.
While that idea doesn't mean much to us in modern times when we can use smartphones, tablets, and other smart devices to stream our digital music, back in the day, a portable turntable was unheard of. If you're an avid vinyl collector, the ability to take your turntable and your vinyl collection with you when you're on the go is still very appealing.
This model is housed in a durable, compact powder blue suitcase, complete with a carry handle and lid. You can close up the turntable, snap the lid shut, and head out with your favorite records, whether you're traveling abroad or just heading to a friend's house.
This model provides the ultimate portable design which can make it more convenient for you to listen to your vinyl collection when you're away from home.
How To Use Your New Turntable
While it has a basic setup and simple controls, if you've never owned a turntable before, then you may not know where to start or how to use some of its features, such as the automatic stop off and on feature.
Before use, make sure you check out the included instruction manual and carefully follow the setup instructions. When you're listening to vinyl, remember to open the tonearm clip in order to release it.
If you leave the auto stop off and on switch on, the vinyl will automatically stop playing after the last track. However, depending on the vinyl, it also may stop playing when it doesn't come to the end, or it may not stop after it's played the last track. If the auto stop control is shut off, the vinyl will continue to play.
When you're playing a forty-five RPM record, make sure you hook up the included adapter which is specifically designed for forty-five RPM vinyl. This adapter can be found in its own dedicated holder next to the tonearm.
This model is as basic as they come, so you should have no problem learning how to set the controls, change tracks, or swap out the vinyl. But if you're not familiar with the turntable's basic components such as the stylus, tonearm, and platter, then be sure to check out my article on how record players work.
1byone Suitcase Turntable Advantages and Disadvantages
Pros
Portable
Built-in speakers
Included 45 RPM adapter
Tonearm with soft damping control
RCA and aux connections
Cons
Does not offer Bluetooth connectivity
Speakers are very quiet
Performance
If you're familiar with suitcase turntables, then you're aware that most of them don't exactly allow you to blast your music. The volume just isn't loud enough, but this is often the tradeoff when you buy a portable model with built-in speakers.
You can use the RCA connection and hook up a set of external speakers, or plug in your headphones for louder sound.
Essentially, this model is everything you'd expect it to be.
It offers some nice extras such as the tonearm with soft damping control, a free 45 RPM adapter, and the ability to hook up external devices including speakers, tablets, and smartphones.
The biggest drawback I found was the lack of Bluetooth connectivity, which you can commonly find on reproductions of vintage turntables. For some reason, the manufacturer left this feature out, which may be a drawback if you're looking for a model that can do it all.
In terms of design, the record player is lightweight, but still has some nice heft to it. Like a traditional suitcase turntable, you can easily pack it up and head out, so it's perfect for vacations, road trips, or if you just enjoy taking your music collection with you, wherever you go.
The 1byone Belt Driven 3 Speed Portable Stereo Turntable With Built in Speakers sells for a good price. That said, considering there are lower priced turntables on the market that come with more features, the lack of Bluetooth connectivity seems to be a major oversight.
Comparison To The Competition
The Wockoder Portable Wireless LP Belt-Drive 3-Speed Turntable with Built in Stereo Speakers is available at a comparable price and offers many of the same features as this model, including three-speed options, a headphone jack, and RCA output.
Unlike the 1byone model, the Wockoder record player offers wireless connectivity, which is a huge selling point for any potential buyer.
It's not as portable as the 1byone suitcase model, but it's lightweight and also includes two built-in speakers. Its vintage design and wooden base give it a type of vintage look that would be complimentary for any type of existing setup.
Between the two, it is really a matter of choosing between portability and a model you'll use at home. Of course, the wireless connectivity can also have a major impact in terms of choosing the turntable that will work the best for you and your audio needs.
1byone Portable Turntable With Speakers Review: Conclusion And Rating
This three-speed turntable by 1byone is pretty basic in terms of features. It lacks Bluetooth connectivity, which may be a deal-breaker for the buyer looking for an all in one model, but it offers all of the same connection options and playability modes that most models in this price bracket do. This ones good, but there are better portable record players out there.
Beginner-friendly, portable, and offering better than average sound compared to other suitcase turntables, I gave this model a Top Record Players rating of 4 out of 5.