Crosley is famous for making some of the cheapest turntables on the market.
Unfortunately, they are also famous for low quality.
But not all of their record players are bad.
The Crosley Rochester reviewed here is actually quite good, considering what you pay for it.
Crosley Rochester 5-in-1 Entertainment Center
Pros:
Versatile unit that eliminates the need for 4 other devices

Plays all three record speeds

Can pair it with other Bluetooth devices

Belt drive turntable

Vintage retro design and style that looks like it was yanked out of a museum and dusted off

Digital readout for your CD track and other functions

Easy to use with clear simple controls for every function
Cons:
Because it is an all-in-one unit, it has more self-noise and it is not the best sounding record player
View On Amazon
We earn a commission if you make a purchase, at no additional cost to you.
It looks stunning with it's all-wood retro-styled vibe, and it plays just about any media format you might have.
But naturally, it will never sound as good as a high quality record player.
You can't expect that at this price. But it does deliver far more than you would expect for what you pay.
Read the rest of this Crosley Rochester to find to exactly what you get for your money with this record player.
Crosley Rochester Review: Overview And Features
The Crosley Rochester is a 5 in 1 entertainment system, not just a record player.
It aims to duplicate the look of the old-timey record players that used to weigh 300 pounds and sit in the living room before there were televisions or the internet.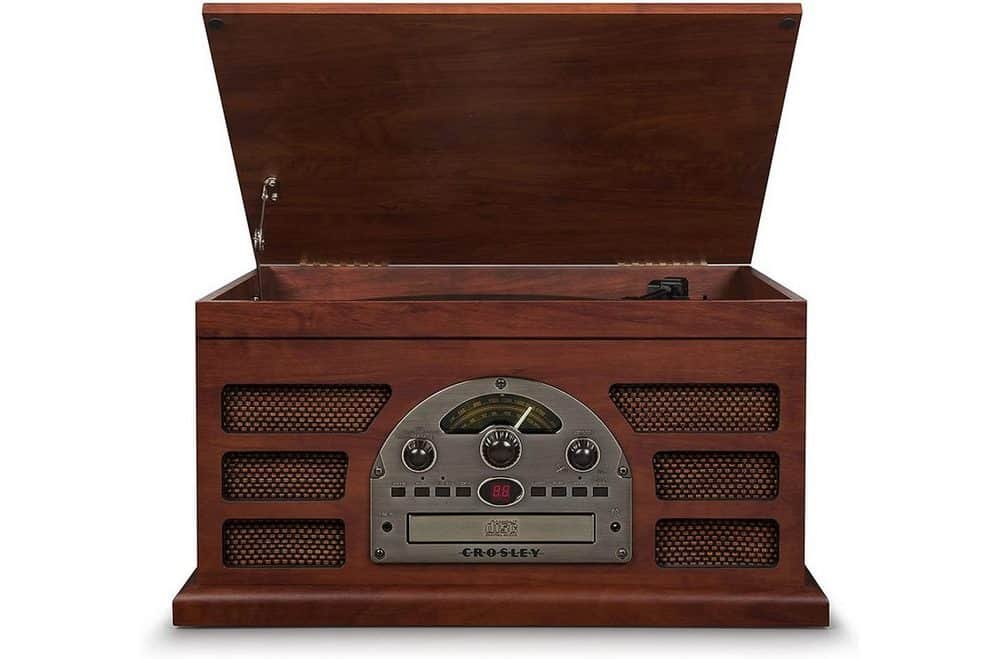 It has the early 1950s look to it on the face, with the round dials and needle-style tuning indicator. They certainly did a good job capturing that vintage vibe with the design. But what does the thing do?
What It Does
Think of Rochester like your old all-in-one entertainment system that you had back in the day. Remember those in the early 90s? (Wow I guess I sound old.)
If not, they were one large unit that appeared to be several components all stacked on each other, but it was just one housing in one piece of plastic. That is exactly what this thing is. But it looks much cooler.
It will play cassettes, vinyl records, CDs, and it has an FM antenna for listening to the radio too. If you are counting, that is only 4 functions, so why do they call it a five in one?
Well, it also accepts input from external devices like your phone or something similar. Finally, it has Bluetooth capabilities (to me, that makes it a six in one).
Key Features
Belt-drive turntable motor
Plays 33 1/3, 45, and 78 RPM

Diamond stylus needle

Beautiful retro design
Plays CDs, cassettes and FM radio
Bluetooth capable

Auxiliary input, to plug in your portable audio device or MP3 player
Portable Audio Ready
It will let you plug in the output of your phone, or an external CD player, or the audio output of your TV, and function as an entertainment system. Only it looks cooler than most entertainment systems.
Belt Drive
The turntable part of this thing is belt-driven. Belt-driven record players are the preferred format for audio snobs since they are quieter, so Rochester has that going for it.
3 Speed Play
It will play 33, 45, and 78 RPM records, which are crazy because there are not many people out there that still have 78s that are not shattered to bits or scratched to infinity.
Plays Multiple Media Formats
It will play CDs, cassette tapes, records, and your portable media device, while still having the option to turn on the radio. Do kids still listen to the radio anymore?
Good Stock Needle
Comes equipped with a diamond stylus needle which is a nice bonus. It is never sound like a $500 audiophile cartridge, but for what you are paying, it is a good needle.
Interesting Vintage Look
They went all out and built this out of real wood. This detail goes a long way to make the Rochester look sexy. It looks and feels like a relic of a not-so-forgotten age.
Heavy Duty
It weighs almost 18 pounds. That is a lot of mass for a portable unit. It will stay put wherever you place it and is wood so the corners should not chip or break easily.
Crosley could have easily made this out of plastic with a fake wood veneer, but they opted to use real wood. That tells you they are shooting for good quality here.
Pros
It is a versatile unit that eliminates the need for 4 other devices
It will play any record no matter which speed it is supposed to be played at
It is Bluetooth enabled which opens the possibilities to pair it with other Bluetooth devices
Uses a belt drive for the turntable, which sounds better than direct drive, especially on portable or all-in-one type units like this one that has more internal noise
Excellent vintage retro design and style; it looks like it was yanked out of a museum and dusted off
Digital readout for your CD track and other functions
Easy to use with clear simple controls for every function
Cons
Because it is an all-in-one unit, it has more self-noise and it is not the best sounding record player
Victrola Navigator 8-in-1 Stereo System
Pros:
Can play 78, 33 1/3, and 45 RPM

Built-in Bluetooth

Plays cassettes, CDs and FM radio

Streams digital music

Solid construction

Impressive sound balance
Cons:
The remote control doesn't have a power button so you must switch off the record player manually

Because the arm on the turntable is very light it can skip tracks at times
View On Amazon
Our Review
We earn a commission if you make a purchase, at no additional cost to you.
08/19/2022 12:01 am GMT
The Crosley Rochester and the Victrola Navigator are two units that occupy the same market slot, but they are not the same units. There are some important differences and similarities to be aware of before you make a buying choice.
Similarities
Both units are retro vintage styled all in one entertainment systems with record players
They will both play cassette tapes
Both will play vinyl records
Both have FM tuners
Both have Bluetooth connectivity
Both have built-in speakers
Differences
The Victrola has more features and is just slightly lighter at one pound less than the Crosley; there are many more differences than this, though.
Victrola has a USB jack; Crosley does not have this feature.
The Victrola comes with software allowing you to rip your records to PC or Mac; the Rochester does not offer this.
The Victrola Navigator comes with remote control, while the Crosley does not.
The Victrola has more CD play options than the Crosley does; you can program your CD playback with the Victrola, while the Crosley cannot do that.
Which Is Better?
If I had to choose between these two units, I am choosing the Victrola. It has more features and a few key features that make it a much more versatile choice.
The ability to rip your records to PC (and the software too) is a big benefit of going with the Victrola.
Of course, it will cost you a bit more too. But pound for pound, dollar for dollar, the Victrola would win in a head-to-head battle.
However, Crosley is the market leader for a reason. They found a way to make good quality gear for much less than the competition. The Crosley is extremely impressive for the price, but in a head-to-head, I pick the Victrola.
Read our full review of the Victrola Navigator for more.
Crosley CR66 Rochester Review: Conclusion And Rating
The Crosley Rochester 5-in-1 Entertainment Center is a versatile, affordable option with a stunning retro vintage look.
It will do just about anything you need to play your old media as well as your new media. It has a radio tuner for checking out the radio, and it is made of wood which gives it a classy vibe.
My only real complaint about this thing is that they do not include a remote control or have USB output to rip your records. If those features are not a big deal to you, you can't beat this for the money.
I give it a Top Record Players rating of 4.5 out of 5. The Victrola Navigator scored a 5, so I had to score this one slightly lower.