The Stanton T62 MKII Professional Direct-Drive DJ Turntable is a DJing specialist. Designed for DJs of all skill levels, it has all the tools and features a DJ could want.
Stanton T.62 MKII Professional Direct Drive DJ Turntable
Pros:
Easy-to-operate direct drive turntable for DJs of all skill levels

High-quality, durable materials

Great sound quality

Specialized turntable for DJs

Low price
Cons:
Great for DJs, but not the best choice to just play records

No Bluetooth connectivity or USB port

No headphone jack

Only plays vinyl (not MP3s, cassettes, CDs or radio)
View On Amazon
We earn a commission if you make a purchase, at no additional cost to you.
Naturally, this means that it is probably not the best choice for anyone who is not a DJ. If you want a turntable to play records, there's no point in paying for features that are mainly useful for DJing.
Some of those features are a powerful direct-drive motor that delivers a strong torque and a straight tone arm. The motor ensures consistent rotation speed and the straight tone arm tracks with incredible accuracy, making it great for scratching.
The Stanton T62 MKII DJ Turntable also comes pre-installed with the popular Stanton 300 cartridge and a high-quality slipmat for greater control.
All components are high quality—much higher than you would expect, given the price. This is a great value for beginning and professional DJs alike.
Stanton T62 Review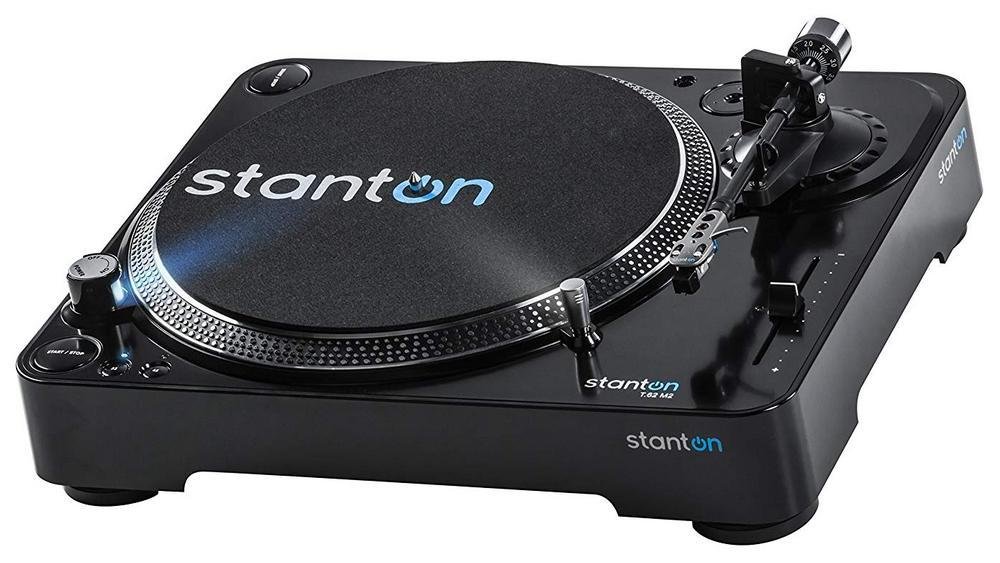 The Stanton T62 MK2 DJ Turntable is priced incredibly low considering all the features. For DJs, this is probably the best value available. There are definitely more advance turntables on the market, but they cost quite a bit more.
The Stanton features a straight tone arm for excellent tracking and comes pre-installed with the legendary Stanton 500.v3 cartridge. It has two start/stop switches, a pitch control fader and a high-quality slipmat.
It uses a direct drive system. What is a direct drive turntable? It is one where the drive motor is directly connected to the platter, rather than being attached via a belt. Direct drive is much better for DJs, because it gives you more precise control. Read belt vs direct drive record players for more.
If you're looking for an all-in-one record player to play your vinyl collection, I would not recommend the T62. This is a turntable for DJs. But it's a great one and scores a Top Record Players rating of 4.3 out of 5.
Stanton T62 Features
20.5 by 7.3 by 17.4 inches — about average in size
Weighs 16.5 pounds — a bit heavier than normal turntables, but this is good for DJing
Straight tone arm — improves tracking for scratching
Pre-mounted Stanton 300 Cartridge — a legendary high-quality cartridge
2 Start/Stop Switches — good for mix or battle setup
Pitch control fader — change the tempo/pitch with a range of plus or minus 10 percent
High quality slipmat — gives you added control
Plays 7, 10 and 12-inch vinyl discs at speeds of 33 1/3, 45 and 78 RPM — plays any record
RCA outputs — hook up to external speakers
Plays vinyl at 33 RPM and 45 RPM
Comparison
There aren't really any direct competitors in this price range. The two turntables people DJs generally consider as alternatives both cost quite a bit more. They are the Audio-Technica AT-LP120 and the Stanton T92USB Direct Drive DJ Turntable.
The Stanton T92 is very similar to the T62. For the added cost, you basically get even higher quality components and the addition of USB and S/PDIF outputs which allow you to transfer your vinyl collection to the digital format.
It also includes the Cakewalk Pyro Audio Creator LE Software for transferring and editing music files.
The AT-LP120 is the most popular DJ turntable on the market. It is made from extremely high quality components and has too many features to list, all of them specifically for DJs.
They include a selectable internal stereo phono preamplifier and an S-shaped tone arm assembly with adjustable counterweight, anti-skate adjustment, tone-arm height adjustment and lock.
It also has a direct-drive, high-torque motor, a professional cartridge and head-shell, +/-10 percent or +/-20 percent pitch adjuster, high-accuracy quartz-controlled pitch lock and plays vinyl at 33-1/3, 45, and 78 rpm.
The internal preamp is convenient, but you'd be better served getting an additional standalone phono preamp for better sound quality. Read about the differences between built-in and external phono preamps for more.
Stanton Record Player Review: Final Verdict
If you're looking for the best value DJ turntable on the market, that's the Audio-Technica AT-LP120, hands down. If you have a larger budget, Audio Technica has models that are even better than that one. Read AT-LP120 vs AT-LP1240 for more.
If you don't want to spend quite that much, but still want an excellent DJ turntable, then you'll want to go with the Stanton T62 MK2. It is one of the best sub-$200 record players on the market, but it has the misfortune of competing directly against the AT-LP120. No turntable is going to win that battle.