You've probably seen it on Instagram or Facebook.
I sure have.
People keep posting photos of their new U-Turn Orbit Plus turntables. And for good reason.
It looks amazing: sleek, modern and minimalist.
But does it deliver in other areas?
I'll give you a preview: the sound and build quality are both excellent.
But U-Turn Audio made one very confusing choice. And I just don't get it.
Read the rest of this U-Turn Audio Orbit Plus review to learn what bizarre feature the designers included and to find out if it turns out to be a dealbreaker for you.
U-Turn Audio Orbit Plus Review: Overview And Features
The U-Turn Orbit Plus is a belt-drive turntable with an interesting minimalist design. It is a fully manual unit, meaning there is no auto stop or auto-return or any kind of automation other than the platter spinning when you turn it on.
It is so manual that there is no speed switch, either. To switch from 33 to 45 RPM you move the belt from one slot on the motor to another.
While this avoids the use of a switch, it seems silly to me to get your fingers all over the belt. But this is not uncommon with these types of minimalist turntables. Read our Pro-ject DC vs U-Turn Orbit comparison for more.
It is comparatively light for a turntable in this price range at only 13 pounds. Most other units in this bracket are over 15 pounds.
It has the standard connections with an RCA output jack in the back (instead of the hardwired RCA cables like the old school units) and an AC adapter plug-in port as well.
It has an acrylic clear transparent platter which is supposed to help with speed consistency and more detailed playback.
There is no 'S' shaped tonearm. It is a standard straight tonearm you typically see on entry-level units. The most unique thing about the U-Turn visually is that the belt is on top of the unit instead of inside. They say this keeps the playback quieter.
This is a no-frills record player. It has no lights and no switches, except for the power switch. It has no built-in preamp, either.
It is very much a minimalist unit. And to be honest, the manual speed changing using the belt seems to me to be an unnecessary gimmick that hipsters will love. I much prefer a simple switch or button to change speeds.
Key Features
Belt drive motor
Plays 33 1/3 and 45 RPM
Acrylic platter for better speed consistency and clearer playback
Ortofon OM5E cartridge with elliptical diamond stylus
Precision OA2 gimbal tonearm for accurate tracking and low distortion
Sleek, modern, minimalist design
Anti-skate tonearm with adjustable counterweight
Acrylic Platter
The acrylic platter is said to improve the consistency of the speed. Belt drive units have always had fluctuations in the playback speed due to the nature of belts and motors.
The idea with the acrylic platter is that it is more lightweight, which means that it produces less drag on the motor and more consistent speed.
The other reason they used an acrylic platter is for improved clarity, since aluminum platters tend to amplify vibrations. Acrylic is more of a dead material that transmits fewer vibrations.
Ortofon OM5E Cartridge
The Ortofon OM5E is a good cartridge to be sure. The fact that these units ship with one installed is impressive.
Many competing units in this price range ship with low-end AT cartridges. Those sound just fine, but an Ortofon being included as the stock cartridge certainly made my ears perk up. The OM5E cartridge comes with an elliptical diamond stylus which is a great all-around needle.
OA2 Gimbal Tonearm & Internal Anti-Skate
The OA2 gimbal tonearm is great for accurate tracking and less distortion. Of course, like almost all good tonearms, it has an adjustable counterweight that needs to be set to the recommended setting during your initial setup. The anti-skate function keeps the tonearm from sliding around outside the grooves.
External Belt Drive
The motor is isolated from the rest of the electronics as well as the platter, which helps minimize the self-noise. Another great feature here, while we are talking about the motor, is the use of a power adapter.
Normally on older units, they have a normal 120v plug attached that you plug into the wall. On this unit, and many others like it, the AC to DC power conversion happens outside the unit in the power adapter itself, further lowering the internal hum and self-noise.
Lightweight
Due to the acrylic construction it is lighter than other metal or heavy plastic units. This is not just a good thing when setting up, because it is easier to lift, but it is better for playback as well.
The heavier a turntable is, the more it is pressing on the surface it is sitting on. This makes vibrations from the surface below much more transferable to the unit, and to the stylus causing the noise. It comes with a dustcover too, but that is removable which makes the turntable even lighter.
U-Turn Orbit Plus Vs Audio Technica LP120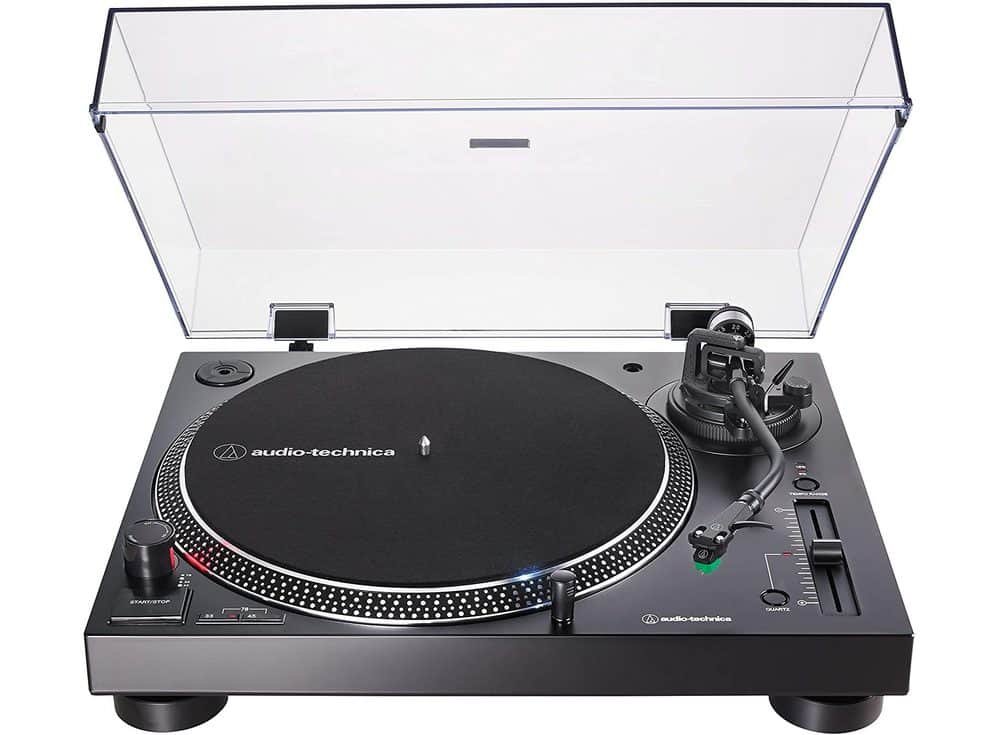 These are both good turntables and both will give you a solid experience. But there are some important things to know about them before you choose one.
Similarities
They are both 2-speed record players; you get a choice between 33 and 45, no 78
They are both better than entry-level record players; neither one is going to outperform a 700 buck turntable, but they are both very good quality and suitable for anyone who listens
They are in a similar price range, but not the same price
Differences
The AT is a direct drive; the U-Turn is a belt drive unit
The AT has pitch control, while the U-Turn does not; it also has an LED that lights up when you are exactly at the selected speed
The AT has a dust light so you can clean your records in low light, while the U-Turn does not
The U-Turn comes stock with a slightly better cartridge
The AT has a speed switch, while the U-Turn requires you to move the belt with your hands every time
Which Is Better?
This is definitely one of those comparisons and choices that comes down to your taste. If you like the minimalist hipster vibe, the U-Turn is for you.
If you like the convenience and classic features, you are used to then the AT is going to make you happier. It is also the choice for DJs.
The AT is a handful of bucks more expensive, but not by much. For me, personally, I go with the AT all day long. I actually made this choice myself recently and bought the AT and it has been excellent for me.
However, these are both excellent choices in this price range and you really could not go wrong choosing either. The U-Turn is showing up on a lot of friends' Facebook feeds lately with happy reviews.
Read our full review of the Audio Technica LP-120 for more.
U-Turn Orbit Review: Conclusion And Rating
The U-Turn Audio Orbit Plus is a stunning turntable to look it. It has a sleek, modern, minimalist design that will impress any guests to your home.
But it offers more than just looks.
A ton of thought went into the design. It is as lightweight as possible and features high quality components.
The result is incredible sound quality from a record player in this price range.
But it's not all good.
The decision to forego a switch to change speeds makes no sense. I guess they were trying to keep things as minimalist as possible, but I would hate having to constantly move the belt to change from one record speed to another.
For me, that is a deal breaker. But many others won't care. Especially if you mostly only have one size record anyway.
Nevertheless, we had to take away some points for that bizarre choice. The result is a Top Record Players rating of 4.5 out of 5.