Many vintage record players come with virtually no features. They just play records.
Not so the Victrola 50's Retro 3-Speed Bluetooth Turntable With Stereo reviewed here. It is chock full of modern features.
Not only does it play records in 3 speeds, it also plays CDs, the radio, and music from your smartphone or other devices via 3.5 mm plug or Bluetooth connection.
It also has built-in speakers and the ability to record your vinyl collection to the digital format.
But what is most noticeable is the stunning vintage design. It even comes in 4 colors, so you'll be sure to find one that appeals to you.
And it does all of this at a very low price.
Sounds too good to be true?
Well, naturally, it has some drawbacks. Find out what they are and if they are ones you can live with. If so, this is one of the best bargains on the market.
Victrola 50's Retro Turntable Review: Overview and Features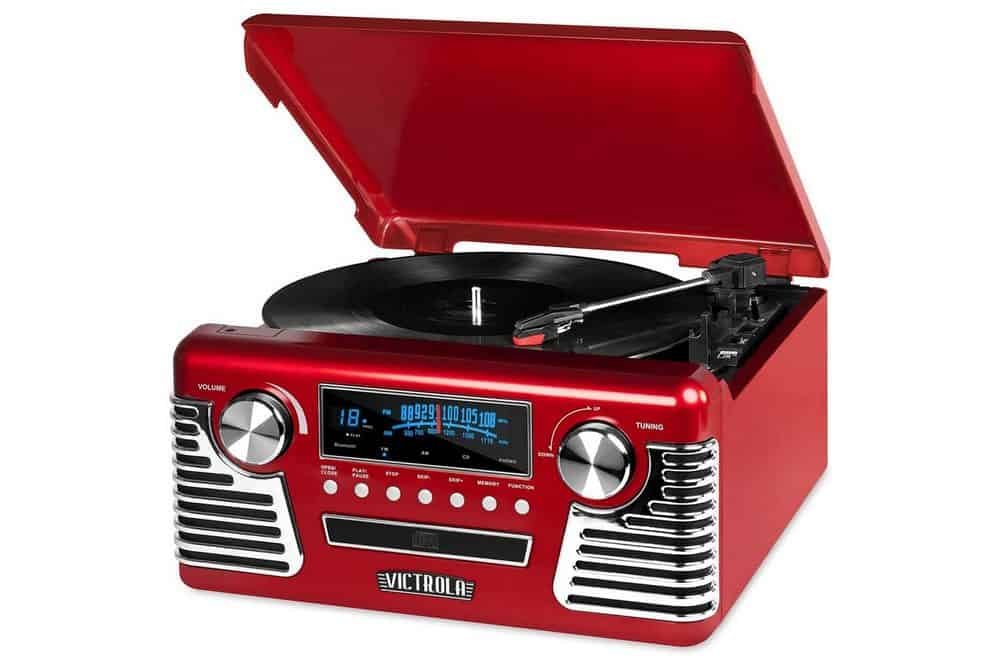 Victrola has been producing record players since way back in 1906, and it's clear there's really no stopping them. From their hand-cranked ancient models to this newer tech-heavy player with a vintage feel, they have a long history of making great machines.
One of the best vintage record players I came across in my search, this is the second model I reviewed that's made by Victrola. The 50's Retro turntable isn't just eye-catching, it also allows you to play vinyl records, CDs, or listen to AM/FM radio.
This is a three-speed record player, which is perfect for any vinyl collector. If you're new to record player ownership and you're not sure what I mean by three speeds, I'll delve into it a little deeper, later on in my review.
MP3 Conversion
If you want to get more out of your record player, this is a model that goes that extra mile. It allows you to digitize your vinyl record collection in minutes.
This basically means you can hook up the record player to your laptop or desktop and use the included recording software to record your vinyl record tracks to your desktop. This is perfect if you collect rare records and want to have easy access to your favorite tunes when you're away from home.
Bluetooth Connectivity
Since this record player is Bluetooth compatible, you can pair it with one of your wireless devices such as an iPad or iPhone, and wirelessly stream your music from up to thirty-three feet away.
Pairing your smart devices with Bluetooth is fast and easy. If you're not sure how to pair or how Bluetooth technology works, the user's manual will explain it all. In general, the process takes just a few minutes to complete.
Aux-In And Headphone Jack
The three and a half millimeter aux input lets you play music from external sources and the headphone jack means you can use your headphones to listen to music, any time of the day or night, without disturbing other members of the household.
AM/FM Radio
Who said the radio is dead? It's true that not many manufacturers produce basic AM/FM radios anymore, because streaming has hit the industry in a major way.
But there are still millions of people who listen to the radio, whether it's a favorite morning show, fun weekend program, or in order to stay up to date with current events in the news.
Radios still have their place in your home sound system. Unfortunately, this is actually a rare feature that you won't come across very often when you're looking at record players. Some models may have FM radio capability, but rarely will they have both AM and FM.
Additionally, the radio tuner is backlit, for a classic look. If you love listening to music on the radio, catching the latest news and weather reports, or there's a radio talk show you don't want to miss, this record player has got you covered.
CD Player
As I mentioned earlier, not only will this record player play records and allow you to listen to your favorite radio station, but it also comes with a built-in CD player, so you can break out your CD collection and enjoy old albums you haven't listened to in years.
This type of versatility is what really makes this old-school style Victrola model shine. CD players have slowly lost their popularity over the years, since digital music became the next big thing.
As a result, more and more manufacturers are including CD players in their vintage style record players, in order to add to a model's versatility and to allow the listener to enjoy a wider range of music platforms.
Bottom line, the addition of a CD player adds plenty of value to this model. This is a single tray CD player that comes with a few basic buttons for play, stop, skip a track, and repeat.
Three-Speed Record Player
This is a three-speed model that plays 33 1/3, 45, and 78 RPM. But what does this mean exactly?
If you love playing records, then you've probably changed the speed from time to time in order to hear a track played slower or faster than normal.
It's something most record owners have tried at one time or another, but what's really the point of these three speed options?
Each of the record player's included speeds has a very specific function. The slower a record turns, the worse the audio quality. Because of this, the record needs to turn at a higher RPM for the best sound possible.
However, when a record spins faster, the amount of information it's able to hold is significantly reduced, which means a shorter playback time.
But why?
Spinning faster means that the information that is pressed into the record is read more quickly, which reduces playing time. In the early days of vinyl, this was a major issue.
Back when there were hand-cranked record players, the user would wind the record at eighty RPM, but the vinyl cylinders back then were only able to handle about five minutes' worth of playback. Enter the 78 RPM.
As technology advanced, manufacturers begin to produce record players that offered 78 revolutions per minute, since the motors in these record players could handle just under 79 RPM. By 1925 this became the standard. However, with this speed came limited playback time with just three minutes per side.
These records were also prone to shattering since they were so brittle. Fortunately, new methods of audio recording finally emerged, allowing for more info to be printed onto smaller records, and all without any loss of fidelity.
These records were able to play at 33 RPM, were more durable, and could play for longer. The 45s were smaller than the 33s and didn't really offer much of an advantage over the 78s, so not many manufacturers made the switch to this type of record. The only real benefit of the 45 was its size and durability.
All three record speeds have an interesting role in the history of vinyl. That is why many record player manufacturers, like Victrola, produce three-speed record players.
Doing so allows you to play older, rare records, the way they were meant to be heard. Not every manufacturer will include this capability, but those that do want to give you turntables that are more versatile and audiophile-friendly.
To learn more about record player technology, read our article on how record players work.
Performance
This retro style record player allows you to play vinyl records, CDs, stream music, record your vinyl to your PC, and listen to AM/FM radio. Basically, this is the ultimate vinyl sound system.
This model is easy to use, so it's very beginner friendly and would make a great first record player for the new audiophile.
The only real drawback is the quiet speakers. They are loud enough to fill a medium-sized room, but they don't have the type of volume you'd need to power your entire audio system.
This is very common with record players that have built-in speakers. Adding speakers via the headphone jack is a solution that can help.
Comparison To The Competition
This Victrola can do it all, but how does it really measure up to competing models such as the Wrcibo vintage record player? This is another turntable with a classic look that features many of the same capabilities as this model, including three-speeds, and a built-in stereo.
But in terms of versatility, the Wrcibo record player just doesn't measure up. It lacks a CD player, the ability to record your tracks, and it's also not Bluetooth compatible. You can hook up your smart devices using the aux input, but that's about it.
Although, it's mod-esque simplistic design will surely catch the eye of some audiophiles, the Wrcibo does not have nearly the functionality. In that regard, this Victrola player is the clear winner.
Read Victrola Vs Crosley Record Player for an in-depth comparison of those two brands. Both are budget brands and it is not uncommon for owners to have trouble with their Victrola record player not turning on, or similar issues. However, this model is not as prone to problems like that.
Victrola 50's Record Player Review: Conclusion and Rating
The Victrola 50's Retro 3-Speed Bluetooth Turntable allows you to listen to so much more than just your favorite vinyl.
Record your vinyl onto your PC, convert your records to MP3 tracks, listen to your records on your smart device using Bluetooth connectivity, listen to the radio or pop in a CD. This record player lets you do it all.
Easy to set up and use, versatile, and eye-catching, this is a great player for both the beginner and the experienced audiophile. I gave this model a Top Record Players rating of 4.5 out of 5.