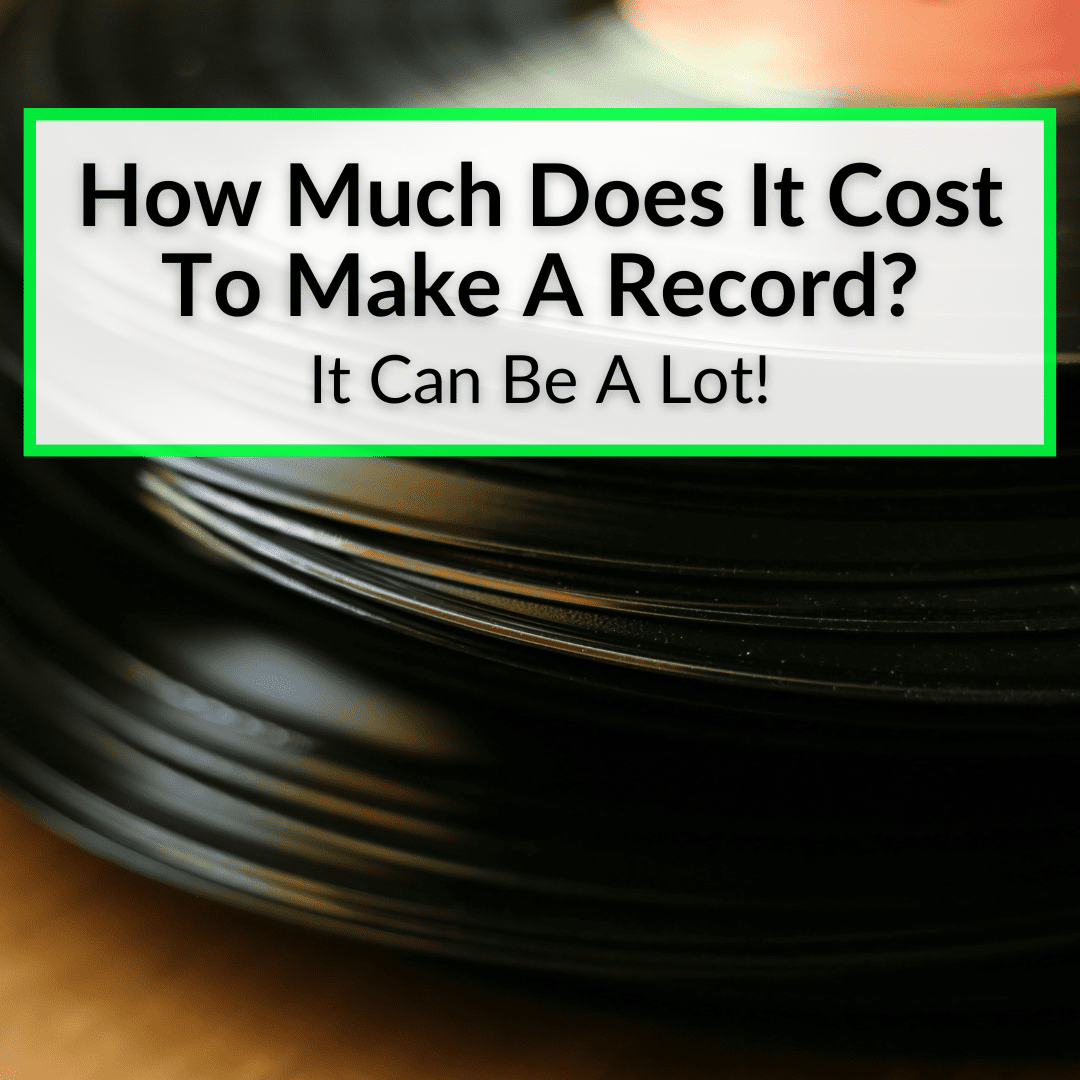 Are you thinking of pressing your own record?
Or are you just curious?
Whatever your reason for asking how much it costs to make a record, you're in the right place.
Many sites will just give you a number, or a small range, and call it a day.
But that's not accurate. There is simply too much variance in the cost. We need to dig deeper.
Below, we will look at the entire record pressing process and give you the expected costs for each step. These can differ greatly, depending on the options you choose.
Hopefully this will give you a solid idea how much you can expect to pay to press a record.
How Much Does It Cost To Make A Record?
Price estimates for creating a single pressing of a record fall anywhere between $5 and $20. Making a pressing of 100 vinyl records would cost somewhere between $450 and $2500.
However, there are many variables that factor into the cost to make a vinyl record. You could also spend far more than these cost estimates. Let's begin by taking a look at the steps involved in making a record. That will help in understanding the cost.
Steps Involved In Making A Record
To help you fully appreciate the cost of making a record, you need to understand the steps involved in pressing a vinyl record, along with the average costs associated with each step.
Step 1: Pre-Master The Audio
Before you can start to think about pressing the vinyl, you need to ensure your recording has been mastered and is of a good enough quality to be pressed.
Unfortunately, MP3 files just don't cut the mustard. The standard format for a vinyl master file is 24-bit, 96kHz, and you will need files to be in WAV or AIFF format.
Step 2: Cut The Master Recording Onto A Lacquer Disc
Once you have a master copy in the correct format, you can cut the audio recording to a lacquer disc. This is performed by a sound engineer using a lathe, and you can expect to pay around $200 per side.
Step 3: Create A Metal Stamper
The lacquer disc is then treated with various metals and chemicals, which react to solidify and create a metal stamper in the mold of the lacquer disc. This process should cost somewhere in the region of $170 per side.
Step 4: Make Test Pressings
The next step is usually to make a test pressing of the record using the metal stamper. Once you have the test pressing, you and the sound engineer can check it for quality and ensure it's true to the original recordings.
The test pressing will also allow you to check for any flaws in the creation of the metal stamper, before pushing forward with a run of pressings. The cost involved to set up the pressing will be somewhere in the region of $200, with a little extra depending on how many test pressings you create.
Step 5: Produce The Vinyl
The final step is to produce the final product, once you are happy with the test pressing. The cost of this final step will depend on how many copies you would like to press. You can expect the average price for a standard 135-gram black vinyl record to be around $1.50 per unit.
You can spend more money here by using a heavier vinyl, with a heavier and more durable vinyl being a little more expensive. Increasing the weight of the vinyl to 180 grams would increase the price per unit from $1.50 up towards the $3 mark.
What Else Could Affect The Final Cost?
There are, as always, a few other considerations to bear in mind that may affect the final pricing. We will cover those now.
Size Of Vinyl Needed
Are you looking to make a single or an album? Obviously, it will cost more money to produce a 12-inch vinyl record with multiple tracks on each side than it would to produce a 7-inch record with a single track on each side.
The costs for producing an entire album will be higher throughout the process: more studio time, longer time needed to produce master copies, and more vinyl needed to produce each unit.
Number Of Copies Pressed
While this may seem obvious, it's not something to overlook. The number of copies you have pressed will affect the total price. A smaller run will result in higher per-unit costs, whereas a larger number of copies will be cheaper per record produced.
It's important to understand that this is a per-unit cost. The overall cost for a larger run will be higher, despite each individual pressing costing less.
Sleeves And Labels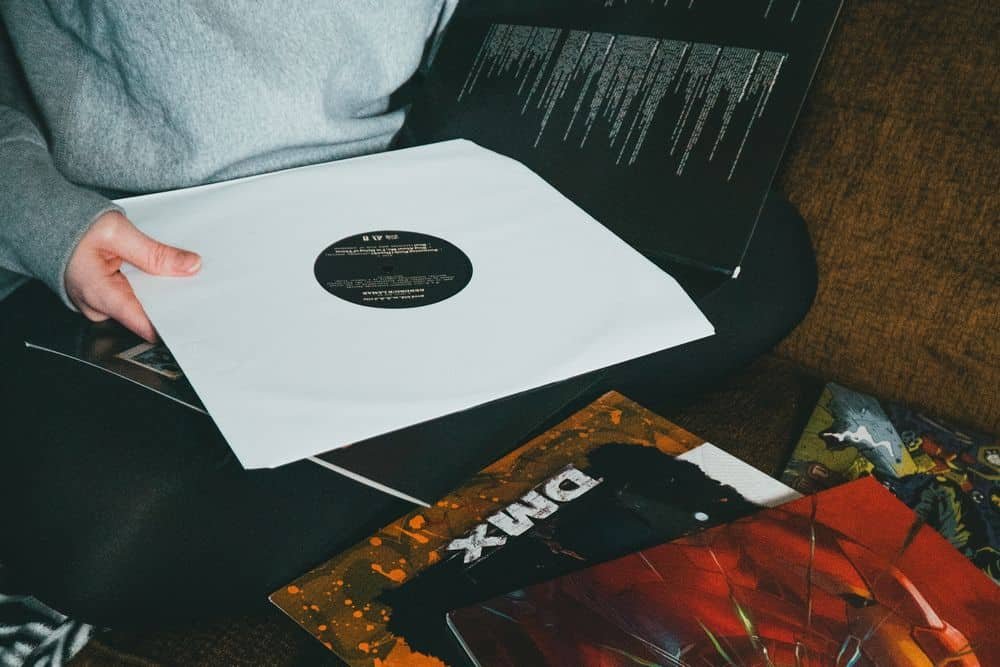 It's very important to protect the vinyl from damage once it has been pressed. That is why records come in protective sleeves. You will also want your record to be labeled, which will cost money, too.
And as with everything else, you have some choices to make here. For the sleeve, you can keep it very simple with a minimalist design, or you could commission an artist to design some artwork for you.
Simple monochrome designs are cheaper to produce than sleeves with fancy, colorful artwork. Not only will the design process be cheaper, but the production cost will also be lower.
A simple sleeve design in black or white can cost as little as $0.75 per unit, while opting for a full-color design could see that cost rise to closer to $2.
And if you really want to push the boat out, you can opt for a full-color gatefold sleeve design, which could push the price per unit up as high as $4 or more.
A fancy, full-color center label can cost around $0.50 per unit, while a simple monochrome design can cost as little as $0.05. When you factor in the number of copies you will be pressing, that price difference can be quite significant.
Colored Vinyl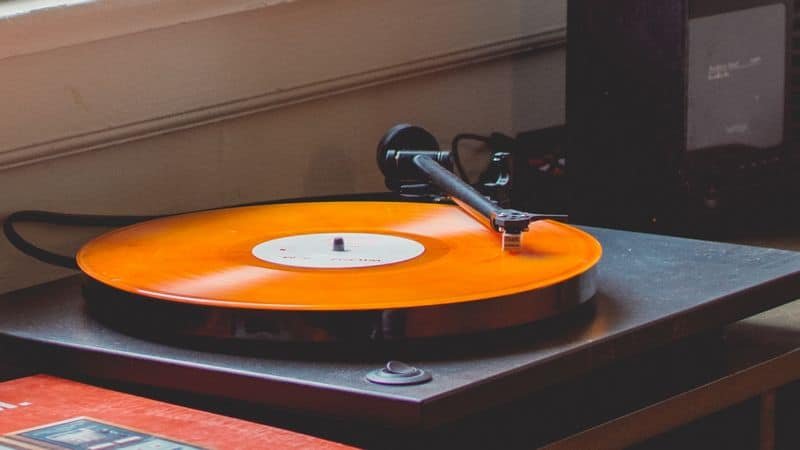 If you don't want the standard black vinyl for your record, you can always splash a bit more cash by having colored vinyl. Colored vinyl is a favorite among record collectors, but if you are looking to keep costs down, it's probably a needless expense.
With colored vinyl, there are also choices to make. You can opt to have your record pressed on a single-color vinyl, or you can go all out and have your record pressed on a picture disc—vinyl featuring a picture design. Just bear in mind that the fancier the design, the bigger the final bill will be.
Cost Of Making A Record: Final Thoughts
The cost to make a record depends and a lot of the choices you need to make along the way. That's why we did not want to simply give you a rough estimate.
There is so much variance that any estimate would likely be far off from the actual cost you would incur to press a record. That's why we decided to go through the entire process of making a record.
For each step, we tried to give you as accurate an expected costs as possible, including how that costs could vary depending on different options you may choose.
In the end, we think this gives you the most accurate picture possible for how much you can expect to have to pay to press a record.