The ION Audio Max LP 3-Speed Belt Drive Turntable is a low cost all-in-one turntable that does everything well, but is not the best at anything.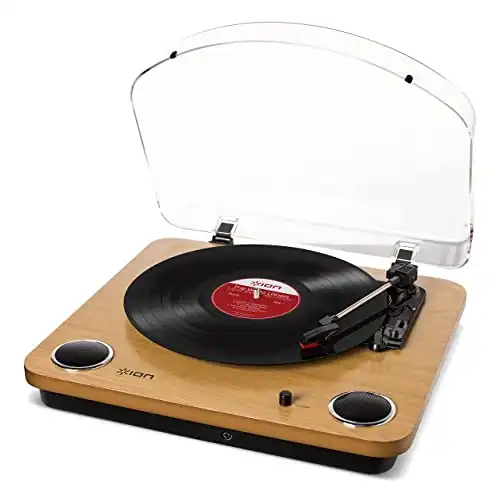 ION Audio Max LP
Pros:
Amazing value for money

Bluetooth capability

Plays 33 1/3, 45 and 78 RPM records in 7, 10, and 12-inch sizes

Dual surround stereo speakers with strong bass

RCA outputs so you can connect to external speakers

Can record vinyl to MP3
Cons:
While the speakers are great for the size, they can't match good external ones

Stylus and other components are great for the cost, but can't match more expensive models
View On Amazon
We earn a commission if you make a purchase, at no additional cost to you.
03/22/2023 02:44 pm GMT
The main selling point is the ease with which the ION allows you to convert your vinyl collection into digital files. You simply connect the player to your computer using the included USB cable and install the EZ Vinyl/Tape Converter software CD (also available as a download, for computers without a CD drive).
Using that program, you can simply convert your records or you can customize the whole process. You can select which tracks you want to convert by splicing and cutting them at certain lengths. You can even speed them up using the editing function of the software.
The ION Audio Max LP works with 33 1/3, 45 and 78 RPM records. It also has an auxiliary input, so you can connect a tape deck or portable device like a smartphone or tablet.
The biggest weakness are the internal speakers: they are pretty good for the price, but they definitely lag behind those on more expensive players. Luckily, you have the option to connect to external speakers via the RCA ports or to use the headphone jack for some private listening.
ION Audio Max LP Review
If you're looking for a ultra low cost player that delivers better quality than many more expensive ones, the ION Audio Max LP is it. It is also a great player for anyone looking to transfer their vinyl collection into digital files. The included software works very well and is easy to use.
The Audio Max is equipped with built-in speakers that produce a decent sound for a unit at this price level, but they aren't as good as the competition. If you want to get the most out of your player, you'll want to connect to external speakers using the RCA jacks. You also have a headphone jack for private listening.
The main reasons to get this unit are the low price and the included conversion software. It's a great player for the money. Just don't expect too much from the internal speakers.
It gets a Top Record Players rating of 4.1 out of 5 and was also included in this list of the best record players, as well as this one of the best turntables under $100.
ION Audio Max Features
15.2 by 16.4 by 4 inches — about average
Weighs 7.7 pounds — about average
EZ Vinyl/Tape Converter software — makes it easy to convert your vinyl and cassette collection to digital
Fully-automatic belt-driven turntable — less noise distortion from the motor, so better sound quality
3.5mm auxiliary input slot — allows smartphone or tablet connectivity
Can play records at speeds of 331/3, 45 and 78 RPM — will play any record
Built-in stereo speakers — no need for additional equipment
Headphone and RCA jacks — connect to external speakers or headphones
USB port — save your digital files after converting your vinyl collection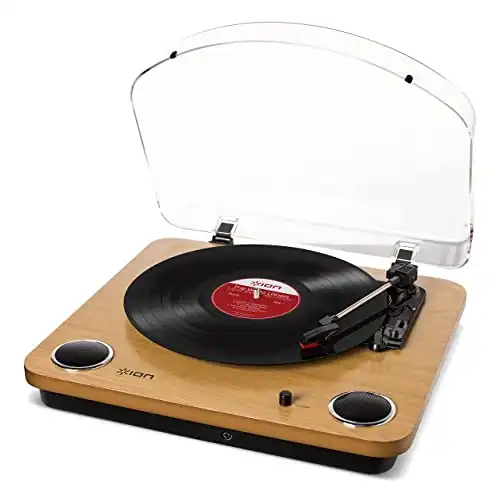 Comparison
The best alternatives to the ION Audio Max LP are the Audio Technica AT-LP60 and the Jensen JTA-230.
The Audio Technica player is the most expensive and has the fewest features, but it is by far the highest quality of the three. It only plays two speeds of vinyl, has no auxiliary input, no headphone jack, no USB port (there is a slightly more expensive version of the same model available with USB) and no internal speakers. It does have an RCA port and comes with an RCA cable, so you can connect it to an external stereo system.
The Jensen has all the same features as the ION, with the addition of a tone control knob and a pitch control slider. Pitch control makes adjusting the pitch on a turntable so much easier and I will never understand why some modern record players do not have it.
The Jensen also comes with converter software to transfer your vinyl collection into the digital format, but the software you get with the ION Audio Max LP is better.
ION Record Player Review: Final Verdict
If you plan on converting your vinyl collection into digital format to preserve it forever, the ION Audio Max LP is your best option. The EZ Vinyl/Tape Converter software that comes with it is excellent.
Apart from that, there is very little difference between it and the Jensen JTA-230. For me, the main difference lies in the appearance. I would go with whichever player fits with the look of your home.
If you already have a stereo system and you are looking for the highest possible sound quality from a low-cost player, the AT-LP60 is the one for you. You get none of the frills, but you get a superior sound.
Overall, the ION Audio Max LP is a wonderful little all-around player that will not cost you an arm and a leg. It is far from the best player we've reviewed, but it costs much less than the best and does everything well.