In the past, turntables just sat on a table.
They were basically all the same. They sat flat on a surface and took up considerable space. The record always faced upwards.
Things have changed.
Advanced record players like the Pro-ject VT-E BT wireless turntable look completely different. They no longer have to sit flat and face upward.
This modern vertical record player can stand on its side, or hang on the wall.
But is it just a gimmick? Or does this turntable deliver in terms of sound quality, too? Our in-depth VT-E BT review will take a closer look and find out.
Pro-Ject VT-E BT Review: Overview And Features
The Pro-Ject VT-E BT vertical turntable is a high-quality machine with great sound and performance. It packs state-of-the-art features into a sleek and sexy body.
Pro-ject is a name known throughout the industry. It is synonymous with quality and innovation.
It started in Austria and has expanded to much more than just turntables. They produce some of the highest quality audio equipment like amps, microphones, and speakers. The company's turntables have won numerous awards over the years and continue to be recognized for their quality and ability to meet all budgets.
In fact, they have twice won product of the year for their turntables. The ProJect VT-E continues this tradition of excellence.
It delivers outstanding performance and sounds clear. The drive belt is quiet and the unique way it clamps the record in place is innovative. This turntable excels in many areas, but there are also some where it could use improvement.
For example, putting the belt on the drive gear during initial setup can be a bit of a hassle. Apart from that, setup is easy. It comes completely factory adjusted so you don't need to do anything else.
Key Features
Can connect to speakers using Bluetooth
Built-in preamp
Sleek and innovative vertical design
Silicone belt drive
8. 6″ lightweight aluminum tonearm
Ortofon OM5E cartridge
Performance
One of the major features of the Pro-ject wireless turntable is the overall quality. Pro-ject has been making top quality turntables for over 30 years, and this one is no exception.
The stability of the turntable, even while being mounted on the wall, is amazing. There are no skips or loss of speed. The sound quality is top-notch too.
The upgraded belt drive is quiet and does not interfere with your music experience. With the built-in preamp, you can simply hook up to a pair of speakers using RCA or Bluetooth. Of course, you can also plug into a receiver or amplifier.
This turntable has an Ortofon OM 5E moving magnet (MM) cartridge. It has a uniquely shaped stylus for an even sounding playback with no distortion. It is the perfect cartridge for the Pro-ject turntable and just adds to the wonderful listening experience.
The VT-E BT wireless turntable has a built-in Bluetooth transmitter. This allows you to output the music from the turntable to your favorite Bluetooth speakers for a much richer listening experience.
The aluminum tonearm is 8.6 inches long and is gimbal bearing. That allows the turntable to deliver audio signals from the record with crystal clarity. The tonearm will not transmit outside resonances that can have a negative effect on sound quality.
Overall Appearance
Another major feature of the Pro-ject wireless turntable is the futuristic look. Seeing a record player standing on its side is enough to start a conversation, but seeing the triangular design, and vibrant colors pushes it over the top. To add to the allure, this turntable can be mounted on the wall.
The vertical orientation is not just stunning to look at. It can save a ton of space as well, whether standing vertically on a flat surface or hanging on the wall.
You have your choice of luxurious finishes and there is one to match any décor. They include piano black, high-gloss red, and high-gloss white. It also has a unique style, which is a great conversation piece. Just seeing a record player hanging on a wall, defying gravity, and spinning effortlessly while playing some fantastic music is awe-inspiring.
Because this turntable is on the slimmer side, it feels a bit fragile and flimsy to handle. It seems like you could easily break it with a little force. It is only a little over six pounds as well, which adds to the sense of fragility. But looks are deceiving in this case. It is well made and durable.
Setup Ease and Complications
The ProJect VT-E is easy to set up and use. It comes with everything you need to either stand it up vertically on a table or shelf, or to mount it to the wall.
The threaded clamp is easy to fit onto the turntable to hold the record in place. This ensures the record plays properly without skipping.
The one button Bluetooth function makes it simple and easy for your Pro-ject turntable to sync with your favorite speakers or sound system. The wireless version has no power cord to get in the way. It also means no ugly power cord hanging down to an outlet when mounted on the wall.
With such a small surface, some of the wires on the non-wireless models were hard to connect when trying to mount this turntable to the wall. The power cord also shows on the non-wireless model, as it ran from an outlet to the player.
Several smart speakers are not compatible with this turntable. It does connect to most Bluetooth devices though, so you should not face any issues, in all likelihood.
Some of the Bluetooth capabilities are limited. Depending on where you set up your turntable in conjunction with where your Bluetooth speakers are, you could get spotty connections, or none at all.
You need to slip the drive belt onto the drive the first time you use the turntable. It could take some time and effort to get it installed properly. Once it is on, though, the product runs perfectly.
Precision Drive Belt
A final key feature worth noting is the precision drive belt. Pro-ject uses a silicon, toothless belt that attaches seamlessly to a super quiet, low vibration AC motor.
The DC driven AC generator has an ultimate precision frequency. This means that the amount of noise and movement is extremely minimal, ensuring no interruption.
The motor is so quiet it cannot be heard over the music, and the movement is so smooth that no vibrations or skips interfere with the listening experience.
For this model, the company has improved the belt drive. This new design has a much quieter AC motor. The belt drive also has an uncanny ability to reduce any vibrations which may affect the turntables performance.
Pro-Ject VT-E BT Vs Easygoproducts Vertical Bluetooth Turntable
The Easygoproducts vertical Bluetooth turntable has many similar features. Both have a unique look. Both can stand vertically and be mounted on the wall. Both can play at all three speeds.
The Easygoproducts and the Pro-ject also have Bluetooth capabilities (but very different ones) and aux cord jacks. So, what is the difference?
First and foremost is the sound quality. The Pro-ject blows the Easygoproducts out of the water. The Easygoproducts turntable does have internal speakers, but you are much better connecting to an external speaker via RCA output. That improves the sound greatly, but it's still not comparable to the Pro-Ject.
The Pro-ject can also connect to external speakers via Bluetooth, in addition to RCA. The Easygoproducts record player can only receive Bluetoooth, meaning you can connect your smartphone or other device and play music from that through the turntable speakers. You can not connect to external speakers via Bluetooth.
Another difference is the stability of the tonearm. The aluminum arm on the Pro-ject is strong and durable, and even when the turntable is mounted on the wall, there is no skipping or vibration from the control arm.
The Easygoproducts tonearm, tends to bounce slightly off the vinyl, especially when wall mounted. This sounds bad and can scratch your vinyl if the bounce becomes too strong.
The most obvious difference is the look. The Pro-ject turntable comes in high-gloss, bright and classy colors. The unique shape and visible belt drive are cool and futuristic looking.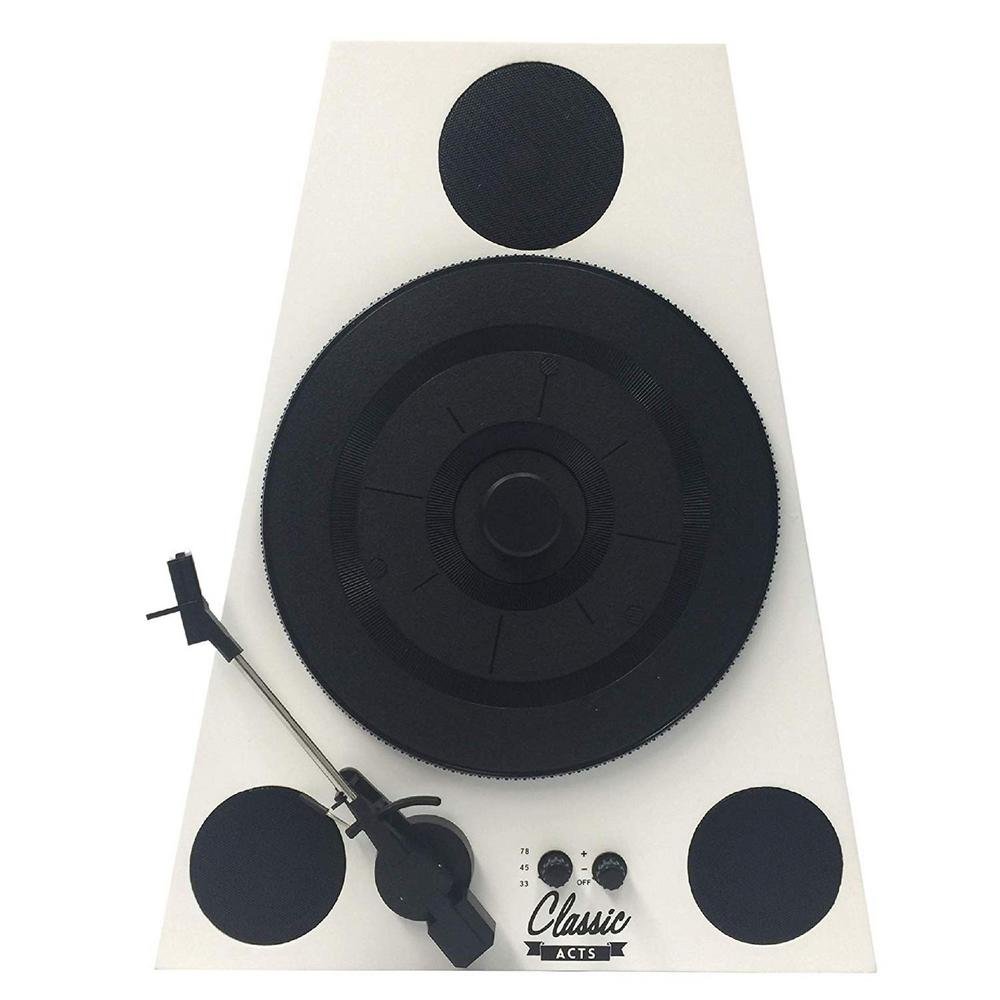 The Easygoproducts is a nice turntable, but it looks more like a record player placed on top of a speaker box. It is much plainer. The box itself looks more plasticky, almost made of foam. Both are nice looking, but the Pro-ject exudes more class and quality.
The final comparison, and probably the most important, is customer satisfaction. Ratings for the Pro-ject model were much higher across the board.
Pro-Ject VT-E BT: Common Questions
Here are answers to some of the more common questions we get about this record player. If you have any additional questions, please feel free to ask them in the comments below.
Does all the hardware you need to mount it to the wall come with the player?
Yes. The player comes with the necessary hardware to mount it to the wall.
Can this turntable play its music through any Bluetooth device?
Almost. Whether it's your favorite wireless earbuds or a home speaker, the turntable will probably play on it, if it is Bluetooth compatible. However, there are a small number of Bluetooth speakers that are not compatible
Is an amplifier needed for this product?
There is a preamp installed in the record player, but no amp. You need to connect it an amp separately, or to a set of powered speakers.
Will this turntable play 45 RPM records as well?
Yes, this turntable plays all three record speeds at a high quality.
What if I need a replacement belt or stylus?
You should contact the manufacturer for those items.
Pro-Ject VT-E BT Vertical Turntable: Conclusion And Rating
The Pro-ject VT-E BT Wireless Vertical Turntable is a phenomenal product from a phenomenal company. Pro-ject has long standing history of top-quality turntables and record players going back over 30 years, and they've done it again with this model.
The sexy style and unique look are what first catch your attention. Seeing a record player mounted to the wall makes you stop and take pause.
Then the music starts, and the sound quality is exceptional. The Pro-ject turntable sounds great all on its own but connecting to external speakers via RCA or Bluetooth amplifies the quality even more.
The Pro-ject VT-E is an innovative record player that sounds as good as it looks. We give it an excellent Top Record Players rating of 5 out of 5.