Things can get a bit confusing.
You know there is something called a phono stage.
And there is also something called a preamplifier, or preamp. Plus a number of other similar things.
In fact, more than similar, some of them are simply alternative names for the same things.
And some of these things you need. Some you don't. But it's not a simple yes or no.
Whether you need a lot of these things depends on the record player you have, the speakers you have, and the receiver you have.
Confused? Not for long. We are about to clear it all up. Keep reading to learn exactly what a phono stage is, what it does, whether you need one, and how it relates to all those other similar (or identical) things.
What Is A Phono Stage?
A "phono stage" provides the link between the turntable and the amplifier. It is also known as a "phono preamplifier" or a "phono pre-amp".
It amplifies the signal from your turntable to a level that allows you to connect it to your sound system, as you would with any other audio source.
When vinyl was the standard medium for audio recordings, receivers and amplifiers included a built-in phono stage that allowed direct connection to a turntable.
When new formats like CDs were introduced and began to replace vinyl, however, manufacturers of amplifiers removed or reduced the quality of the phono stages and inputs in their products, since they were rarely used.
Do I Need A Phono Stage?
A lot of hi-fi amplifiers nowadays won't allow you to plug in a turntable directly. If this is the case with your amplifier, you will need to connect to a phono stage first, to make the weak signal from the turntable cartridge powerful enough for your main amp to work with.
However, some components do still come with phono stages built into them, so you should check first.
While the avid audiophile will typically prefer a separate phono stage, the amount of difference it makes to the overall sound quality is largely dependent on the rest of your system. And you need to make sure you buy a quality phono preamp, or it won't help much at all.
How Does A Phono Stage Work?
Turntable cartridges output a minute signal, which needs to be increased up to several hundred times its size, before it is loud enough for your amplifier.
If any noise creeps in before or during the amplification process, it will also be amplified, detracting from the potential audio quality. A good-quality phono stage will be fine-tuned to reproduce the warm sound from the vinyl, free from hisses or hums.
Where Should You Put A Phono Stage?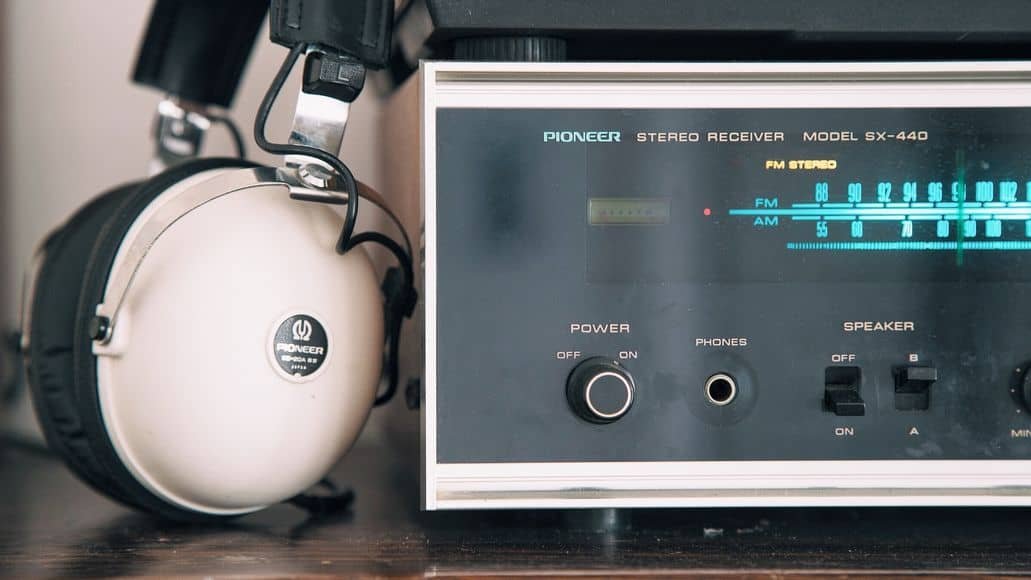 In order to avoid your phono stage picking up and amplifying any unwanted noises, you need to pay attention to where you place it. You should not put your phono stage directly on top of anything that contains an amplifier.
Amplifiers usually have a large power transformer inside, which can emit a humming sound that may be picked up by your phono stage. Ideally, you should not place it right beside a big power transformer either, for the same reasons.
What Type Of Phono Stage Should I Get?
The type of phono stage you will need depends on the type of cartridge used in your turntable: MM or MC. Moving magnet cartridges (MM) generate a signal level between 3 and 6 mV, whereas moving coil cartridges (MC) generate a lower-level signal, typically around 0.2 mV.
Because of the low output of MC cartridges, they require more help from the phono stage. Many stand-alone phono stages won't be up to the task at hand, so you always want to double-check before purchasing.
Moving magnet phono stages are far more common than moving coil units, and MM cartridges are more readily compatible with a wider range of preamps.
Will A Phono Stage Improve Sound Quality?
While a phono stage is a vital component of your turntable system, it's generally the smallest and most affordable, and it may even be built into your turntable already.
Your phono stage is just one component in your stereo system, and it is far from being the most important in terms of overall sound quality.
Both your speakers and turntable will have a greater impact on sound quality, so allocate a larger portion of your budget to these items to get higher-quality sound.
Phono Stages: Additional Questions
Below, we will answer some more common questions related to phono stages. If you have any additional questions, please feel free to ask them in the comments below.
Does A Phono Stage Make A Difference?
The short answer is yes. The more detailed answer is that the quality of your phono cartridge, spatial set-up, record collection, cable, and phono preamp itself will all affect just how much of a difference in sound quality you are able to hear.
Is A Phono Stage The Same As A Preamp?
Yes, a phono preamplifier, a phono stage, and a phono pre-amp are all different terms for the same piece of equipment, and they can be used interchangeably.
Do I Need A Preamp If I Have A Phono Stage?
You will not need a phono preamp if your receiver has a phono input. The same is true if your record player has a built-in preamp. But that does not mean you shouldn't get one.
In most cases, the phono preamplifiers included in receivers or turntables tend to be of low quality, and getting an upgrade can often improve sound quality.
What Does "MM Phono Stage" Mean?
An "MM phono stage" is a phono stage designed to work with a moving magnet cartridge, as opposed to working with a moving coil cartridge (MC phono stage).
Can Phono Be Used As AUX?
Yes, the AUX input on a receiver can be used for phono, but only if your turntable has a built-in phono stage, or if you are using a separate phono stage for it.
Does My Turntable Need A Phono Or Preamp?
Every turntable needs some form of preamplifier to boost the signal to a level that your speakers or amplifier can handle.
However, you may not need to buy a separate preamp, because many turntables, powered speakers, and amplifiers come with built-in preamps. Before you buy a separate one, you should check the specs of your current turntable and speakers.
Why Do I Need A Pre-amp For Playing My Vinyl?
The signal coming out of the cartridge on your turntable is around a thousand times lower than the signal coming from the average CD player. In order to hear music from vinyl through your speakers or stereo system, you first need to boost the signal. You will need a phono pre-amp for this.
The Phono Stage: Final Thoughts
Hopefully you now know exactly what a phono stage is, what it does, and whether you need one. As mentioned, chances are you probably don't. But you may want to get one anyway, for the improvement in sound quality.
We tries to answer all of the common questions we could think of, but if you still have more questions about any of this, we're here to help. Simply leave a comment below with your question, or your answer to someone else's question, if you can help them.