This Audio Technica AT-LP120 USB Direct-Drive Professional Turntable is hands-down the best record player we reviewed in its price category.
It might seem a bit expensive at first glance, but it is worth every penny.
If you're a professional DJ, that is. For everyone else, it might not be worth it, depending on your needs.
Audio-Technica AT-LP120XBT-USB
Pros:
Compact and portable

Bluetooth

Extremely durable and high-grade materials

Can digitize audio files from vinyl records

No issues with skipping or wobbling

Tons of advanced features for DJs

Can connect to components with no phono input
Cons:
Only plays vinyl

No built-in speakers

Non-DJs don't need all of the features
View On Amazon
We earn a commission if you make a purchase, at no additional cost to you.
03/22/2023 01:01 pm GMT
The AT-LP120 has a ton of advanced features (we won't go into them here, since they're mostly for DJs, but you can read about them on Amazon; just follow the link above) that make it the second most popular turntable among professional DJs, after the discontinued Technics SL-1210Mk5. It also has a much higher build quality than any other player we reviewed.
But it lacks internal speakers, Bluetooth connectivity and the ability to play other music formats, like CDs, MP3s or radio. If you want a complete stereo system, this is not the player for you.
The most important features for non-DJs are the high build quality, USB connectivity and a built-in switchable pre-amp. The pre-amp allows you to connect the AT-LP120 to any component, even if it doesn't have a phono-input. This means you'll be able to use it with your existing stereo and speakers and even your computer.
The USB port allows you to connect to your computer and digitize your vinyl collection using the included software. Save your records for posterity and take them with you anywhere.
The high build quality is most important when playing new records. Almost every other record player can have some issues with skipping or wobbling when playing newer records. That is not a problem with the Audio Technica LP120.
Audio Technica AT-LP120 Review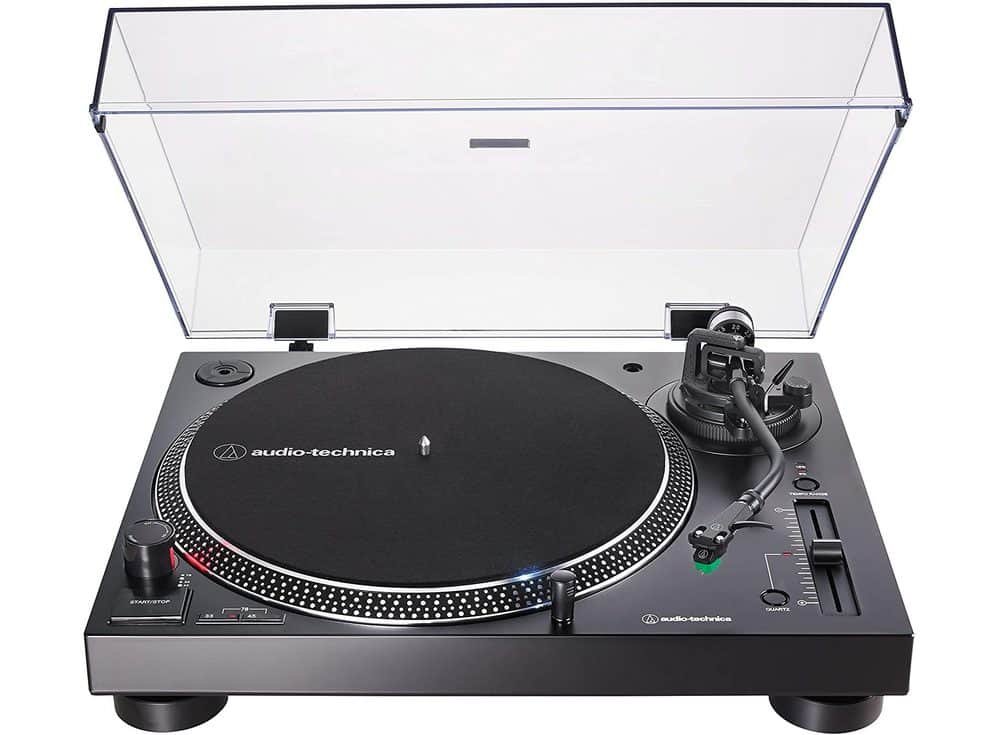 For professional DJs, the Audio Technica AT-LP120 USB Direct-Drive Professional Turntable is the perfect entry-level option. For the rest of us, it is an extremely high-quality player that lets us enjoy our old record collection like other players simply can't.
It plays 7- and 12-inch vinyl records at 3 different speeds. It can digitize your record collection using the included software and a USB connection to your computer. Thanks to its switchable pre-amp, it can connect to any component, whether it has a phono input or not (and many modern receivers do not).
It earns a Top Record Players rating of 4.5 out of 5 and it is my top rated record player overall.
Key Features
17.8 by 13.9 by 5.6 inches — smaller than the complete systems
Weighs about 17.6 pounds — heavy for its size, but extremely sturdy
Direct-drive, high-torque motor: plays at consistent speed and great for spinning records
USB port: connect to computer to digitize your vinyl records.
Switchable internal stereo phono preamplifier: plug directly into components with no dedicated phono input

Balanced S-shaped tone arm with hydraulically damped lift control and lockable rest

: plays any record perfectly with no skipping or wobbling
DC servo motor: more accurate rotational speed
Plays 7- and 12-inch vinyl records at speeds of 33-1/3 45 or 78 rpm: most standard formats
Variable pitch control with quartz speed lock: great for DJs
Popup stylus target light: for easier cueing in low light (for DJs)
Forward and reverse play: great for DJs
Record platter made of cast aluminum and a professional cartridge: high-quality lasts longer and works better
Equipped with adjustable anti-vibration feet: great for DJs
Comes with elliptical diamond stylus: effectively tracks the record's grooves, so no skipping
Sold with mounting hardware along with a stylus guard
Comparison
There are two great alternatives to the Audio Technica AT-LP120: the Fluance RT-80 High Fidelity Vinyl Turntable and the TEAC TN-300 Analog Turntable.
The Fluance costs less than the AT-LP120, but gives you arguably an even better quality, both in terms of construction and listening experience. It lacks most of the advanced features, so it is not suitable for DJs. But for anyone looking for a player to simply play records, this is a great option.
It plays LP and EP records at speeds of 33 1/3 or 45 RPM. The S-Type tonearm has an adjustable counterweight, so you can use the correct amount of pressure for any record. Along with the advanced anti-skating system, this ensures no skipping or wobbling, even with new records.
It also has a built-in pre-amp, gold-plated RCA line-outputs, an aluminum platter, a rubber slip mat and sound isolation feet. These combine to produce top-notch sound quality that easily matches the AT-LP120.
The TEAC turntable costs more than the Fluance, but is generally still slightly less than the AT-LP120. The exact price actually depends on the color: you have 5 to choose from.
In terms of features, it basically includes everything the Fluance does, but lacks all the advanced features of the AT-LP120. Again, most of those features are only useful for DJs, so most of us won't miss them.
In terms of construction quality, the TEAC actually lags a bit behind the cheaper Fluance player, but they both produce great audio.
AT-LP120 Professional Turntable Review: Final Verdict
There is no doubt that the AT-LP120 Professional Turntable is the best choice for professional DJs. For the rest of us, it's not quite as clear-cut.
If you simply want to coax the best possible sound out of your record collection, either of the alternatives will do that just as well as the more expensive Audio Technica player.
In the end, your decision will probably come down to aesthetics: which of the 3 players will look best with the decor of your home?