Some record players do everything.
The Fluance RT80 is not one of them.
Fluance RT80 Classic High Fidelity Turntable
Pros:
Incredible sound quality given the price

Audio Technica AT91 stylus

Anti-skating system

Texas Instruments preamp

Sound isolation feet

Gold-plated RCA outputs
Cons:
No built-in speakers

No headphone jack

Doesn't play 78s
View On Amazon
We earn a commission if you make a purchase, at no additional cost to you.
03/22/2023 12:54 pm GMT
It does not play CDs. It does not play cassettes or the radio. It does not have built-in speakers. It does not even have a headphone jack.
So why would you buy this turntable over the many others that cost the same or less, but that have all of those features?
Because Fluance took the money saved on features most don't want, and put it all into sound quality.
The result is a turntable that plays vinyl far better than similarly priced models and better than most more expensive ones. But it does nothing else.
We'll take a closer look in this review, to help you decide if it is the right record player for you.
Fluance RT80 Review: Overview And Features
Fluance turntables are engineered with solid components, and the RT80 is no different. It's designed to optimize sound character and quality, and it outshines other models in this price range in that area.
The RT-80 does not play CDs or the radio and it does not have speakers or any other extraneous components. It plays records and nothing else. Due to this focus, it plays them better than competing models.
The one additional component it does have is an internal preamp made by Texas Instruments, so you can connect directly to a set of powered speakers. If you connect to passive speakers, you'll need to use an amp.
This is a belt-driven turntable, as you'd expect from a model that focuses solely on sound quality. Continuing that theme, it comes with an AT91 Audio Technica stylus on an S-type tonearm, plus an anti-skating system, to ensure the needle runs through the grooves as smoothly as possible.
The cabinet is made from fiber board and the platter is die-cast aluminum. A felt mat covers it and isolation feet further help reduce external vibrations.
Key Features
Audio Technica AT91 cartridge with diamond-tipped stylus
Balanced aluminum S-Type tonearm
Plays 33 1/3 and 45 RPM
High quality Texas Instruments preamp
Gold-plated RCA line outputs
Sound isolation feet and aluminum platter
Dust cover
Setup And Playback
Setting up the Fluance RT80 should be pretty straightforward. However, if it is your first record player, the instructions might be a little difficult to understand. They use some jargon with which you might not be familiar, but it's nothing exotic and all stuff you'll want to learn anyway.
Besides, there are plenty of videos that show, in great detail, how to set up this turntable. This is a great option for more visual learners, too.
A control dial allows you to select the speed: either 33 1/3 rpm or 45 rpm. An included plastic spindle adapter enables you to play 45s on the 33 1/3 spindle. An auto-stop feature halts the platter once the last song is done playing.
Performance
Like all Fluance turntables, this one delivers. Some might compare it to similarly priced models and dismiss it due to the lack of features. But while those models spend money on those features, Fluance spent it all on performance.
The AT91 stylus, S-shaped tonearm and anti-skate feature all ensure smooth playback for a clear sound free of distortion. The belt drive, felt mat and isolation feet further isolate the player from external vibrations to ensure even smoother playback.
Listening Experience
The Fluance RT-80 does not have internal speakers, but built-in speakers are never any good anyway. When you have a high performance unit like this, you don't want to put the sound output through tiny speakers.
Gold-plated RCA outputs ensure sound quality is maintained when you attach the RT-80 to a receiver. You can also connect it directly to a pair of powered speakers, thanks to the Texas Instruments preamp. If you want to use headphones, you'll need to plug them into a receiver or amplifier. There is no headphone jack.
The machine has a ground terminal, so you'll never have to worry about that annoying humming sound you get from a ground loop. And you don't have to worry about learning how to ground your record player.
High-Performance Cartridge
Most models in this price range come with low-quality cartridges and bad needles. This means you'll need to spend even more money to upgrade your record player, if you want to enjoy top sound quality.
Fluance outfitted this model with the Audio Technica AT91 conical stylus. With only 2 grams of force, it glides through the grooves and delivers crystal clear sound.
Pros
Incredible sound quality given the price
Audio Technica AT91 stylus
Anti-skating system
Texas Instruments preamp
Sound isolation feet
Gold-plated RCA outputs
Cons
No built-in speakers
No headphone jack
Doesn't play 78s
Fluance RT80 Vs Stanton T62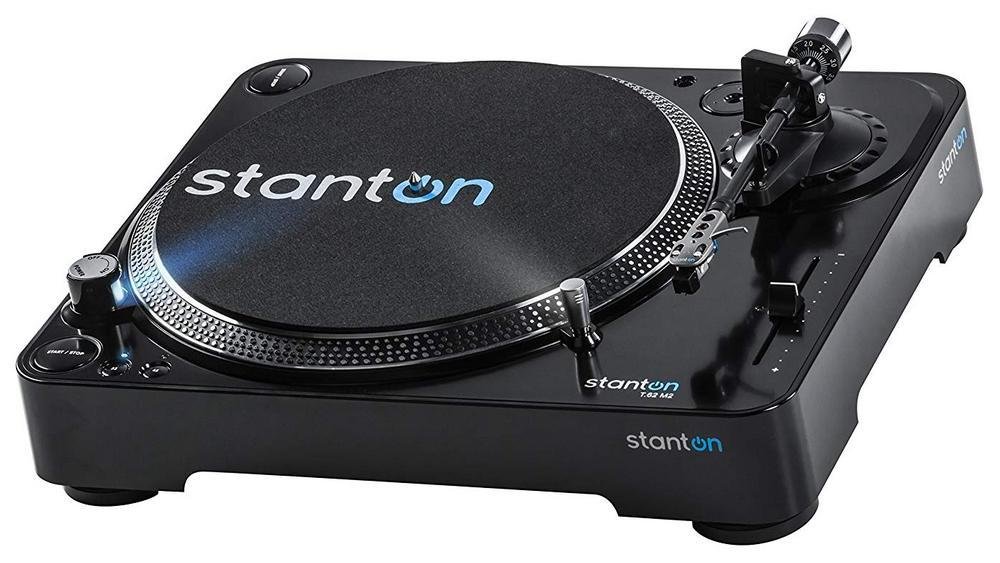 If you are getting your feet wet with turntables, both the Stanton T62 and the Fluance RT80 are great options. While the Stanton T62 is arguably more aesthetically appealing, they both offer superior sound for the price. And both come in right under the $200 mark, making them incredible values and still very affordable.
The Stanton T62 is a DJ specialist. That makes the decision easy. If you need a turntable for DJing, get the Stanton. If you want it to listen to music, get the Fluance.
The Stanton is a little heavier than the Fluance RT80, but that makes it better for DJs. The T62 features a straight tonearm, which is ideal for scratching. The S-shaped tonearm on the RT80 is not meant for scratching.
The Stanton T62 plays at speeds of 33 1/3, 45, and even 78 rpm. It can play any record, while the Fluance can not play 78s.
The Stanton T62 has a few additional features that make it perfect for DJing. For example, it has 2 start/stop switches, which is great for battling.
You can't go wrong with either turntable, but they are very different models that are meant for different applications. Get the RT80 to listen to records art home. Get the Stanton T62 if you want to DJ.
Fluance RT80 Turntable: Conclusion And Rating
Fluance is a Canadian company known for making high quality record players that sell for far less than you'd expect. The Fluance RT-80 continues that tradition.
It does nothing besides play records, so it's not for you, if you are looking for an all-in-one player, or a model with built-in speakers. This is a record player for those who want the best possible performance when playing records and don't need their unit to do anything else.
All of the effort and budget went into optimizing the playing of vinyl and the sound output. As a result, the RT-80 delivers far above its price range in those areas.
If you are on a budget and want your record collection to sound as good as it possibly can without having to spend a ton of money, then the RT-80 is for you. It is the best bang for your buck on the market in its price range. We give it an excellent Top Record Players rating of 4.5 out of 5.