I know many will disagree with this, but headphones are the best way to enjoy music.
Don't get me wrong, I love a nice stereo system.
But you really need to turn the sound up loud to ensure you don't miss anything.
And that's just not possible for most of us in our living situations.
Even then, I find I still miss a lot of the nuances I only hear when I'm listening on headphones. And actually focusing on the music, of course.
What albums should you listen to if you really want to get the most out of your vinyl record player and a set of good headphones?
Keep reading for a list of the best albums for headphones. And if you have any other suggestions for great albums, feel free to drop a comment below.
Best Albums For Headphones
Every one of the following albums sounds amazing on headphones. They were mixed and produced incredibly well and you really hear that when you let the sound flow directly into your ears.
Dark Side of the Moon by Pink Floyd
Pink Floyd is a rock band from England that started playing back in 1965. They became known as one of the first English bands to adopt and embrace the psychedelic movement and sound that was so popular in the United States at the time. The band in the early days was a bit weirder and more psychedelic, but they became a bit harder rocking as time went on.
Dark Side of the Moon is the eighth official studio album the band produced. It was preceded by Obscured by Clouds in 1972, which did not get anywhere near as much critical acclaim or attention.
The album has become iconic at this point, with the pyramid and rainbow beam going through it on the album cover being perhaps most famous of all.
We must mention that Syd Barrett, who was a founding band member and very influential in the early albums, departed the band five years before Dark Side was made. Syd's mental health issues are one of the main plot lines in the concept album.
The album focuses on the pressures of the daily life of being in the band and Syd's mental health crisis that led to his departure. This makes for some very interesting things lyrically, for sure, but in addition to the interesting lyrical context, there are so many great sounds.
Why It Is Good On Headphones
Dark Side of the Moon is practically ubiquitous when it comes to listening on headphones. I have an early memory of coming home from school and seeing my brother with headphones on stoned out of his mind. Dark Side of the Moon was on the record player, of course!
They spent some time and effort to make this album work in the stereo space. There are lots of cool panning effects, and sounds seem to come from all over the place.
This is especially noticeable in the quieter, more open, and spacious sections. The best moment on the album with headphones on, for me, is the beginning of the song Breathe.
The album just sounds so good. Every instrument is exactly where it should be, and every sound is just the right volume. It is, in my opinion, the perfect headphones album, period.
Best Songs On The Album
Breathe
Time
Money
Us and Them
Eclipse
Pet Sounds by The Beach Boys
The Beach Boys started as a cheesy goofy singing group that was known for surfing songs and good harmonies. They were seen as very strait-laced kids making wholesome records for other strait-laced kids. However, as they grew up, they started to make some interesting records.
Pet Sounds is their eleventh official studio release. It is known today as one of the greatest albums of all time. It was recorded and written by Brian Wilson and it was more like a solo album, since the other Beach Boys were not involved in its production.
It is often mentioned in the same breath as Sgt. Peppers Lonely Hearts Club Band by The Beatles. These two albums have a lot in common.
Pet Sounds was the main inspiration for the Beatles making Sgt. Peppers. When they heard Pet Sounds they knew they had to do something even more adventurous and interesting. In fact, Brian Wilson of the Beach Boys was quite chummy with the Liverpool mop tops.
Why It Is Good On Headphones
The main reason this album is great on headphones is that the music sounds so different from other music, especially at that time in the late 60s. There are lots of instruments, which was uncommon to hear on a pop record in the 60s.
The sounds on the album are recorded without effects, for the most part, and you can hear everything in its pure form.
The remastered and reissued records are much better in my opinion, because they are done in full stereo, which gives the album even more depth and rich sounds.
There are some exceptional songs of course, which is another reason the album is so good.
Best Songs On The Album
Don't Talk
God Only Knows
Wouldn't it be Nice
That's Not Me
Led Zeppelin IV by Led Zeppelin
Led Zeppelin is a rock band from the UK. Robert Plant, Jimmy Page, John Bonham, and John Paul Jones are the four founding members.
Jimmy Page is considered one of the greatest guitar players of all time, and John Bonham is often cited as the greatest rock drummer. With these two guys in the band you know there is something special happening,
They are known for making hard, blues-based rock and roll and they reached their peak of popularity in the 1970s. They are a traditional rock and roll band with guitar, bass, and drums as the core of the band's sound.
Led Zeppelin IV is actually not called 'Led Zeppelin Four'. It is untitled. Everyone calls it Led Zeppelin 4 simply because it is the fourth full-length studio album they produced.
It was recorded in the English countryside at a place called Headley Grange, which was essentially an old Mansion in the middle of nowhere. This old house inspired the recording of the album in many ways.
In fact, you can hear some of the fantastic reverb of the old house on some of the recordings. This is very evident on the drum track of When the Levee Breaks.
Stairway to Heaven, which the band's most famous song, is on this album. It has one of my favorite guitar solos of all time. And I am not alone in thinking that!
The song has a mysterious otherworldly vibe to it, invoking images of heaven and strange pipers, etc. This is one of the greatest rock songs of all time and it lives on Led Zeppelin IV, one of the greatest rock albums of all time.
The album has a lot of the signature Zeppelin blues sounds, but it also explores some new territory for them. A good example is Battle of Evermore, which sounds like a traditional Gaelic or Celtic folk song.
Why It Is Good On Headphones
A great record is a great record no matter how you hear it. However certain records just sound better on headphones, like this one does.
The amount of space and air on this album is extraordinary for a rock and roll album. You can hear the concrete walls and hard surfaces of the old house on many of the tracks. The drums sound unbelievable throughout the entire record.
The songs themselves have some interesting panning and stereo separation techniques going on, which make for a very interesting listen. The vocals and harmonies are often panned and set back in the mix, making it sound like you are in the room listening live to the band playing.
Best Songs On The Album
Stairway to Heaven
The Battle of Evermore
Black Dog
When the Levee Breaks
Abbey Road by The Beatles
Everyone knows the Beatles. They are synonymous with rock and pop music. John Lennon, Paul McCartney, Ringo Starr, and George Harrison started playing music in Liverpool in 1960.
They started out playing American-style blues-based rock and roll stuff in the local clubs around town and quickly began to make a name for themselves.
Later in their career, they became more experimental and adventurous with their songwriting and recording processes. By the mid to late sixties, they had a new sound that was much different than the blues-based rock and roll music with which they had made their name.
By the time Abbey Road was being recorded, they had already made Sgt. Peppers and the White Album, two of the most famous and highly regarded rock albums of all time. Both of those could easily be on this list, but that may be a bit of Beatles overkill.
Abbey Road had a very high bar to reach, if it was to be anywhere close to as popular or well-loved as Sgt. Peppers or the White Album. There was a lot of pressure on the band, and the story behind this album is one of the best stories in rock history.
It is the eleventh official album by the Beatles. Abbey Road is my personal favorite album ever. I have to disclose that. From the stream-of-consciousness arrangement and sequencing on side 2, to the song-by-song hit after hit knockout punches on side 1, it is just a killer record.
George Martin was in the studio with them and helped them do various recording and engineering tasks. The sounds they were able to capture on Abbey Road are so unique and well-recorded. The album is interesting in that George Harrison has 2 songs on it, and most of the other songs are Paul McCartney's songs.
It's funny that John Lennon said the medley on side 2 is garbage, just bits of stuff stuck together. The medley on side 2 is my favorite album side of all time! This makes me laugh!
Why It Is Good On Headphones
The instruments on the album sound very unique to me. Paul's bass sound is always interesting, but on Abbey Road, it has a presence that is noticeable and quite interesting.
John's guitar sounds are also different than on other albums, with lots of overdriven amp sounds and unique tones. The drums on Beatles albums have always been great, but they sound especially good on this album.
The mix has some interesting juxtapositions going on with guitars coming at you from different directions and the vocals sounding like they are inches from your ears. It is an incredible mix and when you combine it with excellent-sounding instruments and vocals you get a magic listening experience that sounds completely amazing on headphones.
Best Songs On The Album
Come Together
Here Comes the Sun
You Never Give Me Your Money
Mean Mr. Mustard
She Came in Through the Bathroom Window
Rumours by Fleetwood Mac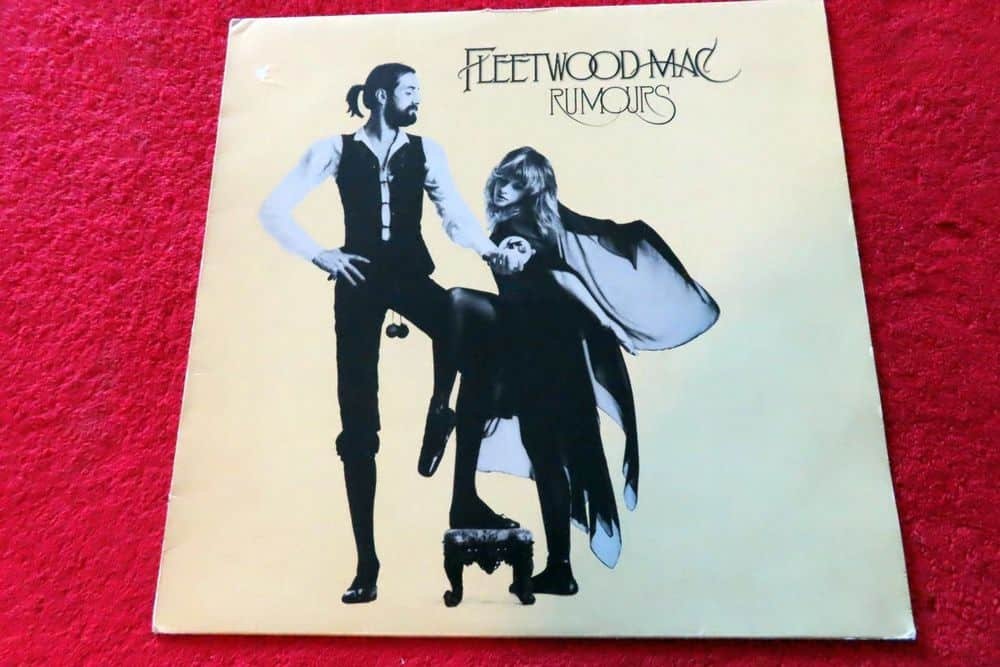 Fleetwood Mac is a British and American band that came into popularity in the 1970s. The band was formed in 1967 in London and actually started out as a strict blues band with Mick Fleetwood on the drums. The original lineup was Peter Green, Jeremy Spencer, Bob Brunning, and Mick Fleetwood.
The band released 17 albums with various lineups over the years, but the lineup everyone is used to with Stevie Nicks and Lindsey Buckingham were present for the albums that had the most commercial success. There was just some magic with those two.
Rumours is an amazing rock album that sounds incredible. It is the 11th studio album recorded by the band. It won album of the year in 1978 and was nominated for best pop performance.
It has a lush instrumentation and vocal sound that is crystal clear. Some would even argue it is 'overproduced'. Personally, I think it is produced exactly as it should be, no more and no less.
The album was recorded after several members of the band had relationships that had broken up. There was also serious drug use going on at the time. Add those two things into the context of the album and you can see why it is such an interesting and volatile-sounding record.
Lindsay's guitar work is my favorite part of the album, but Mick's drumming is a very close second.
Why It Is Good On Headphones
Fleetwood Mac is notorious for their obsession with high-fidelity recordings. Their albums all sound so good. It is quite striking. Tusk is another album of theirs that would have made this list, if it were a longer list.
Tusk is similar to Rumours in that the sounds they managed to get on tape are just pristine and without any flaws. I am not sure how they did it, but I am glad they did.
When you hear it on headphones there is no space between the speakers and your ears, so you are getting a clear and close sound that you can't get any other way. You can hear all the instruments in their own space and the result is a listening experience unlike any other.
Best Songs On The Album
Dreams
Go Your Own Way
Never Going Back Again
The Chain
Gold Dust Woman
Best Headphone Albums Of All Time: Final Thoughts
All of the albums above sound amazing no matter how you listen to them. But their incredible engineering and the creativity the artists display on all of their songs is what makes these the best albums for headphones ever.
Of course, I know that everyone has their own opinions. If you have a different taste in music, you will also have a different idea as to the best headphone albums of all time.
And I would love to hear them! Please leave a comment below and let me know which albums you love listening to on your headphones.