Nothing beats the sound of vinyl through a pair of high quality speakers.
But sometimes, that is not an option.
Maybe it's late and your family or neighbors are sleeping. Or maybe the people around you simply can't be disturbed at that moment.
Luckily, this does not mean you can't enjoy your music at all.
Listening to vinyl with headphones can be a great experience as well, as long as you have the right headphones.
Most make vinyl records sound bad, but the best headphones for vinyl enhance that vinyl sound and bring those warm, rich tones to the forefront.
Let's take a look at some great headphones for vinyl at various price levels, so you can be sure there is a good pair in there for your needs.
Headphones For Vinyl Compared
12/04/2023 10:46 am GMT
Best Headphones For Vinyl Reviewed
All of the following headphones are great for vinyl music. If you really want to test them out, se our list of the best albums for headphones. Every one of those records sounds incredible through headphones.
Audio-Technica ATH-M40x Professional Studio Monitor Headphone
If you're a DJ and looking for pro-quality monitoring headphones at a great price, your search is over. And if they work for DJs, they are amazing for home listening as well.
They're perfect for casual listening, DJ'ing, gaming, and in-studio use. This type of versatility gives you more bang for your buck, and unexpected at this low of a budget range.
Their comfortable, heavily padded ear cups promote longer use, as does the adjustable design. The bass may not hit like some more expensive models, which is due to the smaller driver size. Considering the price, the bass response is better than you'd expect.
The design of the headphones is somewhat bulky and heavy, which does have an impact on their portability. That said, they are foldable, which more than makes up for it.
Overall, these headphones sound great are incredibly versatile. They work great in the studio, in the DJ booth, or for a quiet night in listening to your favorite records.
Beyerdynamic DT 990 Pro Headphones
Beyerdynamic DT 990 Pro Over-Ear Studio Headphones
Pros:
Excellent sound quality

Can handle bass-heavy tracks

Comfortable

Precise, clean sound

Lightweight design

Low price
Cons:
Poor quality cable

Not the most durable design

Not foldable

No sound isolation
View On Amazon
Our Review
We earn a commission if you make a purchase, at no additional cost to you.
12/04/2023 11:41 am GMT
These open-back, over the ear headphones are a great choice for editing, and mixing and mastering, but they can also be used for casual listening or in-studio use. This model is durable and comfortable to wear for hours on end.
The DT 990 comes equipped with smaller sized ear cups that are heavily padded for user comfort. It features thick, durable plastic and a thin metal headband.
The cups are equipped with memory foam padding and soft velour covers that allow your skin to breathe. This pair features a punchy bass response, making them a great choice if you're listen to a lot of bass-heavy tunes.
Sony H900N Wireless Noise Canceling Headphones
Sony H900N Hi-Res Noise Cancelling Wireless Headphone
Pros:
Lightweight design

Durable

Highly portable

Wireless

Can be used with any type of turntable when it's plugged directly in via the cable

Long battery life
Cons:
Thin padding on headband

Small ear cups

Wireless mode may not be compatible with all types of turntables
View On Amazon
Our Review
We earn a commission if you make a purchase, at no additional cost to you.
12/04/2023 12:16 pm GMT
These durable, lightweight wireless headphones by Sony are versatile, easy to use, and feature an excellent battery life. They're also equipped with a noise canceling feature.
This active noise canceling allows you to hear all of the fine details for every track, without them being drowned out by ambient noise, making this a great set to use in a loud environment.
Additionally, the long battery life allows you to listen to these headphones all day long, without needing to recharge. But the biggest advantage is the ability to move around while listening. With the wireless feature, you are not tethered to the audio source.
Koss Porta Pro On-Ear Headphones
Koss Porta Pro On Ear Headphones
Pros:
Excellent sound quality

Foldable

Very low price

Comfort zone feature allows you to adjust tension

Lightweight

Comfortable
Cons:
Flimsy design

Will leak sound at a higher volume
View On Amazon
Our Review
We earn a commission if you make a purchase, at no additional cost to you.
12/04/2023 06:41 am GMT
These headphones come equipped with a couple of temporal comfort zone pads that are adjustable and designed to perfectly balance and adjust the pressure of the ear plates on the ears. This improves user comfort during longer use.
These headphones are designed specifically with excellent bass response in mind, making them a great option if you enjoy plenty of bass-heavy tracks. They can easily handle bass without overpowering the entire track.
This studio-quality pair is made out of durable plastic, thick padding, and a headband that's highly adjustable, for total comfort. The compact, foldable design allows you to transport them safely, without damaging the ear cups or headband.
In terms of sound quality, you'll be impressed with the strong lows, excellent bass response, and the rich sounds you normally wouldn't expect to find in a pair in this price range.
The construction feels flimsy, though. It is easy to see where they saved on costs. But better in construction, than in sound quality, and that is why they are such a great value.
Beyerdynamic DT 770 Studio Headphones
While the price may be a little higher, if you can afford it, it's definitely worth it for a model that can bring out all the rich sounds in your record collection. This pair has a reputation for adjustability and comfort, but they also offer excellent sound quality.
These over-ear, closed headphones offer impressive acoustics and ultra-low bass sounds. They also feature adjustable, plush ear cups, and a durable spring steel headband for a secure and comfortable fit. The DT 770s are perfect for casual listening as well as studio use.
GRADO SR80e Prestige Series Stereo Headphones
Grado SR80e Prestige Series Headphones
Pros:
Clear sound

Foldable design

Low price

Studio-quality

Durable

Large soundstage
Cons:
Not as comfortable as more expensive models

Not good with bass-heavy tracks

Do not block out environmental noise
View On Amazon
We earn a commission if you make a purchase, at no additional cost to you.
These classic headphones were designed in the mid 1980s. Throughout the years, the manufacturer has tweaked the design, adding small improvements that continue to make this pair a best-seller.
The GRADO SR80e are equipped with excellent dynamics and a more detailed sound, thanks to the mid-range detail and crystal-clear mids and treble. Despite being very budget-friendly, they still offer excellent bass punch, but once you turn the volume up,heavy bass sounds suffer.
While they feature passive noise cancellation, it does not block out much sound, so they're not the best choice if you also plan to use them in loud public places.
Sennheiser HD280PRO Headphone
These dynamic headphones are lightweight, come with an extended frequency response, and offer a natural, warm sound reproduction. The over-ear design, combined with padded ear cups and an adjustable headband ensure total comfort.
Sennheiser HD280PRO also provides better than average sound quality, thanks to highs that are not overly bright, and mids that are detailed and clear.
Unfortunately, they do tend to struggle with bass-heavy tracks, which may be a deal-breaker if you like music with heavy bass. Overall, they're a great all-around choice, if you're on a bit of a budget.
Behringer HPM1000 Headphones
The Behringer HPM1000 offers an extra-wide frequency response, high resolution capsules, and a high dynamic range. It also comes with oval-shaped ear cups that are designed to improve comfort, and a highly adjustable headband.
These headphones are studio-quality and perfect for a wide range of applications. They're a great choice for monitoring bass lines, recording and mixing tracks, or just listening at home.
They are one of Behringer's best-selling models and provide the type of performance that you'd only expect from higher-priced sets.
Headphones For Vinyl Buyer's Guide
If you want to crank up your vinyl collection without waking up the whole house, headphones are a great way to do that. You can be respectful of others, while enjoying your music at a higher volume.
Once you have the right record player, it's time to start shopping around for a pair of headphones that are worthy of your vinyl collection.
But do you have to purchase headphones that are specifically designed for vinyl use? Don't all headphones work the same?
The best headphones for vinyl can bring out the true sound in every track, which is exactly why any audiophile will look high and low for a pair that can meet their listening needs and enhance their music listening experiences.
Unfortunately, there are hundreds of models on the market, which can make it difficult to find the right pair, with plenty of features designed to enhance the rich sound of vinyl.
This guide will go over the many must-have features and how to choose a pair that will meet your listening needs. Let's begin by looking at the many benefits that come with purchasing a pair of headphones that work great for vinyl.
Benefits Of Headphones For Vinyl
Using headphones to listen to vinyl is more convenient than having to set up speakers.
Headphones provide the perfect environment for music regardless of where you are.
Headphones are significantly more affordable than a new speaker system.
If you live with family, roommates or close neighbors, they probably don't want to hear you blasting your music at 1 in the morning. Headphones allow you to listen to your favorite music at full blast anytime of the day or night without the worry of disturbing those around you.
Headphones are designed to bring out more detail in music (of course, this means they can also reveal more flaws and surface noises).
If the record player you have doesn't come with a preamp, you can connect the headphone amp between the headphones and preamp.
Using a pair of headphones in place of a set of speakers can save space.
Room acoustics are usually overlooked as a factor for good sound. Even if you have a top of the line stereo system, it's not going to sound good in a room with poor acoustics and a lot of echoing. In some rooms, it can be a real struggle to get the acoustics to an acceptable level and it usually requires the help of special products. When you use headphones, this issue is totally eliminated.
Portable models will allow you to enjoy your favorite music, on the go. If you have converted your vinyl collection to digital, then using a pair of headphones allows you to listen your music, without disturbing those around you, while giving you the benefit of tuning out a loud environment.
Now that you know more about the benefits of using headphones to listen to your vinyl collection, let's take a look at the different features available and what you should look for to ensure you purchase a pair that offers high-quality sound.
Important Features
There are some basic variables to consider when you choose a standard full size pair of headphones. These factors include ear fit, back type, and driver type.
In the end, choosing the right pair of headphones is a matter of personal preference. If possible, try on as many pairs as you can before you buy.
If you're ordering online to save money, you can still head down to your local electronics store and try on a few pairs that you're interested in. and then order them online for less.
Ultimately, you want to choose the pair that feels and sounds the best. There are many different types of styles available. Each style has its advantages and disadvantages.
It all depends on the type of listening experience you're looking for, the musical genres you commonly listen to, and whether you want headphones for home use only, or a versatile pair that you can also use on the go.
Many agree that vinyl offers the best sound quality in terms of detail. Vinyl can store (and the needle extract) more information from the grooves than any other type of source, including CDs or high-resolution downloads.
Basically, vinyl is still king, in terms of sound quality. It goes far beyond what you can expect from CDs.
Because vinyl offers this type of sound quality and fine detail you need a pair of headphones that are on the same level. While many average headphones may be fine for your CD player or your MP3s, you need top quality for vinyl.
Sound Quality
Obviously, excellent sound is crucial, especially if you've already invested in a quality record player. The analog detail and warmth can only be conveyed via a high-fidelity device that's designed to produce detailed and clear audio.
While you may not need a model that can easily handle a deeper bass response, a pair with an impressive frequency range ensures top quality sound recreation. If you want to listen to and enjoy a wide range of music genres, you need a pair that's able to handle mids, highs, and deep bass.
Most audiophiles prefer the warm quality of vinyl over the type of clinical sound quality you get with CDs. But you need the right pair of headphones to preserve this sound. Standard headphones will lend your vinyl the same clinical CD sound.
Once you pair great headphones with vinyl, you'll end up with the perfect balance of sound.
Drivers
When you're shopping for headphones, it's more than just searching for a pair that looks cool. The type of drivers a model is equipped with can have a major impact on sound quality.
But what are drivers exactly?
Drivers are made up of cone-shaped diaphragms, voice coils, and magnets. They're also one of the most essential components in headphones.
The job of the driver is to convert the electrical signal into sound that your ears are able to understand. However, there are several different types of drivers to choose from, and they are available in different sizes, ranging from 8 millimeters to 50 millimeters.
The driver's size indicates sound capability. Models with a single driver are able to produce sound up to 20 kHz. A pair with more than one driver is able to split the wide range of frequencies and allow each of the drivers to focus on a specific range.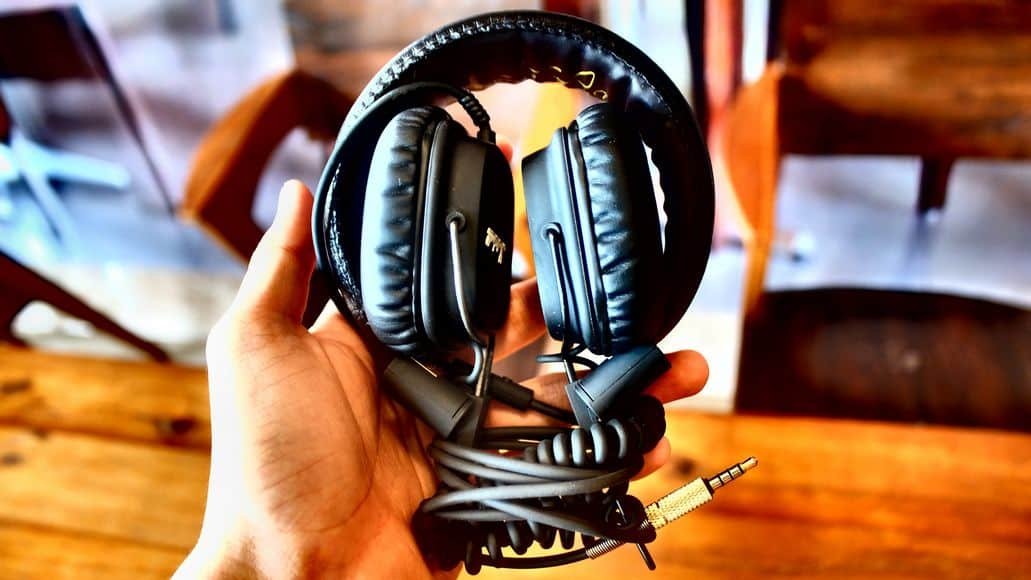 Drivers also feature different kinds of core mechanisms. Each type provides a unique way to produce sound. There are currently five different types of drivers to choose from:
Electrostatic
Planar magnetic
Balanced armature
Moving coil
Magnetostriction
In most cases, the dynamic driver is the driver of choice, but many audiophiles prefer the electrostatic for their excellent sound quality. Planar magnetic models are also a great choice if you're looking for an alternative to dynamic drivers and budget isn't an issue.
Moving Coil/Dynamic
These are by far the most common type and are usually found in lower priced models. This type of driver uses electromagnetism and magnetism to create movement, resulting in the creation of sound.
This type of driver consists of three main parts that make up its core: a diaphragm, a voice coil, and a neodymium magnet.
The magnet is what magnetizes the voice coil, making it electromagnetic. When the coil receives a current it creates a magnetic field that heads in a direction based on the current's flow. The coil is attracted and repelled toward the magnetic field.
This also moves the diaphragm as it displaces the air surrounding it in order to create sound. The volume is increased based on the level of air displacement.
In order to create a realistic bass sound in the driver, it has to be able to displace air, which is why this type of driver is perfect for creating bass response. This kind of driver is very effective and doesn't need much power in order to achieve a higher volume.
That said, one of the biggest complaints people have about this type of driver is that the sound is often hit with distortion when the volume is cranked up.
Balanced Armature
These drivers are much smaller than dynamic drivers and are only available in on-ear monitor style models. These are much more expensive than models that are equipped with a basic dynamic driver.
This driver consists of a small arm located inside coils of wire that are surrounded by a couple of magnets. The bottom and top magnets are what determine the armature movement.
When a current is flowing through the coil, it works to magnetize the armature, which causes it to pivot down in the direction of either magnet. This movement moves the diaphragm, producing sound.
Planar Magnetic
This type of driver is usually found in over the ear, open-back style models. This driver is very thin and often used only in high-end headphones.
A planar magnetic driver uses magnetic fields in order to produce sound. While the dynamic driver uses a moving voice coil, the diaphragm here is directly impacted by the magnetic field in order to produce sound.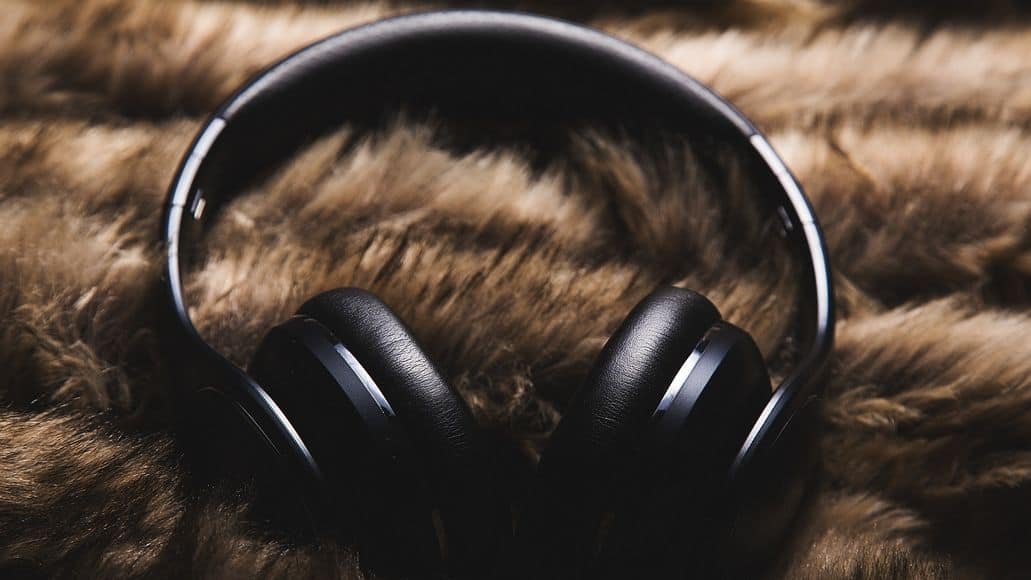 The whole diaphragm needs to vibrate evenly, so more magnets or larger magnets must be used. This adds weight to the headphones. It also requires more power from an external amplifier or audio source.
Because of this, headphones with planar magnetic drivers are not as portable as a pair equipped with a dynamic driver, and they are usually designed primarily for home use.
But the high-quality sound they offer is free of distortion, while the bass response is also excellent. This is because of the combination of the strong electromagnetic force and thin diaphragm, both of which make it possible to displace a high volume of air.
Electrostatic
This driver utilizes static electricity. Vibration occurs as the diaphragm is pushed and pulled against electrodes or conductive plates, and the air is forced through perforations. This force, in addition to an electrical signal that is constantly changing, results in sound waves that the ear is able to understand. This driver requires energizers, which convert low voltage to the high voltage required.
Magnetostriction
This driver is able to bypass the eardrum to send the vibration to the inner ear directly, through bone conduction. However, just like electrostatic, this type of driver is only found in high-priced models.
Closed Or Open Back
Depending on where you plan on using your headphones, you may want to use closed-back or open-back headphones.
If you plan on listening to your music in an open environment that's relatively silent, then the open back style can be a great option. These types of headphones create a clear, warm sound.
If you plan on listening to your record collection with plenty of ambient noise all around you, like people talking, then choosing a pair that comes equipped with a noise canceling feature and a closed-back design is best.
Closed Back
The back style fully encloses the driver which helps to improve sound isolation while minimizing sound leakage. This design helps to reflect sound back towards your ear, while the bass is often more prominent. However, it also tends to be less focused than with open back style headphones.
Open Back
With the open style headphones, the driver is left wide open. For some listeners, this is a big plus since it offers a more natural sound while delivering a wider soundstage. However, this design doesn't offer much in terms of sound isolation, so you'll still be able to hear ambient noise around you, while also allowing other people to hear what you're listening to.
Ear Cups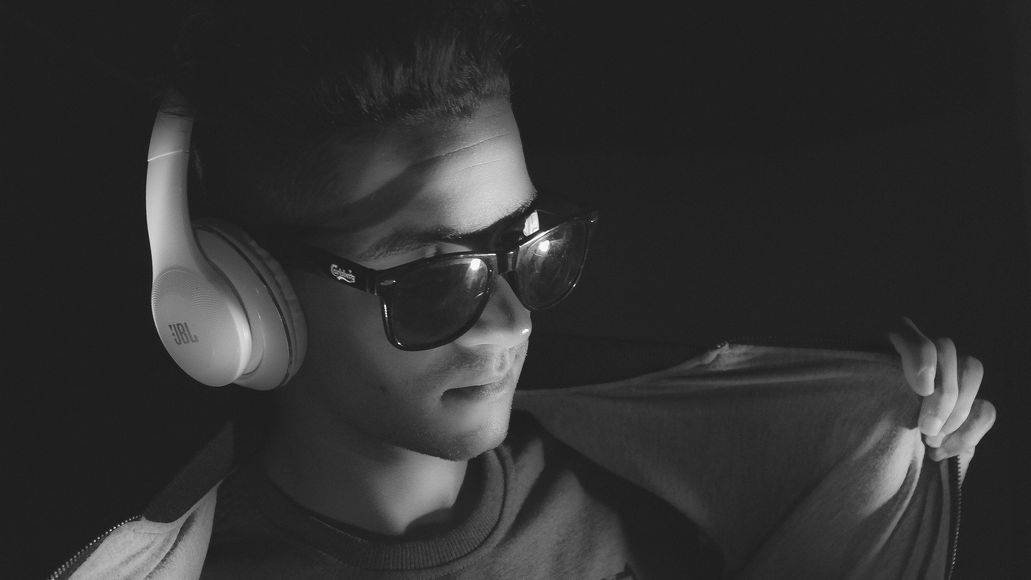 Headphones can sit around or on your ears. You can choose between on-ear and circumferential ear cup pads.
The circumferential style headphones feature pads that are placed very close to the ears. This type of snug fit offers better-than-average sound isolation since very little sound is allowed to come in or out.
Many people find these headphones incredibly comfortable since they don't place much pressure directly over the ear which makes them a good choice for longer listening sessions.
The supra aural ear pads sit directly on the ears and not around them. Unfortunately, this type of fit offers poor sound isolation, compared to the alternative.
Additionally, this type of design place some pressure on the ears, which can be uncomfortable after a long period of time. This style tends to be more popular for home use and in settings where you want to still be able to engage with those around you, or with your environment.
Headband
Headband adjustability is a big deal, since it can allow you to achieve the perfect fit. If a headband isn't adjustable, then you may be left with a model that slides forward or backward on your head, which can make for a frustrating and uncomfortable listening experience.
If the headband is too tight it can also cause tension headaches. Because of this, it's important that you find a model that's highly adjustable so you can reduce tension and tighten or loosen the fit based on your head size.
Price
Of course, price is also a factor for most of us. But if you're looking for the best listening experience possible, don't make cost the determining factor.
You can find a pair of high-quality headphones ranging from $50 to $300. It all depends on your listening needs, what you realistically expect from your headphones in terms of sound quality, and what you're willing to spend to enjoy the best.
Warranty
Most models do not come with a lengthy warranty, although some higher priced models may be covered for up to 6-12 months. A warranty typically covers manufacturing defects, but does not protect against damage.
The Best Choice
So what style of headphones works best for vinyl?
If you already have a high-end record player, it makes sense to invest in a top of the line pair of headphones to take advantage of that quality.
But if you're on a budget, you can still find a pair that offers better than average sound quality, especially if you know what features really matter.
In terms of design, I recommend over the ear style headphones. This type tends to have with bigger drivers, which offer better sound, punchy bass, and versatility.
Many audiophiles also prefer wired models that don't have noise cancellation. In fact, many people believe that wireless models that operate via Bluetooth technology cause a reduction in sound quality. However, this is debatable.
If you want to make the best choice, regardless of your budget, then go for a fully analog, wired pair that's more durable and designed to handle daily use.
Best Headphones For Vinyl: Final Thoughts
As you can see, there are many options out there and many features to consider before you hit that buy now button. The best headphones for vinyl should cater to your specific listening and comfort needs.
Consider the type of music you mainly listen to. This can help you determine whether or not you even need a pair that can handle heavy bass.
Do you love cranking up your music? Then look for a pair that come with a driver that doesn't struggle with distortion.
By using this buyer's guide and taking a look at the models we've reviewed, you should have no problem finding the perfect pair to suit your listening needs and that will work within your budget.