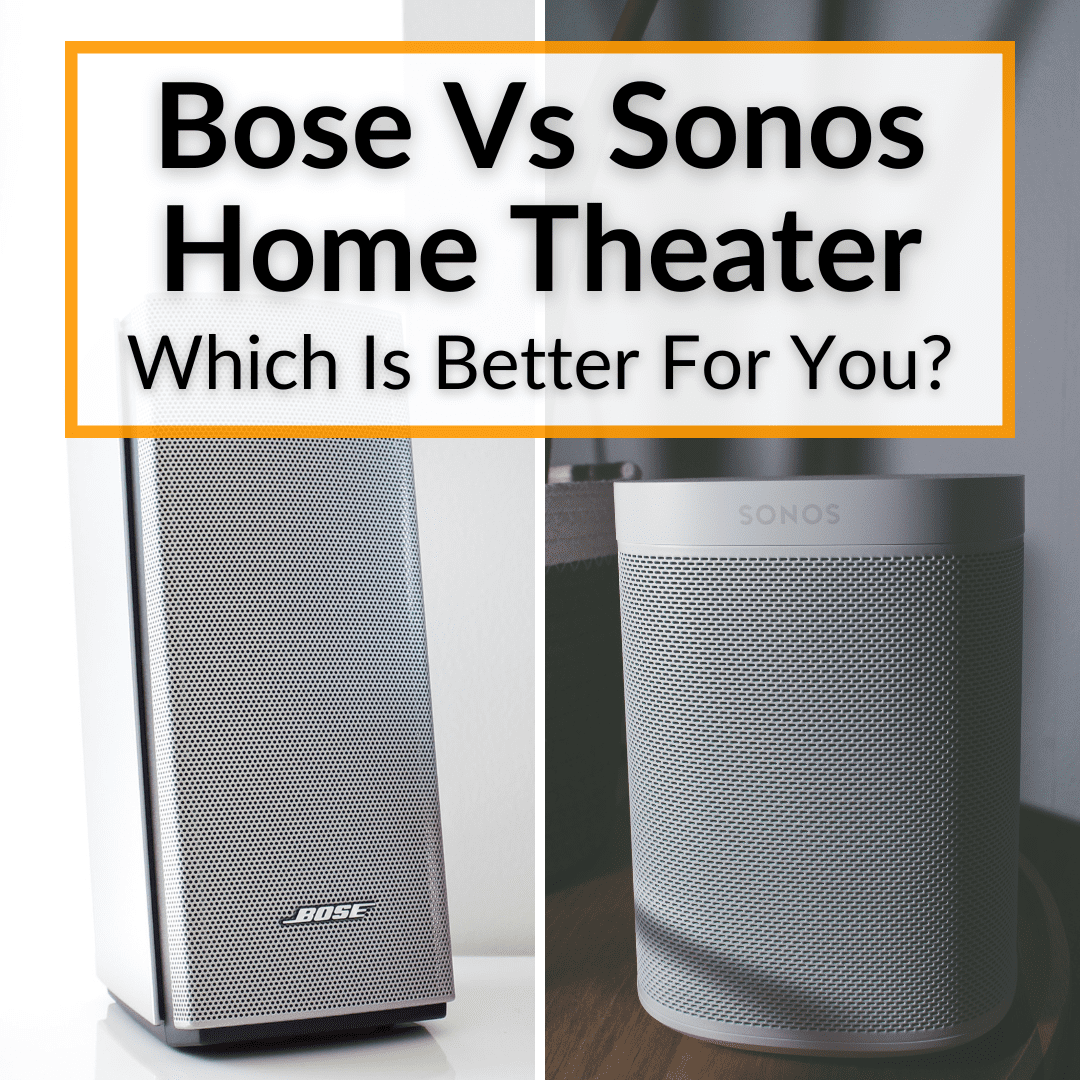 Back in college, I had a great sound setup.
It consisted of a CD player, a receiver, a massive subwoofer, a decent center speaker, and two rear speakers.
And two incredible Bose bookshelf speakers.
I have been a fan of Bose every since. I even still have those speakers. But I no longer use them.
That's because I now have a complete Sonos system, with speakers in every room of my house.
Does that mean Sonos is now better?
Not necessarily. I just love their advanced technology and it better meets my current needs.
For many, Bose will be the better choice.
Keep reading for a comparison of Bose vs Sonos home theater systems. We will help you figure out which one is the better choice for you.
Bose Vs Sonos Home Theater
We will begin our Sonos vs Bose comparison by looking at each brand's systems individually, before comparing them directly. Then we will get into the specific advantages of each and help you decide which one is right for you.
Bose Home Theater System
If you are thinking about getting a Bose home cinema, you want to make sure that get get the system that is right for you.
Bose has many different systems and not all of them will meet your needs and have the features you want. Let's take a look at the different types of home theater systems Bose offers.
Entertainment Systems
These are 5.1 home cinema sets made up of 6 modules: 2 front speakers, 1 center speaker, 2 rear speakers, and 1 bass module.
Bose home cinema equipment is characterized by its surround audio system that offers a very similar experience to that of the cinema.
The sets may or may not include an A/V console or receiver, which is a component you can also easily buy separately, if you want it.
Bose home entertainment systems are compatible with other Bose speakers and bass modules, so you can expand the experience, taking into account the dimensions of your room. Currently, the Bose brand has two lines of entertainment systems: Acoustimass and Lifestyle.
Soundbars
With budget, room size, connectivity, and portability in mind, Bose introduced a new option to the market: soundbars.
They stand out for being compact with unbeatable finishes, integrated amplifiers, and 100% wireless. In addition, despite the small size, the sound quality is impeccable, making them ideal for small rooms.
The sound bar has small speakers in different directions to provide the feeling of surround sound. They are designed to also be able to connect wirelessly with other speakers and bass modules.
In this way, you have the opportunity to create your own custom set, with however many components you deem necessary.
Sonos Home Theater System
Building a home theater can be a drag, because there is a ton of wiring: Blu-ray, telephone, television, home theater system sound, etc.
And any collection of wires also becomes a collection of dust and dirt. That makes us wish for wirelessly connected equipment.
And that is exactly the type of 5.1 living room system that Sonos has created. Their systems are generally made up of a soundbar, surround speakers, and a Sub subwoofer.
The Sonos Arc is their top-of-the-line soundbar with 9 speakers (six mids and three tweeters made with neodymium magnets) and support for the Dolby Digital audio system.
It delivers clear sound in high frequencies, and medium and low frequencies. It includes an accelerometer that is responsible for detecting the orientation of the bar to adapt the equalization and the audio channels depending on the position.
The Sonos One is a compact wireless speaker that has two class D amplifiers inside, plus a tweeter and a woofer. Its small dimensions allow you to place it anywhere in your house. To connect to other compatible devices of the same brand, it uses the SonosNet 2.0 network.
With this speaker, you can enjoy the sound from other devices such as phones, tablets, record players, or computers, as well as play music via streaming, thanks to a connection via Ethernet or directly via Wi-Fi. You can also connect to services like Apple TV.
It is also a multi-room system, so you can play the same music in more than one room simultaneously, controlling everything from a single device.
The Sonos Sub is a wireless subwoofer that only includes the power cord and connects to other equipment for a greater sense of immersion, no matter where you place the sub.
The design they have chosen is striking, being two speakers separated by a space which causes a cleaner and clearer sound sensation.
Differences Between Sonos And Bose Systems
Let's go over the primary differences between the two systems. First is Google Assistant voice control. Sonos supports it, while Bose does not.
Sonos speakers do not have batteries, while the Bose speakers do. These Sonos speakers also do not have Bluetooth connectivity, while Bose does.
Sonos speakers have a function what automatically tunes them according to the room, maximizing sound quality for whatever location you put them in. Bose speakers do not have this functionality.
Similarities
Both Sonos and Bose speakers can connect to internet radio streaming services. Both systems also allow for different speakers for different rooms.
Both systems have an app that gives you full control over a multi-room system. And both allow you to combine the soundbars with a subwoofer for a much more powerful sound.
Advantages Of Bose
Fantastic sound quality and versatility
Elegant design
Compatible with next-generation consoles
Great home entertainment – the perfect place for a movie, sports, or video night with friends and family
Simple custom installation and configuration
ADAPTiQ system
Custom apps: Bose Connect, Bose Music, and SoundTouch
Advantages Of Sonos
The Sonos home theater will make the whole house sound like heaven
Endless speaker combination possibilities
A diverse range of products is made for all needs
Frequently updates for both software and speakers
Easy to use once set up
Support for all voice-controlled smart assistants
Connectivity to various streaming services
Which Is Better: Sonos Or Bose?
The answer depends on you. The best we can do is help you figure out which system is better for you. If you don't know that already, here are the reasons to get a Bose system, followed by the reasons to get one by Sonos.
Why Get A Bose System?
Nowadays, we all enjoy a good day of video games with friends, a family movie night, listening to a sublime orchestra, or watching a sports championship.
However, we do not always find a place where there is an audio system on par with the large TVs that it is increasingly common to have at home.
Luckily, the Bose brand was born to enrich the perception of audio, so that you can live the experience as if you were really on the other side of the screen.
Bose is an American company, based in Massachusetts. It was founded by a former MIT professor Amar G. Bose.
From the beginning, Bose specialized in hi-fi equipment and speakers of all kinds, such as home theater speakers. And since its origins, it has enjoyed a great reputation for its systems of great quality and fidelity.
Why Get A Sonos System?
The Sonos system is the closest experience to the cinema in a home. Add to the cinema the launch of the new generation of consoles, which is going to fully exploit the Sonos Arc with its new technologies compatible with Dolby Atmos.
We have already been enjoying this for some time with the Xbox One S, but it is only going to get better. With the Sonos system, the experience cannot be more complete.
In addition, with Trueplay technology, the soundbar (or smaller speakers) scans the room and automatically adjusts the sound depending on the dimensions and the surrounding obstacles.
To complete the pack, there are various helpful technologies, like being able to control the system by voice, and the Sonos application that serves as a remote control (in addition to synchronizing with your television).
With this technology, the home cinema experience becomes wonderful. But it does not end there. You can also enjoy it with video games, with your vintage record player, with streaming music, and so much more.
Sonos Home Theater Vs Bose: Final Thoughts
Both Sonos and Bose make amazing home theater systems. You can probably tell from the tone of this article that I use and love Sonos myself.
But I had Bose speakers back in college and can't rave enough about them either. I think Sonos has revolutionized the way we listen to music, play video games, and watch movies at home and prefer them as a result.
But Bose gives you incredible sound quality too. In the end, it really does just come down to your personal preference. You can't go wrong with either system.
And if neither of these two systems feels quite right for you and you are looking for a third option, check out Vizio. We have an article comparing the top-of-the-line Vizio Elevate vs Sonos Arc.