The Sonos system has a ton of great features and uses.
One of my favorites is being able to integrate with various streaming services, so that you can enjoy their sound over your Sonos speakers.
And one popular streaming service is Apple TV.
Can you play apple TV over your Sonos speakers?
Of course you can!
And it is incredibly simple to set up, too.
Keep reading to learn exactly how to connect Sonos to Apple TV using AirPlay 2. We'll cover everything else you need to know about the new AirPlay version, too.
How To Connect Sonos To Apple TV
Good news. You can finally use a Sonos One (or any other compatible Sonos speaker) to play the audio from our Apple TV!
I did it and it's very easy. All you have to do is slide the control down when you are playing something on the Apple TV, select the audio options, and choose one or more of the speakers that appear.
This way you can listen to your Apple TV on multiple speakers simultaneously.
Sonos Beam and Sonos Palybar are the soundbars that Sonos has designed to go with our Apple TV, but AirPlay 2 means you can also use your Sonos One with your Apple TV without heavily investing in a dedicated soundbar.
In other words, if you have one SL One, you can connect it with the Apple TV via AirPlay 2. But you may still want other 5.1 components, like a Sonos Sub. If you get one, learn where to place the Sonos Sub here.
AirPlay 2 Compatible Speakers
Speaking of, these are all of the speakers that are compatible with AirPlay 2.
Sonos One
Sonos One SL
Sonos Beam
Sonos Move
AirPlay 2 Functions
If you ask me, the main feature of AirPlay 2 is multiroom audio in the purest Sonos style. This is the same as what the brand's speakers have already done, with one big difference.
From now on, you can do it natively with your iPhone or iPad, without the need for do it from the Sonos app.
Does this make things easier? It depends on what you are working with.
You are able to control Apple Music, which was not possible before. With AirPlay 2, you can send different songs to each room (or the same one) in a very simple way.
What I like the most is that it also allows control of Apple Music with Siri through an iPhone or iPad. I just say: "Siri, play some Dio on the Sonos in the living room" and Dio starts singing.
In fact, with AirPlay 2, you can listen to sound from virtually any AirPlay-enabled iOS app on Sonos, including Apple Music, Spotify, Netflix, HBO, YouTube, Tidal, Audible, Pandora, and more.
Some Sonos users still haven't updated, but you should, if you have not, in my humble opinion. Especially if you want to watch Apple TV and listen to it on these great speakers.
How To Update Sonos To AirPlay 2
To update your Sonos to AirPlay 2, you first need to have the latest version of the Sonos app for iOS. Once you have downloaded it, you will see the notification that a firmware update is available for your speakers.
After clicking on update, the speaker update process will begin. It should last no more than 5 minutes.
How To Add Sonos Speakers To AirPlay 2
The next step is to add your AirPlay 2-enabled Sonos speaker to the iOS "Home" app, which is used for HomeKit products. All you have to do is open the "Home" app and click on the + symbol as if you were going to add a HomeKit product.
The next step is to select the option "I don't have the code or it can't be scanned". Nearby Sonos speakers will then appear so you can add them. From here you can use your Sonos through Siri.
Speakers with AirPlay 2 compatibility appear within the iOS "Home" app and can be assigned a single room just like any other speaker.
AirPlay 2 also enables stereo pairing on the HomePod, along with other improvements like a substantially larger transmit buffer than you had with AirPlay 1, which helps reduce dropouts due to network issues.
With AirPlay 2, you also get more precise synchronization between speakers, and the ability to continue streaming without interruption from phone calls, games or videos.
If you have older stuff, don't worry. Here's a hack.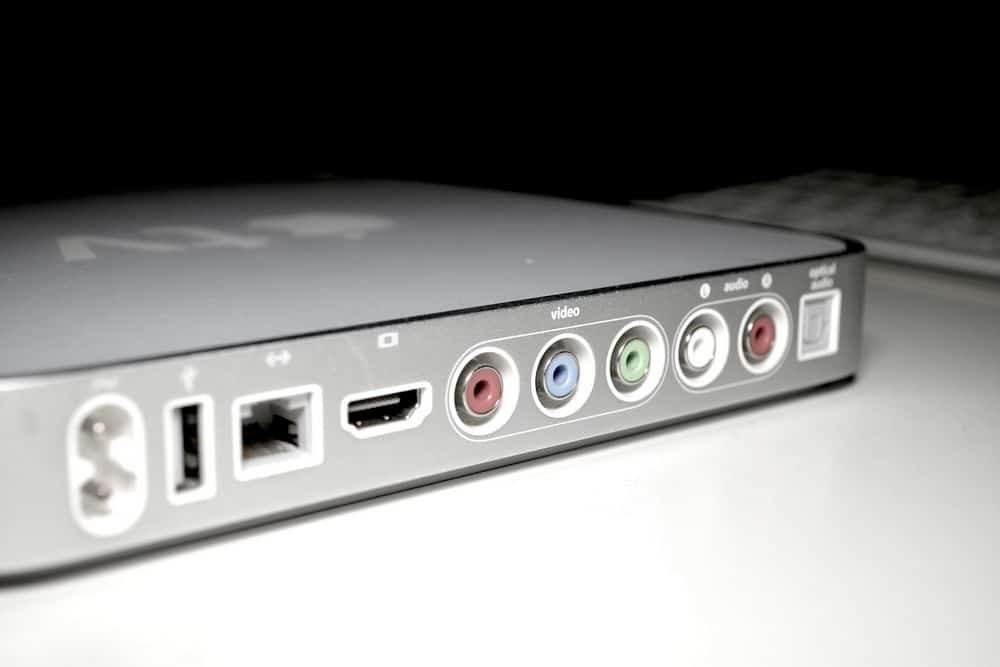 Although AirPlay 2 is only compatible with the Sonos One, Beam, Playbase, and Play:5, you'll still be able to use older speakers as long as they're paired with one of the newer AirPlay-enabled speakers in the Sonos app.
That is, if you group a Sonos Play:1 with a Sonos One (which is AirPlay 2 compatible), when you send sound to the "group", it will play on all the speakers in the group.
Connect Sonos To Apple TV: Final Thoughts
Connecting your Sonos speakers to Apple TV is easy, provided you have updated to AirPlay 2 and you have compatible Sonos speakers.
Even if some of your speakers are not compatible, as long as you have one that is, you can group the rest with that one. Then you connect to that one with AirPlay 2 and the sound will play over every speaker in the group!
If you have other Apple products, like a Mac, those connect just as easily. Learn how to play Sonos from Mac computers in that article.