Have you ever been to a club and watched a DJ mix in real-time?
Sadly, it's not all that common anymore.
Modern DJ's heavily rely on digital software programs to mix and edit their sets.
In the past, DJs would commonly mix together two tracks right in front of you, in order to shift seamlessly from one song to the next.
This was impressive to watch, but unfortunately, most DJs are no longer actually mixing in real-time.
Instead, they're using music software to make their jobs a lot easier.
Using a software program doesn't mean the DJ isn't talented, though. It's just different and it actually has a lot of benefits over traditional spinning.
DJ software gives you the opportunity to try out a variety of new sounds and it will change the way you spin for good. Even better, many of these programs are affordable.
DJ Software For Digital Turntabling
If you already know how to DJ on a turntable, but have been avoiding digital DJing, I highly suggest giving it a chance. You don't have to go all the way, but incorporating some digital elements like DJ software into your turntable setup can take your skills to a whole new level.
Digital Library Use
One of the biggest benefits is the ability to use music in your digital library. Most software programs offer direct support for uploading music from your digital library, as long as the songs are in a compatible audio format.
Other Basic Features
The software has to come equipped with all the right controls, just like a mixing deck. These tools can vary from program to program. Some of the basic features any software should include are the following.
Transport
These controls can be used for functions such as keylock, start, bpm, pitch, and more.
Virtual Turntables
If you know how to use a traditional turntable, you can master using a virtual turntable. With a virtual turntable, you can move a virtual record backward and forward, just like with real vinyl. If you don't already know how to scratch, this is a great way to learn.
Crossfader
The crossfader features essential sliding controls for mixing.
Equalizer
The EQ controls are designed for tweaking a track's settings such as the highs, mids, bass, and more. This feature is also used to balance audio output between external hardware and decks.
Effects
These effects are what can really make your set sound unique and stand out from the competition.
Most programs come with a range of real-time effects that can be layered on the track you're playing, in order to create a unique sound.
Hardware Needs
You don't have to run out and buy hardware with your digital turntable setup. Instead, you can rely on your computer, phone, or tablet. However, I do recommend getting a hardware controller for DJing, which will allow you to create some pretty impressive mixes.
This hardware device looks very similar to a turntable and functions in the same way as well. They're also often used by the pros since they offer a more familiar interface. However, unlike a traditional turntable, the hardware controller is entirely digital and it's what you use to communicate with the software.
Of course, you can also incorporate a traditional turntable into your setup, such as the Audio Technica AT-LP120, which is one of AT's biggest sellers. You can use this is conjunction with digital software, using digital records. Our article on turntable setups has much more on this.
Ultimately, the type of hardware and other gear you buy will depend on your budget, your skill level, and the type of DJing you're interested in.
If you want to learn how to scratch the old-school way, buy a traditional turntable. A USB turntable that you can hook up to a computer is best. If you want to focus on digital DJing, a controller is the right option.
What Else DJ Software Can Do
This type of software program allows you to match the tempos of a couple of songs, breaking them down into sections in order to mash them together, while preserving the right pitch. While there's no doubt that the DJ still has a hand in the creative process, the software plays a major role in pulling the two tracks together.
You'll find that most of these software programs are loop-based. In the DJ industry, this type of track is very popular. It's also very easy to do and can make an experienced DJ sound like a pro.
These loops consist of track fragments and short sounds that are typically very easy to duplicate and very rhythmic. Loops are also very popular in the sound engineering industry since they can be used to create new tracks.
Over time, looping earned a bad rep, since many artists could create an entire album based on loops and earn thousands. However, DJs who mix their music live in clubs find that looping is a very convenient way to put together a fresh set on the fly.
Digital software allows the DJ to be more creative by using the most current loops. You can also cut a track with the software, and mix it at the club.
The loops that you find in digital libraries are typically created in a studio, using virtual or real instruments.
Some software programs can break a song into a variety of fragments and allow you to place them in different categories, so they're more accessible. This type of easy access makes the DJ's job much easier since they don't have to deal with the hassle that comes with cutting a track.
How DJ Software Has Changed The Industry
These days, not every DJ knows how to DJ on a turntable. Scratching has recently come back in style in the DJing world, but newbies who are used to mixing and playing sets on their laptops have no idea how to combine both scratching and digital DJing. In fact, it can take years to learn how to scratch like a pro.
Back in the day, you'd have to purchase a mixer and a couple of turntables and mix a fresh set right then and there. But digital DJ technology changed everything by making it easy to learn how to mix like a master.
These software programs also made it easier for the DJ to create whole new sounds, thanks to the addition of sound effects and virtual instruments. Last of all, it made DJing much more affordable.
The Best DJ Software Programs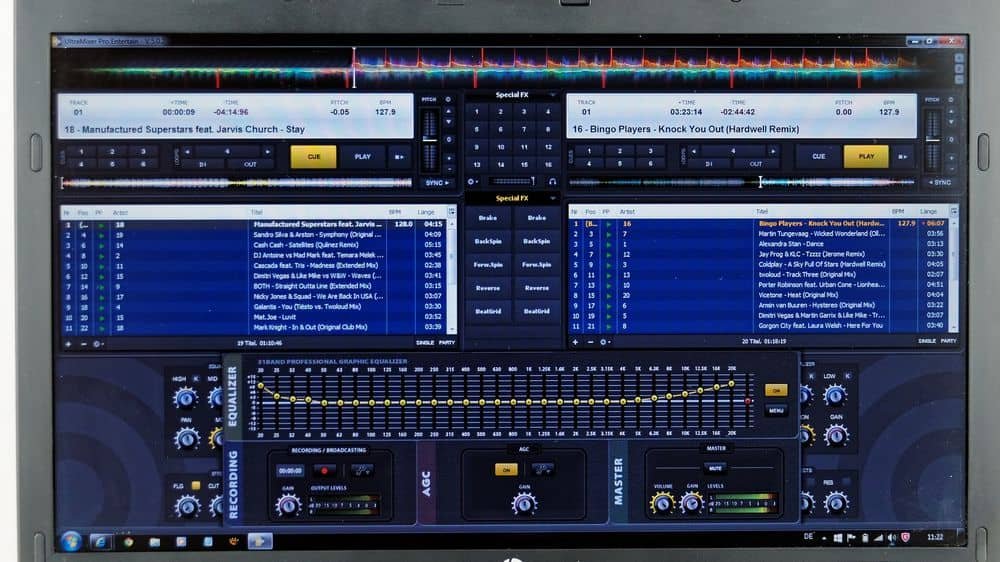 There's really no shortage of software programs on the market to choose from. Most pro DJs rely on Serato or Traktor. While both offer different features and each has its own unique interface, in terms of how they function and what they can do, they're very similar.
Both leading programs allow you to loop and slice sections, trigger samples, mix with up to four decks, and adjust the song's tempo. The biggest difference between the two is the Stems deck Traktor offers.
Stems is basically a music format that was developed by the manufacturer that allows you to purchase a track in four individual parts:
Each part can be manipulated and mixed separately. Additionally, the program also offers a free app that you can use to turn your own music into a Stem. This is a great way to give new DJs more creative freedom.
Both programs sell for a similar price. If you're not sure if DJ software is right for you, you can take advantage of Serato's Lite version, which allows you to try some of the features for free, before shelling out your hard-earned money on the full version.
The free version is pretty limited in terms of what you can do, though. If you want to enjoy all the benefits this program has to offer, you're going to have to pay full price.
If you prefer a different program, just make sure you know what you're getting. Not every program is beginner-friendly. Some can be quite complicated. If you've never used one of these programs, always try to download a free trial or a lite version, if possible.
Obviously, this does not offer as many features as the regular program, but it will give you a rough idea of how the program works, what type of features it offers, and most importantly, what the interface is like and how easy or difficult it is to use.
Organizing Your Digital DJ Setup
Most DJs prepare a set ahead of time, even though they can use their software to mix on the fly. Preparing a digital set involves importing tracks from a digital library and installing them in the DJ software, to allow the program to analyze them.
With most programs, when you import a track, it also display the song's key and BPM, which is then assigned to a beat grid. The beat grid is what the program uses to seamlessly mix a couple of tracks together.
This entire process is done using an analysis algorithm which does a good job of working out the beat grid, even when the program is dealing with rigid tempos.
If you don't trust a software program to handle this job for you, I recommend testing out each track before you play your set in front of a crowd. These programs can sometimes struggle to locate the first beat of a track or they may misjudge the beats per minute.
Digital DJing: Final Thoughts
Digital turntable DJs use software programs to handle a variety of jobs, such as cutting, mixing, and even editing a track. The software program can add plenty of color to a track, allowing you to add your own unique flair.
You have more control over the loop using one of these software programs and the included virtual deck, which allows you to add special effects, including virtual instruments.
Not only does this type of software handle a majority of the mixing duties, it also allows you to create tracks that are unique and designed to show off your talents.