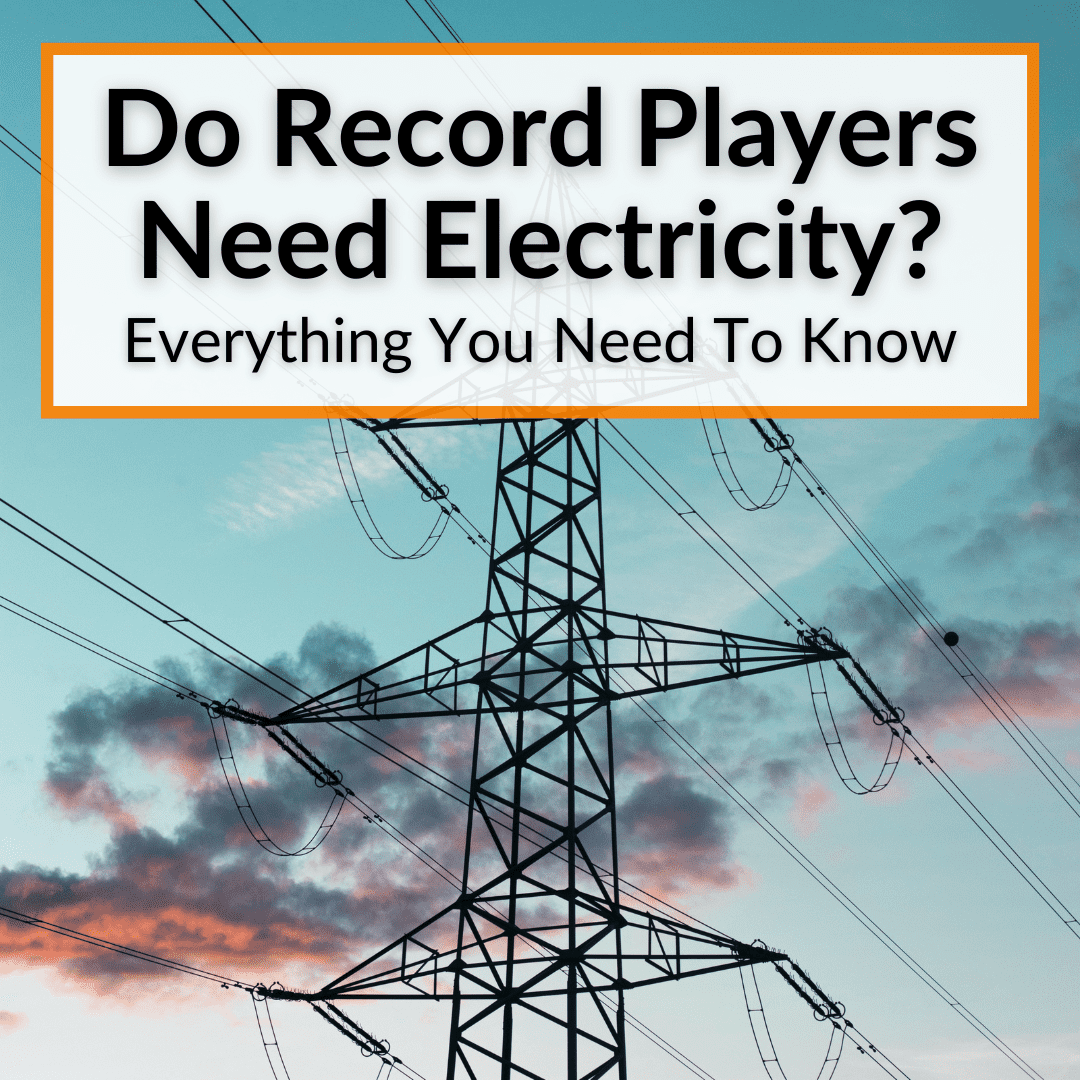 Some might write this off as a stupid question.
But it's not.
As we will see shortly, there is a good reason to ask: do record players need electricity?
Just think about the first record players, those old-school phonographs.
But surely modern turntable need electricity to run, right?
Keep reading to find out. We will cover everything you need to know about the way record players work and the different ways to power them.
Do Record Players Need Electricity?
Most record players need electricity, but not all need to be plugged in. Some can run on batteries. And some actually don't need any electricity at all.
Whether record players need electricity depends on their type. Some manual players do not need any electricity, but most do need electrical power to function.
Almost all automatic record players need some type of electrical power. Electricity helps power the motor which rotates the player's platter. Let's take a closer look at how turntables are powered and what that means in terms of their electricity needs.
How Record Player Are Powered
Most record players – whether manual or automatic – need electricity to power their motor. To that end, most models come with an AC adapter that you plug into an electrical outlet.
Electricity runs through the adapter, which converts it to the correct voltage to power your player's motor mechanism. That motor is what rotates the platter of the player, either directly or via a rubber belt.
The record players consist of a synchronous motor that helps power the belt drive mechanism. A synchronous motor rotates at the same speed as the frequency of the AC current that powers it
The record player also has an in-built circuit that controls the motor and rotates the turntable's platter at a consistent speed.
These days, you also have battery-operated record players. These are usually small-sized, portable record players.
Battery-operated turntables usually have smaller platters and do not have as many features as seen in their AC-operated counterparts.
Automatic players additionally have complex circuits that work to automatically start and stop the platter without requiring manual effort.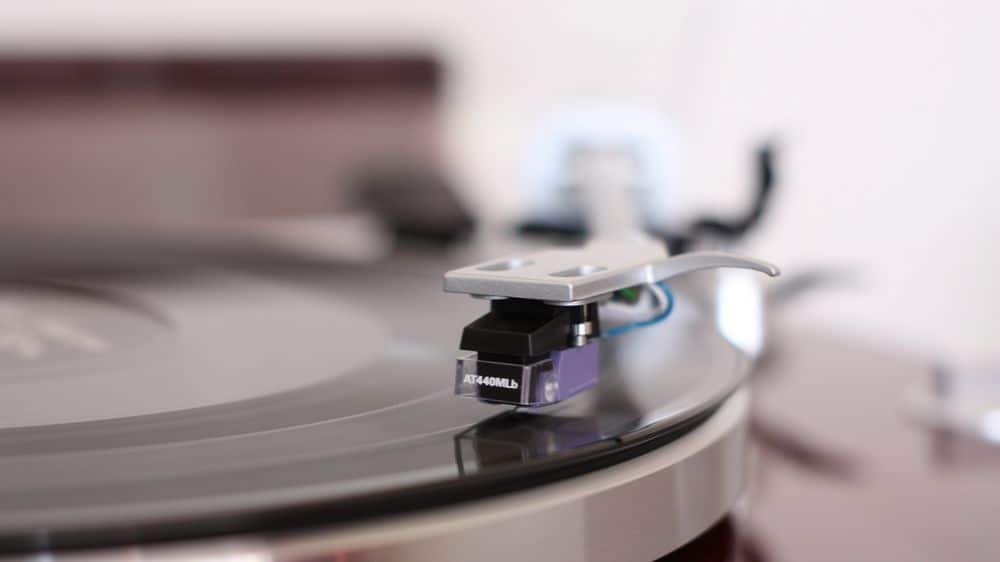 This means that automated record players have additional parts that need electrical power. These are parts you will not find on manual players.
They include an automatic mechanism that turns the platter and moves the tonearm. In manual players, you need to manually start and stop the platter. You also need to correctly position the tonearm manually, to prevent any damage to the stylus or needle.
Record Players That Do Not Need Electricity
There are two types of record players that do not need electricity: manual ones that operate via hand crank and portable turntables. Let's look at each one.
Hand-Cranked Manual Record Players
As the name indicates, these are completely manually-cranked players that do not need any AC adapter or batteries. They are completely powered by human effort. The downside to these units is that they may not be able to maintain a consistent speed of their turntables and that will affect the sound quality.
Portable Record Players
Some portable record players use batteries and do not need electricity from wall outlet. However, they do still use electricity. They just get it from batteries instead of an outlet. And you will definitely need to by new batteries, or recharging the existing batteries, from time to time.
Do Record Players Need To Be Plugged In?
Depending on the type of record player you are using, it may or may not need plugging in. If your player runs on batteries, then it won't need an AC adapter and a wall outlet. However, it will need batteries to function.
Likewise, if you have a completely manual, hand-cranked record player, you won't have to plug it in either. You simply have to manually crank the platter and also start or stop it as needed.
However, if you have an automatic or manual player that uses a synchronous motor, you will need electricity to power it. The motor, in turn, will fire up the circuit that controls its speed and function. This mechanism helps turn the record player's platter.
In automated players, the automatic mechanism will also need powered to stop or start the player's platter and also control the movement of the tonearm.
Bottom line: do all record players need to be plugged in? No, there are some exceptions. But most record players will need an electrical outlet to power them. If not that, they need some other power supply.
Record Player Power Supply
A record player can be powered by an external or internal power supply.
An external power supply could be a separate unit that powers up the player. It can run on electricity or use batteries. A cable connected between the device and the player transmits the power to the player.
In players with an internal power supply, the above mechanism is contained inside the unit. This means that you simply connect the player to the electrical outlet and the internal power supply transmits the power internally to operate the player's motor. A set of circuits and wires control the motor which, in turn, moves the player's platter.
In both types of players described above, you need AC power to run the player's motor. The AC power is converted to DC, which then turns the platter.
A vinyl record placed on the platter moves with the platter as it rotates, and the record player needle glides through the grooves in the record. It reads the physical vibrations etched on the record groves and converts them into an electrical signal. The signal is then amplified and sent to a speaker to be converted back into an audio sound signal.
How Wireless Record Players Work
Wireless record players use Bluetooth technology to transmit the audio signal to Bluetooth-enabled speakers or headphones.
When you play a record player, the stylus reads the vibrations created by the groves on the vinyl record.
The cartridge converts the vibrations into an electrical signal.
Since this signal is weak, it needs to be amplified using a preamplifier.
The boosted signal from the preamp is picked up through Bluetooth transmission and sent to a Bluetooth-enabled Smartphone, headphones, or speakers.
These Bluetooth-enabled devices pick up the audio signal and decode it into an analog signal which is then played back through the speakers or headphones.
Can I Connect My Turntable Directly To The Speakers?
The answer to this question depends on the type of speakers and the type of record player you have.
Many record players have internal speakers, so they may not need any external speakers. Of course, most record players with built-in speakers still let you connect additional speakers. This is always a good idea, since internal speakers are never great.
If you have a turntable without built-in speakers, you will need to connect external speakers. In this case, you can set up your turntable by connecting an amplifier or receiver to the record player's audio output jacks and then connect the speakers to the amplifier or the receiver.
Some speakers come with built-in amplifiers. In that case, you can connect them directly to the record player's audio output jacks. Not all speakers have this feature, so you might want to check the device's user manual.
In other words, if you have powered speakers, meaning they have built-in amplification, you can connect your turntable directly to the speakers (assuming your turntable has a preamp). With passive speakers, connect them to the turntable via a receiver or an amplifier.
Do Record Players Use Electricity: Final Thoughts
Modern record players use electricity, but that does not necessarily mean you need to plug them in. Some turntables can run on battery power.
However, these record players are usually not the highest quality. A good high-end model will need electricity and will need to be plugged into an outlet to get it.