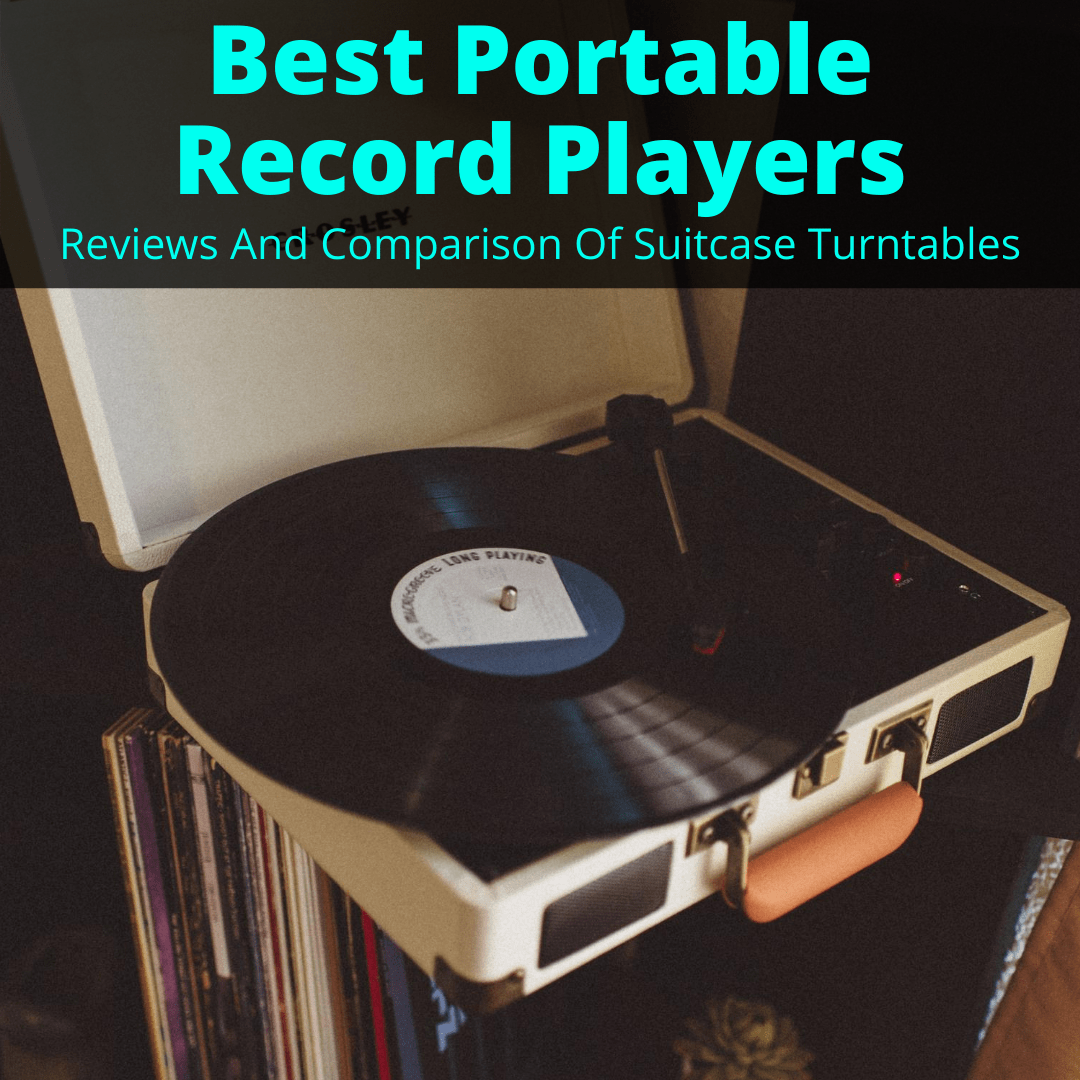 You'll notice two things when you look at the best portable record players listed below.
They are all suitcase style players and they all cost very little.
Are there other portable turntables, besides the suitcase style models?
Yes, but they are not specifically designed to be portable (we list a few toward the end of this article). They are simply small enough to carry places.
Suitcase models fold up to protect themselves and they have handles.
The turntables below are all built for portability. As such, they are not made with high-quality speakers or other components.
This keeps them small, lightweight and inexpensive. If you want a high-quality record player that delivers incredible sound, it will not be portable. If you want portability, you need to sacrifice quality.
As a result, most portable turntables are terrible. The models below are the exceptions. They deliver great quality for the size and price. But they don't come close to quality record players and they are not turntables I would choose personally.
Best Portable Turntables Compared
$79.95

$68.99 ($0.59 / oz)
03/22/2023 08:09 pm GMT
Best Portable Record Player Reviews
I've listed the best portable turntables below, giving you a brief summary of the features they have to offer and why they are the best. I've included only suitcase turntables, because they are the only ones that offer real portability.
Crosley Cruiser Portable Record Player
Crosley CR8005D Cruiser
$79.95
$68.99 ($0.59 / oz)
Pros:
Extremely portable and lightweight

Made of high-grade and durable components

Available in 22 colors

Can play vinyl at 3 different speeds

Has built-in speakers

Can play music from iPhones, iPads and tablets via auxiliary input or Bluetooth

Can connect to more powerful external speakers

Budget-friendly price
Cons:
No AM/FM radio

Speakers are decent for the size, but lower quality than the competition

No USB port
View On Amazon
Our Review
We earn a commission if you make a purchase, at no additional cost to you.
03/22/2023 08:09 pm GMT
The Crosley Cruiser is the classic suitcase style turntable. It is also the best-selling model on the market and has been for many years. It is extremely compact and lightweight and has a ton of color options (22 in total).
The Cruiser is the second lightest and smallest unit on this list. The build quality is about on par with the rest. It is a simple unit, but it offers multiple connectivity options, including Bluetooth.
The main drawback is weak speakers that are actually slightly weaker than even some other suitcase players (none of them are great in this regard). But nobody buys a suitcase turntable for the speakers and you can always hook it up to external speakers for an immediate boost in sound quality.
Victrola Vintage 3-Speed Suitcase Turntable
Victrola VSC-550BT Suitcase Record Player
Pros:
Inexpensive

Great sound quality for the speaker size

Plays all common record speeds and sizes

RCA outputs for external speakers

Bluetooth capable

33 color options

Fully automatic cueing
Cons:
Flimsy tonearm

Cheap platter
View On Amazon
Our Review
We earn a commission if you make a purchase, at no additional cost to you.
03/22/2023 08:34 pm GMT
Victrola is a company that has managed to stay relevant, even after being in business for over one hundred years. Their latest suitcase style turntable comes in a crazy variety of colors and patterns (33 at last count), giving it an almost custom feeling.
Aside from looks, it also comes with simple controls, built-in speakers, and a lightweight portable design that allow you to pack up your vinyl collection and take it with you wherever you go.
Like all portable players, the build quality does leave something to be desired. The tonearm is a bit flimsy and the platter is not the best.
Overall, the Victrola is very similar to the Cruiser, which is why we rated them the same. Take a look at all the color and design options and go with whichever one looks best to you, be it a Victrola or a Cruiser.
Wockoder Bluetooth Suitcase Record Player
Wockoder Portable Suitcase Turntable
Pros:
Weighs just over six pounds

Built-in handle

Highly portable

Built-in speakers

Beginner-friendly

Can play a variety of record sizes
Cons:
Not loud enough for a large room

Needs additional protection during transport
View On Amazon
Our Review
We earn a commission if you make a purchase, at no additional cost to you.
Wockoder is known for its reproductions of classic turntables, but with modern features that add more functionality and connection options. With this model they reproduce the look of the classic suitcase style turntables that were a huge it in the 1950s and 1960s.
This newest model features multiple input and output options, from RCA, to aux in, to headphone jack, to USB and SD, to Bluetooth. It comes it two color options: the turquoise pictured here and a vintage black.
The built-in speakers also offer decent sound quality that beats most other portable models. But they obviously can't compete with larger fixed record players or external speakers. Luckily, you can hook those up and listen to your vinyl through them.
The primary reason we ranked it slightly below the previous two units is that Wockoder is not as reliable. They get more returns, because there is a slightly higher incidence of faulty models.
1byone Belt Driven 3 Speed Portable Suitcase Turntable
1byone Wireless Suitcase Record Player
Pros:
Portable

Can play all three speeds

Tonearm with soft damping control

RCA and aux connections

Line in connection
Cons:
No Bluetooth connectivity

Speakers are quiet and somewhat tinny
View On Amazon
We earn a commission if you make a purchase, at no additional cost to you.
1byone produced their own version of the popular suitcase turntable, featuring three speed playing options, an RCA output that allows you to connect external devices, and soft damping control, which will help improve sound quality by minimizing vibration during use.
It comes with a decent set of speakers that sound good for the size, but like all other models on this list, they don't come close to real speakers. This model does not have Bluetooth capability.
So why did we rank the 1byone lower than the top choices, when it is very similar? One reason is the lack of Bluetooth, but the main reason is the lack of color options. It only comes in the turquoisish color depicted above. The top models from Cruiser and Victrola have 22 and 33 different colors and textures, respectively. Not everyone wants turquoise.
Digitnow 3-Speed Stereo Suitcase Turntable
Digitnow Bluetooth Suitcase Turntable
Pros:
Cool design

Three-speed

Low-price

USB and SD slot

Bluetooth capable
Cons:
Speakers are not great

Bluetooth is input only (can't connect speakers)

Few color options
View On Amazon
Our Review
We earn a commission if you make a purchase, at no additional cost to you.
03/22/2023 05:14 pm GMT
The Digitnow suitcase record player has a few tricks up its sleeve. And you have a few different colors to choose from (orange and white, at the time of writing).
The two stereo speakers deliver good sound for their size, but like all other models on this page, they don't get especially loud. In terms of inputs and outputs, you have the same as most models above. You also get Bluetooth capability.
The Digitnow turntable plays all three speeds. For the low price, the build quality is quite good and it's backed up by a 12 month warranty. It's quite light.
As for the tricks it has up its sleeve: it can play FM radio and even record the radio to USB or SD card. Of course, it can also record vinyl to both.
Byron Statics Vintage Suitcase Record Player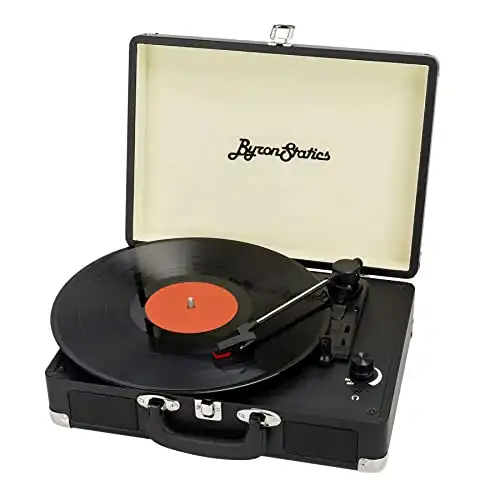 ByronStatics Suitcase Record Player
Pros:
Lightweight design

Ultimate portability

Low price

Beginner-friendly

Upgradable components

Beautiful faux leather case
Cons:
Tonearm is not adjustable

Bass output is poor

Average cartridge

Low volume from built-in speakers
View On Amazon
Our Review
We earn a commission if you make a purchase, at no additional cost to you.
03/22/2023 07:34 pm GMT
Sleek, modern and classy, this is another turntable you can take anywhere. The sleek briefcase design looks right at home in your office or your home workspace.
Just like classic suitcase turntables, this Byron Statics player is highly portable and designed for life on the go. It comes with all the basic features you'll need, including a headphone jack, three speed setting options, and intuitive controls that allow you to quickly power it on and off or adjust the volume.
Even better it sells at an incredibly low price. None of the models on this page are expensive, with all of them selling for less than $100. But this one costs even less than the rest. Naturally, that lower cost also means a dip in quality.
You also only have four color options to choose from, with 3 of them being very similar. We always prefer to have more choices. Get this one if you are on a strict budget. If you can afford to spend a bit more, get one of the choices above.
Best Suitcase Record Player Buyer's Guide
This buying guide will help you figure out which features are most important, which will make it much easier to narrow down the options to the exact right portable record player for you.
But before that, I want to make sure you know how a record player works. Even though you are looking at compact and inexpensive models, it is still a good idea to learn the basic workings of a record player, as well as the primary components.
Once you've done that, come back here and read the rest of this buyer's guide. Let's get started with a brief description of the most important features.
Portability
When looking for the best compact and portable record player, it should be obvious that portability is the most important feature. All of the models on this list were chosen specifically because they were designed to be portable.
If you are considering other models, make sure you check the size and weight. You should also ensure there is an easy way to carry it. This means you want to have a way to fold it up to protect the insides and something like a handle to make transport as simple as possible.
That says, non-folding players can be portable, too. We'll cover a few of those further below.
Speakers
Let's get this out of the way immediately: no suitcase record player has amazing speakers. Most of the models on this list have good speakers for the size. That means they sound fine at a normal volume in a quiet room.
They do not have the power to fill a loud or overly large room. If you want to enjoy better sound quality, make sure the model you get has RCA outputs. Most budget brands do offer versions with RCA. Read Crosley vs Jensen for a comparison of two budget turntable brands.
RCA Outputs
RCA outputs allow you to hook the turntable up to external speakers. That obviously makes it less portable, but if you take it somewhere and there are speakers at that location, you can use those.
When at home, you can have it permanently connected to speakers. And if you are somewhere where no speakers are available, the built-in ones will do in a pinch.
Other Inputs And Outputs
Most models have a headphone output and an auxiliary input. The headphone jack is self-explanatory and the aux-in allows you to connect your smartphone or other devices and play music from those through the turntable speakers.
Some record players also have a USB or an SD port. These allow you to play music from a USB stick or an SD card. Which ports you need depends on what storage devices you may want to connect to the turntable, if any.
Bluetooth Capable
Some of the units above are Bluetooth capable. This does not mean that they can connect to Bluetooth speakers. The Bluetooth is input only. You can connect wirelessly to a smartphone or other device and play music from that device through your record player.
Tonearm, Cartridge And Stylus
Given the price, it should come as no surprise that the tonearms, styli and cartridges are all low-cost and low-quality. That's really all you can expect. But you can swap these out, especially the stylus and cartridge, and see an instant and dramatic jump in sound quality (assuming you are using external speakers, of course).
Speed
All of the options above play the 2 most common sizes of records, meaning they can spin at 2 different speeds: 33 1/3 and 45 RPM. Most also have a 78 RPM speed setting. If you plan on playing smaller records, make sure any player you consider has the correct speed setting.
Portable Turntables That Are Not Suitcase Style
As mentioned, all of the models on this list are suitcase style turntables, because those are the most portable. But there are also regular models that are compact and lightweight. they are not specifically designed for the road, but you can easily transport them, nonetheless, as long as you make sure to protect them from possible damage.
The Audio Technica AT-LP60 is one such model. It is a no-frills unit with only basic features, but a high build quality (far higher than any models on this list) and a lightweight, compact design. It is also very inexpensive, though it costs more than any of the models above.
Models like the Wrcibo Vintage and this Wockoder are also relatively small and don't weigh much. They are primarily meant to stay in one place, but can certainly be transported without too much difficulty. Again, you do need to make sure they are protected, to ensure they do not suffer any damage.
Best Suitcase Turntables: Final Thoughts
Suitcase turntable are the most portable style available. That is why they dominate this list. They were originally popular in the 1950s and 1960s, but they have found renewed popularity today.
Most modern models adopt a vintage look to resemble those players from decades ago. They generally mimic the look of a vintage briefcase and they are just as easy to transport as a briefcase as well.
If you want the ultimate portability, a suitcase model is definitely your best bet. Of course, that portability comes at a cost. These record players are all lower quality. On the plus side, this also means they sell for extremely low prices.
If you are looking for a high quality turntable, you won't get portability. It is an "either or" situation. But you can swap out the cartridge, stylus and tonearm on a suitcase unit and increase the sound quality dramatically. Of course this also means you need to connect it to external speakers. the internal ones are never good on these players.