There are a few reasons you might be asking this.
Maybe you bought a new turntable and you're not sure what type of cartridge it came with.
Or you got one as a gift.
Or you have an old model and you no longer have the instruction, or a label on the cartridge.
Whatever the reason, I can almost guarantee that you have an MM type cartridge.
How can I be so sure?
Keep reading to learn why you almost certainly have a record player with a moving magnet cartridge, plus more information about each type and how you can tell which one you have.
Is My Turntable MM Or MC?
If your cartridge has a replaceable stylus, it is probably a MM. The odds are heavily stacked toward your setup being an MM, since MC are rare and the people that buy them tend to know they are buying them.
Of course technically, your turntable is neither an MM, nor an MC. Your cartridge is.
The electronics attached to the cartridge are virtually the same, whether you have an MM or an MC cart. So, if you want to get specific (and perhaps a bit snarky), the correct question to ask is: "is my cartridge an MM or an MC type?"
Let's define the types of cartridges and see which one is generally better, before going into how you can identify exactly which type you have.
MM: Moving Magnet
This is the more common, cheaper to produce, and less desirable of the two types. This is not to say you can't have a very nice MM cart that sounds excellent. It does however mean that the MC version of your cart will sound better and cost a great deal more.
How It Works
A moving magnet cartridge has a very small, powerful magnet that is attached to a diamond-tipped needle. The needle rides on the grooves of the record and 'reads' the information, transmitting it to the cartridge, which turns it into a tiny electrical signal.
That signal is translated into sound, when it hits your speakers. The output of a MM cart is generally somewhere around 5mV.
The Good
MM carts give you relatively high output levels and will work with most systems. The other and more obvious advantage is that you can replace the stylus (needle) when it gets dull and do not have to invest in another cartridge.
This is only sort of a good thing. In my opinion, when your stylus is dead, your cartridge is probably losing some mojo as well and should just be replaced anyway.
Fans of MM cartridges will point out that they can make badly recorded records sound better, because of the natural compression behavior and the tendency they have to smooth out the rough edges of a recording.
The Bad
The magnets are heavier than MC carts. As a result, the stylus is more sluggish and cannot move as quickly or be as responsive as it can with an MC cart. This means that generally speaking, MM carts are not as 'good sounding'.
Of course, there is always that one guy who will disagree with me and have charts, graphs, and a whiteboard ready to go, in order to change my mind. That guy would not be completely wrong, either, because a good MM cartridge, on a great record player, can sound amazing.
MC: Moving Coil
Moving coil cartridges are more expensive and loved by audio nerds. They can reproduce a wider array of frequencies and are a more responsive medium.
An MC cart is similar to the MM, except the magnet does not move. Instead, the stylus is attached to coils that vibrate in response to the grooves on the record.
The Good
Because these carts are more sensitive and have a wider bandwidth, they reproduce the nuances of your records much more accurately. They sound better and will impress your neck-beard friends. The MC output is much lower at only about 0.2 mV.
The Bad
There are 2 bad things here.
Expensive
MC cartridges are more expensive. Not just the cartridges themselves, but the additional preamplifier needed to make it compatible with normal amps and sound systems.
When you add the cost of the cartridge and the additional step-up amp, you could be looking at more than $600, on top of the outrageous money you are paying for vinyl already. Also, if your stylus goes bad, you can't replace it. You need a whole new $500 cartridge.
Hassle
You will need to purchase another preamp, set it up with your already existing preamp, and get another set of cables as well. If you go cheap on the step-up amp, you will be dealing with a lot more noise, because of the very low output of the MC cart. And that will negate the reason for having it in the first place.
I should add that some modern MC cartridges have a step-up circuit included, which avoids the need for an additional step-up amplifier. This can mean huge cost savings.
These cartridges are more expensive, but it definitely saves money, when you subtract the cost of a high-end step-up amp. Of course, the pre-amp is a one-time purchase, so in the long run, it comes out cheaper to just get it and save money on the cartridges.
Are MC Cartridges Worth It?
Nope. Absolutely not. The extra expense is way too prohibitive, unless you are stacking gold bars with no cares in the world.
There is a reason MC never became the standard and that reason is that people would rather spend their money on the latest completely unnecessary Rolling Stones reissues (or maybe that's just me?).
Additionally, MM cartridges, though less accurate than MC, smooth out the edges of the sounds. This is not a technical term but more of a description of the output of an MM cartridge.
Some of the sharper edges (like a cymbal crash) may be harsh to the ears with an MC, but with an MM, it will compress the harshness a bit and it ends up sounding slightly smoother.
How To Identify MM Vs MC Cartridges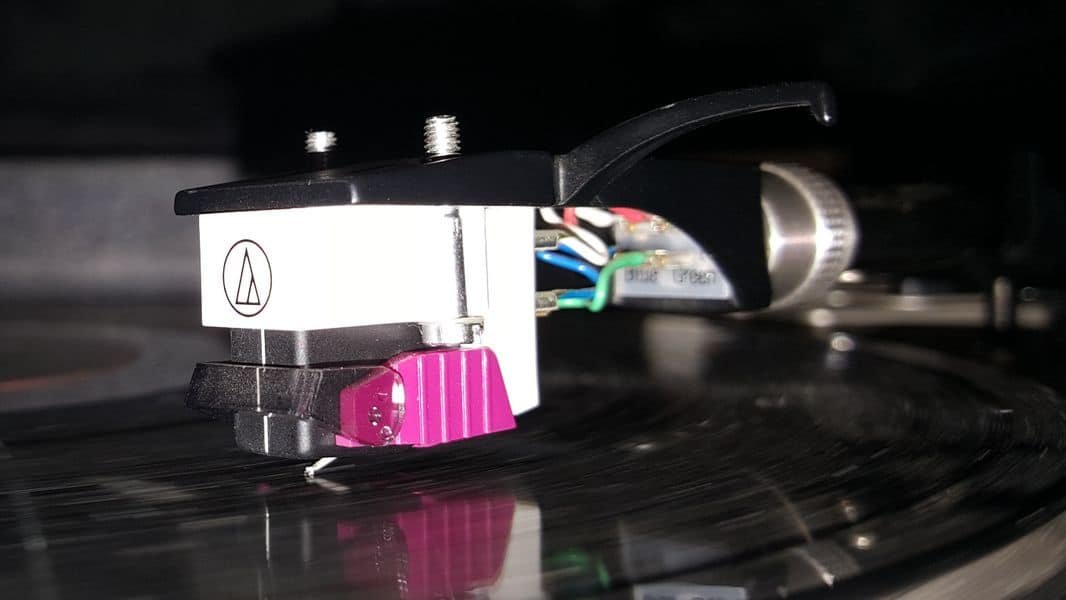 It is hard, if not impossible, to tell the difference between the two types if you are just looking at them. They are in a tiny plastic box with a stylus sticking out and usually have 4 poles sticking out. But there are two factors that should tell you which type you have.
Price Tag
MC cartridges start at around $500. That is not a typo. You will pay around five hundred dollars for a moving coil cartridge. This is what I meant when I said that people know they have an MC vs MM.
Label
When you go to buy a cartridge it will be labeled as either a moving magnet or moving coil right on the box. If you are paying 1k for an MM, something is probably wrong.
If you are asking about the cartridge on your record player and it has no label and you don't know the cost, it is most likely an MM. You could look up the turntable model it comes with, or find other identifying info on the cartridge, in lieu of the label. Use that to look up the cartridge model online.
MM Or MC Cartridge: Final Thoughts
Almost all of the time, if you are not sure what type of cartridge you have, it is a moving magnet cart. As mentioned, people who have a moving coil type know that's what they have.
They are much more expensive and they do not come standard with record players(with perhaps a few exceptions among extremely high end turntables). Even the best turntables on the market come standard with MM cartridges. They just make far more sense.