Over the past 10 years, prices for vinyl records have been steadily increasing.
Well, they were steadily increasing. Until last year.
Since the start of the pandemic, prices have actually shot up drastically. Buying a vinyl record now costs much more than it did just two years ago.
What is the reason for this?
Vinyl was always expensive. Why?
And why is it so much more expensive now?
Keep reading to learn exactly why vinyl records are so expensive these days.
Why Are Vinyl Records So Expensive?
Vinyl records are so expensive for three different reasons:
Supply and demand
Pressing costs
We are in a unique situation right now.
I realize this is not a very satisfying answer, and there is some nuance here to get into. However, it is true and verifiable which you will see!
How Supply And Demand Effects Vinyl Record Prices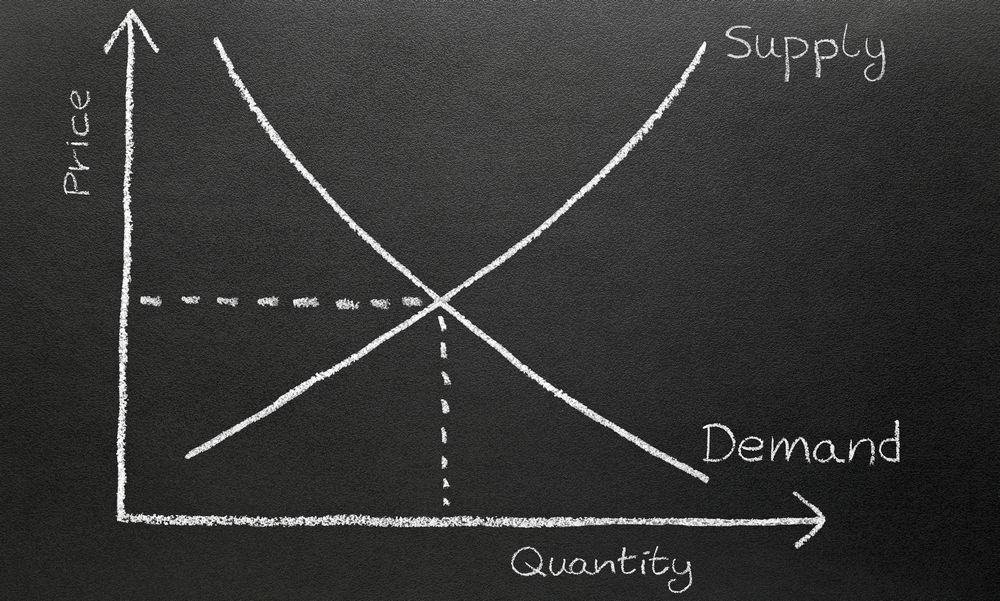 The way economics work is that the more desire that exists for an item (demand), the more the manufacturers that create the item can charge to obtain it. This is a simplified version of what market demand is.
The more of an item that exist in the marketplace, the harder the manufacturers that create it need to work to get your sale. This causes competition on the supply side, lowering prices to compete with all the other suppliers to get your money. This is the cliff's notes of how supply works.
When these two forces, supply and demand, are opposite one another (lots of supply and little demand, or lots of demand and limited supply) the market changes, and the price for the item can change dramatically.
When they are both on the positive side (lots of demand and lots of supply) you have a hot market, and the dramatic price drops you see in the market when supply is high are somewhat negated by the overwhelming demand.
What Is Happening Economically For Vinyl Records
Right now, we are experiencing an unprecedented vinyl record revival. Since about 2007, vinyl records have come back into fashion and they continue to rise in popularity year over year.
It is quite insane when you see the spike in demand for vinyl drawn out in a chart. You can see a great simple chart here.
Partially because of this outrageous demand, vinyl is experiencing a never-before-seen price spike. The crazy demand we have in the market is not the whole story, though.
The Record Pressing Industry Supply And Labor Shortage
Since the end of 2019 into 2020, there has been a severe shortage of labor and materials for pressing plants that create vinyl records.
Due to the global pandemic, many people were laid off (or getting sick) all up and down the supply chain. Prices for raw materials went up, and labor prices went up (fewer workers means they cost more to hire).
As a result, lead times for production are currently 3 to 6 months to get a record pressed.
This does not even take into account the shipping issues the entire industry experienced last year (and continues to experience to a lesser extent today). The pandemic hit the shipping industry extremely hard, raising costs to ship vinyl records and everything else, and limiting workers.
And since much of the production has moved overseas, thanks to rising costs, the shipping problems have an even larger effect. Of course, moving overseas has other effects, too. Other countries use materials that are actually banned in the US and Europe, leading to vinyl records being toxic.
How Industry Pressing Costs Affect Supply
These issues mean that independent artists and smaller labels are less likely to press records. The cost to press is extremely high, and the time to get your record into stores is outrageous. How much does it cost to make a record? That article has all the answers.
As a result of these forces, there are fewer records to buy, especially from independent artists and smaller labels. On top of this, the demand has gone through the roof during the pandemic, while everyone was stuck at home ordering records online.
The Cost Of Records Online Vs In A Retail Shop
Now you can see there are a few different forces at play here on the supply side. A shortage of supply to make records, a diminished demand to press records due to high costs, and a frenzy of people buying records with little to no regard for the price.
Sales of records online have never even been close to what they were in 2020 when they increased 30% in one year (this is unprecedented). You can read a bit more about this here.
During the pandemic online sales of vinyl records far outpaced the sales in retail shops, as more and more people stayed home. This caused many local record stores to sell their records online, on sites like discogs.com and others like eBay, just to keep the lights on.
Where we are right now in the pandemic (it is mid 2021 at the time of this writing), what is happening in the market for vinyl albums is crazy, but it makes sense when you understand it.
Online Record Prices
Right now on Discogs, the most popular vinyl record e-commerce website and the one I recommend the most when someone asks me where to buy vinyl records online, the prices for almost any vinyl record are inflated quite a bit.
There are some records I have been watching carefully, hoping for a decrease in prices so I can buy them. But they are not coming down yet. I thought now that things are opening up, the prices would drop, but I am not seeing that yet.
When buying online you always expect to pay a bit more in normal times, because you must consider shipping costs. Even considering shipping, we are far from normal when you compare the price of records online vs retail shops.
It is more expensive to buy a record online right now, with most of the records I have been buying costing 22 to 30 bucks. Condition plays a role as you know, but as a rule, buying online is more expensive because there are still way more buyers buying online than in retail shops.
If you are looking to sell a record yourself, make sure you know the market price for it. You will need the exact release year. We have an article detailing how to tell what year a vinyl record was made.
Retail Shop Record Prices
Every local record shop is different, and they all have their own operating costs and pricing tiers. All things considered, you can find records for considerably less at retail stores right now.
For example, I wanted to buy the repress of Tom Petty's classic 'Wildflowers; and I did some digging to see where I could find the best deal. A local shop near me wanted 27 for a still sealed brand new copy, and the best I could find online was 39 plus shipping.
What Is Coming Next
I predict as the world gets back to some sense of sanity, and the supply chain gets back on its feet, we will be able to buy record players and vinyl records again at a more reasonable price.
I am not sure if the demand will go down, though. If it was a fad, it would have died out in a couple of years. It has been a solid 14 or so years that demand for vinyl has been on the rise.
Right now, you are lucky to find an album you really want for under 25 bucks which was outrageous when I started buying records.
I was hoping to see the inflated market start to decompress by this summer, and there are some tiny signals it may. But as we sit here now, it is still a crazy inflated bubble out there in the vinyl record industry.
Why Vinyl Records Are Expensive: Final Thoughts
The pandemic changed everything. It disrupted global supply chains for almost every product and vinyl records are no exception. The result was a steep increase in prices.
Vinyl has always been pricey, but what we've seen over the past year and a half is insane. Both the records and turntables are more expensive.
Of course, you should not buy the cheapest record player you can find, in order to keep costs down. That makes no sense, given how much your vinyl collection will cost. You might as well get at least a decent player to play them on. Learn how to choose a record player that actually delivers the goods.
Personally, I have drastically cut back my vinyl purchases and now have a long list of albums I want to get. But I am going to wait until prices come down again. It will happen, but it looks like it will take quite a while still. I am hoping I'll be able to get some better deals in 2023.
What about you? Have you continued to buy albums at the current inflated prices, or are you also holding off on making a lot of purchases in the hopes that prices will come back to normal soon?