The High Fidelity 1byone Belt Drive Stereo Turntable has been seeing a huge increase in popularity. And rightfully so.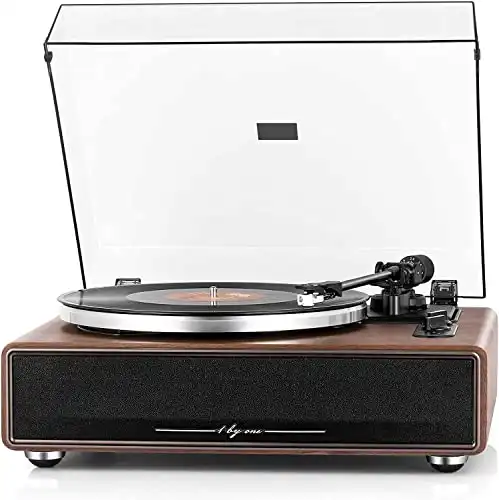 1ByOne High Fidelity Turntable
Pros:
Incredible value for money

Plays 33 and 45 RPM speeds

Plays music from other devices using Bluetooth or aux-in

Built in amp and RCA out allow connection to external speakers

Diamond-tipped Audio-Technica stylus delivers rich sound and excellent clarity

2-year warranty
Cons:
Does not play 78 RPM

Speakers can't match good external ones
View On Amazon
We earn a commission if you make a purchase, at no additional cost to you.
12/04/2023 09:16 am GMT
It has a unique design, great price and useful features. This record player is a work of art.
The first thing you notice is the gorgeous wood appearance and the retro styling. Combine this with modern technology and you've got a player that ticks all the boxes.
It plays records at 3 different speeds. It features a diamond-tipped Audio-Technica cartridge and an adjustable counterweight.
The 1byone player comes with built-in stereo speakers that produce a crisp, clear sound with no bass distortion. You can also plug in external speakers via RCA plugs for an even greater listening experience. It has an internal preamplifier.
1byone High Fidelity Record Player Review
The 1byone turntable is affordable and looks stunning. It has fewer features than some of its competitors, but includes all the most useful ones.
It plays vinyl discs at 2 different speeds. It does not play 78s. It comes equipped with full-range speakers that provide high-quality sounds and RCA line-out plugs for even better sound quality using external speakers.
It has an internal preamp, so you can connect to powered speakers without needing to go through an external preamp or a unit that contains a preamplifier, like a receiver. It makes my list of the best overall turntables and tops the list of best turntables with built-in speakers.
1byone Record Player Features
Beautiful wooden appearance — a beautiful addition to any home
Plays at speeds of 33 1/3 and 45 RPM — most common speeds
Built-in full-range stereo speakers — great sound from such a small unit
Diamond-tipped Audio Technica stylus — precision tracking for clear, high quality audio
RCA line-out — connect to external speakers for the best possible listening experience
Bluetooth and aux in — play music from other devices
Built-in preamp — no need to buy an external preamp
Built-in dust cover — protect your player and records
13 pounds — solid weight reduces vibrations
2-year warranty — longer than most budget turntables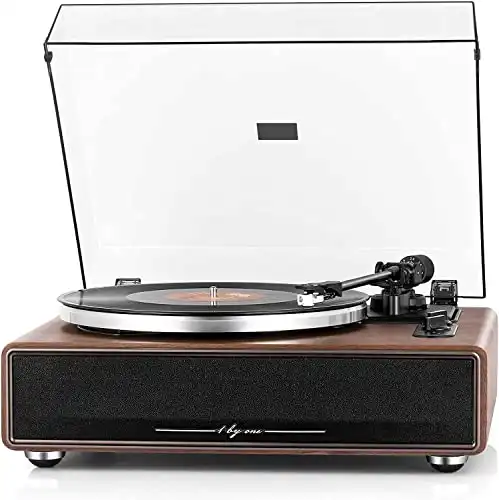 Comparison
The closest competitors to the 1byone player are the ION Audio Max LP turntable and the Audio Technica AT-LP60.
Both of these products are also compact and lightweight and are slightly cheaper, at the cost of some features. They can be good alternatives, depending on which features are most important to you.
The ION turntable has most of the same features and a similar classic wood look. It also comes bundled with software that makes it easier to convert vinyl to digital. It does, however, deliver a lesser sound quality from its built-in speakers.
The Audio Technica AT-LP60 has virtually none of the features of the other two and only plays two speeds (33 1/3 and 45 RPM). It has no internal speakers, but it does have a built-in switchable phono preamp, so you can connect it to your stereo system, powered external speakers or computer via included RCA cables.
Where the AT-LP60 shines is quality. This is a professional level turntable and is far beyond the other two in terms of quality. There are more expensive versions available with additional features. There is also the AT-LP120, which is a huge step up in quality, but also price.
1byone Stereo Turntable Review: Final Verdict
For most people, the 1byone Belt Drive Stereo Turntable is the best option, because it has all the most useful features and delivers a good sound quality from the built-in speakers.
If quality is your number one priority and you don't need the other features, you definitely want to go with the Audio Technica AT-LP60. And if you do need USB (or Bluetooth) connectivity, both are available. You will pay a lot more, though.
I wouldn't generally recommend the ION Audio Max, unless you really need the converter software that comes with it and you don't mind a lesser sound quality from the internal speakers. Most people would be happiest with the 1byone and that is why it receives a Top Record Players rating of 5 out of 5.