Is it worth paying extra to get one of the best record players with speakers built in?
Generally, yes. But it really depends what you're looking for.
To get the best sound quality, you need to use external speakers. And all of the models below allow you to connect out to speakers or a receiver.
So why get one with internal speakers at all?
Some people want a portable player they can take with them, and they don't want to lug around an additional pair of speakers.
Others may have a permanent place in the living room for their turntable, where it is hooked up to their stereo system, but they occasionally want to take it in a different room and listen to music there.
That is much easier if the speakers are built in.
Best Turntables With Speakers Compared
12/04/2023 09:16 am GMT
If you're looking for a turntable with built-in speakers, the good news is that the revived popularity of record players has led to manufacturers flooding the market with hundreds of options.
But how do you go about choosing the right model when there are literally dozens of leading systems out there, all claiming to be the best?
I've done all the heavy lifting for you. I tested all the popular models and narrowed them down to the top ones.
Not only do they offer the best in terms of functionality and sound quality, but they are also beginner-friendly and loaded with great extras including Bluetooth connectivity, and the ability to upload your vinyl onto your PC, so you can enjoy the rich sound of your vinyl collection, wherever you go.
How I Tested These Turntables With Built-In Speakers
I used several albums from my own collection to test the models featured here, along with many others that did not impress as much as the ones you see on this page. I also tested each model with external speakers and wit headphones (where possible).
In all cases, the external speakers and headphones obviously sounded better than the internal ones. Using the same speakers and headphones with each model gave me a better idea of the quality of sound the player produced, and the quality you get from the built-in speakers.
As for the songs I played on each record player to test the sound quality, I tried to include different genres, but there are some genres I simply don't have any records for, like country or R&B. The songs I used for testing were the following:
Time from Darkside of the Moon by Pink Floyd
The Grudge from Lateralus by Tool
Da Rockwilder from Blackout! by Method Man and Redman
Can't Get You Out of My Head from Fever by Kylie Minogue
Freddie Freeloader from Kind of Blue by Miles Davis
Overture from The Magic Flute by Mozart
O Fortuna from Carmina Borana by Carl Orff
Best Record Players With Speakers
If music is your thing, nothing is more important than investing in a turntable that can provide the type of sound quality you're looking for and the features you need.
I've listed the best models below, giving you a brief summary of the features they have to offer and why they are the best.
I've included a variety of styles ranging from suitcase turntables and standalones, to all-in-one systems that will allow you to play more than just your vinyl collection.
Best Overall: 1 By One High Fidelity Belt Drive Turntable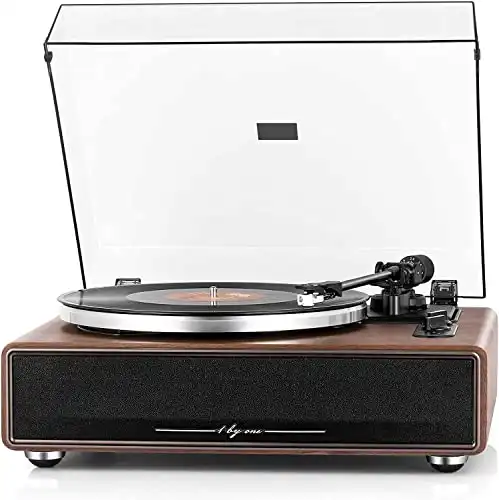 1ByOne High Fidelity Turntable
Pros:
Incredible value for money

Plays 33 and 45 RPM speeds

Plays music from other devices using Bluetooth or aux-in

Built in amp and RCA out allow connection to external speakers

Diamond-tipped Audio-Technica stylus delivers rich sound and excellent clarity

2-year warranty
Cons:
Does not play 78 RPM

Speakers can't match good external ones
View On Amazon
We earn a commission if you make a purchase, at no additional cost to you.
12/04/2023 09:16 am GMT
This belt drive record player from 1 By One is our top choice for one simple reason: value. It gives you the most value for your money.
You could spend a lot more and get a much better player, but the increase in price will be larger than the increase in value. Similarly, you can spend less (see below), but the decrease in value is larger than the decrease in price.
Is this a perfect player? Far from it. For one, the internal speakers are not amazing. They are better than others at this price, but they don't come close to good external speakers. They did not do justice to any of the albums I tested.
Of course, no internal speakers do. That's why I always recommend hooking your record player up to external speakers, whenever you can. Use the internal ones when you have to and the built-in amplifier and RCA outputs to connect to external speakers when you want the best sound quality.
Doing that made the records sound so much better. Using headphones is also a good optin with this player. Obviously, it will not match a high quality model that costs around a thousand dollars, but it far outperforms its price. It is definitely the best value available today.
The 1 By One comes with a magnet diamond-tipped Audio-Technica cartridge with an adjustable counterweight, to ensure the best possible transmission from your vinyl records to analog sound.
Top Alternative: ION Audio Max LP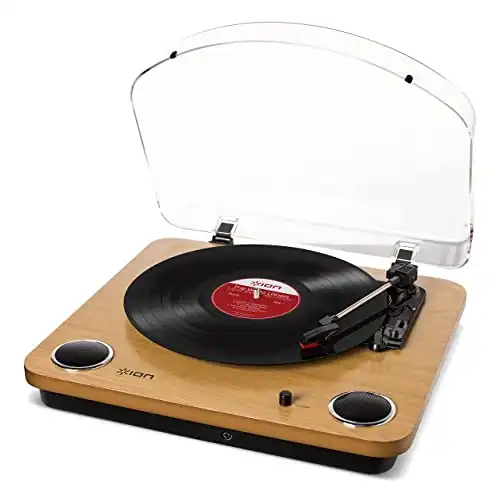 ION Audio Max LP
Pros:
Amazing value for money

Bluetooth capability

Plays 33 1/3, 45 and 78 RPM records in 7, 10, and 12-inch sizes

Dual surround stereo speakers with strong bass

RCA outputs so you can connect to external speakers

Can record vinyl to MP3
Cons:
While the speakers are great for the size, they can't match good external ones

Stylus and other components are great for the cost, but can't match more expensive models
View On Amazon
Our Review
We earn a commission if you make a purchase, at no additional cost to you.
12/04/2023 11:31 am GMT
I love this latest model from ION. Compact, simple, and offering plenty of style and connectivity options, you can hook this turntable up to your PC and upload your vinyl collection, or use the USB port to connect to your smartphone and stream the latest digital tracks.
It also features Bluetooth and the speakers give you pretty good bass output for the size. It also has RCA jacks, so you can hook up to external speakers for a much more powerful sound, if you prefer.
The ION Audio Max LP plays all three record speeds and is a solid buy for anyone looking for a more versatile setup at a great price. In my experience, it does not match the model above, but it comes closer than any other in terms sound quality, when you take value for money into account.
Best Budget Turntable: Wockoder Classic Record Player
Wockoder Wireless Record Player
Pros:
Belt-driven motor

Wireless connectivity (Bluetooth)

Plays all three-speeds

Low price

Compact, lightweight design

RCA outputs allow connection to active speakers or receiver
Cons:
The plastic panel that the tonearm attaches to is somewhat flimsy

Sound quality is good for the speaker size, but less so than our top picks

Cheap cartridge, though good for price (you can upgrade it later)
View On Amazon
Our Review
We earn a commission if you make a purchase, at no additional cost to you.
12/04/2023 09:41 am GMT
Wockoder is known for its reproductions of classic turntables, but with modern features that add more functionality and connection options. I looked at a few of their models and decided to include this one above the rest for its versatility.
This newest model comes with some great upgrades including improved shock absorption, so you can listen to your vinyl the way you're supposed to, without skipping or distortion.
The built-in speakers also offer decent sound quality, and many of the components are upgradable, which is a huge plus if you love to customize your setup. When I tried it out, I only used the stock components, which do leave a lot to be desired. But for the price, I have no complaints.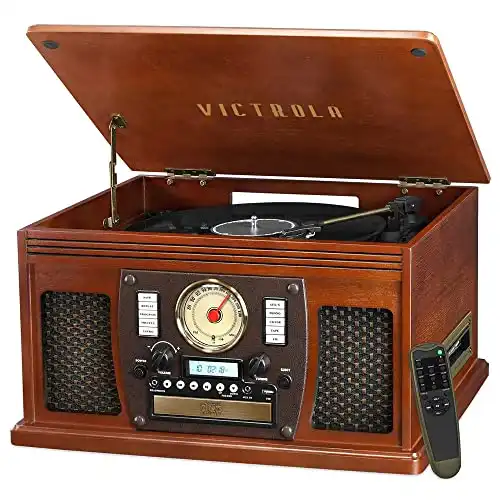 Victrola Navigator 8-in-1 Stereo System
Pros:
Can play 78, 33 1/3, and 45 RPM

Built-in Bluetooth

Plays cassettes, CDs and FM radio

Streams digital music

Solid construction

Impressive sound balance
Cons:
The remote control doesn't have a power button so you must switch off the record player manually

Because the arm on the turntable is very light it can skip tracks at times
View On Amazon
Our Review
We earn a commission if you make a purchase, at no additional cost to you.
12/04/2023 08:26 am GMT
The Victrola Navigator is different from the other record players on this list so far, in that it is much more than just a turntable. It also plays CDs, cassettes and FM radio. Plus, it has a gorgeous vintage design.
Not only that, but it can also stream music via Bluetooth or aux in, or record your vinyl to digital format using the USB slot. The internal speakers are pretty good, but as with all players on this list, you'll want to connect to external speakers for the best sound quality.
In the past, this was its biggest weakness. It did not have RCA outputs, so you could only connect to external speakers via the headphone jack. Far from ideal. Luckily, Victrola have corrected this oversight and the Navigator now includes RCA jacks.
Best Modern Complete System: Digitnow Complete Record Player Stereo System
Digitnow Turntable Stereo System
Pros:
Plays CDs, cassettes and AM/FM radio

Plays music from external devices via Bluetooth or aux in

Comes with detachable stereo speakers

Can record vinyl to MP3 using USB or SD slots

Plays all 3 speeds
Cons:
Can't record vinyl to CD

Speaker cables too short

Bass is turned too high for some
View On Amazon
We earn a commission if you make a purchase, at no additional cost to you.
12/04/2023 06:46 am GMT
The Digitnow record player is another complete system that comes with a CD player, a cassette player, and AM/FM radio.
The major differences between it and the Navigator are that the Digitnow model has a modern design and that it comes with detachable external speakers. Those speakers give it the best sound quality out of the box of any player on this list.
However, these speakers are good, but not amazing. You can hook any of the other players up to better speakers and get better sound. Of course, you could hook this one up to better speakers, too.
Like all the other models, this one also has Bluetooth capability that allows you to play music from any Bluetooth device. It also has USB and SD slots, that allow you to record your vinyl music to the digital format.
Best Suitcase Turntable: Victrola Vintage 3-Speed Bluetooth Suitcase Turntable With Speakers
Victrola VSC-550BT Suitcase Record Player
Pros:
Inexpensive

Great sound quality for the speaker size

Plays all common record speeds and sizes

RCA outputs for external speakers

Bluetooth capable

33 color options

Fully automatic cueing
Cons:
Flimsy tonearm

Cheap platter
View On Amazon
Our Review
We earn a commission if you make a purchase, at no additional cost to you.
12/04/2023 07:41 am GMT
Victrola is a company that has managed to stay relevant, even after being in business for over one hundred years. Their latest suitcase style turntable comes in a variety of colors and patterns, giving it that almost custom feeling that any potential buyer will love.
Aside from looks, it also comes with simple controls, built-in speakers, and a lightweight portable design that allow you to pack up your vinyl collection and take it with you wherever you go.
This record player has good speakers for the size, but they can't match good external ones. Luckily, it also has RCA outputs, so you can connect to external speakers.
The Victrola suitcase player can handle all three common vinyl speeds and sizes. It now even comes with Bluetooth capability. This is the best suitcase player, but obviously, no suitcase player is going to be very good. I generally recommend avoiding this type of record player altogether.
Turntables With Speakers: Buying Guide
You don't have to be an audiophile to love vinyl or to enjoy casually playing your favorite records after a long day at the office.
Many models that come with their own built-in speakers are highly portable, so you can also take them with you when you travel, out in the backyard for a barbecue, or on your next visit to grandma's house.
If you're looking for a record player with built-in speakers, learning how they work, which features you really need, and what to look for in terms of speaker quality, will all help ensure you get exactly what you need.
The latest audio systems are now so much more than the standard turntable. You get your choice of playing options, ranging from CDs to AM/FM radio. You get a system the whole family can use if you want something more than just a basic turntable you only pull out once or twice a month.
These versatile new models are pretty popular and for all the right reasons. Now, you can get a versatile system for a price that's reasonable.
Before we delve a little deeper into the different features available, let's see if it's even worth getting a new player these days and then quickly go over how record players work and learn about the important roles of each of the components.
Is Investing In A New Turntable Even Worth It?
These days, digitally streaming music is inescapable. You probably use the latest programs such as Spotify or Pandora, or maybe you prefer using YouTube.
The odds are you use some form of digital streaming for your music needs. But if you're a true audiophile then you know that the best sound, the warmest sound, can only come from vinyl.
Over the years, vinyl became almost nonexistent. Why would someone use a turntable if they could play a CD or stream whatever song they wanted with just a few clicks of a mouse?
Vinyl came back to us in recent years because many of us music lovers realized that digital sound doesn't offer the same type of listening experience that vinyl can.
It's missing that almost ritualistic experience you get from going through your vinyl collection and pulling out that rare record you remember took you several months to find.
When you play it, it has that rich sound that brings out every instrument, the different tones in the singer's voice, and it's just an all-around different experience. Digital music can sound empty, almost too clean. It lacks the many elements that only vinyl can offer.
If you agree with this, then it's definitely worth it to get a new record player. Now that we know we want one, let's take a look at the basic components.
Base
The base is the turntable's foundation. The main purpose of the base, also referred to as the plinth, is to support the other components that make up the record player, working to keep them stable as the record spins. This helps to prevent any damage to your vinyl, such as scratches. The plinth is typically made out of metal, plastic, or wood.
Platter
The platter is the name of the component that the vinyl rests on as it spins. On top of the platter rests a mat, which is what separates the platter and the surface of the vinyl. It also functions as a type of cushion, further improving grip and stability.
Most turntables can accommodate playing speeds of 33 1/3 RPM to 45 RPM. However, some models also allow you to customize the speed in order to play rare 78 RPM records.
Tonearm
The tonearm is mainly responsible for keeping the needle secure and in place in the record's grooves, in order to produce consistent, clear sound. The cueing device is part of the tonearm and it's responsible for lifting and lowering the tonearm away from the record. It also ensures that the needle makes clean contact with the vinyl.
On modern players, the tonearm automatically lowers itself onto the vinyl record. Older models have a manual tonearm that requires you to move the needle onto the record by hand.
Cartridge
The cartridge is the housing that supports the stylus. Often, when an audiophile decides to make upgrades to their record player, the first component they turn to is the cartridge.
Stylus
Also referred to as the needle, the stylus is the only component on the record player that has direct contact with the vinyl. It fits smoothly in the grooves on the record and reads the vibrations. This is another component that is commonly upgraded.
Other Components
Many of the leading turntables will come with built-in speakers and preamps, both of which allow users to play vinyl straight out of the box without the need to purchase or hook up any other components or accessories.
Higher-end turntables usually don't come equipped with preamps or speakers, because they assume anyone buying an expensive turntable is not going to rely on built-in components. They will want high quality external components to take full advantage of their high-end player.
For the most part, you can't expect the same type of volume from built-in speakers that you can get from external active speakers, but many modern record players come with built-in speakers that deliver a crystal clear stereo sound.
Additionally, some models have ports that allow you to connect active speakers in order to increase the volume of the record player, or they may have Bluetooth connectivity which allows you to pair your record player with Bluetooth speakers for an instant boost in volume.
Speed
If you already have a vinyl collection, then the type of records you have will have a big impact on which record player you go with. Most record players you come across have levers that you can use to adjust the speed.
The speed you choose should depend on the record format. While most record players are pretty versatile these days, in terms of speed options, there are some models out there that are only able to play specific speeds.
Below is a list of the most common speed settings you'll come across:
33 1/3: This setting is the most common and it's pretty standard for twelve-inch long-play (LP) records. Most models have this speed setting.
45: The 45 RPM setting is standard for seven-inch single records and it's also readily available on most modern turntables.
78: The 78 RPM isn't as common as the 33 1/3 and 45, so you may have a more difficult time finding a record player that offers this playback speed.
Built-In Speakers
There are many advantages that come with buying a new record player that's equipped with speakers.
To start, it's a more affordable option than purchasing a separate pair of active speakers. These speakers are also usually lightweight, so they don't take away from the record player's portability. This is especially true for the popular suitcase models of the 1960s and 1970s, which have recently been making a comeback.
Self-contained record players feature a phono preamp so you can hook it up to a receiver or other external component. They also usually have an aux-in, which adds some versatility to your sound system, allowing you to play your favorite MP3 files. Many also come with CD and cassette players, or they can be connected to your smart device.
Unfortunately, while many of these all in one systems may be convenient to use and highly portable, they also tend to lack sound quality. More often than not, these record players will have very small speakers that are not able to play loudly without some hint of distortion.
Additionally, lower-priced models may also have issues with speed consistency. If you listen closely you may notice slight skipping.
Record players with speakers are not usually upgradable or adjustable. They may come with some options, such as the ability to hook up (or wirelessly connect) to external speakers or a receiver, but in most cases, upgrading the components, such as the tonearm and cartridge may not be an option.
Spinning Mechanisms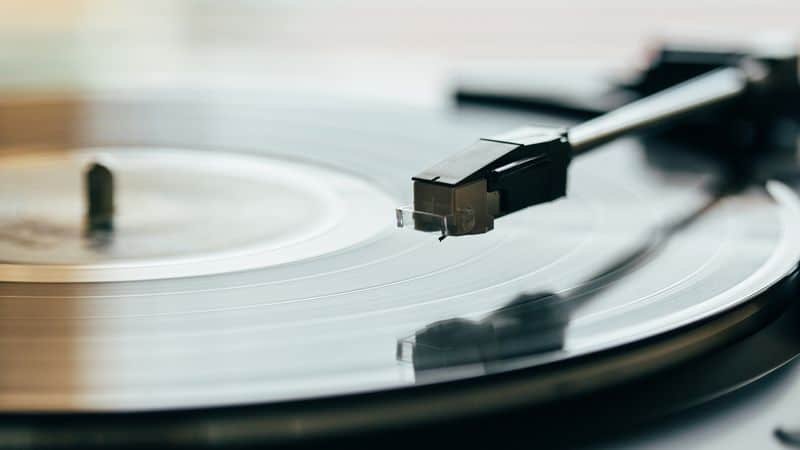 The turntable is equipped with a type of spinning mechanism that will spin the record on the platter. This spinning mechanism is available in two different styles: belt drive or direct drive.
Belt drive turntables obviously use a type of belt to spin the platter. This elastic belt is attached to the motor.
One of the reasons some audiophiles believe that belt driven turntables are better than direct drive is due to platter isolation. With this setup, the platter is isolated from the motor, which reduces noise transmission.
The shock-absorbing belt also helps to minimize vibration. The result is clearer sound with minimal distortion.
But the minimized torque can also negatively impact playback speed, affecting accuracy. The belt must also be replaced once every two years or less, depending on how often you use your record player.
The direct drive mechanism features a platter that's directly attached to the motor, offering more accurate playback. But the design increases vibrations. Because a direct drive turntable allows backward record spinning (and with it, scratching), it is commonly used by DJs.
Digitizing Your Vinyl
Digitizing is another popular feature that many of the latest models offer. This feature usually comes in the form of a USB port, which will allow you to transfer music from your vinyl to your PC, where the music can be converted to MP3 format.
For many audiophiles who have an extensive collection, digitizing their rare vinyl is a priority. However, you may find that some models with a USB port have poor-quality components, to keep costs down, despite the addition of the USB port.
If a USB port on your next turntable is a must, then do your research before you buy. Check out what other buyers have to say in regard to the quality of the components and determine if it's worth the purchase.
Most audiophiles will upgrade many of the stock components anyway. So, if you're already planning on making some important upgrades, then poor stock parts may not even be an issue for you.
Keep in mind that models with a built-in USB port will often come with a heftier price tag, however, for many audiophiles, the ability to digitize their music is worth the extra cash.
Automatic And Manual Cueing
Higher priced turntables come with a manual cueing system which means you need to lift and lower the tonearm yourself.
This isn't a big deal for anyone with experience using a turntable, but if you're concerned about scratching the vinyl when you place the needle in the groove or when you lift it off the vinyl to change tracks, then you can always opt for a model with an automatic cueing system.
How Turntables Have Changed
Before the turntable came to be, we had no way of listening to our favorite music in the comfort of our own home. Along came the phonograph, over a hundred years ago, and it changed everything.
From then on, the turntable slowly came to be what it is today, but modern models aren't where they were at in terms of popularity, decades ago.
These days, it almost seems as though only true music lovers want to hear their music on vinyl. After the introduction of the cassette and then the CD, record players seemed to disappear on us for a while, since both of the other listening options were more portable and offered better sound quality, according to some.
Now, all of a sudden, they're popular again, so we're seeing more major manufacturers produce modernized versions of the old classics we loved. But aside from their nostalgic design, as you can see, most new turntables are loaded with many modern features that allow you to enjoy your vinyl and digital music, or CDs and cassettes.
In the coming years, it will be interesting to see what engineers come up with in terms of redesigning the turntable yet again. To learn more about the history, head here to read my article on the history of record players.
Best Turntable With Built-In Speakers: Final Thoughts
Playing music on vinyl isn't for everyone. It's not as convenient as listening to a playlist on Spotify, or downloading the newest album of one of your favorite bands.
Instead, using one of these best record players with speakers has a more ritualistic feel and it can be a great way to unwind and actually hear that album we bought over twenty years ago in a record store in another town, in another state.
But the addition of many of the newest features also offers something more.
We don't have to feel as though we're spending too much on a record player we may not use daily because now, many come with two or three other playing options, so we're actually getting a lot of value out of one of these systems, something that manufacturers are have realized is what many listeners want.
With this buyer's guide and my reviews of the latest and greatest models to hit the market this year, I hope I've made your search for your next model a little easier. And I hope that you feel more confident in terms of knowing what you want, and that you end up with a system that will last you for many years to come.