You can't always listen to your favorite vinyl records when you want to. Sometimes you have to keep the volume down.
Unless you have a good pair of headphones.
And the Audio-Technica ATH-M40x professional studio monitor headphones are just that. In fact, they are the best value available on the market.
They combine excellent sound quality with comfort and a solid build, and they sell for an amazing price considering what you get.
But they're not perfect.
Read the rest of this review to find out why we consider them the best value and also what their one big weakness is.
Audio-Technica ATH-M40x Review: Overview And Features
Audio-Technica is one of the leading manufacturers in the industry. They are known for producing top of the line, studio-quality microphones, some of the best headphones for vinyl, and they even produce an extensive line of record players, like the AT-LP120.
Their line of headphones have always been big sellers, mainly because the manufacturer knows exactly what consumers want: headphones that are versatile, comfortable, and that offer excellent sound quality for an affordable price.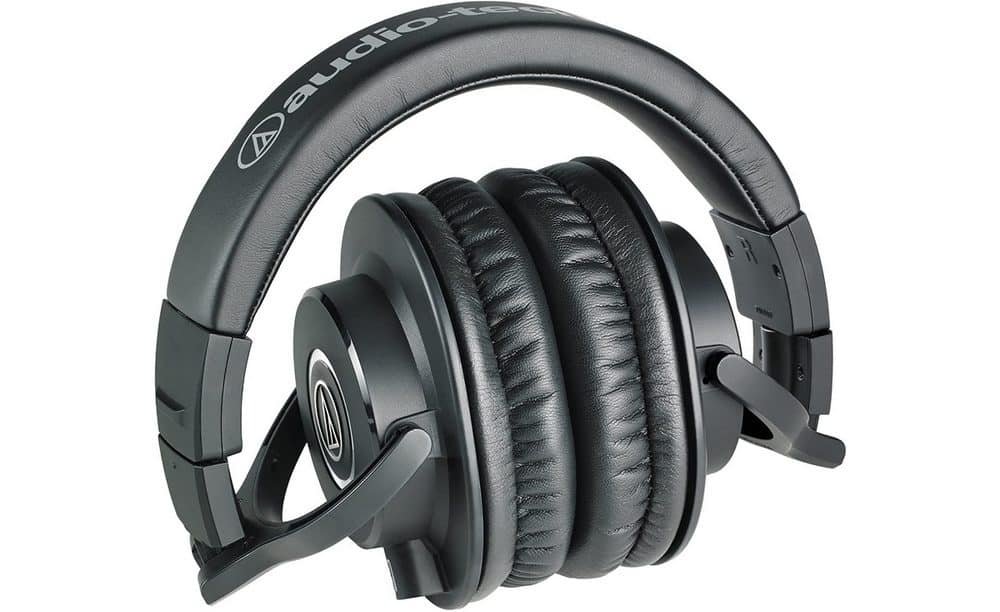 These Audio Technica ATHM50 headphones are some of the best on the market, since they offer pro-quality monitoring for DJs at a very reasonable cost. But they are also very versatile and are just as useful for the causal listener who simply wants to enjoy their vinyl collection.
Key Features
Foldable design
Carrying case
Low price
Comfortable
Coiled cable
Excellent sound quality
Design
While they're marketed as studio headphones, their versatile sound allows you to use them for a wider range of applications. That is one of the main reasons they are so popular among audiophiles.
Like many models in Audio Technica's lineup, this pair isn't exactly slim and compact. But the bulky design doesn't take away from user comfort. This model features a nice matte black finish and large, heavily cushioned ear cups that are very comfortable.
The headband, on the other hand, is not heavily padded, but this doesn't have much of an impact on the overall comfort of the headphones.
The ear cup design allows them to freely rotate, which makes them perfect for casual listening or DJing. The ear cups also fold up for travel. These headphones are designed with pro-grade materials and feature the type of durable design that the manufacturer is known for.
Connection And Cables
These headphones were designed with monitoring in mind, so they don't come with a remote, mic, or Bluetooth connectivity. This pair is specifically designed for listening to music, so they are not very good for gaming.
With many headphones, you get a couple of cables: the standard cable, and another cable with a remote that allows you to pause tracks or crank up the volume. But these headphones have a somewhat old school design, so all you get is a standard and a coiled cable.
There is a locking connector on the headphone end, which prevents the cable from getting pulled out should it get snagged on something. If you use the coiled cable, the coiled design provides some extra give, which also works to reduce the chances of the cable getting disconnected.
Sound
Driver size is one of the most noticeable differences between this model and higher priced headphones. The drivers measure in at forty millimeters, which is slightly smaller than what you'll find on competing models.
But this doesn't have a negative impact on the sound. In terms of performance, the ATH-M40x works great with record players, as well as mobile devices, PCs, or a DJ turntable setup.
The one thing the smaller driver size does impact is the bass, but this doesn't mean that the bass is weak. It's just not quite as strong as on models that come equipped with a 45 millimeter driver.
While the bass is decent for headphones in this price range, you may not be satisfied with is if you love bass-heavy tunes. Since these are studio monitor style headphones, you really can't compare them to bass-specific headphones.
Despite the fact that they're designed for the casual listener and for use in the studio, you'll get more sound out of them and better bass quality than most the competition. Overall, they do good job of handling bass-heavy tracks. They're just not the best.
The midrange quality is very accurate and clear. If you don't know much about midrange quality or how it can impact sound, it's a frequency range that impacts guitars, vocals, and live music.
The Audio Technica ATH-M40x offers top of the line low-mid depth that you can't get from other models in this price bracket. The highs also offer excellent detail and a very crisp sound.
Basically, this pair gives you crystal-clear sound and an above average listening experience. They're designed for studio use and are perfect for that use, but they function just as well for listening to vinyl records or other music at home, or MP3s on the road.
Carrying Case
Audio Technica also includes a carrying case, but it's a thin bag that won't provide much protection during transport. If you plan on flying with these headphones, I recommend purchasing a hard carrying case for maximum protection. For home use, you can store the headphones in the cloth carrying bag, which will help to keep them clean of dirt, dust, and debris.
Ear Cups
The ear cups can rotate, but they're only able to swivel ninety degrees. They are thick and heavily padded and offer a firm fit that isn't too tight. Unfortunately, you can't adjust the ear cup tension, but the fit works well for most head sizes.
Comfort
The ATH-M40x does not have any features that allow you to precisely adjust the fit of the headphones, but they do offer a comfortable fit and will not cause tension around the ears like some competing models in this price bracket.
If you're looking for a model that's incredibly comfortable to wear for long periods of time, you'll love this design. The ear pads are very soft and heavily padded, so you won't feel any pain or discomfort when you put the headphones on or when you take them off. They're not the lightest pair of headphones I've reviewed, but they're definitely among the most comfortable.
Performance
This pro-quality pair of headphones works great for casual music listening or pro audio monitoring. They offer an impressive sound quality across a wider frequency range.
Since they offer better sound isolation than competing models, they're perfect if you like to tune out the world around you and just focus on your music. The ear cups leak very little sound, which is great whether you want to listen to your record collection, use the headphones to mix your next DJ set, or if you plan on using them in the studio.
They can't handle bass as well as higher priced models, but you won't hear distortion, or any sound quality issues when you have a track cranked up all the way. In terms of volume, these headphones are perfect for the casual listener and professional studio work alike.
Pros
Clear sound
Foldable design
Low price
Studio-quality
Durable
Affordable
Cons
Not as bass heavy as some listeners would like
Earcups only swivel ninety degrees
Audio Technica ATH-M40x Vs Beyerdynamic DT 770 Pro
The competing Beyerdynamic DT 770 Pro headphones feature a closed over-ear design that prevents sound leaking and makes them a great choice for casual listening or for mixing in the studio.
The soft velour ear cups are designed with user comfort in mind, while the durable design promotes longer use. This pair offers excellent acoustic definition, clear lows, mids, and highs, but they can't handle bass as well as these Audio Technica headphones (which are already not as good as other models).
The DT 770 Pro headphones also cost more, so they're not the best choice if you're on a tight budget, especially if you're looking for headphones for casual listening use only. Learn more about them in our complete DT 770 Pro headphone review.
Audio-Technica ATH-M40x: Conclusion And Rating
If you're looking for a versatile model that you can use for a wide range of applications, then your search stops here. The Audio Technica ATHM40X headphones are best-sellers simply because they're so versatile and offer excellent sound quality and a comfortable fit.
These headphones may not be the lightest model on the market, but it won't impact your comfort or the length of time you can use them.
While they can't compete with bass specific headphones in terms of their bass response, they offer a better than average sound quality that will allow you to listen to your favorite tracks the way they were meant to be heard.
These headphones represent the best value on the market, which is why they get a Top Record Players rating of 4.9 out of 5.