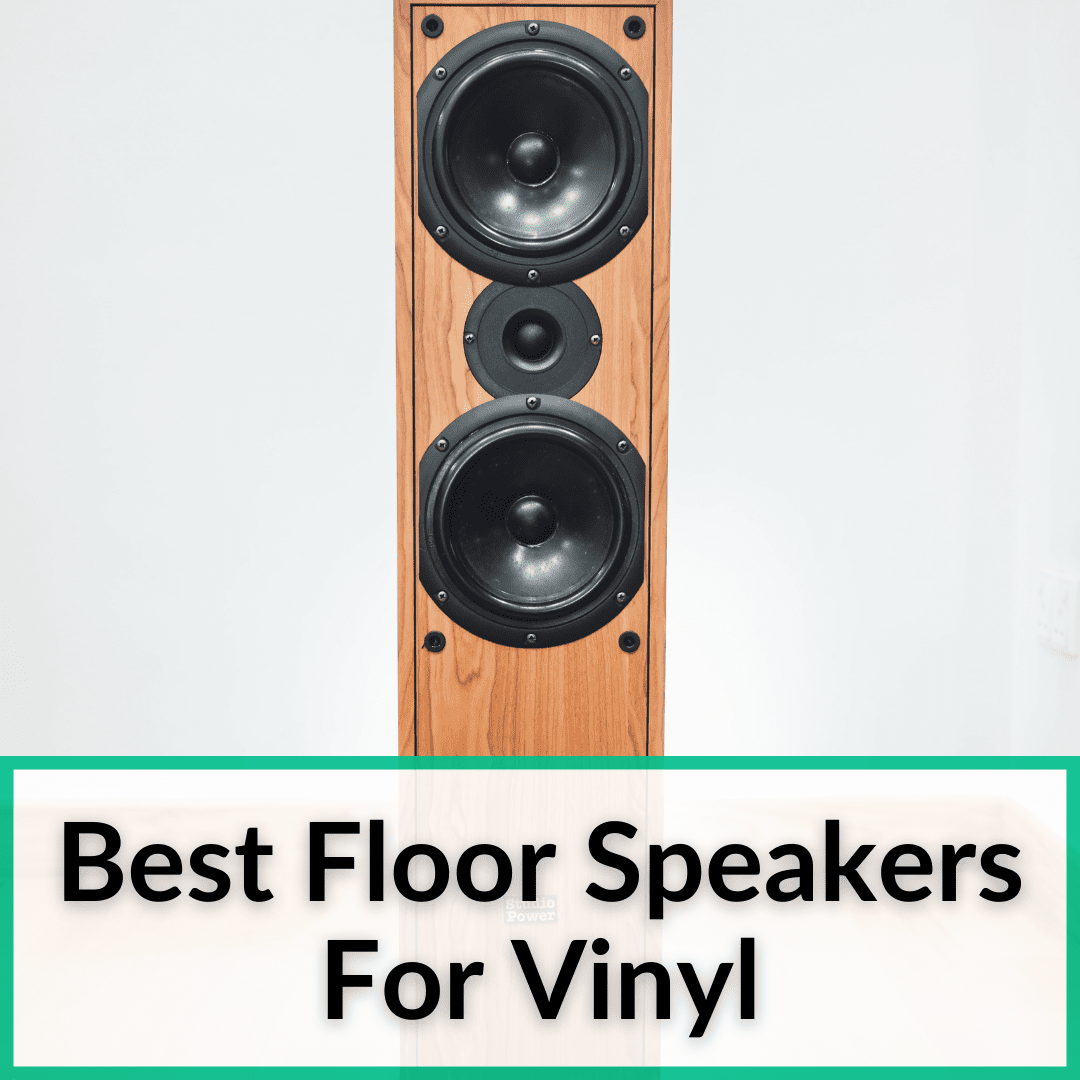 What's the point of buying expensive vinyl records and an even more expensive turntable, if you listen to them through weak speakers?
There is no point.
That's why we always recommend getting a great pair of speakers, even if your record player has speakers built-in (those are always terrible).
And the best speakers for vinyl are floor standing models, without a doubt.
Nothing else gives you the same power, detail, and incredible clarity.
But only if you get good speakers, obviously.
Keep reading for a rundown of the best floor speakers for vinyl, along with brief reviews of each model.
After the reviews, you'll find a buying guide that explains which features to look for in a good set of vinyl speakers.
Best Floor Speakers For Vinyl Compared
10/02/2023 10:56 pm GMT
Best Floor Standing Speakers For Vinyl Reviewed
The following floor speakers for vinyl are currently the best available on the market. Read through the reviews to determine which of them is the right set for you.
Best Value Overall: Sony SSCS3 3-Way Floor-Standing Speaker
Sony SSCS3 3-Way Floor-Standing Speaker
Pros:
Excellent quality to price ratio

Work with any high-quality amplifier system

Compatible with Sony surround sound systems

Attractive black finish matches any listening room
Cons:
Sold one speaker at a time, can be confusing for buyers thinking they bought a pair
View On Amazon
We earn a commission if you make a purchase, at no additional cost to you.
10/02/2023 10:56 pm GMT
The Sony SSCS3s are impressive floor speakers, especially for vinyl listening. Vinyl records tend to capture much more natural low and high-end frequencies than digital media. Those frequencies are best reproduced by full range speakers like these from Sony.
They have 2 low and midrange speakers and a tweeter and super tweeter. The speakers are mounted on a floor-standing tower with an air hole cut out at the bottom of the speaker stack.
They can handle 145 watts of input power and have 6 Ohm impedance which should match up nicely with any high-quality amplifier.
This range of drivers covers the full spectrum of audio, minus the very low frequencies that only a good subwoofer can faithfully reproduce
Of course, there is a matching subwoofer you can purchase along with the speakers for the full audio range. It is the Sony SACS9 10-Inch Active Subwoofer.
The only real downside I could find with these is that they are sold one speaker at a time instead of as a pair, which can make ordering a little confusing, if you are not paying attention.
Highest Quality: Klipsch RP-8000F Floorstanding Speaker
Klipsch Reference Premiere RP-8000F
Pros:
Unmatched sound quality

Attractive design

Crystal clear low end without an additional subwoofer

Bright crisp high-end clarity

Real walnut wood cabinets
View On Amazon
We earn a commission if you make a purchase, at no additional cost to you.
10/02/2023 04:36 am GMT
Klipsch has been making the best speakers for decades. I have a pair of KG-1s that have been my main speakers for 10 years and they still sound as good as the day I got them.
Klipsch has a reputation for not skimping on quality when it comes to their loudspeakers. The RP 8000Fs are simply the best sounding floor speakers you can get for listening to vinyl records.
They have 2 8″ spun copper woofers and a bass reflex rear-firing tractrix port. This gives them crazy low-end clarity without the need for a subwoofer. They have small stands that keep them suspended so they are not grounding on the floor.
You can bi-amp them if you choose or run them normally like standard stereo speakers. They are not small at 43.12 by 10.90 by 17.256 inches, but they are worth the space they take up. They won the Andrew Robinson speaker of the year award last year for good reason.
Best Reference Speakers: Klipsch RP-280F Premiere Floorstanding Reference Speakers
Here is Klipsch showing up again, this time in the best reference category! Look, I am not (that) biased toward Klipsch, but there are just certain categories of speakers they have years of experience making and tweaking.
Reference listening just happens to be one of their strongest categories. Reference listening, as you know, is the idea of trying to hear what is really on the record, without hyping up the sound to be more attractive than it is.
Reference speakers are supposed to reproduce exactly what your media is playing without coloring anything.
The RP-280Fs are similar in look to the RP-8000Fs in that they are also floor speakers with 2 woofers and a tweeter and super tweeter. The difference is in the overall circuitry design.
They have a re-engineered tractrix horn that uses a circular throat combined with a square-shaped horn to reproduce the most accurate high-end clarity. The frequency response has been fine-tuned to add an as little color to the program material as possible.
Best 3-Way Speaker: Cerwin-Vega SL-15 3-Way Floor Tower Speaker
Cerwin-Vega SL-15 15" 3-Way Floor Tower Speaker
Pros:
Excellent 3-way speaker sound

Fairly priced for the quality

Attractive design with or without grills attached

Comes with protective speaker grills
Cons:
Sharp edges could be dangerous
View On Amazon
We earn a commission if you make a purchase, at no additional cost to you.
10/02/2023 01:56 am GMT
The classic look of the floor-standing 3-way speaker is as popular now as it was in the 70s when it became the standard look of listening rooms, along with a lava lamp and bong on the coffee table.
The Cerwin-Vega SL-15s are handsome, great-sounding floor speakers in the traditional woofer, tweeter, super tweeter format you are used to seeing. In my opinion, these are the best 3-way speakers (in the classic 3-way speaker format) you can currently find.
They are conservatively sized compared to many of the other speakers here at 19.7 x 16.6 x 35.9 inches. They have a large 15″ woofer which delivers a powerful kick to the low-end tones you may not get from a smaller woofer.
The SL-15s use a small 1″ soft dome tweeter for getting crispy high end that is not too brittle, and a 5 1/4″ midrange speaker which reproduces vocals very well.
Luckily these classic-looking speakers come with a speaker grill you can attach to their face to block any curious child fingers, or flying beer drops. I wish more high-end floor speakers would supply grills like this.
Best 4-Way Speakers: Polk Audio Monitor 70 Series II Tower Speaker
Polk Audio Monitor 70 Series II Floorstanding Speaker
Pros:
Great 4-way speakers that give you tons of value for money

Good looking tower speakers

Clear high-end reproduction

Tons of low-end punch
Cons:
If you are obsessed with super detailed mids (2-3k Hz) these are adequate, but not as clear as more expensive models.
View On Amazon
We earn a commission if you make a purchase, at no additional cost to you.
10/02/2023 05:11 am GMT
OK, when you see these, you may think to yourself, (in a whiny kid voice) 'Oh great, a home theater style speaker.' But hang on, hear me out.
Now, it is true that most home theater-style speakers are sub-par when it comes to the quality that vinyl listeners are looking for.
They are mass-marketed to the normal Joe who wants to watch his movies and likes the explosion sounds (cue eye roll). But these are excellent 4-way floor standing speakers suitable for your precious slabs of wax.
The Polk Monitor 70 Series II has surprising clarity and response in the full range of audio. Let me be clear, they are not going to sound like Klipsch RP-8000Fs in the high end, but they are not going to be fuzzy and brittle like most home theater speakers in the highs, either.
They sound quite good up there, and with 4 woofers you will not be lacking in the low-end punch either.
Best Budget Floor Speakers: Polk Audio T50 Home Theater Floor Standing Tower Speaker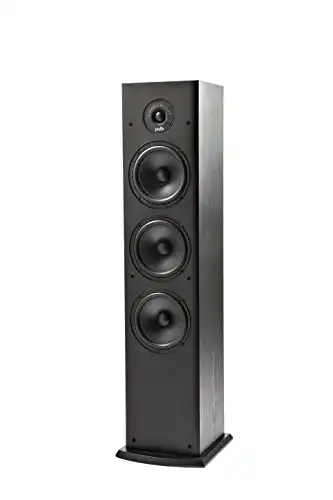 Before you get all excited about picking up some great floor speakers suitable for vinyl at this price point, which borders on ridiculous, let me set your expectations.
First, these are very inexpensive, and you cannot expect the same level of clarity as with the other choices on this list.
Second, for this price, certain things are left out in the manufacturing, and cheap parts are used to keep the cost down.
Lastly, these are the best of the low-budget speakers, not the best period. There is a gigantic difference.
With that out of the way, these are quite good-sounding speakers for the money. The Polk T50s have 3 woofers and a tweeter. They come in a black semi-gloss cabinet with speaker grills as well.
They are 36 inches tall, nine and a quarter-inch across, and nearly nine inches deep, so they are substantially sized speakers. But what do they sound like?
Surprisingly, these sound ridiculously good for the money. You can hear some gaping holes in the frequency response at certain spots, like in the mids, for example. But the low and high end are strong and round sounding.
If you are playing jazz with a lot of horns-y midrange sounds you may be a bit disappointed, but with normal rock records or most classical music, these will do a good job for a very low price.
Best Floor Standing Speakers For Vinyl Buyers Guide
When looking for floor standers for your record player, there are a few important factors to consider. We'll go through them one by one.
Clarity
This is the most important which is why it is first on the list. The whole reason we listen to vinyl is that it is analog, which is the closest to the original recording we can get.
Reproducing that sound is the reason we spend so much money on fancy speakers.
The clarity in sound is audible mostly in the midrange and high end. This is also the most difficult to get right for speaker manufacturers.
If you don't have the luxury of listening to the speakers before buying, pay attention to the reviews and look for clarity being mentioned.
The more clarity a speaker has, the closer to the original recording you are getting.
Power Requirement
This is mostly a matter of compatibility with your existing amplifier or receiver system. When you get into this range of speakers (audiophile, powerful speakers) you can be out of the range of standard amps and receivers.
Because of this fact, it is important to keep an eye on the power consumption of the speakers in this range. It can be quite high, and if it is too high for your amp, you can blow your amp (or at least the fuse).
Size
The size is important for physical space requirement reasons, as well as the power requirement reasons above. The bigger a speaker is, generally, the more power it will consume.
Any speaker you buy online will have the size listed (except for certain high-end Klipsch models). Look at the dimensions before you buy, since some of these are quite large and could end up not fitting in the space you think you have for them.
Quality
In addition to clarity, the overall quality is key. Quality in this sense encompasses not only the quality of the sound the speakers put out, but also the quality of the build, the parts, and the design.
There are some speakers with excellent design, but they are made with cheap particle board and paper speaker cones.
I know asking you to research every part that goes into each speaker is unrealistic. Luckily there is an easy way to judge the quality for yourself without all that research.
Look at the speakers. Check out the details, look at the seams, examine the speaker cones. What materials are used in the cones and cone edges?
Look at the cabinets. Many cheaper speakers have visible seams on the corners of the cabinets. This is not bad, but high-end speakers will not have visible seams.
In addition to looking at them and judging quality based on craftsmanship and materials used, you can also learn a lot just by looking at the price point and the reputation of the brand.
Some brands only sell excellent speakers, like Klipsch, while some have amazing high-end speakers as well as terrible trashy low-end ones like Sony does.
A good rule of thumb with audiophile speakers is that you get what you pay for. It is almost always true, but there are exceptions to every rule.
Hype Factor
This is not what you think. I am not talking about advertising and hyping up a product in that way. Here I am talking about sound.
In the audio field, the hype is a term used to describe how certain speakers can artificially inflate a certain frequency to make it more pleasing to the ear.
In other words, a speaker that has low-end hype has a bump in the low end to make it thump more which will cause people that like electronic music to buy the speakers more often.
There is a fine line here. Overhyped speakers end up sounding messy if they hype too many frequencies, and zero hype speakers (AKA reference speakers) try not to hype anything and can be accused of sounding too boring.
You know what you like to hear right? I love to hear clear low mids and vocals, so I don't mind if my speakers have a little bump in those frequencies. High-end speakers almost always have a frequency response curve illustration.
They don't always publish this on their site, but almost all of them have one in their whitepapers somewhere.
If you are concerned about frequency response and cannot listen to a speaker before you buy, you can ask the customer service to provide you with this chart. It will give you are the visual representation of the speaker's accuracy.
Price
Of course. Everybody is concerned with price (except for the lucky ones). Floor speakers that sound good enough for your precious records are not cheap. Well, most of them are not cheap.
This is an expensive habit. But you already know this, if you have purchased any records lately (have you seen the vinyl inflation? Wow).
As I said earlier, you tend to get what you pay for here, just like with record players. The more you spend, the happier you will be (usually).
However, when you are trying to be frugal when getting your speakers, there is a good hack I like to use.
Stick with brands you know. I have never bought bad speakers from Klipsch or Sony. I have bought some Sonys that I hated, but they were still good. I am just picky.
The point is when you are dropping several hundred bucks on a lifelong investment, stick with a brand you trust. Also, it is helpful that most products on this list have great return policies. Just hang onto those shipping boxes until you are sure you are in love.
Best Floor Speakers For Vinyl: Final Thoughts
All of the floor speakers above have two things in common: they do a good job of reproducing the vinyl sound and they represent a great value.
Some are far more expensive than others, but there is a reason for that. they are also far better. For the absolute best value for money, go with the first speaker on the list. But, as mentioned, all of the speakers listed here definitely outperform their price range.