Now we're getting somewhere.
With sub-hundred-dollar turntables you almost certainly have to sacrifice some features you really want.
With the best record players under $200, you might be able to get everything you'd like.
But most players in this price range are not great.
I've looked at all the popular options and narrowed them down to the six best.
I made sure to include different styles. But no suitcase turntables.
If you're looking for those, you can get them for less than one hundred dollars. Read my post of turntables under $100.
This article features the best record players that fall between $100 and $200. Let's take a quick look at all the recommendations, before going into brief reviews of each.
Best Record Player Under $200: Comparison Table
Disclaimer: these players were priced under 200 at the time of writing and may have suffered a price increase since.
12/04/2023 10:31 am GMT
Best Turntables Under $200 Reviewed
The following brief reviews will tell you why these are the best record players under $200 and will also help you decide which one is right for you. If you're looking for higher quality models, these are still affordable, because they sacrifice features you may not need.
Best Record Player Under $200: House Of Marley Stir It Up Turntable
House of Marley Stir It Up Turntable
Pros:
Low self-noise

Extremely attractive design

Mindfully sourced materials

Easy access to jacks and switches

Great sounding turntable
Cons:
Power supply is an annoying wall wart

Does not have a closing dustcover lid attached (fabric cover only)
View On Amazon
Our Review
We earn a commission if you make a purchase, at no additional cost to you.
12/04/2023 10:31 am GMT
There are two reasons the House of Marley Stir it Up record player tops this list. First, it delivers incredible sound quality. Second, it looks stunning and is constructed from eco friendly materials.
That said our runner up choice also sounds and looks great. So what's the difference? Just look at the photos. The two units look very different. e recommend getting whichever one looks better to you.
As for this one, the excellent sound quality is a result of high-quality components. Chief among them is an Audio Technica moving magnet cartridge that is better than you can realistically expect on a unit in this price range.
Added to that is a belt drive and a recycled aluminum platter that keep external noise and vibrations to a minimum and provide a sound quality you would never expect in a unit that sells for less than two hundred dollars.
So how were they able to punch so far above their weight? Because they focused all their efforts on sound. This unit does nothing else. It does not have the ability to play CDs or cassettes, or the radio. It also does not have internal speakers.
If you want any of those things, there are models further down the list that have those. They are all excellent record players, too. But they do not match this one (or the Fluance RT80) in terms of sound and build quality.
How could they, when they sel for a similar price, but have far more features?
The few features you will find on the Stir It Up turntable are a USB port and a built-in preamp. The USB allows you to record your vinyl collection to the digital format.
The preamp means you can hook the unit up to speakers without needing to run it through an external preamp or a component that contains a preamp, like a receiver
Key Features
Solid bamboo plinth — looks great and keeps vibration down for better sound
Belt-driven turntable — less noise distortion from the motor for better audio quality
USB port — record to the digital format to preserve your precious vinyl
Can handle records at speeds of 33 1/3 and 45 — will work with any standard album
Built-in pre-amp with off switch — connect via line or phono, no need for additional preamp
Audio Technica cartridge — far better than the standard cartridges on most competing models
Fabric dust cover — does not stay on player, to reduce vibrations
Runner-Up: Fluance RT80
Fluance RT80 Classic High Fidelity Turntable
Pros:
Incredible sound quality given the price

Audio Technica AT91 stylus

Anti-skating system

Texas Instruments preamp

Sound isolation feet

Gold-plated RCA outputs
Cons:
No built-in speakers

No headphone jack

Doesn't play 78s
View On Amazon
Our Review
We earn a commission if you make a purchase, at no additional cost to you.
12/04/2023 09:51 am GMT
The Fluance RT80 is very similar to the House of Marley turntable, but also very different. It is similar in that Fluance focuses solely on sound, meaning this model does nothing else but play records. It is different, because it looks very different.
We ranked the Stir It Up record player above this one, mainly because we preferred the look and because the designers used only eco friendly materials. But if you like the look of this one better, go for it. It's just as good.
It does differ from that model in a few other ways. They both sound amazing, but the components they use to achieve that great sound are different.
The RT80 also has an Audio Technica cartridge, but it is the AT91, with a diamond-tipped stylus. It sits on an s-shaped tonearm with anti-skate system that ensures the needle stays in the groove.
The plinth is made from from fiberboard and the platter is die-cast aluminum. Both help reduce vibrations keeping interference to a minimum. A pair of sound isolation feet further keep vibrations in check.
This unit also features an internal preamp. It is made by Texas Instruments and means that you can hook the record player up to powered external speakers directly. If you want to hook it up to passive speakers, you'll still need to go through an amplifier.
The Fluance also only plays two speeds. It comes with an attached dust cover. I know many immediately remove those, because they feel they can vibrate. But others prefer to have them to protect the player.
How you feel about that may determine whether you prefer this model, or the one above. That one has a fabric dust cover that is not attached to the unit.
Features
Audio Technica AT91 cartridge with diamond-tipped stylus — high quality sound
Balanced aluminum S-Type tonearm — keeps needle siding in the groove smoothly
Plays 33 1/3 and 45 RPM — both primary record sizes
High quality Texas Instruments preamp — hook up to powered external speakers directly
Gold-plated RCA line outputs — higher quality sound transmission to speakers
Sound isolation feet and aluminum platter — reduces vibrations, for clearer sound
Dust cover — prevents dust from covering the platter
Best With Built-In Speakers: 1byone High Fidelity Record Player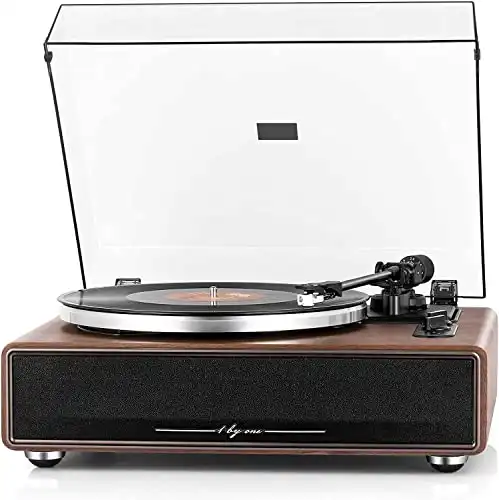 1ByOne High Fidelity Turntable
Pros:
Incredible value for money

Plays 33 and 45 RPM speeds

Plays music from other devices using Bluetooth or aux-in

Built in amp and RCA out allow connection to external speakers

Diamond-tipped Audio-Technica stylus delivers rich sound and excellent clarity

2-year warranty
Cons:
Does not play 78 RPM

Speakers can't match good external ones
View On Amazon
We earn a commission if you make a purchase, at no additional cost to you.
12/04/2023 09:16 am GMT
If you want a model in this price range that has internal speakers, the 1byone High Fidelity Turntable is by far your best bet. In fact, it is the best turntable with speakers period.
That said, any audiophile will tell you that means nothing. Internal speakers are never great. For the bet sound, you always want to connect to external speakers.
However, sometimes that is not an option. And sometimes, you may want to temporarily move your record player to a new room, without having to move your entire system with it. With this model , you can just move the player and still play records through the built0in speakers.
Of course they can not match external speakers, but they are a lot better then the internal speakers on most units. You can use them to listen to digital music, too.
The aux in and Bluetooth functions both allow you to connect other devices to the turntable and play music from them through the internal speakers.
Apart from that and an internal preamp that allows you to connect directly to powered speakers, without needing an additional preamp, there are no other frills.
Every dollar spent to make this model was spent to improve the sound quality. You may be sensing a theme here. We like turntables with no unnecessary gimmicks, where the focus of the designers was on quality and nothing else.
Of course, this unit has the speakers, and it does lag behind the previous two models (and the next one below) in terms of sound quality as a result. But it still sounds pretty great.
It also features a diamond tipped stylus on an Audio Technica cartridge. Where the money was saved to pay for the speakers was in the base and the platter. Neither are as good as those on the previous model. The same goes for the motor.
All are still great, just not as great as our top choice, or our next choice below. One more feature on this one is the dust cover. We already mentioned how opinion on these is divided. But you can always take it off, if you don't like it.
In the end, this is the best turntable you will find, if you want built-in speakers. No high-end model has those. If you do not need the speakers, get either of the models above, if you have the budget. If not, get the next one below. Only go with this one if you want the speakers, or you really like the design of it.
Key Features
Beautiful wooden appearance — stands out and draws attention
Plays at speeds of 33 1/3 and 45 RPM — most common speeds
Built-in full-range stereo speakers — great sound from such a small unit
Diamond-tipped Audio Technica stylus — precision tracking for clear, high quality audio
RCA line-out — connect to external speakers
Bluetooth and aux in — play music from other devices
Built-in preamp — connect to powered speakers directly (no need for an external preamp)
Built-in dust cover — protect your player and records
Best Value: Audio Technica AT-LP60X Belt Drive Turntable
The Audio Technica AT-LP60 is a fully-automatic belt-drive turntable that has won numerous industry awards. We consider it the best value, because it is almost as good as the top two choices, but costs considerably less.
It is one of the highest quality players you will find in this price range, but in order to achieve that level of quality, they have removed all frills.
The AT-LP60 only plays vinyl and does not have built-in speakers. It does have a USB port and a built-in switchable phono pre-amplifier with RCA output cables so you can connect to audio systems and powered speakers.
It only plays two speeds (33 1/3 and 45 RPM), but it has several quality components not generally found in a player this inexpensive, like a die-cast aluminum platter and an integral dual magnet phono cartridge with replaceable diamond stylus.
This results in a sound quality beyond all other players in this price range, except the first two above. In the end, it comes down to preference and budget.
If you prefer the look and style of this model, go ahead and get it. You're not losing much compared to the top two, if anything at all. Similarly, get this one if you are on more of a budget and can't quite afford those other two.
But if you can afford them and you prefer the look of one of them, then you are better off with one of those models. They are ever-so-slightly better than this one.
Features
14.2 by 14.7 by 3.8 inches — still fairly small
Weighs 5.73 pounds — lightweight, but extremely sturdy
Fully automatic belt-drive — plays at consistent speed with minimal noise
USB port — connect to computer to digitize your vinyl records
Switchable internal stereo phono preamplifier — plug directly into components with no dedicated phono input
Plays records at speeds of 33-1/3 or 45 rpm — most standard speeds
Record platter made of cast aluminum and a professional cartridge — reduced vibration and clearer sound
Dust cover — protects the unit from dust
Best Vintage Complete System: DL Vintage Wooden Record Player 8-In-1 Stereo System
DL 8-In-1 Vintage Record Player System
Pros:
High-quality, durable materials

Good sound quality for the size and price

Converts vinyl into MP3

Plays all record sizes at any speed

Plays CDs, cassettes MP3 files and AM/FM radio

Connects to external devices via aux-in or Bluetooth

Connects to external speakers via headphone jack or RCA outputs
Cons:
Tape deck only has basic controls

Bluetooth can only connect to devices, not Bluetooth speakers

Volume is low when connecting external speakers, so you'll want to amplify the sound
View On Amazon
We earn a commission if you make a purchase, at no additional cost to you.
12/04/2023 04:51 am GMT
The D&L Nostalgic Wooden Turntable is another top-selling record player with an elegant classic design that looks great in virtually any home. It plays any size and speed of record.
It also plays MP3 music files, CDs, cassettes and streaming radio. It can also record your vinyl or CD collection to MP3 using the USB port.
It has internal speakers, but they are not as good as those on the 1ByOne. That is expected, since this player costs less and has many more features. It does have RCA jacks, so you can connect to an external stereo system.
It also has an aux in and Bluetooth capability, both of which allow you to connect to external devices, like a smartphone, and play music from those through this turntable.
It also has both an SD and a USB port. You can use them to wither play music, or to record your vinyl connection to a digital format. This is always a welcome feature, but it is one most of the units on this list have. The difference here is the SD slot. The other players only have USB.
If you are looking for a complete all-in-one system, this model and the one below are easily your best options in this price range. The main difference between the two is the look and the fact that the model below has separate speakers. They are not built in to the body.
In terms of quality, the difference is slight. This is another case where you really can't go wrong, so go ahead and choose whichever one you think looks better.
Features
Crafted of luxurious wood — looks great anywhere
Bluetooth enabled — play music wirelessly from any Bluetooth enabled device
Built-in stereo speakers — these are good, but not great
Plays vinyl, CDs, MP3s, cassettes and AM/FM radio — any format you might have
Auto-stop on/off switch: can set it to auto stop turntable when done playing a record
Plays 7, 10 and 12-inch vinyl discs at speeds of 33 1/3, 45 and 78 RPM — plays any record
Plays audio files from smartphones, tablets, etc — enjoy your whole music collection
Record from vinyl or CD directly to USB or SD — no computer needed
RCA outputs: connect to external loudspeakers or an existing sound system
Best Modern Complete System: Digitnow Complete Record Player Stereo System
Digitnow Turntable Stereo System
Pros:
Plays CDs, cassettes and AM/FM radio

Plays music from external devices via Bluetooth or aux in

Comes with detachable stereo speakers

Can record vinyl to MP3 using USB or SD slots

Plays all 3 speeds
Cons:
Can't record vinyl to CD

Speaker cables too short

Bass is turned too high for some
View On Amazon
We earn a commission if you make a purchase, at no additional cost to you.
12/04/2023 06:46 am GMT
The Digitnow record player is another complete system that comes with a CD player, a cassette player, and AM/FM radio. It also has SD and USB slots, meaning you can record your vinyl collection.
In fact, it is nearly identical to the previous model apart from the modern look and the speakers. So let's talk about those.
With its higher quality detachable external speakers, this model has the best sound quality out of the box of any player on this list.
Of course, only three have any sound quality out of the box, and the other two have only internal speakers. The rest need to be hooked up to powered external speakers or plugged into a receiver or some other type of amplifier.
These speakers are good, but not amazing. You can hook any of the other players up to better speakers and get better sound. Of course, you could hook this one up to better speakers or a complete sound system like Sonos, too, thanks to the RCA outputs.
Like all the other models, this one also has Bluetooth capability that allows you to play music from any Bluetooth device. The aux in lets you do the same, but wird, not wirelessly. Like the previous model, it also has a headphone jack.
Finally, it has a dust cover. As mentioned above, whether you go with this model or the DL one above, should depend solely on which one you like better, in terms of looks. And also whether you want the detachable speakers or not.
For the best sound, you'll want to hook either of them up to external speakers anyway. If you do not have any, then the Digitnow is probably the better choice. These speakers are a lot better than the internal ones on the previous model above.
Features
Modern look: will look great in any home
Bluetooth capability: connect wirelessly to your smartphone or other devices and play music from them
Belt-driven turntable: less noise distortion from the motor, so better sound quality
5-in-1 configuration: plays vinyl, CDs, cassettes, streaming AM/FM radio and digital files via USB or SD
USB and SD ports: play digital files, or record them from your vinyl albums
Can play 7, 10 and 12″ records: all standard sizes
Detachable speakers: much better sound quality than smaller internal speakers
Best Turntable Under $200: Final Thoughts
Once you get up near the $200 mark, you start to find some pretty good sounding turntables. They're not going to compete with an audiophile model, but the best give you great quality for the price.
We compiled the best of them above. We made sure to include a number of different types and styles, so that there is something for everyone and every need.
If you want the absolute best sound, either of the first two models are the way to go, depending on your preference in terms of style. If you are on more of a budget, go with the Audio Technica.
If you are looking for a player with internal speakers, the 1ByOne has the best sound quality. However, the Digitnow sounds better if you only use the provided speakers, since its detachable speakers are better than the internal ones on the 1ByOne.
The 1ByOne shines if you have it hooked up to a stereo system most of e time, but like to occasionally move it to another room, or to another location.
Finally, if you are looking for an all-in-one system that plays other formats as well, then the final two options are the way to go. The Digiotnow has a modern look and better speakers, while the DL is more compact and features a gorgeous vintage design.