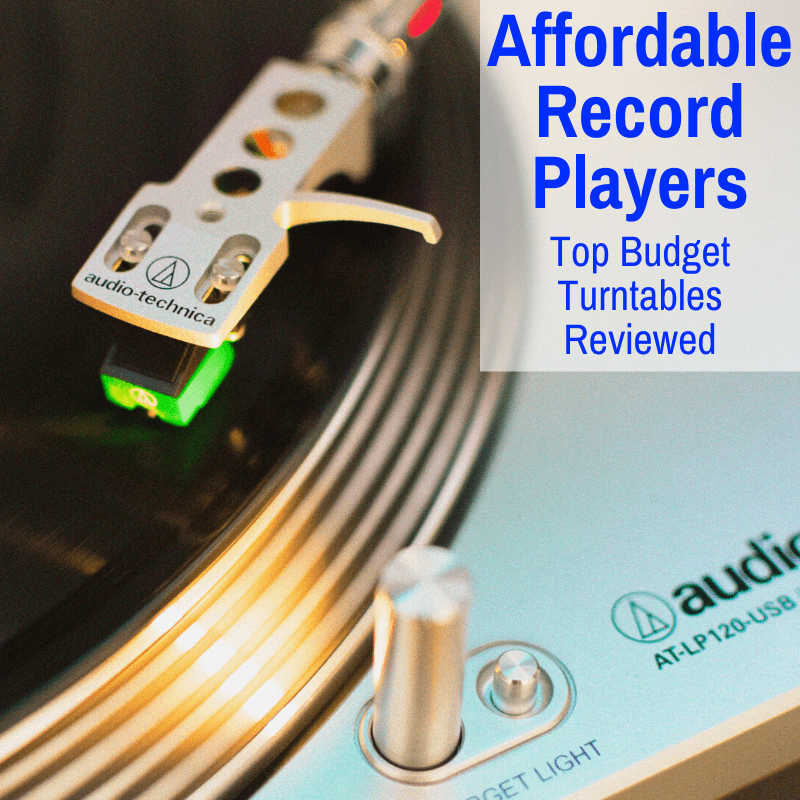 There are a ton of affordable record players on the market these days.
The problem is: most of them are no good.
And telling the difference between a cheap turntable that still performs as it should, and one that is basically useless, can be quite difficult.
And useless players are not even the worst case scenario.
A lot of the budget record players can actually harm your vinyl records. There is a risk they will leave your precious discs warped or scratched, ruining them forever.
It will take a lot of research to find those diamonds in the rough: those affordable turntables that still do a great job of producing music from your vinyl.
Luckily, there is no need to waste your time doing that research.
We've done it for you and have narrowed all the low-cost turntables on the market down to the best. We've got models that range quite a bit in price, since everyone's idea of affordable is different. But what they all have in common is that they outperform any other models with the same price tag.
Best Affordable Record Players Compared
10/02/2023 07:11 am GMT
Budget Turntables Reviewed
These brief reviews of the best affordable record players on the market today should help you decide which one is right for you. Note that none of them have internal speakers. If you want one with speakers, read this article.
Audio-Technica AT-LP3
Audio-Technica AT-LP3BK Fully Automatic Turntable
Pros:
Fully automatic

Balanced tonearm with straight design

Electronic speed change

Plays 7 and 12-inch records

Die-cast aluminum platter

2 color variants
Cons:
Tonearm lacks a safety latch

Not the best cartridge (but good for the price)

Not the best preamp (but good for the price)
View On Amazon
We earn a commission if you make a purchase, at no additional cost to you.
10/02/2023 07:11 am GMT
The Audio Technica AT-LP3 turntable is crafted for user convenience and a next level musical experience. For what is considered a cheap record player, the performance is top notch.
The player boasts electronic speed change and plays at both 45 and 33 1/3 RPM. The platter is constructed with die-cast aluminum for a sturdier build and decreased resonance. Now you can enjoy hours of playtime with your 12 and 10-inch record collection.
Additionally, the AT-LP3 comes with a built-in phono preamp so you can easily connect it to your stereo system or a set of powered speakers. The straight stylus is hydraulically damped and has an AT91R removable cartridge for a smoother sound.
The sleek body is available in two color variants: black and white with option to upgrade the removable cartridges. If you are a first-time buyer and looking to experiment with a record player, this has the potential to be a suitable gateway record player for you.
Specifications
Belt drive motor
Phono preamp included
AT91R VM cartridge
Dimensions: 21 x 9 x 19 inches
33 1/3 and 45 speed
House Of Marley Stir It Up Turntable
House of Marley Stir It Up Turntable
Pros:
Low self-noise

Extremely attractive design

Mindfully sourced materials

Easy access to jacks and switches

Great sounding turntable
Cons:
Power supply is an annoying wall wart

Does not have a closing dustcover lid attached (fabric cover only)
View On Amazon
Our Review
We earn a commission if you make a purchase, at no additional cost to you.
10/02/2023 05:06 am GMT
The House of Marley Stir it Up record player stands out on this list due to its wooden design and the fact that it is made from eco friendly materials. The plinth is actually made from solid bamboo.
And it's not just about looks. The Stir It Up turntable delivers in terms of sound quality too. It is made using much higher quality components than you would expect at this price level, like a modular Audio Technica cartridge.
House of Marley is able to do this, because they forgo any unnecessary features. The player has a USB output and a switchable preamp, but that it is. There are no unneeded gimmicks, just top-notch sound quality.
Our top choice above has more advanced controls and features, but it also costs a bit more. Both are excellent players and the sound quality is comparable, which is why this one is our favorite value player.
If you don't need the additional features, or if you simply prefer the bamboo look, get this one. If you want some of those additional features, then the AT-LP3 turntable is better for you.
Specifications
Dimensions: 13.8 by 16.5 by 4.3 inches t
Weight: 9.04 pounds
Solid bamboo plinth
Belt-driven turntable
USB port
Plays speeds of 33 1/3 and 45
Built-in pre-amp with off switch
Audio Technica MM cartridge
Audio-Technica AT-LP60X
There is a reason that first-time buyers keep referring to the Audio Technica AT-LP60X as a record player for those just starting to dabble. It is built to be a friend to your ears and an even better friend to your wallet.
A step above the older LP-60 model, the LP60X boasts an AC adapter and a redesigned base for the tonearm to better decrease resonance. Experience your love for vinyl music all over again, as the sleek and sturdy design boasts two speeds to play both your 7 and 12-inch records.
The diamond-encrusted stylus is good quality, but can also be upgraded, while the die-cast aluminum platter and automatic belt drive ensure reduced resonance and better absorption of vibrations.
Additionally, the AT-LP60X has Bluetooth connectivity, so you can connect the player to any speaker of your choice with ease. Fitted with a built-in phono preamp, you can rest assured the signal making its way to the speaker is crisp and soft at the same time.
The updated design is the king of cheap record players and the original version was one of our top picks for turntables under $100. The AT-LP60X is available in 4 colors, including red and black. There is also a USB version available, which is great for sampling. All these amazing features make it the perfect purchase for a newbie vinyl record lover.
You can find a detailed review of the AT-LP60 here.
Specifications
Belt drive motor
Includes built-in phono preamp
Bluetooth feature
33 1/3 and 45 speed
Die-cast aluminum platter
Dimensions: 19 x 17 x 7 inches
ATN3600L stylus
U-Turn Audio – Orbit Plus Turntable
U-Turn Audio Orbit Plus
Pros:
Great sound and performance

Unique and stunning design

Excellent stylus (Ortofon OM5E)

As minimalistic as possible

5 color choices
Cons:
No speed switch (you have to move the belt manually)
View On Amazon
We earn a commission if you make a purchase, at no additional cost to you.
10/02/2023 03:16 am GMT
The Orbit Plus is the perfect marriage of aesthetics and functionality. Built to appease the eyes and ears alike, the device is equal parts art and machine.
The platter is constructed from premium quality acrylic to maintain a smooth and undisrupted sound free from grating resonance. It also ensures that the speed and performance of the record player is stable.
The Ortofon OM5E cartridge paired with the elliptical diamond stylus ensure accurate tracking of your vinyl records. You can play 2-speeds: 45 and 33 1/3 RPM. This means you can play both single track 7-inch records and 12-inch records.
The elliptical diamond stylus and tonearm are built for spectacular precision with adjustable counterweight, guaranteeing a lifelike sound to the music.
Available in 5 colors, including green, white, and black, you can also customize the build of the player and experiment with style. All this makes the Orbit Plus an audio and visual treat for economical buyers.
We have a comparison of the U-Turn Orbit and the Pro-Ject Debut Carbon that might be of help.
Specifications
Acrylic platter
Ortofon OM5E cartridge and diamond stylus
Dimensions: 21.1 x 17 x 9.8 inches
Optional Phono Preamp
33 1/3 and 45 speed
Pro-Ject Elemental Turntable
Pro-Ject Elemental Turntable
Pros:
Handmade in Europe

3 color variants

Low resonance and vibration design

Play 7 and 12-inch records
Cons:
No lid included

Somewhat higher price

Unique design won't appeal to everyone
View On Amazon
We earn a commission if you make a purchase, at no additional cost to you.
A handmade treat from Europe skillfully crafted for record player lovers, the Pro-Ject Elemental is every bit as cool and trendy as it is amazingly well made. When you do not want to compromise on sound and build, but still want to keep your expense reasonable, the Elemental is the player of choice.
It is a beautifully built device for entry-level buyers, which is something that is hard to find in this price range. The superior belt drive negates distracting vibrations and rumbling, while a low friction aluminum tonearm and a synchronous motor add the final touches to make every sound easy on the ears.
Add to this the exceptionally crafted Ortofon 2M red cartridge emanating a warmer tone found in high-end record player varieties, and you end up with a player that delivers far more than you would expect, given the price.
The 45 and 33 1/3 speed control also allows you to play 7-inch and 12-inch records. You have your choice of 3 color variants: gray/black, red and white.
Specifications
Low friction aluminum tonearm
Ortofon 2M red cartridge
Belt drive design
Synchronous motor
2 speeds of 45 and 33 1/3 RPM
Dimensions: 3.6 x 17 x 12 inches
Affordable Turntables: Tips For Buyers
When music is a hobby, and collecting vinyl records is a lifelong passion, you need just the right devices to take your enjoyment to the peak. To keep enjoying your collection, you need a model that emanates perfect sound without compromising on the condition of your records.
Record players that promise superior quality can weigh heavily on a tight wallet. All-in-one suitcase turntables pose a solution to your budget woes, but they fall short when it comes to audio quality and many models can actually do harm to your precious vinyl discs.
Most cheaper turntables are designed to be crowd-pleasers, seemingly offering all the features that make high-end models so desirable. However, they are not built to last and none of those features perform in the same way they do on more expensive models, like the Marantz TT42P.
Looking for sound clarity, smoothness and a hassle-free setup when choosing a record player is a tricky ordeal, if you want to also find something affordable. There are a few key things to look for in the mass of cheap record players, to ensure you end up with one of the few that actually deliver.
There are also ways to save money if you don't need certain features. For example, many turntables have USB ports that let you play MP3 files from a flash drive, or rip music to a flash drive. Many also have Bluetooth connectivity that allows you to play music from devices like smartphones or, in some cases, connect wirelessly to external speakers.
If you do not need any of these features, you can save money by getting models that do not have them, like many of these costing less than $200.
However, you do not want to sacrifice on design elements that optimally absorb vibrations and thus lead to a cleaner sound, like a solid platter, a good cartridge and tonearm, etc.
If you plan on using external speakers (you should, if you want the best possible sound) or plug into a home sound system like Sonos, a player with a preamp also makes sense, unless you already have an external phono preamp.
The models reviewed above are all made from quality components that provide sufficient damping for a smooth and clean sound. Some have more features, others have fewer but focus more on quality. The prices vary quite a bit, too, but all are still affordable record players.
Whichever you choose, keep it running optimally for as long as possible, by always keeping it clean and well-maintained. With the proper care, your new turntable will provide you many years of grooving to your favorite records.
Best Affordable Record Player: Final Thoughts
Most budget turntables are not very good. As usual, you get what you pay for. But the best affordable record players outperform their price. They give you tons of value for your money.
Those are e record players we included in this list. They are nowhere near the best models on the market But they also cost nowhere near what they cost. These are good quality players we can all afford.
You really can't go wrong with any of the players on this list. So take a look at all of them and go with the one that best meets your needs.