This is a strange question.
You're probably asking it because you heard that you'll need an amplifier to go with your speakers.
And that is true. For some speakers.
Specifically, you need an amplifier for passive speakers.
But if you have powered speakers, or are thinking of buying some, think about what the word 'powered' refers to.
Speakers are 'powered' because they have an amplifier.
Which makes this question very easy to answer. But there are other things you need to keep in mind as well. We'll cover all of that below, after the answer to your question.
Do Powered Speakers Need An Amp?
Powered speakers do not need an amplifier. They have an amplifier already installed in them which is why they are called 'powered speakers' to begin with.
Depending on the speakers' input options, you can hook them up to different audio sources without the need for a separate amplifier. This makes them very convenient and a good way to save money for most people.
What Are Powered Speakers?
Powered speakers are any speakers that have their own amplifier built in. These are useful for several different purposes such as home recording or computer listening.
They have become popular due to the smaller footprint not needing an amplifier provides, as well as the convenience of not having to mess with a separate amplifier and cables
There are 2 different kinds of powered speakers, normal powered speakers, and active speakers.
Difference Between Powered And Active Speakers
Active speakers have a separate amplifier for each speaker driver, where powered speakers have a single amplifier which powers both speakers in the pair.
Audio purists will argue that active speakers are better due to each driver having its own discrete amplifier channel.
This is true, and in some cases, you can clearly hear the difference.
However, at higher quality levels it becomes less of an issue as the components and speakers themselves use much better parts in the high-end market.
Why Do Speakers Need Amplifiers?
Speakers are transducers, just like microphones and turntable phono needles. Transducers are devices that take variations in a physical quantity and turn it into an electrical signal.
In the case of a record player, this means that the tiny needle reads the variation in the grooves of the physical record and sends the tiny electrical signal (in millivolts) down the tone arm wire to the RCA jacks on the back of the unit.
You could technically put a speaker input wire right on that RCA cable directly from the phono cartridge. If you put your ear right up to the speaker you could hear the record.
The problem is that the sound would be incredibly quiet. Read "Why is my record player so quiet?" for more on this.
What Are Amplifiers Actually Doing?
The job of the amplifier is to take that tiny weak signal from the phono cartridge and make it loud enough for the ears to hear without straining.
In the case of record players, the signal is amplified twice by the time it hits your ears: once in the preamp stage and once in the amplifier stage where it is pushed out the speakers, turning it into soundwaves once again!
Some turntables have built-in speakers. That means they also have both the preamp and the amp as well. These components are generally lower quality than external phono preamps and amps.
Key Takeaway
Speakers are just transducers; without amplification the electric signals they receive as input are not loud enough to hear without straining. Therefore, speakers need amplifiers!
Do Powered Speakers Need Receivers?
This is more of a nuanced question than the was the case with amplifiers. Receivers are audio devices that connect several audio and/or video components and allow switching between them.
Receivers have amplifiers built into them. They also typically contain an AM/FM tuner.
Difference Between Receivers And Amplifiers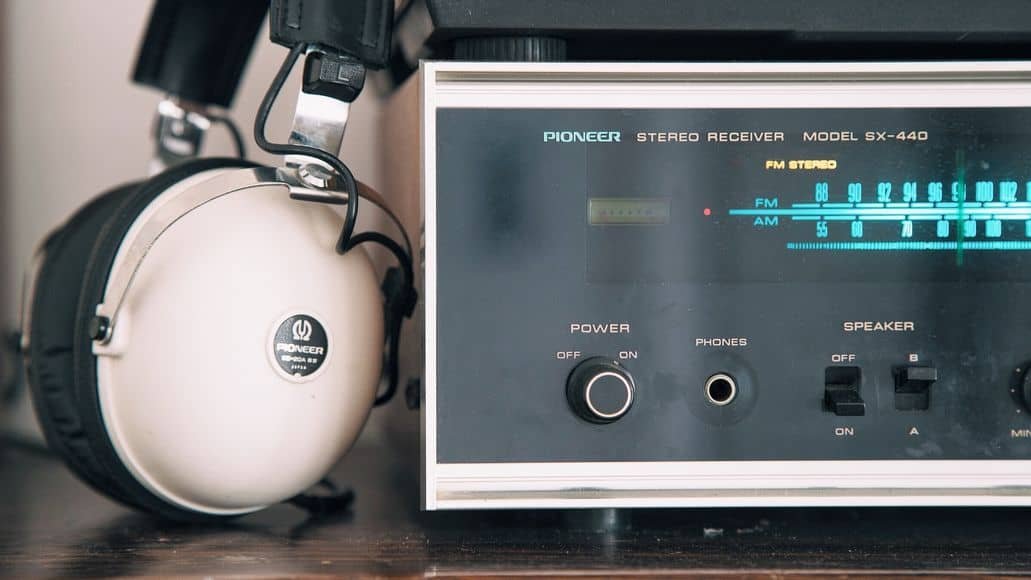 Amplifiers are just devices that amplify a signal. Receivers are amplifiers that allow you to amplify several different signals. They usually have additional features, like equalization.
Many people that have powered speakers will have their speakers hooked up to a receiver, but they will bypass the amplifier section and only use the preamp output of the receiver.
They do this because the receiver allows them hook many audio sources up to their powered speakers. Since most powered speakers only have one input, you are going to need a receiver or preamplifier/mixer to connect your multiple devices to
This is only relevant if you have more than one audio source. With only one audio source, you don't need a receiver to connect a turntable to speakers, if the speakers are powered.
If you have many audio sources and you plan to use your powered speakers as your primary listening speakers, you should consider getting a receiver or multi-channel preamplifier.
When To Use Powered Speakers Vs Passive Speakers
Typically, powered speakers are used in smaller set ups where there is not enough space for a big amplifier. Many P.A. systems use powered speakers these days.
Many times, when you see the guy in the courtyard playing his guitar and singing, he is using a PA system with powered speakers.
In the case of live performances outdoors, using passive speakers and an amplifier makes no sense. This is the perfect situation for powered speakers.
When To Use Passive Speakers
Traditional passive speakers are best in home setups where space is not an issue, sound quality matters and many audio and/or video are present.
Personally, I think passive speakers with a good amplifier/receiver sound much better. And many music listening enthusiasts agree with me.
Since sound quality is subjective you are going to have people that think active speakers sound better and others like me who much prefer passive with a great receiver.
Is There Really A Sound Difference Between The Two?
The sound difference depends on the quality of the speakers, more than anything. And some people will say there is no difference!
Also, the absence of long speaker wire runs is said to help the audio sound more pristine. This is not audible to the average person but there are purists who will swear they hear the difference!
Passive speakers are the more common and 'classic' speakers you see in almost every home stereo setup. These kinds of speakers have been around much longer than powered speakers, so the market is much more mature.
With the older more mature market you can find established brands that have perfected making passive speakers for over a hundred years.
Personally, I prefer passive speakers combined with a well-made receiver/amplifier (preferably a 1970's Pioneer). I will argue with anyone that Klipsch makes the best passive speakers, too, so do not get me started on that!
Which Type Is Best For You?
If you just need a pair of speakers to play your turntable, CD player or computer and you want to save money, grab a simple pair of powered monitors and you are all set.
On the other hand, if you have many audio sources and are focused on the audio quality of what you are hearing, find a good pair of passive speakers and a nice receiver.
Powered Speakers And Amps: Final Thoughts
Powered speakers contain an amplifier, so you do not need to hook them up to a separate unit. The whole purpose of powered speakers is to avoid having to buy a separate component to power the speakers.