There comes a time when you want better.
Maybe you've outgrown the record player you have and want better sound quality. Or maybe your existing turntable is getting old and some of the components are deteriorating.
You could buy a new turntable, of course. But that can get expensive.
Usually, you can get a huge upgrade in sound quality by simply upgrading your turntable and replacing certain key components.
Let's find out exactly what parts you can replace to get the biggest bang for your buck, i.e. the most improvement for the least amount of money.
How To Upgrade Your Turntable
There are several changes you can make to your turntable and your Hi-Fi system. This helps improve the quality of the sound produced. Here are some tips to help you upgrade your turntable and bump up its performance.
What Does Upgrading A Turntable Entail?
There's a lot you can do to up the performance of your turntable. From the turntable to the speakers, and even the environment itself, you can upgrade or modify every piece of signal chain. The upgrades listed here can all significantly improve the overall sound quality.
Turntable Upgrades To Consider
You might wonder if your turntable even needs to be upgraded. And what about the cost? Can you upgrade your turntable without spending hundreds of dollars?
The truth is, this depends on the types of upgrades you want to do. Some of them are costly and most people have a hard time upgrading their turntable as much as they might want to, because they just don't have the budget.
Here are a few upgrades you can make that won't break the bank.
Isolation
How about some isolation? That is, putting some vibration-absorbing feet beneath the deck. This helps reduce vibrations and won't break the bank either.
An even better option, though also a more expensive one, is the Pro-Ject Ground-IT Isolation Platform. While it is not cheap, this isolation platforms is a valuable investment. and this platform is just one way to help keep vibrations to a minimum.
With a granular-filled and heavy-weight MDF base, it helps keep vibrations to a minimum. It comes in several sizes and also has adjustable feet, making it easy to ensure your record player is perfectly level, too.
Cartridge Upgrades
Cartridge improvements can have a huge impact on sound quality. Simply changing the cartridge and putting a better model on the arm can lead to a major improvement in sound quality.
Even if you can't afford a higher quality cartridge, you might still have options. If your cartridge allows, because not all will, consider upgrading only the stylus. You'll eventually need a new one anyway, once it goes bad. So learn how to tell if a turntable needle is bad, and then upgrade it when it needs replacing.
But upgrading the entire cartridge is better. There are a wide variety available. Some are affordable, while others are expensive and sometimes difficult to procure. Some might even run you $1000+.
All cartridges will fall under one of two categories: moving coil or moving magnetic.
Moving Magnetic
A moving magnetic cartridge has a small magnet held by the cantilever, inside the cartridge housing in between two copper coils. The magnet vibrates as the stylus tracks your record, and this produces a current.
Moving Coil Designs
This type of design works a tad differently. The coils sit on a cantilever and they move within a fixed magnet, which produces a current. Moving coil designs are more expensive, and they require a higher-gain stage, due to the delicate signal strength.
The flip side is that the coil is small, meaning that the voltage that normal moving coils produce is significantly smaller. Do you want an MM or an MC cartridge? Generally, MC is not worth the extra cost. MM is the much better option for most.
Why Upgrade Your Turntable?
There are a few different reasons to consider upgrading your turntable. The most important is for better sound quality, not only overall, but also to counteract a decline over time. Older turntables might give off a humming noise as the components deteriorate over time.
Sure, you can make the sound more accurate and clear by adjusting the bass and treble. This is much cheaper and easier than making upgrades. But it's not nearly as effective. And upgrading a component or two is still less expensive than replacing everything.
If you existing record player starts to break down, upgrades can be a great way to keep it, rather than forking out money for a completely new one. That can be expensive, especially if you have a high-end model.
Best Turntable Upgrades
The following upgrades deliver the best bang for your buck. They lead to the biggest improvement for a relatively small investment in time or money.
Upgrade 1: Change Your Turntable's Phono Cartridge
The cartridge of your turntable is responsible for converting vibrational energy from a stylus to a signal that your amp and speakers turn into music you can hear. The cartridge plays a considerable role in playback quality. Upgrading your cartridge is an ideal way to take your record player's performance to new levels.
Materials Needed
Flathead screwdriver
New cartridge
Cartridge alignment tool
Step 1: Loosen Screws
Use a flat head screwdriver and loosen headshell screws located on the cartridge.
Step 2: Unplug the Wires
Next, unplug the tonearm wires. Be sure to hold these wires by the plastic sleeve to prevent them from breaking.
Step 3: Install the New Cartridge
You're ready to install a new cartridge now! Begin by re-attaching the tonearm wires. There are colored pins for each of the colored tonearm wires. If you don't see them, refer to the manual to determine where they go. Try leaving the stylus guard on, because the stylus can be very fragile.
Step 4: Put the Cartridge Together
Insert the screws into the designated slots and then through the cartridge's housing. Use your finger to hold the headshell in place while turning the screw until its threading catches. Do this with both screws. But, make sure they are snug but don't tighten them entirely just yet.
Step 5: Align the Cartridge
With the cartridge in place, use an alignment tool to ensure the cartridge is aligned. The alignment can be adjusted by adjusting the position of your cartridge and the headshell slots. Once aligned, tighten the screws completely.
Upgrade 2: Change The Platter
Upgrading your platter can result in a smoother and more consistent spin and a better grip on the record. There are a number of different platter materials. For most people, an acrylic platter provides the best cost to performance ratio.
Materials Needed
Step 1: Remove the Old Platter
First, you want to remove the old platter. Do this by opening the fastener mechanism and taking off the platter.
Step 2: Place the New Platter
Place the new platter into place and secure it.
Upgrade 3: Replace The Platter Mat
A platter mat can be a great upgrade that doesn't require a lot of cash. Most turntables have a felt mat on them. These help shield your records, but the sound quality isn't necessarily the best.
There are several mat types to choose from. One example is a cork mat. This type of mat improves surface contact, producing a more focused sound.
Materials Needed
Step 1: Remove the Old Platter Mat
First, remove the old platter mat you are looking to upgrade.
Step 2: Place the New Platter Mat
Place the new platter mat into place onto the shaft located on the turntable. Make sure to handle it with care.
Upgrade 4: External Pre-Amp
This will make a huge difference to the sound because its function is to take low phono level voltage and step it up to line level voltage that a power amplifier can use to amplify the signal.
Phono level is very quiet, and you can barely hear it if you plug a turntable directly into a power amp. Unless your table has a built-in pre.
Many record players do have built-in preamps, but these are generally not as good as a quality external model. That is why adding one to your system usually results in a significant boost to the overall sound quality.
Step 1: Research Options and Buy A New Preamp
Research the available preamps that will work with your set-up. Consider space requirements and sound quality. Price will likely be a huge factor.
Preamps can go from very cheap, to extremely costly, for high-end boutique style preamps. Once you have found one, buy it. See our article on the best phono preamplifiers under $500 for help in choosing the right one.
If you're not sure which one to get, check out the Rega MM MK3 Fono Preamp. It is the best phono stage available for the price.
Step 2: Power Off Your Amp
Make sure your amplifier and/or deck and/or preamp are all powered off. If you already have a preamp, unplug the RCA cables from your old preamp's inputs and unplug the RCA cables from the outputs of your old preamp that go to your power amp. Unplug the power cable from the old preamp and pull it out of your set-up.
Step 4: Install the New Preamp
****Before doing any of the steps below RTFM (read the F****** manual!!)
Plug the RCA cables from the turntable into the inputs of your new preamp. Plug the cables that lead to the power amp into the outputs of the new preamp. Plug the power cable of the new preamp into the power outlet. Turn on and test the preamp.
Turn on all the components and play a record making any necessary adjustments on the preamp/power amp to ensure you have the desired sound. Now you're ready to rock and roll!
Other Improvements To Consider
To ensure you get the maximum benefit from your record player and your collection of records, make sure you perform regular maintenance on your turntable.
Apart from that and the upgrades above, there are a few other improvements you can make. Not sure what to do next? Here are some techniques and equipment to help get you going, and some additional upgrades to consider trying.
Level The Turntable
This is a basic step in setting things up, so you have hopefully done this already. If you have, but without using a level, try leveling it again with one. Using a level is much more accurate.
Place the level on the platter and move your turntable until it is perfectly even. If your turntable doesn't have feet that can adjust, you can use coins or some other object to raise an lower them to get everything level.
Clean Off Your Records
This is the cheapest and easiest trick of them all to get your records sounding great again. And it's something you should already be doing. Clean your records!
All you need to do this is some warm water and a smidge of soap. Get yourself a lint-free cloth, or you could even use your fingers too. Always clean along the grooves, not against them.
If possible, avoid the label. If it gets wet, it could end up peeling of the record. Once done, rinse the record off with clean water and leave it to dry.
Ideally, you want to protect your records, by storing them correctly, to avoid having to clean them as much as possible. You really only want to have to do it every few years. So find a safe place to keep your vinyl collection and don't just toss it in a box in the garage.
And you only need to wash them if they get smudged. If they are simply plagued by dust, an anti-static record brush like this one from Audioquest is ideal.
A brush like this is great for keeping your records free from dust. It has been upgraded with smaller fibers to help remove all dust and particles from your records.
Stylus Gauge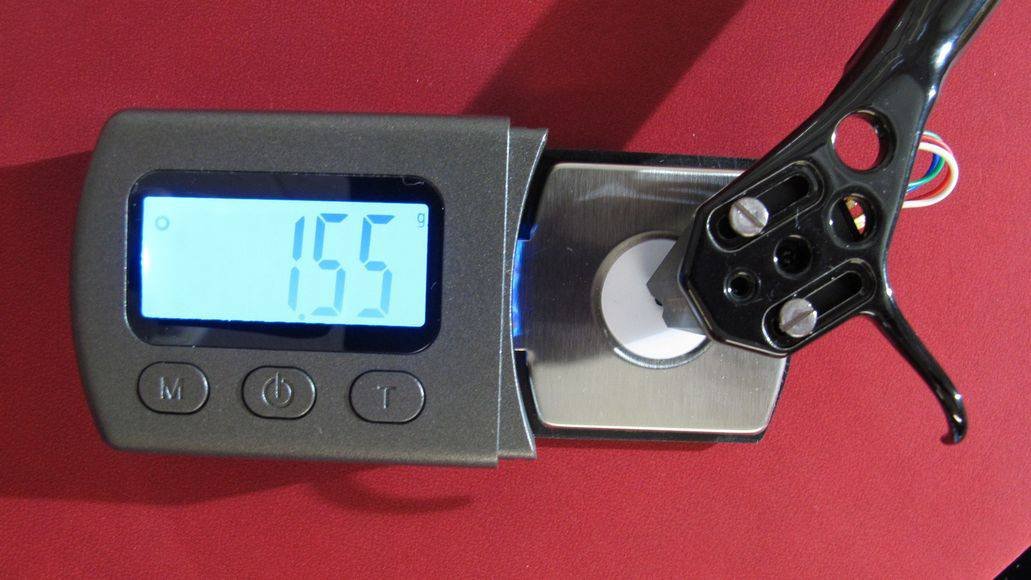 This should be part of the set-up process as you get your turntable ready, ensuring you get excellent sound without damaging your records.
Simply put the gauge on the turntable platter and place your stylus on the pad. Adjust the weight until it's where it should be. It should say how much "tracking force" should be applied in the instruction manual.
A stylus gauge does not have to cost a fortune. Some people feel they need to spend hundreds of dollars on one, but you can find them online at various retailers for much cheaper. The Neoteck stylus gauge is a great budget option.
Record Clamps
Put your hands up if you have at least one warped record in the home. There are record clamps that use friction to help hold records on the platter.
This is great for preventing them from slipping. And there is no excess strain placed on the turntable's motor, unlike using record weights.
Upgrading Your Turntable: Final Thoughts
There are times when you are best off just buying a new record player. But most of the time, you can get a significant improvement simply by upgrading certain parts of your existing turntable. Hopefully this article has given you an idea of what you could try upgrading, or if you are actually better off just buying a new model.