I love Spotify!
The whole music streaming industry has once again revolutionized how we listen to music.
Of course, I also still love my record player.
There is nothing better than listening to an entire album from top to bottom on vinyl.
But when I don't have the time for that, I love being able to stream my favorite music in the background.
Especially now that I can do it through my Sonos speakers and have that music follow me wherever I go in my home.
Thanks to a recent upgrade, connecting Spotify to Sonos is easier than ever. Even with a free account!
Keep reading to learn how to add Spotify to Sonos, in a few easy steps.
How To Add Spotify To Sonos?
To connect your Sonos speakers directly from the Spotify app, you need to do the following:
Open the app and go to the "Your Library" section in the bottom navigation bar. You will recognize it because it has the shape of a gear.
After accessing the settings screen, look for "Connect a device", which is located under the "Devices" section.
Once inside, all the devices that are close by and are compatible for its proper functioning will appear. In this particular case, you will have to press "Sonos speaker".
In a matter of seconds, you will be able to enjoy your favorite music at full volume and with the sound quality you prefer (remember that you can adjust the streaming within the application).
Next Evolution In Music Listening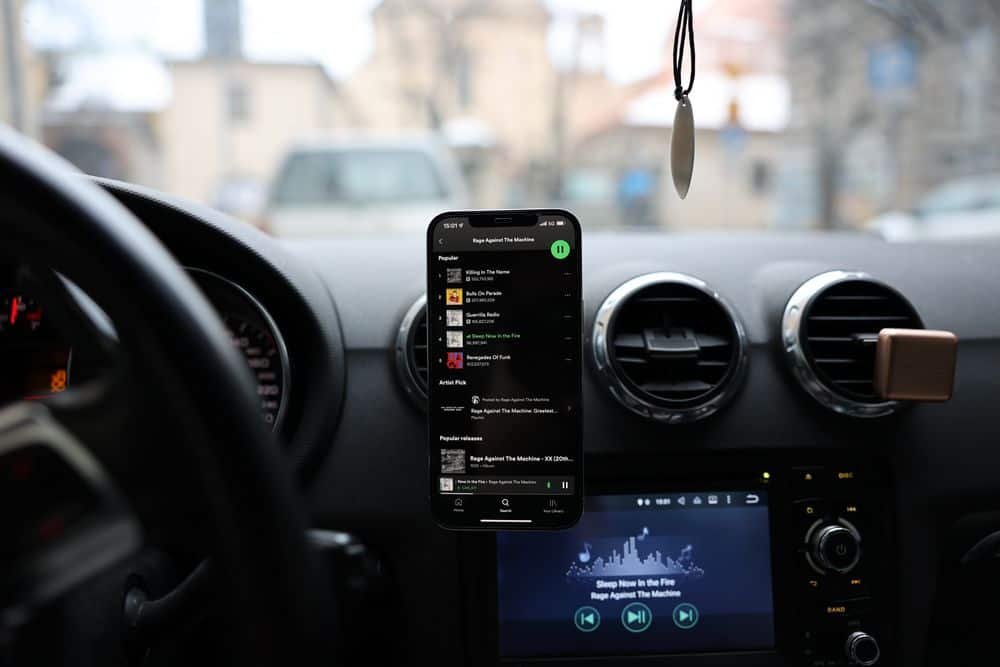 The way of listening to music has changed so much with the times! There have been so many novelties that it is almost dizzying – I went from Walkmans to mp3 players, iPods, and now smartphones.
Among them, the ability to listen to music without any cables and directly from the internet or storage is simply magnificent.
I hate to see the physical format go through its gradual decline, despite good sales of vinyl, a format on the rise again, due to collectors like us.
But streaming services are the order of the day: Deezer, Spotify, SoundCloud, Apple Music, etc. And I'm not against them. I think there is plenty of room on the market for those services and for vinyl.
What I like the best about such services is that I can now connect my Sonos speakers directly to the application, just by opening it and linking it.
It's easy for all of these services. As an example, learn how to play SoundCloud on Sonos.
I am a big fan of Sonos! My whole place is filled with Sonos speakers and I have music playing basically non-stop.
I even recently upgraded my Sonos living room setup. This article covers that experience. I also have an article discussing where to place Sonos Sub, though the answer is pretty simple: anywhere you want!
Usually it is streaming in the background, but when I want to sit down and listen to music with my full attention, I put on a vinyl record and listen to it through my Sonos system.
Trueplay Update Makes Connecting To Spotify Easier
One of the best software updates for Sonos wireless speakers was the Trueplay function. It allows you to configure the home theater from the Sonos app for iOS.
It also makes it possible to connecting a Sonos speaker with Spotify. Many claimed that you could already do this, through Chromecast, for example, or other mobile devices that were in the scope of the application.
To be honest, I never tried that, so I'm not sure if it works. But since the Spotify addition, there's a party at my place all day, all night.
And since some people still have a rough time connecting their Sonos system to other devices and platforms, here is a brief instruction on what I did.
How I Connected My Sonos Speakers From The Spotify App
I already gave instruction on doing this toward the beginning of the article. The way I connected my speakers to Spotify is basically the same as those instructions. Here is what I did.
I opened the Spotify app and went to the "Your Library" section in the bottom navigation bar. It has the shape of a gear (just remember the Peter Griffin meme).
After accessing the settings screen, I selected "Connect a device" under the "Devices" section.
Once inside, I saw a list of all the devices that were in range and compatible. I selected "Sonos speaker".
In a matter of seconds, I was listening to my favorite music in every room of my home.
And once it is setup and connected, the application becomes your remote control with which you can control the speakers.
You can raise and lower the volume as you please (depending on your neighbors, perhaps), change tracks, etc.
If you organize a party at home and the friend on duty who always wants to play their songs does not have the Sonos app installed on his mobile, they can send the songs directly to the speakers, just by opening the Spotify application!
Of course, you may want to monitor what they send to the speakers. Don't let your friend with questionable taste in music (my friend Mike and his love of New Kids On The Block springs to mind) spoil the party and make your guests wish your Sonos speakers would keep cutting out.
Now Available To Free Users
I know many people have stopped with their Spotify subscriptions for one reason or another. Luckily, it doesn't matter anymore. Everyone can play their favorite jams on Sonos now.
Previously, this option was only available to subscribers of Spotify Premium the paid version of the app. Those with a free account could not take advantage of the compatibility with Sonos.
Fortunately, that has changed fairly recently! If you have a free Spotify subscription, you can now connect it to your Sonos speaker(s) without any hassle.
Of course, you must first make sure that your Sonos equipment is updated to the latest version. The same goes for the application of the streaming music service, in this case Spotify.
Once the systems are up to date, the next step is to open the official Sonos application, go to Settings> Services> Add a Service, and select Spotify. You will then need to log in to the free account.
Then you basically follow the same process as paying users.
Naturally, by syncing your speaker with Spotify, you'll be able to access playlists like "Weekly Discovery," "Your Daily Mix," and "Your New Radar."
I know most of these playlists use the same old songs that you listen to anyway, but that is not always a bad thing.
Add Spotify To Sonos: Final Thoughts
Connecting to Sonos speakers through the Spotify app is now easier than ever. Follow the simple steps above and you will be listening to your favorite playlist in no time.
As mentioned previously, you can control the playback directly through the Spotify app. Or the Sonos app, if you prefer.
Of course, you can also use Alexa or Google Assistant to control your music through voice commands.
And remember that with the Sonos application you can continue adding many speakers (if you have more than one in each room of your house, like I do), so you can wake up with your favorite song in your bedroom and have it follow you into the bathroom.
But if you prefer to do it directly from Spotify, now is the time. If you haven't tried Spotify yet and you have Sonos speakers, just do it and enjoy all the perks. And they say that technology does not make our lives easier…