When Sonos released the Boost, it seemed a bit strange.
Why was a company dedicated to audio equipment releasing a wireless network device?
Especially when there are already plenty of existing devices that perform the same function?
When you consider the end goal of improving the sound quality, it suddenly makes more sense.
The Boost results in a better sound quality and it does so at a lower price than you would pay for any existing equipment to achieve the same improvement in signal quality.
But it also does more.
In my case, its impact on my living room surround sound setup was actually more impressive than anything else.
It greatly reduced the latency between my TV, my soundbar, my subwoofer and my speakers.
Keep reading to learn exactly what the Sonos Boost is, what it does, and whether it can help improve the sound quality of your Sonos setup.
What Is A Sonos Boost?
Sonos Boost
Create a dedicated WiFi network for your Sonos system and enjoy uninterrupted listening.
Learn More
View on Amazon
We earn a commission if you make a purchase, at no additional cost to you.
The Sonos Boost is an intermediary that seeks to improve the WiFi signal of your wireless network.
It connects to the router and amplifies the signal, so that third-party devices (loudspeakers or wireless sound equipment) have greater bandwidth, and thus can offer higher quality.
It is a kind of 'bridge connection', which you could also create with a much more common wireless repeater.
But Sonos boasts that the power of its Boost is comparable to that provided by more professional routers.
Sonos Boost Installation And Configuration
The installation and configuration of a Sonos Boost is extremely. It connects to your home router via Wi-Fi and can be controlled via a dedicated app.
That app is called Sonos Controller and it is available on Android, iOS, OS X and Windows. In most cases, you just need to connect to the current and synchronize through a device.
What Sonos Boost Does
The Sonos Boost is a device that connects to a router and creates its own network for Sonos sound equipment, with a signal quality typical of business environments, but also poor home signal reception.
If you think you don't need one, then your Sonos system must be working perfectly, which is great. But usually, there are a few disturbances in the Wi-Fi force.
And if those disturbances happen frequently and your Sonos speakers are constantly disconnecting, it can be quite frustrating, especially when playing video games where you need sound (Guitar Hero, for example).
That said, it is annoying when you are watching movies or listening to podcasts on your Sonos, too. And Sonos realized this, hence the Boost (or the previous model, the Bridge–see the differences between the Sonos Bridge and Boost).
The Sonos Boost is an accessory designed to boost the Sonos on-demand music at home.
To explain it briefly, it is a small device that is synchronized with the router and creates its own wireless network to connect other company products, such as sound bars or speakers, no matter how many speakers you link together.
This network has power comparable to that of a business environment. It gives you doubles the performance of the older Sonos Bridge model.
In this way, you can enjoy a clear signal even in rooms where the Wi-Fi was previously very weak.
In my case, that was the bathroom. I don't want to go into much detail, but let's just say I need good Wi-Fi there. Okay, so I love to sing in the shower and watch football.
Let's go a bit further into the details. As mentioned, the Sonos Boost is a very compact device that plugs into your router and creates its own Wi-Fi network.
This network is designed for us to connect the different components of the musical system to the Sonos menu.
In addition, I have installed a wireless Home Cinema system, and the Sonos Boost reduces the latency between the television and the sound bar and the speakers to very low levels.
To rate it in one word – necessity. I don't know how I ever lived without it.
Advantages Of The Sonos Boost
The first advantage I found is the power that the Boost signal reaches.
This device is capable of matching the performance of business networks (lucky for me, I don't work from the office anymore, but that's another story), thanks to the use of three external antennas that transmit the signal in all directions.
This power is used to cross obstacles such as walls and reach those rooms where the Wi-Fi signal is weaker. It also reaches my backyard, where I have Sonos Roam speakers that are often blasting outside.
A movie projected onto my house wall and with Sonos speakers for the sound? Perfection.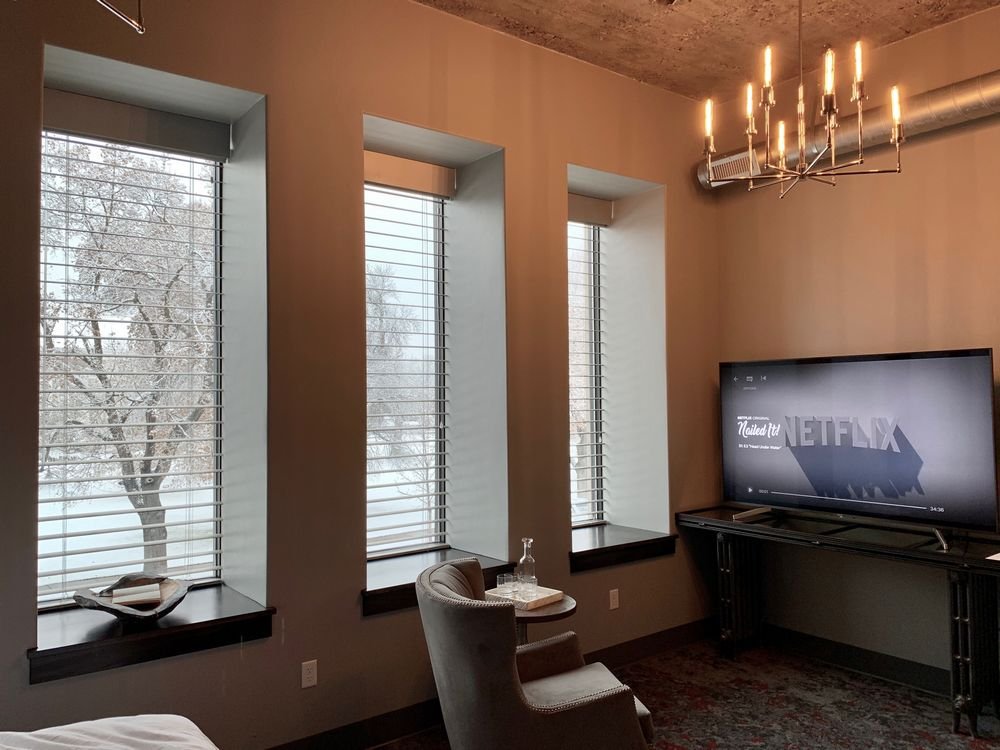 Another great advantage of the Boost is its ability to cancel the interference of other domestic devices that use the 2.4 GHz bandwidth, like mobile phones or baby monitors, among others.
That said, if you have a baby, your Sonos is probably not blasting all the time and maybe the Boost is not quite as necessary. As a bachelor, I use my speakers all day long and probably have parties far more often than I should.
Without a doubt, the Boost is excellent in helping the signal to reach your Sonos devices clearly.
Although the main use of the Boost is to channel communication between the brand's equipment, it also incorporates a pair of Ethernet ports to connect other devices in the home and connect to the network (computers, network hard drives, etc.).
What I love the best about this piece of equipment is its ability to improve the performance of a home cinema, by reducing the latency between the components of the system.
This can be especially useful, depending on where you place your Sonos Sub, soundbar or speakers. If they are far from each other, the Boost can make a big difference. I have all components fairly close and it still made a huge difference.
As usual with Sonos devices, all Boost settings can be handled easily and intuitively through the Sonos Controller app.
This tool is available for Android smartphones and tablets, iPhones and iPad, and PC and Mac computers. It's easy to use, although going from S1 to S2 takes some time to get used to.
Sonos Boost Design
As for the design of the Boost, its compact size and square format with rounded corners stands out. Its dimensions of 11.5 x 11.5 x 3.5 centimeters and its weight of 191 grams facilitate its installation in any corner of the house.
I've put it right next to my internet router and it works like a charm. Yes, my internet is relatively good, but for it to reach some parts of my house and the backyard, I definitely need the Boost (it's much cheaper and more convenient than using extenders and similar pieces of equipment).
Plus, maybe I'm just imagining it, but the overall sound quality seems better.
Sonos Boost: Final Thoughts
When Sonos presented the Boost, I did not expect it to become such an important addition to my setup. I must admit that I was a bit skeptical when it came out, thinking it was simply a clever way of taking more of our money.
It all seemed a bit fishy. Sure, Sonos is a brand that has built a reputation for giving us everything we could ever want in the world of audio.
But why were they suddenly releasing a device that is more related to wireless networks than sound?
But as I've explained, I needed that extra boost in my place, so I gave it a try. And it works like a charm.
In the end, if we remember that the final goal of the Boost is to improve the sound of the system, it suddenly makes more sense for Sonos to release this piece of equipment.
And it does improve the sound. If you have constant (or occasional) connection problems with your Sonos system, like I used to have, try the Boost. It will fix that issue for you.
Sonos Boost
Create a dedicated WiFi network for your Sonos system and enjoy uninterrupted listening.
Learn More
View on Amazon
We earn a commission if you make a purchase, at no additional cost to you.