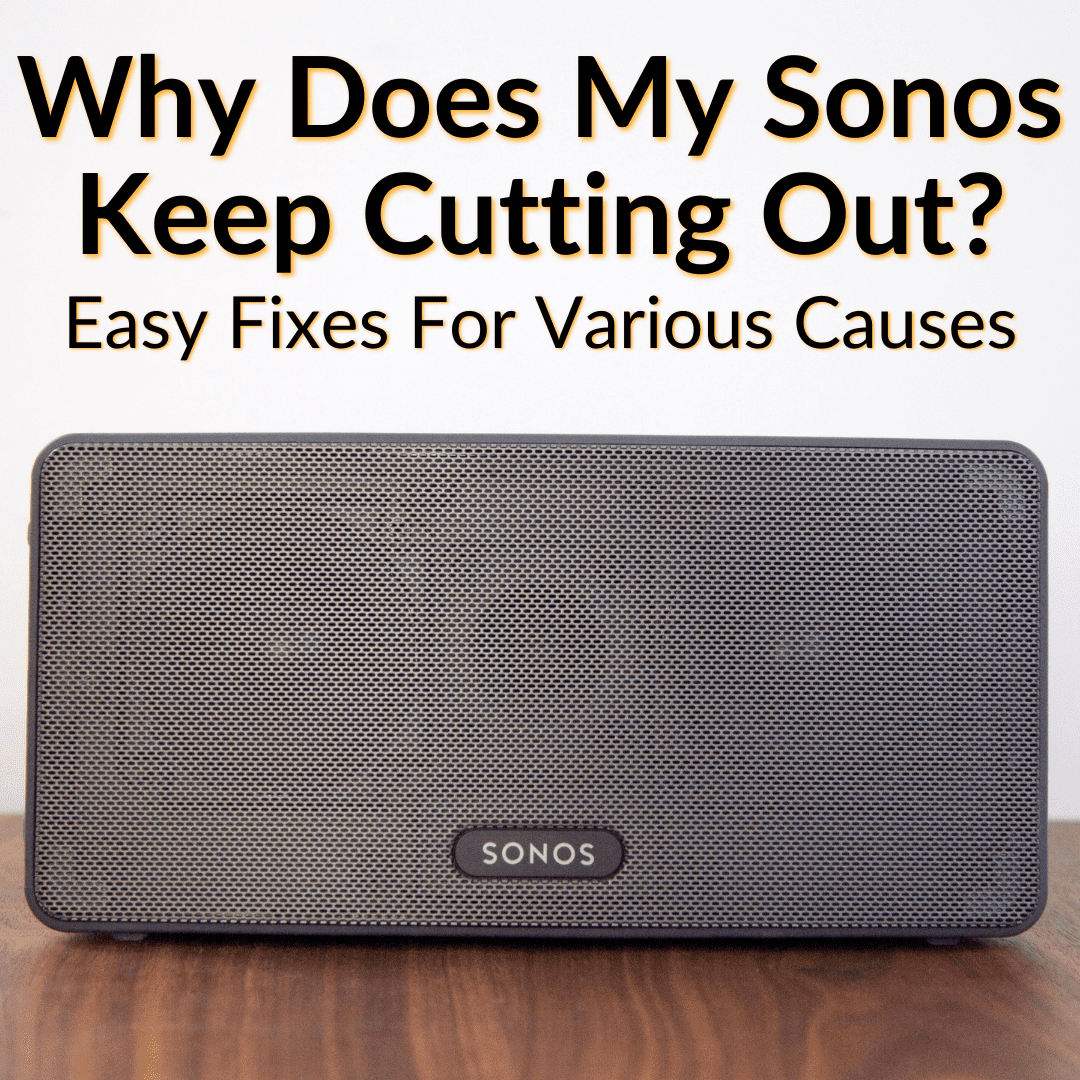 Let me guess.
You've got some new Sonos products in your home and you are now experiencing problems for the first time.
Relax, we've all been there. Many times, in my case.
Sonos speakers are great, but there are always some tedious problems to fix when starting out.
I've run into network problems, issues with cables, general malfunctions, and more.
In other words, I've had my share of issues to troubleshoot.
But now it's all good. The problems are fixed, my Sonos system is upgraded, and I can enjoy that beautiful surround sound and the wonderful bass anytime I want
Keep reading to learn how you can get there too. I'll help you fix your issue with Sonos constantly cutting out.
Why Does My Sonos Keep Stopping?
Since I have faced a lot of the most common issues with Sonos myself, I figured it would be best to use that experience to help you solve your problem.
I'm going to go over all of the little issues I faced and how I fixed them. Hopefully this will help you solve whatever problem you have that is causing your Sonos to keep cutting out.
Cable And Network Problems
If your Sonos is not working, you may need to connect the cable to a different port. If the current cable is faulty, you can try another cable.
Sometimes it might not be a faulty cable at all and you will just need to unplug the power cord, and plug it back in. Seriously, that does the trick a lot of the time!
You can also try a factory reset. While plugging the power cord into the wall, hold down the Play/Pause button.
The light will flash amber and white when the button is held down. The light will turn green when the factory reset is complete.
If a specific speaker is not connecting to the network after it had been connected (happened to me once), you can try and remove a Sonos speaker from the system.
You can go to "System Tools" and "Remove Products". There, select and remove incompatible products by following the steps on the screen.
It's easy, trust me. Even my aunt managed to do it, and she once asked me where the "internet icon" is on my PC.
Another common issue are Wi-Fi connection problems. I often see them mentioned on internet forums, with questions like "Why does my Sonos keep disconnecting from Wi-Fi?"
If you are having trouble connecting to the Internet, the first thing you should do is reset the network. If you want to do this, you need to remove the power source from your router.
Either unplug it at the wall, or on the back of the router itself. Wait ten seconds or so, then plug it back in.
While waiting to connect to the network, the status light will blink white, which is always a good sign. If it keeps blinking white, then it might need something else (luckily, this has never happened to me though).
Can you use Sonos without Wi-Fi? Well, from my humble experience, to stream audio from the speakers, they must be connected to a wireless network or with an ethernet cable.
But you can stream music with Sonos speakers without using the Internet. For example, you can connect them to other devices.
Sonos SoundBar
If your Sonos sound bar is not working, don't worry. There are simple solutions to fix it.
If the optical cable is connected to the TV correctly, you should be able to use it with the TV without any problems.
If the red light near the input on the Playbar or Soundbar is on, it's time to use an optical cable. If you already are, you can remove the cable and put it back in (the good old restart).
You can also reset the Sonos Bar to factory settings. While the power cord is unplugged, hold down and press the Play/Pause button.
Sonos Roam
It's common to see a new speaker flashing green when it's ready to be set up, but hasn't been set up yet. Flashing green indicates that the device has rebooted and is ready to be configured.
If it keeps flashing green, then you're either not setting it up right, or you just need to reboot it (the good old manual restart, once again).
What does the orange light mean when roaming on Sonos?
When the device is establishing a connection, the orange light turns on. Selecting a new track will resolve the issue, if it occurs after pressing the Pause/Play button. It is always a good idea to read up on what the various light colors indicate.
When powered off, asleep, or out of network range, the Roam will appear as "Offline" in the app. If you want to access it in the app, make sure it's on and awake.
Sonos Amplifier
When setting up a Sonos amplifier, you can use an Ethernet cable to connect it. Follow the instructions on the screen to set up a Sonos account. You can add other products in the rooms where you want them. I set up a 5.1 surround Sonos system in my living room and it's amazing!
Sonos Boost
If you only use Boost mode, your music and speaker control will be sent to the correct speaker in each room.
You can broadcast multiple audio streams in your home. For example, you could have video games in one room, TV in the living room, and your favorite Spotify playlist in the bathroom when taking a shower.
We have an article on how to add Spotify to Sonos that can help with the last example.
So what is a Sonos Boost exactly?
Boost's job is the same as Bridge's, which is to place your speakers on their own mesh network. This is the most common way to connect your device to a different system. Read our Bridge vs Boost comparison for more.
If your device has never been connected to more than one system, these options will not be available.
How many sonos speakers can you link together? You can connect up to to 32 Sonos speakers and other products to the internet in your home. But I know if your internet environment can't handle your speakers, then you need a boost.
The Boost allows you to create a dedicated mesh network. I don't know if this is some ploy by Sonos to get more money, but I know people who hail Boost for fixing their problems, so it does work.
For this, I'm taking from my friend's experience. If your Sonos Boost cannot connect, try not to use your Sonos devices as they are set up.
Go back to the previous way of setting up the router. First, connect the Boost that is connected to the routers and wait a minute for it to boot up.
Connect your other devices after that. Then there is no longer any need to connect a Booster to a router. It will be a wireless connection on its own.
Sonos Boosters can be reset by pressing and holding the volume up and play/pause buttons simultaneously for about 10 seconds. The LED on the front of the boost will flash white and then turn off when it has reset.
Why Does My Sonos Keep Cutting Out: Final Words
Those were the problems I've had and solutions I've implemented so far. And now it's all good! If you're new to Sonos systems, don't be discouraged. Once you get the hang of it, the whole system will be easy to use and your life will only get better.
In general, if you have an issue with any Sonos component cutting out, the first thing to do is to unplug it and disconnect it from the network. Then plug it back in and reconnect it. If that did not help, do a factory reset.
In the vast majority of cases, that will fix the issue. If you have tried that and you are still running into issues, please feel free to leave a comment below.