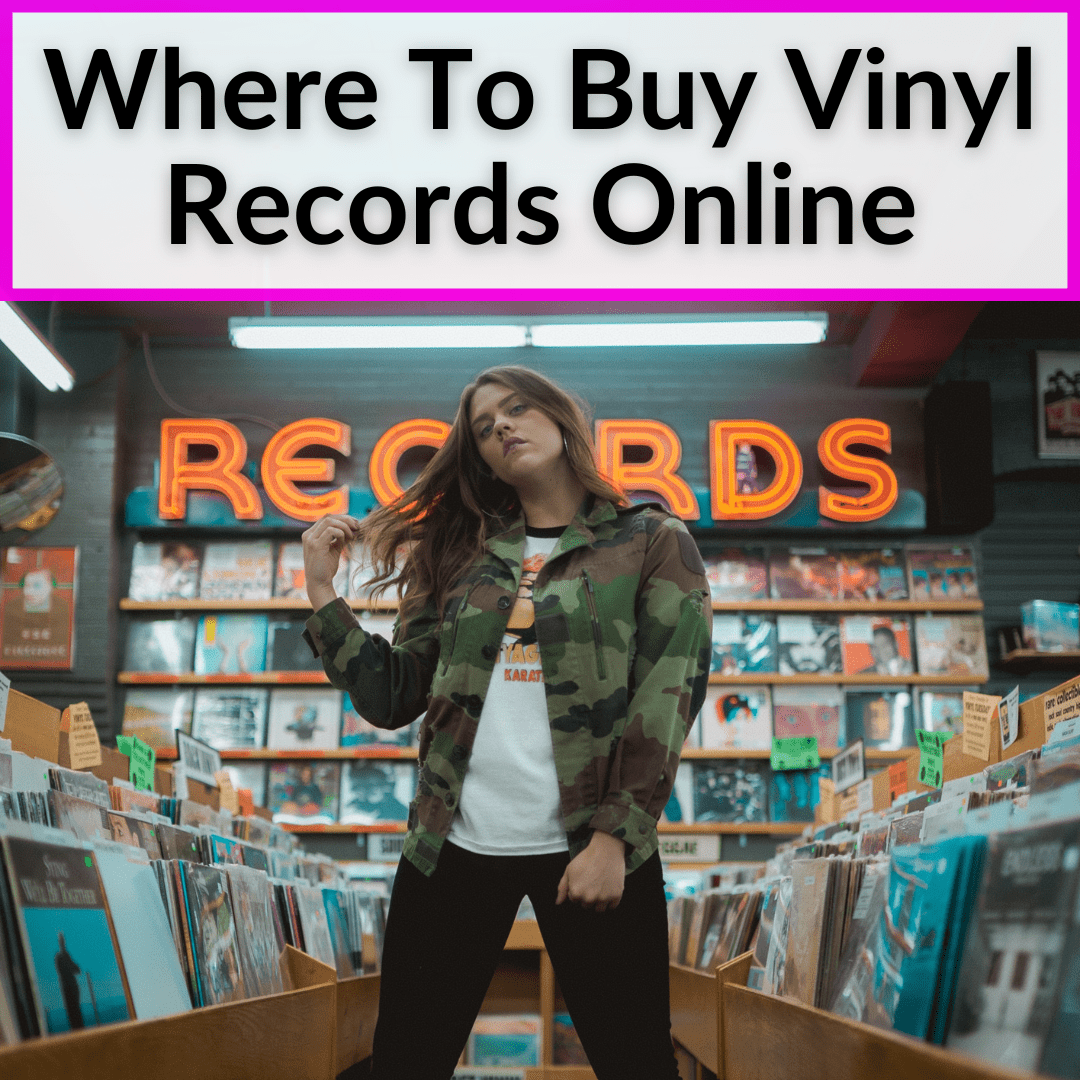 I used to spend hours browsing my local record store.
But it no longer exists.
Most people are in a similar boat. Brick and mortar record stores are becoming increasingly rare.
The pandemic didn't help either.
As a result, I've been buying tons of records online the past few years.
And I've learned where to buy vinyls online: which places make buying records a pleasure, and which ones make the process painful.
Keep reading for a list of the best online marketplaces for vinyl records. You might be surprised by some of the inclusions.
Where To Buy Vinyls Online
Before we get into the best places to buy vinly records online, there is something I feel I should point out. I used the word 'vinyls' in the title, because a lot of people search for that word.
However, the actual word we use to describe LP albums is 'records'. The word 'vinyls' is only used by people who don't know any better. In other words, those who are just getting started.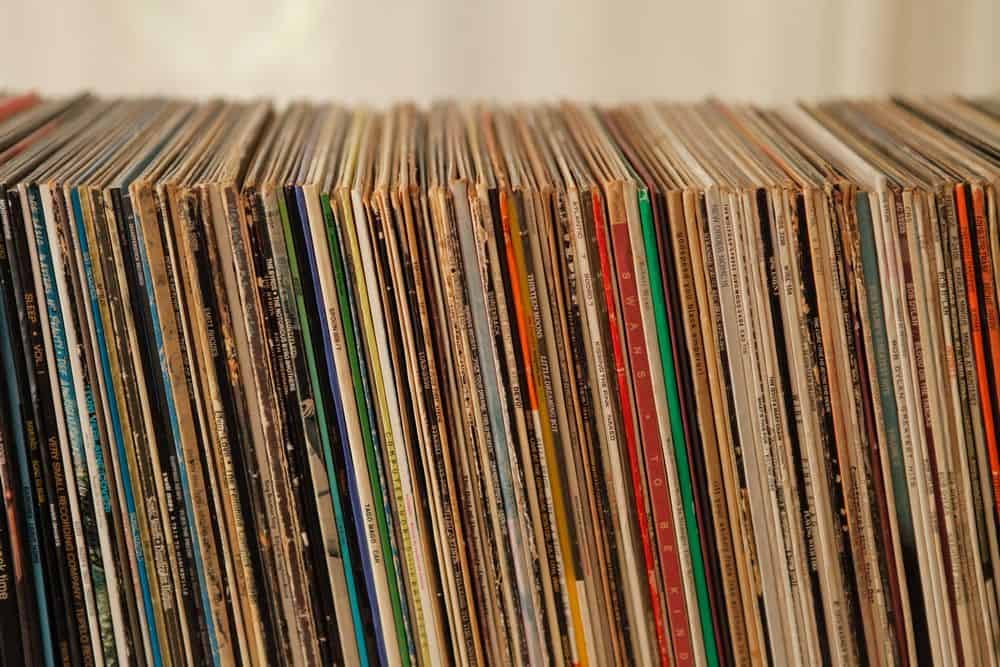 There is nothing wrong with that at all. We all get started with any hobby or interest at some point. We're all beginners in the beginning. And personally, when I'm just getting into something, I like to know if I'm using the wrong word or doing something else others will find annoying.
This is especially true with this hobby. There are a lot of very snobby collectors out there who will jump down your throat for using the word 'vinyls' instead of 'records'.
With that out of the way, let's get into the best places to buy vinyl records online. We'll begin with one of the internet's biggest marketplaces (perhaps the biggest).
eBay
Ebay is quite underrated when it comes to finding things to buy online, and records are no different. I have personally bought no less than 50 records in the last couple of years on eBay.
The truth is that eBay is probably my favorite place to buy records online. The trick to buying records on eBay is to find sellers you like and continue to buy from them. I have a few sellers I buy from. I consistently get good records from them and they ship the records correctly and quickly.
Many large companies have accounts they use on eBay, in addition to plenty of individual sellers. New releases are always easy to find on eBay.
And since there is a lot of competition within the eBay marketplace, you can almost always get a better deal on eBay than anywhere else, especially for new releases or mass-produced stuff from major labels.
Rare Or Hard-To-Find Records
eBay does have sellers with rare and hard-to-find releases. You can find almost anything you want on eBay, but keep in mind that many of the sellers know what things are worth and will price their stuff accordingly.
However, you do sometimes get lucky and find a seller that does not really know what they have and has priced it far below fair market price. I have found a few good deals this way!
What To Watch Out For
E-Bay has a convenient feedback system, though it can be a bit misleading. Watch for sellers who have 100% positive feedback, because this is extremely hard to maintain. You can be certain if a seller has 100% positive feedback that they go out of their way to take good care of their buyers.
Feedback Score Broken Down
If you see a seller with 90% positive feedback, that may seem pretty good right? Actually, it is not good at all. You almost have to try to get feedback that low on eBay. The sweet spot for a seller that is doing a good job is between 95 and 100% feedback.
Number Next To The Name
Take a look at the number next to the seller's name. This is the number of individual reviews they have received. A number over two thousand means they have been working at it for a while and know what they are doing, whereas a three-digit number is a sign they are a rookie, so be careful.
Discogs
Discogs is an interesting website with a database-style setup that can be overwhelming and quite irritating for a record shopper. That being said, it is one of the best websites to buy vinyl. And to sell it.
I have personally bought at least 150 records from Discogs over the years, especially during the worst part of the pandemic.
How Discogs Works
Discogs will make more sense to you once you understand it is a database. As a database, it stores data like release date, country of pressing, record label, artist, and so many more details, down to the vinyl color.
Collection Feature
People have something called their 'collection' inside Discogs, and you can input your personal record collection including the artist, album, release date, and catalog number.
This allows other people to see your collection, and it also makes it very easy for you to sell your records when you decide to do so. All the data is already there.
Want List
There is also a want list for every user. Much like eBay has a watch list, the Discogs want list will send you notices when something you want becomes available for sale. This is a great feature, especially if you use the app. The app is well-maintained and quite useful.
How To Search
To find an album on Discogs you just use the search feature. But the devil is in the details. This is where it can get very frustrating as a record shopper.
Make sure you use the filter feature and choose vinyl. Once you search you will get all the versions of the album.
For example, Live at Leeds by The Who has hundreds of versions: versions from all different countries, reissues over many years, remixes, rare vinyl color variants, etc. And since Discogs is a database, it has all these versions listed. It can make your head explode with options!
Know What You Want
The key takeaway here is to know exactly what you want when you start searching. For example, say you want a first pressing, or the US version represses from 2010 on 180-gram vinyl.
If you know what you are searching for, you can find it right away using filters. If not, there could be a lot to sift through.
Of course, this is not a big problem for new releases or indie label artists, since there are not hundreds of versions (yet).
The biggest benefit to using Discogs is that the vast majority of sellers know what they are doing. Nearly all of them are record collectors themselves, or record stores using Discogs to help them make more money. I love Discogs and highly recommend it.
Amazon
Amazon sells everything, and why not LPs? I have a few albums in my collection that I got from Amazon as gifts on Christmas.
Wishlist Feature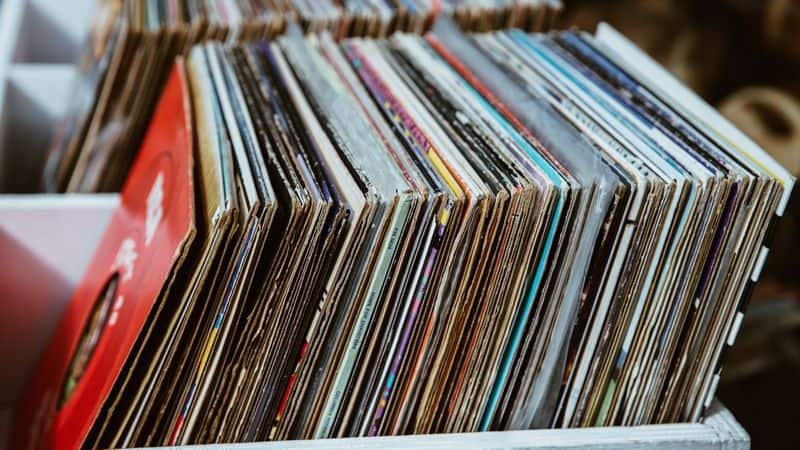 Amazon has the Wishlist feature which you can share with anyone and give them access to your list. As people buy things off the list, they disappear. This feature is brilliant, and it is why Amazon makes so much money on the holidays and people's birthdays.
Used Records
I personally do not recommend Amazon as a place to buy used LPs. This is not because it is necessarily bad for all LPs, but they have thousands of sellers that have no idea how to ship records.
Also, sellers are not required to show pictures of the actual item. You only get a description of 'good' or 'acceptable'. But what does that mean?
New Records
With new records, this is not an issue. Anything new is going to be the same description for every seller. With Discogs, some standards are explained in detail, so you know exactly what condition the used record is in.
Sellers On Amazon
Amazon has so many sellers and many of them sell toasters, shirts, and LPs. You want to avoid this type of seller, and try to stick to sellers that specialize in records.
You can click on a seller's name and see their entire inventory to check if they are an 'everything' seller or a specialty seller for records.
Much like eBay (and Discogs, too) Amazon sellers have a score you can see on their profile page. The more positive feedback, the better the seller is.
My Recommendation
Amazon does not inherently have a wider variety than any other marketplace. From what I can see there is no benefit to buying from Amazon over any other marketplace.
You may be able to find a slightly better deal on a new LP, but for a dollar more, I would rather know for a fact my record will arrive safe and use Discogs or a trusted seller on eBay.
The wish list feature is great, but Amazon has not put any infrastructure in place to make the used vinyl record market safer for buyers. I believe used records are a special niche that not every business can understand or be successful selling in.
Amazon should stick to toasters and blenders, in my opinion. There are too many better places to buy records.
Rough Trade
Rough Trade is a huge online independent record store. They specialize in independent artists, but they also have more mainstream releases as well. You can find the Beatles, the Who, Elliot Smith, the Shins, and many other modern or classic rock bands.
Rough Trade is not a marketplace like the other 3 places on the list so far. There are not various sellers, each with different feedback and inventories. This is nice because you know this outfit knows what they are doing, since they specialize in selling records online.
Inventory And Prices
They have any genre you can think of, though they specialize in rock music. It is easy to understand the online shopping setup. You can just use the search bar to find what record you are looking for.
Their prices are comparable to any other retail record shop. New LPs can Range from $20 to $35, depending on the artist and release.
Pre-Order
They have a pre-order feature which comes in handy these days, since the vinyl record craze is out of control. Some releases (especially in small-batch color pressings) will sell out fast, so getting a pre-order is a necessity.
Rough Trade is great, I have ordered from them, and I recommend them for sure.
Amoeba Music
Amoeba Music have physical stores in San Francisco, Berkeley, and Hollywood. Much like Rough Trade, Amoeba Music is an independent record store.
They bill themselves as the largest independent online record store. They have a vast inventory of independent and underrepresented artists. They do also have major label artists as well.
Prices
Their prices are pretty good. Often they are a bit lower than Rough Trade's prices. I have only ordered from them two times so far, but both times I got what I ordered fast and safely. They can get pricey for rare stuff, but that is true of all these online shops.
Inventory
They get their used inventory from their physical locations in California and sell it online and in their stores. They have agreements with most independent labels and purchase new releases in bulk, which can help get you a slightly better price.
Amoeba also sells merchandise, books, and movies. It is a decent place to buy records, especially if you are looking for an independent artist that is not very well known. Amoeba has a wide variety of lesser-known artists from many different genres, not just rock.
What I Don't Like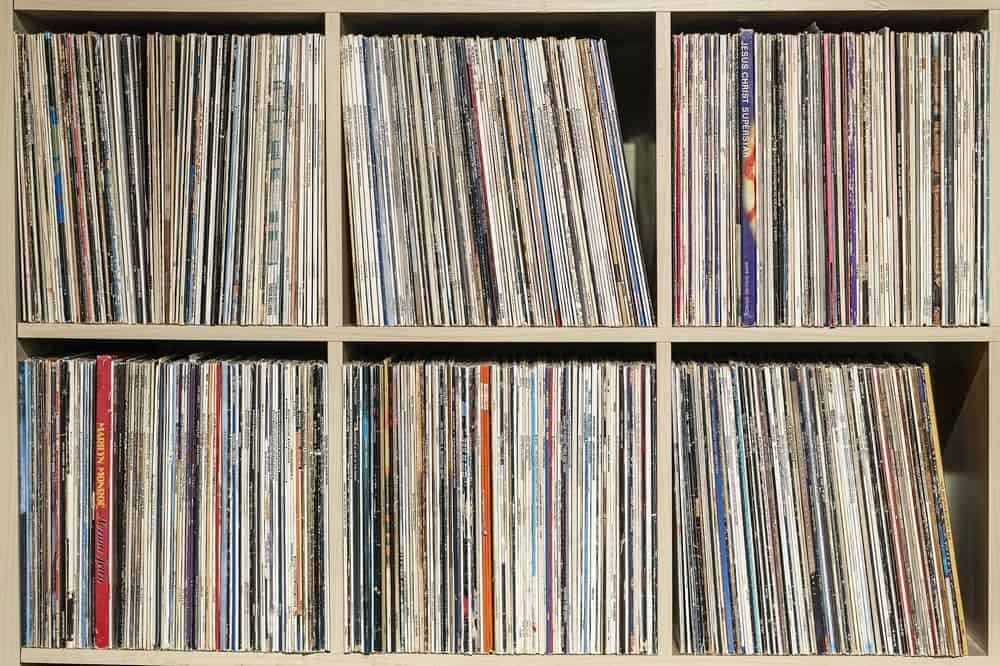 Their site looks like it was created in 1995 and is very annoying to use. It only uses half the screen, all the pictures are small, and the text is also small. It looks cramped, crowded, and like a hot mess.
However, it is well organized, and you can find your way around. It is just ugly, and that gives me anxiety. That said, Amoeba is a good place to buy from. You can trust their shipping and customer service.
Tower Records
Tower Records gives me a bit of nostalgia when I think about it. I used to shop at Tower Records down the street from my house. That is where I bought the first few batches of records in my collection.
Unfortunately, they closed all their physical stores, after music downloads became all the rage and before buying vinyl records became cool again.
If only they could have held out another decade. They could be the biggest record store on the planet once again.
That said, they did start jacking up prices back in the day, since they had an unofficial monopoly on LPs and CDs early on. So I suppose their demise was justified anyway. They exist now as an online-only record shop.
Inventory and Prices
They have a decent inventory. Most of the popular new releases will be there, along with the popular re-pressings and remastered classics by big-name rock, pop, and country bands. Their prices are along the lines of other big retailers like Walmart, Amazon, Target, etc.
Exclusives
They have been in the business for years, so I am sure you can trust them when buying records. They do still have some amount of clout in the industry, but nowhere near what they once did. Because of this, they do sometimes get some decent exclusives, which are available on the exclusives section of their site.
Recommendation
In my opinion, there is no benefit to buying from Tower Records over any other place. They do have some good exclusives and from time to time their prices can be quite good, but they don't really stand out or offer any amazing benefits over other popular stores.
Walmart And Target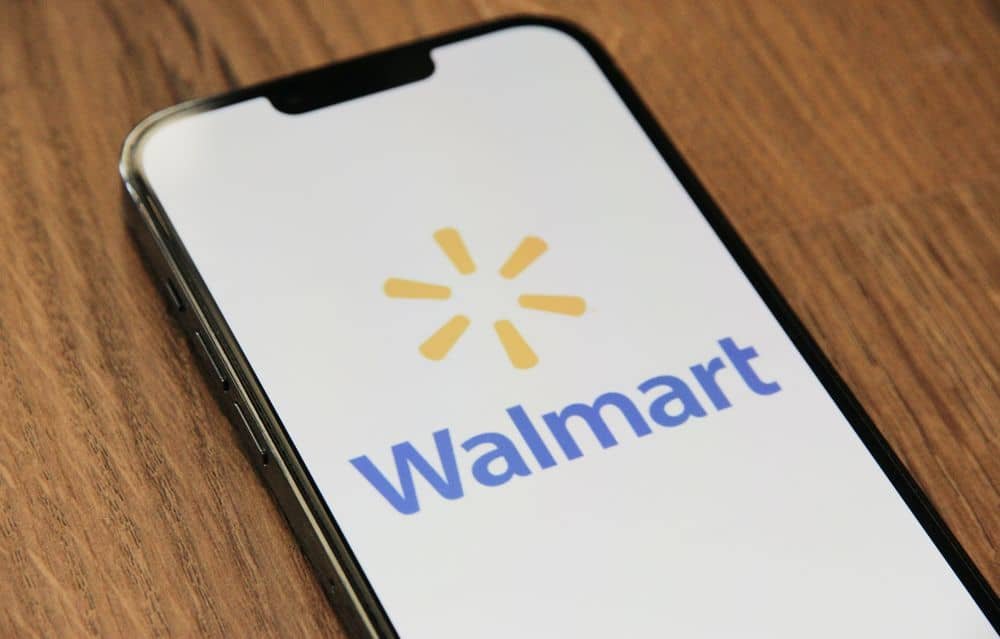 I decided to put these two in the same entry, because there is no real difference here, when it comes to buying vinyl records. These are big box stores that started selling vinyl because they can make money on it.
While this is not bad in and of itself, it does not give me any reason to give them my hard-earned money. I don't buy records at either store, and I don't plan to.
Exclusives
Because they are large corporate superstores, they have substantial buying power. That means they do get a massive number of exclusives on major label artist releases. Special color variants, exclusive tracks, etc. are very common in these places.
I have never bought any records from either store, but they do a good job shipping and they will take good care of you if you use them. I have my personal reasons for not using them, but I know for a fact they do a good job and are reliable.
Keep in mind you are not going to find many independent artists in these stores. They generally only carry very popular albums they are certain they can sell thousands of.
Best Places To Buy Vinyl Records Online: Final Thoughts
You have a lot of options for places to buy vinyl records online these days. But not all that many good options. The ones above are the best options, but not all will appeal to everyone.
As mentioned, I personally do not buy from Walmart or Target and generally avoid Amazon (for records anyway), too. But I included those options, because they are among the best places to buy records online.
Are there any additional stores you feel belong on this list? Or have you had a bad experience with any of the ones I did include? If so, please feel free to leave a comment below and let us know.