Have you ever bought a vinyl record online and had it shipped to you?
If you've done it several times, chances are you received at least one that was not in optimal condition.
Even if the record itself is fine, they often arrive with damage to the cover.
Or just sticky residue on the sleeve cover from tape.
As a result, I resolved to make sure any records I ship arrive the way they leave.
And you should, too.
Luckily, it is not hard to ship those records correctly.
Keep reading to learn exactly how to ship a vinyl record to ensure it arrives in exactly the same condition in which you mailed it out.
How To Ship A Vinyl Record
The key to shipping a vinyl record correctly lies in the materials you use. So let's go over the materials you need first, before covering the actual preparation and packing process.
Materials Needed
You need a number of materials to protect vinyl record in the mail. And it starts with the right-sized shipping box.
Correct-Sized Shipping Box
The biggest mistake people make is using a shipping box that is too large. You can still make it work, but you need to make sure the record is packed in tight, so no movement is possible. Of course, that is easier with a box that is only slightly larger than the record itself.
12-Inch LP Records
If you are shipping an LP (a 12-inch record), you will need to get some 12.5 by 12.5 inch LP shipping mailer boxes. You need the extra half-inch around the edges to allow for bubble wrap padding.
10-Inch EP Records
If you are shipping 10-inch records (EPs) you will need 10 ¼ inch mailer boxes. These are a little harder to come by.
In a pinch, you can use the more plentiful 12.5 inch mailers with some extra padding to make up for the space. This is not ideal, but if you pad it right, it can work just fine.
7-Inch Singles (Sometimes Called 45s)
For 7-inch singles, you can find 7.5 inch mailing boxes. These are not as plentiful as the 12-inch boxes, but you can find them if you look.
Many of these boxes are designed to ship more than one record, so they are quite deep. If you can only get the deep ones, be sure to pack all the empty space full of filler.
Bubble Wrap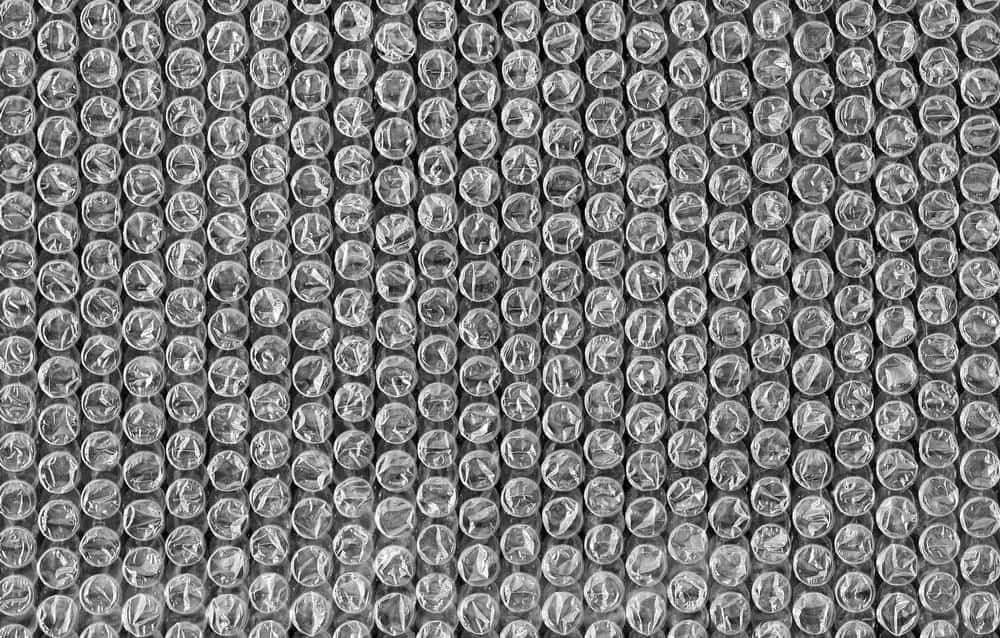 There are many kinds of bubble wrap out there. For record shipping, you will want the kind with the smaller bubbles (3/16th).
If you get the kind with bigger bubbles, like the half-inch or ¾ inch, your bubble wrap will not fit in the box with your record.
Of course, if you are shipping a few records in a deeper box, the thick stuff can work. However, I do not recommend shipping multiple records in one box.
There are all kinds of bubble wrap by many different manufacturers, but the best stuff is the kind that is already perforated every 12 inches. This makes it easy to tear off pieces that are already the right size.
Even if you are shipping 10-inch or 7-inch records, a 12-inch piece of bubble wrap still works best. You just fold it and wrap the record with it.
Cardboard Stiffener (Record Pads)
These are such an important part of the shipping setup. You can easily find square cardboard pieces that fit perfectly in the box and do the job you need them to do.
These are commercially available, but usually, they only come in packs of at least 20 (usually 50). If you don't need that many, you can just cut a perfect square out of a random box.
Pro Tip
Make sure you are using thick rigid cardboard. I prefer at least 200# test cardboard. This thing needs to keep the record straight, meaning it can not bend easily.
The size of the stiffener should match the size of your record nearly perfectly. For example, an LP should have a 12 by 12 inch stiffener, an EP a 10 by 10 inch one, and so on.
Sleeve Cover (Even If Your Sleeve Already Has A Cover)
OK, this is something that can trigger me occasionally: when somebody ships me a record and tapes the disc to the sleeve cover.
The masking tape peels off no problem usually, but if you live somewhere very hot, the tape glue can seep off the tape and stick to the sleeve cover, even when you remove the tape.
I know sleeve covers are cheap, and I can just toss the one that comes with the record and put it in a new one with no sticky residue. But the point is that when you spend a lot of money on a record you should get a good sleeve.
That's why you should buy a new sleeve to place the record cover and its sleeve inside. This way, when you tape the disc to it, the buyer can toss the gluey sleeve and not have to get a new sleeve cover.
Of course, you can avoid this whole issue (unless you live in an oven like me) with the right kind of tape. It should come as no surprise that this tape is more expensive. That's why I recommend just using a second sleeve cover.
Record Sleeve (The Sleeve For The Actual Media Disc)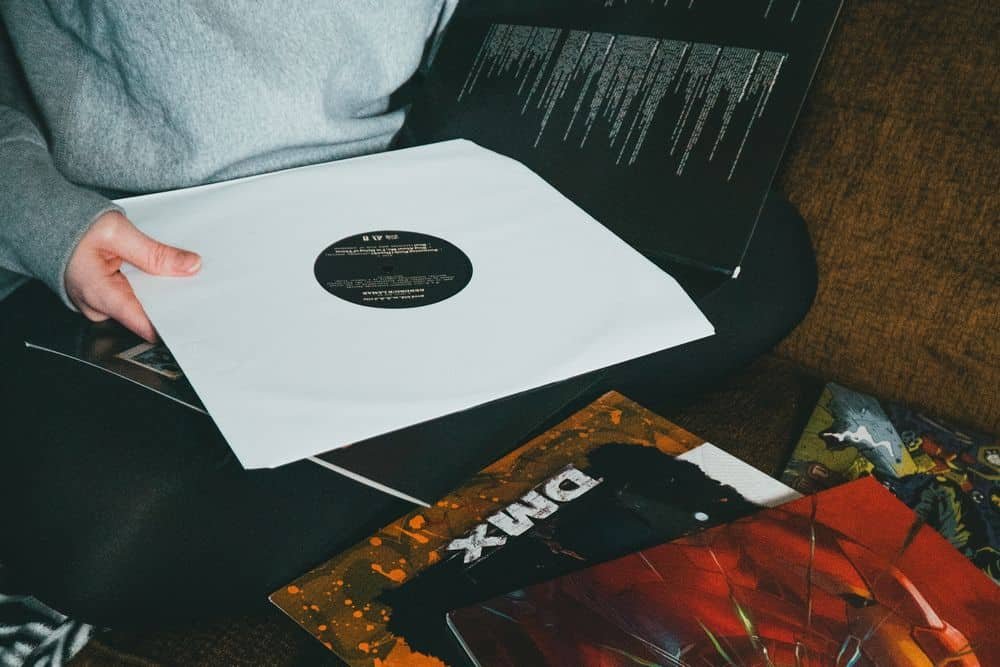 Even if your record comes with a record sleeve you should use a new sleeve for your shipping and leave the original sleeve inside the record cover (even if it has no artwork on it and it is just a paper sleeve). Again, this is etiquette, not just functional.
If you got a record with an inner sleeve that has lyrics and artwork on it and it was shipped with the media inside it, the media will bounce around and could tear and beat up the sleeve and leave a ring. Sometimes this is the only way to tell what year a vinyl record was made, so you want to ensure it is protected.
Many of these inner sleeves are old already and fragile. Trust me, get a new sleeve for your record just for shipping.
Masking Tape
You can use plain old 1-inch masking tape, if you like, but do NOT use old masking tape. It will leave residue and it's just gross. It's always way too sticky.
Get a new roll, because you will use it around the house anyway. If you want to be an extra cool person, you could buy the blue painter's tape for a few bucks more. It is classier and does not leave any residue (unless your buyer lives in an oven like me).
Fragile Shipping Stickers
If you don't have any and don't want to buy any, you can just write fragile on the box. But do it on all sides and use a red marker. Stickers are way better, though.
Vinyl Record Shipping Instructions
Once you have all the materials you will need, you can start preparing your record for shipping and packing it up. Follow these steps to ensure your vinyl disc is completely protected.
Step 1: Use Gloves
If you are a slob, put on gloves before you touch any expensive records, especially old ones where the gloss is gone, and the sleeves are just begging to soak up your gross finger stains. If you know how to handle a vinyl record properly, you can get away without gloves, but it is still better to use them.
Step 2: Construct Your Shipping Box
Some shipping boxes come preassembled, but some need you to fold them and prepare them to be used. If you have a box that needs to be made, make the box. Pay attention to the details when making folds and don't cut any corners or do anything to make the box weaker.
Step 3: Prepare The Record
Remove the media from the sleeve and place it into the new sleeve you got just for shipping. Place the original sleeve with the artwork back into the cardboard record cover sleeve. Don't get greasy fingers on the artwork.
Step 4: Prepare The Album Cover
Place the record cover (album cover) inside a new cover sleeve (leave it in the old sleeve it came with; if it did not come with a sleeve, who is the barbarian you bought it from?). To be clear, place the album cover and its clear sleeve inside a new sleeve you got just for shipping.
Step 5: Attach The Media To The Cover
Tape the record (the media disc) to the album cover, which is now inside 2 layers of plastic covers. Use a small 1-inch piece of tape in the middle of each edge, resulting in 4 small pieces of masking tape on the cover.
The reason you don't ship the album inside the album cover is that it will move around during shipping and damage the fragile cover (and maybe also the edges of the disc).
Step 6: Make The Sandwich
Make the sandwich. Place your record on top of a stiff piece of cardboard. Now place another stiff piece of cardboard on top of your record.
You should have a sandwich now with your record inside 2 heavy-duty pieces of cardboard. Some people only use one stiffener, but those people are wrong. Use two. Why risk it?
You don't want to end up with a warped record that wobbles. Are records supposed to wobble? No, but a bit of wobbling is fine. However, if your record gets warped, it will wobble too much and become unplayable.
Step 7: Wrap It Up
Now wrap your stiffener record sandwich in bubble wrap, or some equivalent soft padding. Bubble wrap is the best but, in a pinch, you can use squishy recyclable poly stuff. Use your tape to secure the bubble wrap to itself.
Step 8: Box Time
Place the whole thing into your shipping box. It should be snug and fit just about perfectly. Once it is inside, shake the box back and forth and up and down to make sure there is no possible movement inside. If there is movement, add more padding.
Step 9: Fragile Stickers
Once the package is ready to go, place your fragile stickers on each side, so that handlers will be less ape-like when they handle it.
Step 10: Mail It
Now you can get your shipping label and get it in the mail. Speaking of mailing it, who should you use and how much will it cost?
How Much Does It Cost To Ship A Vinyl Record?
If you add up the cost of the materials plus the shipping, it can be quite expensive. Assuming you had to buy a roll of bubble wrap, a box of 10 shipping boxes (singles are way more expensive, relatively), stiffeners (singles are not available, that I can find), blue tape (can be six bucks or more), record cover and media cover, you are looking at over 25 bucks easily, before you even ship it.
Of course, if you had all the materials on hand, shipping is cheap. You can send a record using USPS media mail for under 6 dollars, just about anywhere in the USA.
However, if you send a record media mail, you better check with your buyer first. Every time I have sold and shipped a record and given the buyer an option of either priority mail (USPS), FedEx, UPS, or USPS media mail (always the cheapest), they have never chosen media mail.
This is because media mail is garbage and should never be used under any circumstances, if you are shipping a record worth over $10.
Priority mail is a good option and will cost you between 9 and 15 dollars just about anywhere in the USA (see here).
FedEx is also good and has comparable prices to USPS Priority (see here).
UPS has slightly better prices than FedEx, but I don't like them. I have had a bad experience with them and records (see here).
This is just me and I am biased. But if I had to choose, I would do USPS priority or FedEx every time.
How Much To Ship A Vinyl Record International?
Add about 10 to 15 dollars extra on top of the other prices mentioned for a good ballpark cost for the international shipping of records. You can expect to spend approximately $20 to $25, give or take $7 to $8, depending on where you are shipping.
Shipping Vinyl Records: Final Thoughts
Knowing how to ship a vinyl record correctly is vital, if you want it to arrive in good condition. The key is in the materials. If you get all of the materials listed above, your record is likely to arrive in the same condition it left.
But if you skimp on some of the materials, or try to swap something similar, chances are your vinyl record won't be quite as protected and it could arrive with some damage. Even if it is just damage to the cover and not he record, that reduces the value of the record considerably.
If you have ever received a record you bought in the mail and it did not arrive in good condition, you know how frustrating that can be.
So take the time and spend the money to ship those records correctly. It makes a big difference. You can always buy an album from one of the best places to buy vinyl online to see how they pack and ship it. Then copy that.
If you are planning a move, DJing on the road, or otherwise traveling and you will be transporting your vinyl collection yourself, instead of shipping it, read this article. It explains how to travel with vinyl records.