The record players and turntables featured on our top turntable list are the best values.
They all represent incredible value for your money.
But they are not the best audiophile turntables.
Those cost way more than most people are willing to spend.
But if you want to coax the absolute best sound out of your vinyl collection, you have no choice.
You need to buy a high-end record player.
Top-of-the-line record players come with advanced features, most of them meant to do one thing: produce a luscious, warm, rich sound.
When audiophiles talk lovingly of the unbeatable vinyl sound, this is what they are referring to.
And you can't just walk into any store and pick up whatever turntable is on sale to get this sound.
Not only do entry-level players fail to produce this level of beautiful music, many of them are actually unsafe.
Not to you, but to your record collection.
The needles on the cheapest record players can potentially scratch your vinyl discs, causing irreparable damage.
The main drawback of of top-quality units is obvious: the cost. They are not cheap.
For that reason, we only recommend getting one if you are serious about vinyl and if you can afford it. If you're just getting started with a vinyl collection, you might be better off getting a cheaper player at first and upgrading down the road.
If you are ready to jump in and buy a high-end player, this article will help.
Recommended High-End Record Players
These are our favorite high-quality record players from some of the top brands. We will briefly discuss the pros and cons of each one and provide links to Amazon so you can check them out in more detail. Note that many of them are often sold out.
All of these high-end turntables have unique features, some of which you'll want and others that you'll never use. And they all have weaknesses, no matter how expensive they are.
Music Hall Stealth 3-Speed Direct-Drive Turntable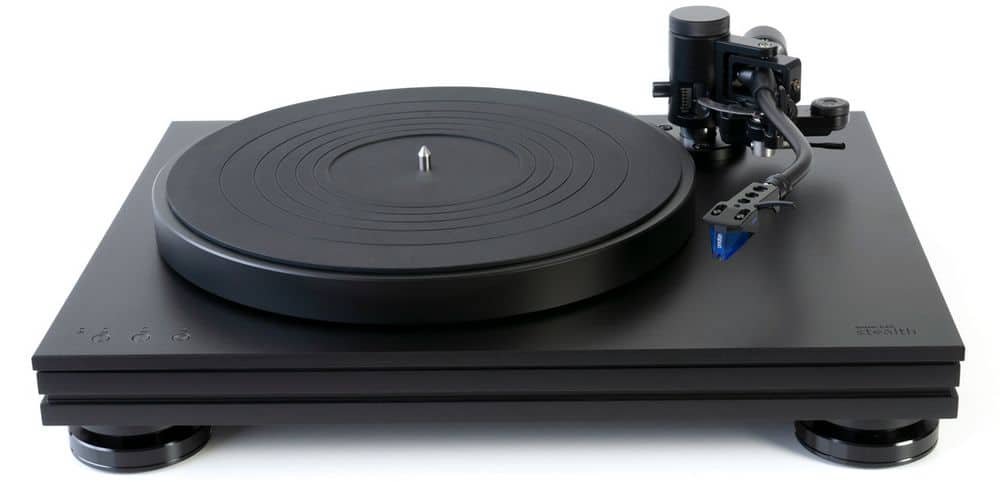 The Music Hall Stealth is one of the best options available, if you have the budget. It dissipates all outside noise and vibrations so you only hear your record and nothing else. Listen to your tunes with the highest quality and richest sound possible.
It has an unusually heavy, multi-layer and well-damped body that stands on large, viscous-elastomer-damped height-adjustable feet to reduce vibrations to a minimum. The padded aluminum platter adds to that.
This turntable is designed to fill big halls with a lot of noise such as people talking, footsteps and even running appliances, so you can imagine how great it would be in your home.
That said, it's probably far more record player than most people need. And there is one major problem with this unit: availability. Is is often sold out and no longer available on Amazon and on other sites which sell it.
Check our our Music Hall turntable review to get an idea of what their record players are like. It reviews the entry-level MMF-1.3, but it will still help you understand the Music Hall brand better.
Pro-Ject Audio – Perspex
The Pro-Ject Audio – Perspex has a base made from a visually stunning, clear acrylic plinth. Floating above that same plinth A sophisticated sub chassis system made from corian floats above the plinth, suspended by the power of three height-adjustable opposing magnetic fields.
I've never seen anything like this thing: gorgeous, futuristic and mind-boggling. And it produces a sound to match the visuals.
Unfortunately it suffers from the same issue as the previous model above. It is often unavailable on major sites like Amazon, making it difficult to buy this high-end model.
Technics SL-1210Mk7 TurnTable
The mother of all turntables, the Technics SL-1210MK7 is the preferred tool of professional DJs everywhere and has been for many, many years.
Well, technically previous models have been for many years. The older models have been discontinued, but you can often find them used, though you'll probably have to pay more than you would for a new a new SL-1210MK7.
Of course, due to the incredibly robust build quality, used Technics turntables work just as well as new ones.
A high-end turntable like this is definitely overkill for casual users, but audiophiles love the unmistakable high quality and the many versatile features. And DJs? Well, they all dream of owning two (or more). And any DJ making enough to afford them, does indeed own a couple.
Our articles comparing the Technics SL-1200 vs Audio Technica LP120 and the Technics SL-1200 MK5 vs MK2 have more information on the incredible Technics record players.
Thorens – TD-295 MK IV
The Thorens – TD-295 MK IV is a compact and simple turntable with a sleek, high-end look. It gives you what you want: beautiful tunes, no matter the background noise or vibrations present in your surroundings.
The included cartridge (entry-level Audio Technica) and the mat aren't at the same quality level as the rest of the unit, which is a bit puzzling.
I suppose they're easy enough to replace, but you shouldn't have to do that with a high-end unit like this. A bit disappointing in that regard.
Thorens turntables always have a vintage vibe, as compared the Pro-ject DC or other similar modern players. Many audiophiles love this vintage look and the corresponding warmer vintage tones.
Marantz TT-15S1
The Marantz TT-15S1 is another gorgeous turntable with a floating motor mount construction. It combines a purist audiophile design with cutting-edge material. The result is an amazing sound even under the harshest conditions (an unbelievable 80 dB signal to noise ratio).
Like all the other turntables on this list, the features are simply too numerous to mention. I'll only bring up one. The TT-15S1 comes with a ClearAudio Satisfy Aluminum tone arm and a Clear Audio V Wood cartridge.
Together these two components alone cost over $2000. Marantz spared no expense, that's for sure. We don't have a review for this player, but you can check out our Marantz TT42P review.
High-End Turntables: Final Thoughts
These are our favorite high-end record players available today. Obviously, there are many more great players, but this short list includes the ones we recommend and is a good start for anyone researching players before a large purchase. For two more, read our comparison of the VPI Scout vs Rega RP6.
All of these units are very different in terms of look and build, but they have the same two important features in common: quality construction and beautiful, soaring sound that any audiophile will appreciate.
You can't go wrong with any of them. If you want to enjoy the full potential of your vinyl collection, these record players will allow you to do just that, especially when coupled with high quality external components like a preamp, a receiver and speakers.