You get what you pay for.
We all know that is generally true. But sometimes you simply don't have the money to spend on top quality.
That's where a model like the Behringer HPM1000 headphones comes in. To call it a budget model would perhaps even be an understatement.
Behringer HPM1000 Multi-Purpose Headphones
Pros:
Wide frequency response

High res capsules

Low price

Oval shaped ear cups

Single sided cord
Cons:
Not very adjustable

Padding feels stiff

Not durable

Not foldable
View On Amazon
We earn a commission if you make a purchase, at no additional cost to you.
10/02/2023 01:06 am GMT
They sell for an insanely low price. Obviously, sacrifices are made to keep the costs that low. We don't recommend these headphones, if you can afford to pay more.
But if you can't afford anything else, these do still get the job done. But not for all genres of music.
Read the rest of our Behringer HPM1000 review to find out if these headphones would be enough for your needs.
Behringer HPM1000 Review: Overview And Features
If you don't have the budget to spend hundreds of dollars on a new pair of headphones, Behringer has a solution for you.
Granted, these headphones don't come close to comparing to higher priced models in terms of sound quality, durability, and adjustability, but they're a great option for casual listening.
But they do offer surprising sound quality for the price and made it onto our list of the best headphones for vinyl, as the cheapest pair that we recommend (though we strongly suggest spending a bit more on one of the other models, if possible).
Even if you have a record player with great speakers, you will often need to use headphones out of consideration for others. When you do, you can either enhance your listening experience, using headphones that work to pick out all the fine details, or you can end up struggling with a model that can't handle heavy bass or listening to music at full blast.
This latest pair by Behringer is pretty versatile in terms of the types of music genres it can handle, without causing a dip in listening quality. In fact, it offers a high dynamic range and a wide frequency range.
Considering the price, they offer a stellar performance. Of course, that is relative. They don't come close to expensive models.
Key Features
Pretty wide frequency response
Oval shaped ear cups
High res capsules
Decent dynamic range
Single sided cord
Incredibly low price
Design
The HPM1000 has a somewhat outdated look which is not surprising considering the price. They spend no money on aesthetic design.
The large ear cups and overall bulky design lacks many of the modern techy features that higher priced models offer, but if you're planning on solely using these at home to listen to your record collection, then a flashy design won't even be an issue.
While the look isn't really that important, durability and comfort do matter. Fortunately, these headphones offer a fairly comfortable listening experience, thanks to the oval shaped ear cups.
The single-sided cord is designed to prevent tangling and comes equipped with a solid connection that doesn't easily come unplugged accidentally. You also get a ¼ inch adapter, which makes it compatible with a wide range of devices including a mixing console, turntable, and MP3 players.
Comfort
The thick ear cups not only accommodate high-res capsules, but they provide just the right amount of padding to promote longer, since they rest gently over the ears. But padding is not always enough
The ear cups feel stiff, despite the extra padding, while the headband lacks any padding at all. Higher priced models definitely offer a more forgiving fit.
The lack of adjustability is also a big drawback for some users, since the fit is somewhat generic. This means they may not be suitable for younger users (or anyone with a non-standard head size) since the headband and ear cups are not very flexible and adjustable.
Weighing in at just a little over fourteen ounces, the lightweight design does promote longer use, if you can handle the stiff, uncomfortable ear cup design.
Adjustability
With higher priced models you can expect a heavily padded headband that's adjustable and designed to accommodate heads of all shapes and sizes. Some models also come with an ear cup adjustment dial that allows you to increase or decrease the pressure of the ear cups over the ears.
This pair has none of that. It features the bare bones of adjustability, which is a headband that you can extend. And that's it. The lack of adjustability can make this model a poor choice for younger or smaller users.
The lack of tension adjustment can make it difficult to wear these headphones for a long period of time. Of course, this limited adjustability is reflected in the price. Considering how little they cost, you can't expect them to be more adjustable.
Sound Quality
If you have an extensive collection of different types of vinyl, you may be eager to take this model for a spin and see how it handles jazz, pop, rock, hip hop, classical and more. The truth is: it definitely struggles with certain genres, despite its wide dynamic range.
These aren't meant to be just headphones. They're meant as studio quality monitoring headphones and are designed to capture more details than a model that's specifically designed for the casual listener.
But the Behringer HPM1000 isn't as versatile as higher priced models, since it struggles with certain genres and can't handle bass well. This can be very limiting, especially if you listen to a lot of R&B, hip hop or electronic music.
When you listen to vinyl, you can't use just any pair of headphones. They need to be able to pick up fine details, and offer excellent lows, mids, and highs.
The entire point of listening to vinyl is the ability to hear music in a way that you just can't if you're streaming music or listening to a CD. If you don't have the right pair, then you're missing out on many qualities that vinyl has to offer.
This pair comes equipped with high-res capsules that are designed to deliver every nuance of sound. But you can't expect them to deliver amazing sound quality at this price.
We don't recommended them at all for music with a lot of bass. They fall flat in terms of low-range sound quality, but at least distortion isn't an issue. If you are on a very strict budget, they will get the job done for music that does not feature a lot of bass.
In terms of sound leakage, they do bleed some sound, but it's not a deal-breaker for most buyers. At this price, they actually do a good job.
Performance
Listening to your vinyl on a pair of headphones can either hinder or enhance your listening experience. In some cases, it can even make your records sound better, but if you're using a pair that's unable to handle a wide range of genres, then you're not getting the best sound out of your vinyl collection.
These may not be the best headphones for vinyl, but they're an affordable option for those on a budget and one that can reproduce sound reasonably well. If you know how to use a record player with a headphone amp, you can boost this model's sound quality and volume level, giving them the extra juice they need.
Unfortunately, as mentioned, these headphones tend to struggle with bass-heavy tracks, although distortion is kept to a minimum. If you want to blare your music and you listen to genres with a lot of bass, you'll notice that the sound is somewhat flat.
The HPM1000 is obviously cheaply made, so it's not designed to handle a lot of heavy use. Fortunately, the low price allows you to easily replace them once they wear out.
They're also not the most comfortable pair on the market, and don't offer much in terms of adjustability. Aside from the ¼ inch adapter, it doesn't come with many extras. Since it lacks a hinge and features a rigid ear cup design, you cannot collapse it for easier and safer travel or storage, so you'll need to invest in a hard carrying case for protection.
Portability
All headphones are portable, but some are more portable than others. This model doesn't come with a hinge design and the ear cups are fixed in place, so you won't be able to collapse the frame or fold down the ear cups. If you like to take your headphones with you wherever you go then this will definitely be a drawback.
Pros
Wide frequency response
High res capsules
Low price
Oval shaped ear cups
Single sided cord
Cons
Not very adjustable
Padding feels stiff
Not durable
Not foldable
Behringer HPM1000 Vs Sennheiser HD280PRO
The Sennheiser HD280PRO sells for a much higher price, but with the higher price tag you'll also enjoy a more comfortable listening experience, thanks to the ergonomic, lightweight design.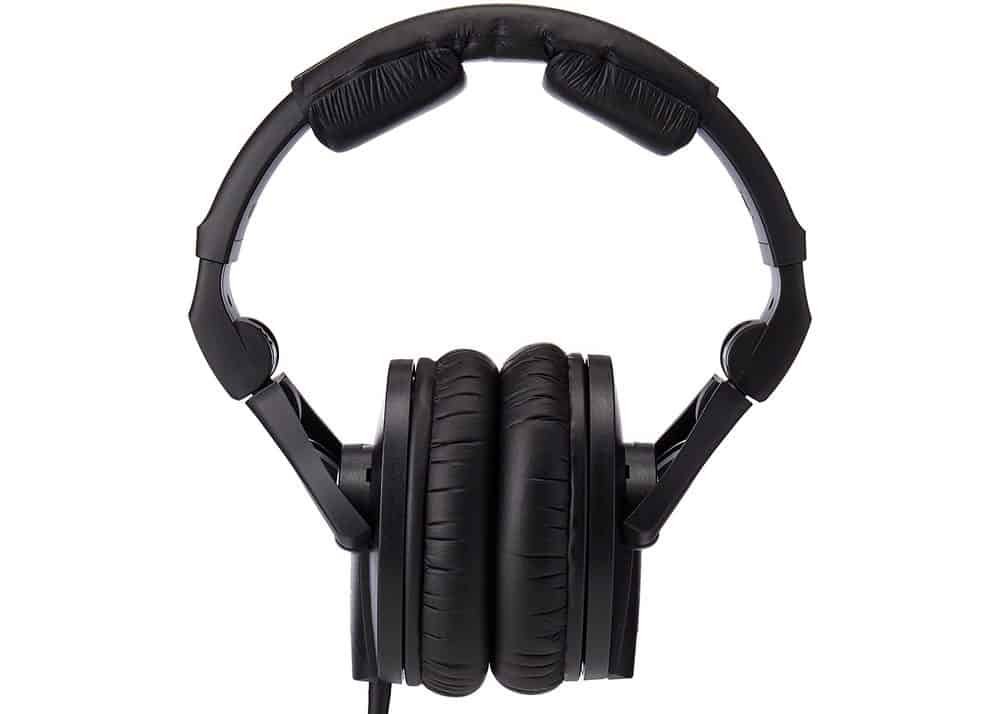 Both the earcups and headband have heavy padding o make longer use more comfortable. A superior sound quality is also evident.
Sennheiser is one of those major companies that many musicians and audiophiles are familiar with. Their latest model offers many of the same features you'll find on more expensive pairs in their lineup, including many features that have made this company famous, such as a highly adjustable design, extended frequency response, and natural sound reproduction.
While the Behringer model can't compare in terms of overall quality and frequency response, they do offer a solid performance for the low price. But if you can afford to pay more, go with the Sennheiser. They are far better.
Read our full Sennheiser HD280PRO review for more.
Behringer HPM1000: Conclusion And Rating
The Behringer HPM1000 is not the most versatile pair of headphones on the market and is limited in the genres you can listen to, due to the poor bass reproduction.
There is some sound leakage, nut it is not a noise canceling model, so that is to be expected, especially given the low price. This makes listening to music in loud environments difficult
But overall, they do a better than average job, compared to any other models in this price range. They are a great buy, if you have almost no budget to work with.
While they don't handle bass well, distortion is minimal. The design isn't exactly durable, and the ear cups and headband can make them uncomfortable for use longer than an hour. But they cost almost nothing and perform surprisingly well despite that.
It is the extremely low price and the decent performance they give you despite the price that allows us to recommend them if you really can't afford to pay more. But we can't give them too high of a Top Record Players rating, so they get a 3.1 out of 5.