Unless you have hundreds of dollars to spend on headphones, you're going to have to sacrifice something.
With the Sennheiser HD280PRO headphones, that sacrifice is portability.
Sennheiser Professional HD 280 Pro Over-Ear Monitoring Headphones
Pros:
Affordable

Durable design

Comfortable headband

Lightweight

Versatile

Excellent passive noise cancellation
Cons:
Bass distortion at loud volumes

Lacks active noise cancellation

Large, permanently attached cable limits usability when you're on the go
View On Amazon
We earn a commission if you make a purchase, at no additional cost to you.
10/02/2023 10:36 pm GMT
These headphones are bulky and not designed for the road. They also struggle with bass heavy tracks at higher volumes.
But if you don't listen to a lot of loud, bass-heavy music and you primarily plan to use them at home, this is an excellent set. They provide great value for your money.
Read the rest of our HD280PRO to find out more about them and to see if they are the right choice for you.
Sennheiser HD280PRO Review: Overview And Features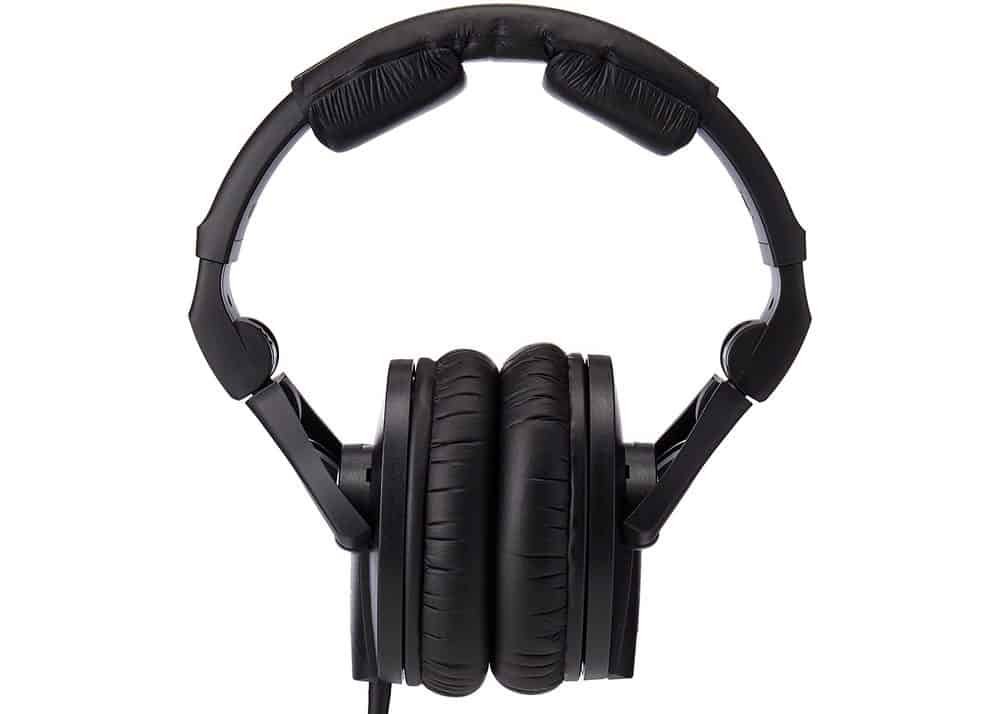 The Sennheiser HD280Pro headphones are actually a redesign of a set of headphones that have been in Sennheiser's product lineup for years.
At first glance, it looks like they only made a few tweaks to the design, such as improved adjustability and more padding on the headphone, but they actually made several important upgrades to improve sound quality and versatility.
The HD280PRO was designed for professional studio monitoring, but their high sensitivity and low impedance makes them suited for a range of listening applications, including as headphones for listening to vinyl records.
Very basic in design, this pair lacks many of the modern features you'll find on competing models and focuses instead on durability, comfort, and sound performance. This has made them best-sellers for years and the manufacturer was right to retain many of the classic features this model has come to be known for.
Key Features
Durable
Comfortable
Adjustable headband
Excellent passive noise cancellation
Comfortable ear cups
Affordable
Sound
The versatile sound of this model by Sennheiser will allow you to listen to different types of vinyl, although it may lack the type of bass you're looking for, if you're a fan of bass-heavy music genres.
Many audiophiles rave about this model's sound quality, due to the accurate and clean sounding bass response that doesn't overwhelm or muddy the rest of the mix. However, it's also fair to say that the bass lacks the type of aggressive sound that people who listen to bass-heavy tracks are looking for.
When it comes to the mids, they are surprisingly detailed and clear, which is crucial considering that's where the majority of a track's sound information lives. This is especially useful if you are looking for a reliable pair of headphones for mixing and mastering.
The highs are not overly bright, so the Sennheiser HD280PRO works well for monitoring.
The closed-back design makes them suitable for listening in loud environments, such as your local coffee shop, a recording studio, or during your commute on public transportation. While the general sound quality isn't exactly stellar, it is far better than average at this price level.
In the mid and lower frequencies, the treble begins to deviate from the initial flatness. While the response is fairly balanced, with upper frequencies that sound crisp, you may notice a subtle imbalance when it comes to the treble.
However, this is fairly common in this price range. When it comes down to it, the main selling point of these headphones is still their natural sound. Despite a few imperfections, it beats almost any competing models.
Passive Noise Canceling
You'll be hard pressed to find another pair of passive headphones that can offer this level of sound isolation. This model isolates as well as higher priced studio-quality headphones. When you're listening to music as you're out and about, your surroundings will simply melt away, even in louder environments.
They can't completely block out loud noise as well as a pair that comes equipped with active noise cancellation, but their passive isolation works impressively well. If you're looking for a model with active noise cancellation for on-the-go use, then this pair will probably not meet your needs.
Fit
The newly redesigned headband takes the comfort level up a notch. The headphone is sleeker than the older 280 versions, and the padding has a large cutout in the center, which is designed to prevent the creation of a hotspot in the middle of your head.
There are also a couple of pads on the sides of the cutout, both of which are larger than on the previous model and feel very supportive and soft to the touch. The newly redesigned headband makes this pair very comfortable to wear for many hours at a time.
Ear Cups
The ear cups have the same type of padding as the old version, complete with large openings and foam that's soft and thick. The spacious design prevents your ears from making contact with the inside of the cups.
Even if your ears do make contact, the manufacturer has thought ahead and included a ring of thick foam along the inside of the pad. The fake leather covering on each ear pad feels thin and cheap and tends to cause excessive sweating with prolonged use.
Design
If you're looking for a pair with some flash, then this model is not for you. They feature a basic design that's a bit bulky, with a headband that protrudes too far out before it then angles in again.
But there's a purpose for this. The design allowed the manufacturer to use the type of clamping force needed to make this pair work properly.
The redesigned headband makes this pair look less awkward and bulky, with a gentle curving design down to where the ear cups attach. But even with the nicer headband, the HD280PRO is far from fashionable.
It is is built out of high-grade, heavy-duty plastic. One of the new additions to the design is the manufacturer's logo placed on each ear cup. The headphones are topped off with a matte finish, for a low-profile look.
Cable
The cable is durable, thick, and comes with a unimatch plug that supports both 6.3 millimeter and 3.5 millimeter use. Unfortunately, the cable is permanently attached, so you won't be able to swap it out for the cable of your choice.
Even with the heavy, bulky cable, these headphones are easy to store and transport. The foldable design allows you to collapse them for safer transport.
Application
So, for whom are these headphones designed?
The versatile design allows you to use them for a wide range of applications from listening to your favorite albums on your fancy modern vertical record player, an intense gaming experience, or field recording and audio work.
If you want headphones you can use to listen to music on your phone, you may want to skip these, since the bulky cable can be a pain to deal with. They work well for most listening applications, but they're not really designed with on-the-go use in mind.
Pros
Affordable
Durable design
Comfortable headband
Lightweight
Versatile
Excellent passive noise cancellation
Cons
Bass distortion at loud volumes
Lacks active noise cancellation
Large, permanently attached cable limits usability when you're on the go
Sennheiser HD280PRO Vs Koss Porta Pro
The Koss Porta Pro on-ear headphones offer the same level of adjustability as the Sennheiser, but provide a better deep bass performance and a design that's more portable.
Like this pair, the model by Koss is fairly basic in design, but the manufacturer did a better job of focusing on overall sound quality, offering excellent mids, highs that are not overly bright, and impressive bass that allows you to enjoy bass-heavy tracks without distortion.
While the HD280PRO also offers an impressive performance, the competing pair is designed for a wider range of applications and can be worn when you're out on the go, thanks to the sleeker cable and foldable design.
In terms of sound quality, the Koss Porta Pro comes out slightly ahead, mainly because it does not struggle when it comes to bass-heavy tracks. Overall, both offer excellent sound quality for models in this price range.
The Sennheiser is much better constructed. While the Koss is also comfortable, it is fairly flimsy not made from the best materials.
In the end, it comes down to how you plan on using them. If you're looking for headphones you can use with your smartphone or other portable electronic devices, then go with the model from Koss.
If you're looking for a pair you can use at home to listen to your music collection, then the Sennheiser is the better buy, unless you specifically need excellent bass performance.
Our in-depth Koss Porta Pro review has more on this alternative.
Sennheiser HD280PRO: Conclusion And Rating
The Sennheiser HD280PRO headphones appear pretty basic in design. They're bulky, and equipped with a thicker, long cable that takes away from their portability.
But the design is really what allows them to isolate so well and makes them more comfortable for prolonged use. The manufacturer clearly knows what it takes to produce a model that can meet a wide range of listening needs.
If you're looking for headphones that are easy to tote around and that you can use when you're on the go or for listening to music on your smartphone, then this pair is not it. Instead, they're best-suited for home listening.
They sound great, apart from loud bass sounds, so they get a Top Record Players rating of 4.5 out of 5.