Both Jensen and Crosley are known for entry-level turntables.
That means low prices, but also some quality issues.
Their turntables generally work well, but the sound quality is lacking.
As long as you are aware of that, their record players offer good value.
But which one is better?
That's impossible to answer. They are pretty similar overall.
We recommend going with the brand that has a model with the features you want. And if aesthetics are important to you, the model that looks best.
Let's dive into our comparison of Crosley and Jensen record players.
Crosley Vs Jensen Record Players
We'll begin by taking a quick look at each brand individually, before looking at the similarities and differences between each one's top models.
Jensen Turntables
Jensen is a company that has been around for many years. They have been making tech equipment since 1915. They have several divisions, including:
Jensen Loudspeakers
Jensen Home Electronics
Jensen Accessories
Jensen Heavy Duty
Interesting side note: Jensen transformers are world famous for their audio properties in vintage mixing boards in pro audio recording studios. We're not sure if that has an impact on the sound of the turntables, but they do have a history of knowing what they are doing.
You can learn more about the company and the company history by checking out their website.
For the purposes of our discussion, I am going to focus on the Jensen Electronics leg of the company which makes the turntables we will be exploring.
Jensen Turntable Overview
They make too many models to mention, but they tend to have a common theme. They are mostly made for entry level buyers and have built in speakers, sometimes radio tuners, and most have USB and Bluetooth capabilities.
They are mostly designed to have an antique or retro look, which probably helps with the appeal.
Clearly these are marketed to people who are new to owning a turntable and are not ready to spend a lot of money.
The turntable we are going to use for the comparison is the most popular best-selling turntable.
The Jensen JA-22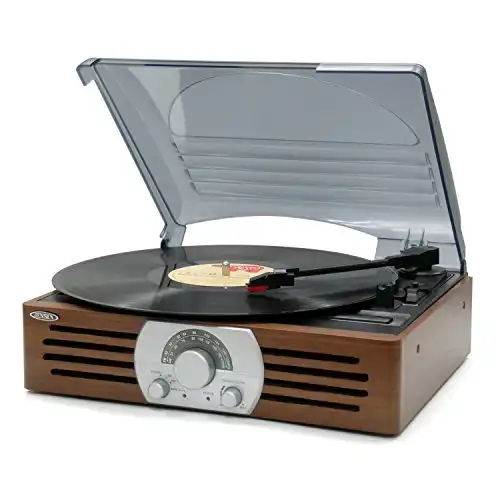 Jensen JTA-222 3-Speed Turntable
The Jensen JTA-222 3-speed turntable with AM/FM stereo radio features two built-in front facing speakers that project great sound!
Additional features include external RCA speaker output jacks, stereo headphone jack, power indicator and dust cover.
The antique wooden case design gives this turntable a classic look. The JTA-222 is packed with all the features you need, at a truly incredible value!
View On Amazon
We earn a commission if you make a purchase, at no additional cost to you.
12/04/2023 06:31 am GMT
This is a 3 speed turntable which is notable because most are only 2 speeds these days. It is a self-contained unit so there is no need to buy an amp or receiver which saves you money.
The third speed which most modern turntables omit from the design is the 78 RPM speed, which is used for incredibly old shellac records. Perfect if you like old shellac records.
Features
3 Speeds- 33/45/78
Stereo receiver
Stereo tuner
Built in speakers
External speaker output terminals
Headphone jack
Dust Cover
Antique design
It will cost you less than sixty bucks usually. If you want something slightly more high end, the Jensen JTA475B reviewed here is a great choice.
Crosley Turntables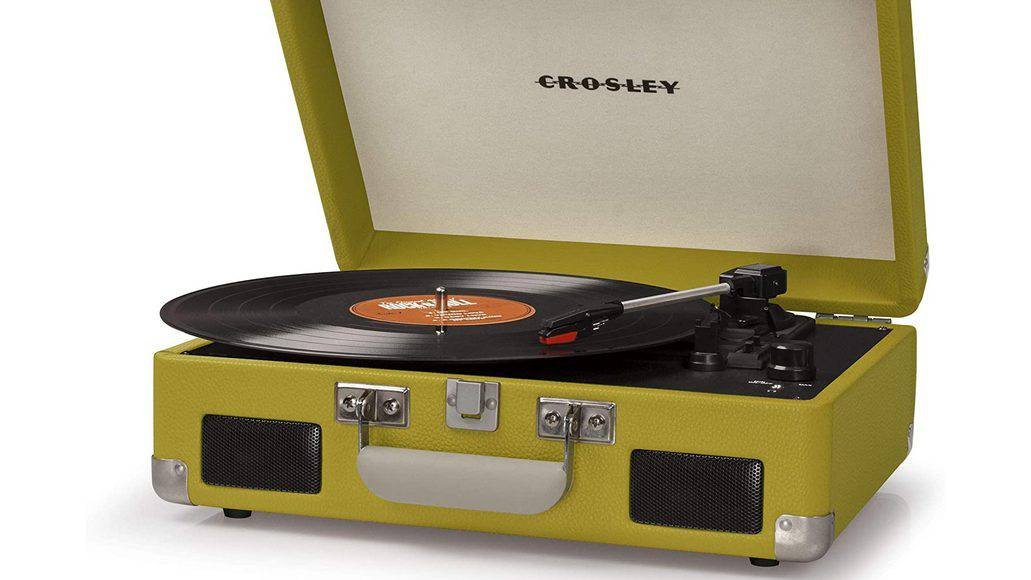 Crosley started out as a radio company called Crosley Radio back in 1921. They made old transistor radios and the big wooden radios you see in old movies.
This version of the company lasted until 1956 when the brand was discontinued. Modern Crosley started making turntables in 1992. Today, they are one of the top 3 producers of turntables in the United States. Learn more about the company here.
Their history of making old antique radio tech makes them uniquely qualified to produce retro styled units today. For our comparison we will be using their top selling model to compare to the Jensen.
The Crosley CR8017A Voyager
Crosley CR8017A Voyager
Vintage-inspired, belt-driven 3-speed turntable; plays 33 1/3, 45, and 78 RPM records
Built-in Bluetooth receiver allows you to stream music wirelessly to the Voyager's stereo speakers
Easily plug the Voyager turntable into your existing stereo system with the RCA outputs
Adjustable pitch control
Auxiliary in; headphone jack for private listening
View On Amazon
We earn a commission if you make a purchase, at no additional cost to you.
12/04/2023 07:26 am GMT
With many of the same features as the Jensen JA-22, It is a direct competitor. It is a portable unit that has 3 speeds and a few other interesting features. You can see it here.
Features
3 Speeds (33/45/78 RPM)
Built in Bluetooth receiver
RCA outputs
Adjustable pitch control
Auxiliary input
Headphone jack
Hard case with cover (vintage look)
It is available in a variety of colors and patterns. The Crosley voyager will cost you just about the same as the Jensen coming in at under sixty bucks. For a more high-end model, check out our Crosley CR6231D-GR review.
Differences Between Jensen And Crosley Turntables
Design And Look
The most obvious difference is the look of the two units. The Crosley looks like the old portables they used to have back in the early 60's when you would bring your record player and records to your friend's house to play and share your music. The Jensen looks more like an old transistor radio unit.
Features
The one feature that the Jensen has which the Crosley does not, is the AM/FM tuner. The Crosley has several features which are absent from the Jensen, such as the built in Bluetooth receiver, pitch control, RCA jack outputs, and auxiliary input.
Sound
Now for the bad news. Both units have many poor reviews for the sound quality of the turntables, with many customers saying the radio on the Jensen sounds great. Let us be real here, when you are paying less than 60 bucks for a unit when a good one goes for about 400, you must set your expectations low.
You are not going to get a good sounding turntable with built in speakers and all these features that you can carry around for under sixty bucks. Because they focus so much on entry-level models, Crosley turntables even have a reputation for ruining records.
They are also well known for inconsistent quality control. The chances of your brand-new Crosley record player not spinning right out of the box are higher than we would like. They also break down later on down the line more readily than higher quality players.
Similarities
They share many of the same features, such as:
3 speeds
Portable
Headphone jack
Retro design
Dust cover
Built in speakers
They are both designed for the same use: to be a portable unit that is versatile enough for people that are new to this old technology and want to interface it with their new tech. They sound similar and cost the same amount of money.
Advantages Of The Jensen Record Player
The Jensen has the radio tuner, which gets lots of praise. The sound is slightly better, although if I am being honest, we are splitting hairs at this point. It does not sound great, but it has less negative sound quality complaints than the Crosley.
The design and look of the Jensen appeal to me more. It has that flashy cool vibe, where the Crosley literally looks like a box with hinges.
Advantages Of The Crosley Record Player
The Crosley has many more interface features like RCA outputs (which allow you to hook it up to an external amplifier), Bluetooth receiver, pitch control, and the Aux input which is useful if you want to plug an external device in and use the unit's speakers.
There is no real difference in price, and barely any difference in sound quality. However, the Crosley is the one with more features. You could also check out our Crosley C200 review for a more advanced (and also a bit more expensive) model.
Who Should Get The Jensen (And Why)?
If you are interested in having an AM/FM stereo and the ability to play records, and you love the old retro transistor radio look, the Jensen is for you. It looks great and will do what you need it to do at a great price. That said, Crosley also has a vintage-style radio model: the CR704C-PA.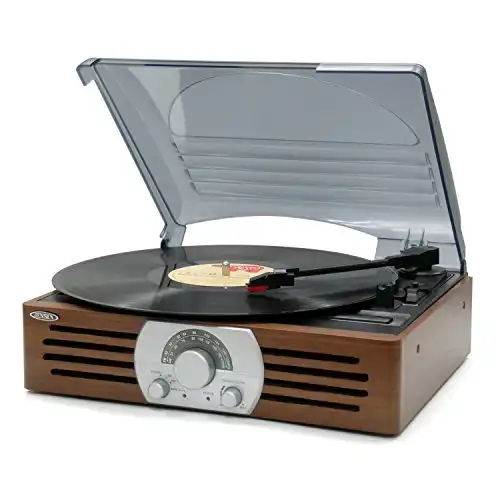 Who Should Get The Crosley (And Why)?
If you have other devices for which you need speakers, like a cellphone or an iPad, you can them hook up via Bluetooth and use the Crosley speakers to amplify your device.
If you have a device, like an old CD player, that connects via a wired connection, you can use the aux input to amplify it as well. This model also has pitch control if you are interested in that.
You can hook up the turntable to a stereo receiver and use better speakers if you like, which may help with the sound quality. If you need more features and have a need for a turntable that will also provide portable speakers for almost any device, the Crosley is your best bet.
Jensen Vs Crosley Turntable: Final Thoughts
These two brands are quite similar, so it comes as no surprise that each brand's top selling models are also quite similar. That said, Crosley does bring a number of retro styled entertainment centers to the mix, like the Rochester.
If you're stuck trying to decide between the two, take a look at each one's feature list and decide which one has the features you want more. The overall look of the player could factor in as well.
As for the quality, both companies make models at a similar quality level: low. These are entry-level, affordable record players. As such, they are inexpensive, but basic.
They will not blow anyone away with their performance, but they get the job done. And both are better than any DIY record player you could make.
Another similar brand is Victrola. We also have a comparison of Victrola and Crosley. Read that for another entry-level option.