Old-school turntables look great, but the technology inside is dated.
Newer models have upgraded tech, but they just don't have the same aesthetic appeal.
Is there any way to get the best of both worlds?
Yes!
The best vintage record players now come with all of the most modern features and technology.
Some manufacturers have been adding newer features into reproductions of the classic models we know and love.
These include Bluetooth connectivity, CD players, AM/FM radio, three speed options, and many others that you won't find on record players of the past.
Now that manufacturers are producing these hybrid models, it's possible to get a vintage turntable that does so much more than just playing your old vinyl collection.
Let's take a quick look at the five best vintage turntables in a comparison table, before diving into some brief reviews of each. We also have in-depth reviews of each model you can check out.
Best Vintage Turntables Compared
12/04/2023 08:26 am GMT
Top-Rated Vintage Record Players
If you love collecting antiques, especially old record players and records, then you know that these old models may be fun to play around with, but they can't come anywhere near the sound that modern turntables produce.
But over the years, as vinyl has gained a new level of popularity, manufacturers have become wise to this and they've come up with a great solution. This solution comes in the form of reproduced vintage record players.
These units may look like vintages models, but inside, they come loaded with all the modern tech you need and want.
I've checked out several models that have earned top ratings from buyers and have narrowed them down to five record players that have what it takes.
Not only do these models look like perfect reproductions of vintage record players, they're also loaded with powerful motors, high-quality tonearms, top of the line cartridges and needles, a three-speed design, and other great extras including built-in CD players.
Even if you don't know how to use a record player, many of these modern models feature intuitive controls that are very beginner-friendly.
Below you'll find summaries of the five models I chose, a look at why I chose them, and how they were rated.
Best Vintage Record Player: Victrola Nostalgic Navigator Wood 8-in-1 Bluetooth Turntable Entertainment Center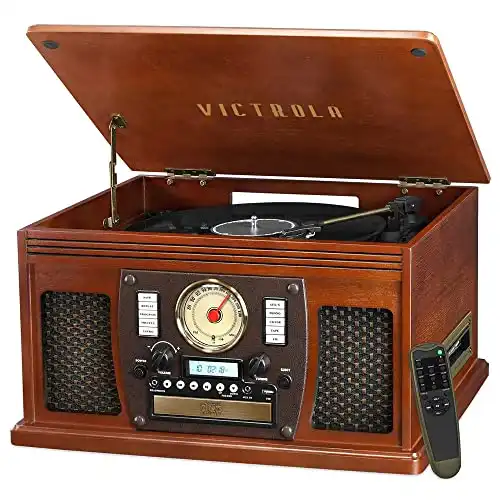 Victrola Navigator 8-in-1 Stereo System
Pros:
Can play 78, 33 1/3, and 45 RPM

Built-in Bluetooth

Plays cassettes, CDs and FM radio

Streams digital music

Solid construction

Impressive sound balance
Cons:
The remote control doesn't have a power button so you must switch off the record player manually

Because the arm on the turntable is very light it can skip tracks at times
View On Amazon
Our Review
We earn a commission if you make a purchase, at no additional cost to you.
12/04/2023 08:26 am GMT
The Navigator by Victrola features the classic design that first made Victrola a household name in the early 1900s. But on the inside, this record player features a more modern design.
It's equipped with a built-in CD player and cassette player, is compatible with Bluetooth devices, and comes with a remote control that will allow you to skip tracks or adjust the volume, all without getting out of your chair.
This record player also has built-in speakers, a three and a half millimeter aux input, and a sixty-foot cable, and it has three speed options, which means it can play all types of vinyl.
On the outside, the record player's gorgeous natural wood design gives it an elegant, classic look that audiophiles and antique collectors will love. In terms of quality and versatility, the Aviator really is the total package.
Pros
Can play 78, 33 1/3, and 45 RPM
Built-in speakers
FM radio capability
Built-in Bluetooth
Plays cassettes and CDs
Streams digital music
One GB of space
Solid construction
Recording feature
Impressive sound balance
Cons
Because the arm on the turntable is very light it can skip tracks at times.
The remote control doesn't have a power button so you must switch off the record player manually
Bluetooth can not connect to external speakers
No RCA outputs to connect to external speakers (but you can connect them via the headphone jack)
Top Suitcase Record Player: Wockoder Portable Bluetooth Vintage Style Vinyl Record Player
Wockoder Portable Suitcase Turntable
Pros:
Weighs just over six pounds

Built-in handle

Highly portable

Built-in speakers

Beginner-friendly

Can play a variety of record sizes
Cons:
Not loud enough for a large room

Needs additional protection during transport
View On Amazon
Our Review
We earn a commission if you make a purchase, at no additional cost to you.
12/04/2023 10:26 am GMT
In the 1950s and 1960s, the suitcase style record player was a big hit. This reproduction by Wockoder brings that classic back, but with a total redesign.
Now, the suitcase record player is not only highly portable, but it also comes with many modern features that allow you to listen to your vinyl the way it's meant to be heard.
This lightweight, portable, budget model comes with a built-in USB port and Bluetooth connectivity. Bluetooth is a nice touch since it allows users to stream their favorite music from up to thirty-three feet away.
Lowest Price: Victrola 50's Retro 3-Speed Bluetooth Turntable with Stereo
Victrola 50's Retro Turntable
Pros:
Three-speed

Bluetooth connectivity

Beginner-friendly

CD player

AM/FM capability

MP3 conversion
View On Amazon
We earn a commission if you make a purchase, at no additional cost to you.
12/04/2023 08:56 am GMT
This retro, 1950s style record player allows you to digitize your record collection, comes with Bluetooth connectivity that allows you to stream your music using your smartphone or tablet, and even comes with an AM/FM radio so you can catch weather reports, music, and more.
This feature-packed unit has a vintage build but a modern feel. Inside you'll get all the same hardware you can expect to find on new models, while the design itself is a blast from the past.
Best With Stand: Crosley CR6231D-GR Sterling Portable Turntable
Crosley CR6231D-GR Sterling
Pros:
Beautiful design

Several different color schemes available

Included legs make a stand unnecessary

Decent sound quality for price

Bluetooth capable
Cons:
Low quality tonearm

No auto-return
View On Amazon
Our Review
We earn a commission if you make a purchase, at no additional cost to you.
This Crosley turntable is in a class all its own. It has four thin wooden legs that are removable, built-in Bluetooth, and built-in speakers. Unlike competing models on the market, it comes with speakers that pack some serious volume.
Additionally, its retro style will capture the attention of any visitor in the home. While it may not boast all of the little surprises other models in this price range do, its unique look and top of the line stereo speakers will easily win you over.
Best Minimalist Turntable: Wrcibo Vintage Record Player
Wrcibo Vintage Record Player
Pros:
Simple design

Beginner-friendly

Three-speed

Low-price

Ceramic cartridge

Natural wood finish
Cons:
Speakers are too quiet

Is not compatible with Bluetooth devices
View On Amazon
Our Review
We earn a commission if you make a purchase, at no additional cost to you.
12/04/2023 10:11 am GMT
This simple model has a minimalist, classic design that allows it to easily blend into a room's existing decor. The compact, lightweight, space-saving construction makes it a perfect choice if your home is tight on space.
This is a belt-driven, three-speed vintage record player that may not come with many bells and whistles, but it does offer a solid, reliable performance. It's a great choice for beginners or anyone in search of a model that requires minimal record player maintenance, and has a design that's beginner-friendly.
Best Vintage Turntable Buyer's Guide
For many audiophiles, collecting vinyl records can be an exciting, fun hobby, and one that involves rare finds, original presses, and exploring a whole new sound that you can only get from vinyl.
But as important as the records are themselves, the record player you use has the largest impact on how your vinyl sounds.
Over the years record players have risen and fallen in popularity. Recently, they've fallen back in favor, so, once again, major electronics manufacturers are churning them out, making them bigger and better than ever before.
But vintage record players offer something that modern units don't: a reminder of a time when vinyl records were in their prime when there were no other alternatives for listening to the latest album at home. These were turntables that were really designed to last and we haven't seen that type of classic design since.
The best vintage turntable can bring back that classic sound experience, but with a new twist. While you'll still enjoy the crisp sound that only vinyl seems able to provide and much of the same experience and style, the newly redesigned vintage turntables bring a major boost in the quality of sound.
The Modern Take On A Classic Design
Back in the 1950s and spanning for well over thirty years, vinyl was the biggest game in town. But once CDs entered the scene, vinyl records were soon forgotten. They had their brief moment in the spotlight.
However, once the excitement over streaming music began to die down, vinyl emerged again thanks to loyal audiophiles who can still appreciate the classic, unique sound.
Aside from digital music, vinyl provides the best audio quality and the best value. Additionally, the more money you decide to invest in a vinyl system, the more you'll benefit from your home sound system.
This is because analog has no sonic limit. But a classic vinyl system lacks some modern amenities.
Vintage style record turntables offer audiophiles the best of both worlds.
These turntables feature beautiful old-school wooden cabinetry, but inside, they come equipped with the latest in audio tech.
Some vintage-inspired turntables feature the classic suitcase style of the fifties and sixties, while others strive to look like antique Victrolas.
Whichever style you choose, aside from the gorgeous aesthetics that really allows these works of art to blend into your existing decor, you need to pay attention to certain characteristics that have a major impact on a turntable's sound quality and performance.
Compatibility
If you purchase a vintage style record player, is it going to be compatible with the rest of your audio system? If you have an existing system, you definitely want to make sure any new components you buy work will with the components you already have.
If you're just starting to put together a system then you will probably need to purchase other components, like as speakers and an amp. Make sure everything you buy is compatible, or setup will become a painful experience.
RCA
Most turntables should have plugs for RCA cables. These are the well-known white, red, and yellow (sometimes blue) cables that have been used for audio equipment for years.
USB
Some vintage turntables come with a USB port, which definitely increases the versatility and usability. You can use USB to hook up other electronic devices including your PC and smartphone. Some models can use a USB connection for portable speakers as well.
Bluetooth Connectivity
Bluetooth connectivity can make it much easier for you to use your turntable, but it isn't a must-have feature for most. The main advantage is that it cuts down on the number of cords you need to use.
Headphones
If you want to listen to your music late at night or early in the morning, then you need a model with a headphone jack.
Power Options
Does the vintage turntable you're interested in have to be connected to an outlet or is there a battery powered option? Some models come with both options. The ability to run off battery power definitely increases portability.
Cartridge Type And Quality
Check to see if the turntable uses moving magnetic cartridges or ceramic ones.
The cartridge is probably one of the most critical components because it translates the vibrations from the needle running through the grooves of a record into electronic signals. These signals are then sent through wires to the output and into the speakers where the sound is generated.
Cartridge quality is probably the biggest thing that audiophiles look at when they're deciding whether or not to purchase a particular model.
Ceramic cartridges are pretty standard and they're known more for their natural amplification abilities and ruggedness. Magnetic types are a much more popular option since they tend to provide better sound quality.
Preamp
The preamp is a small internal amplifier that's used to boost the weak audio signal from the record to line level. This means that the input received by the pre-amp is normalized at the same level as other audio signals, so that it can be processed together with them.
If your turntable does not have a preamp, you will have to buy one separately. This is not necessarily a bad thing. Standalone phono preamps are much better.
Amp
Like the preamp, the amplifier is responsible for giving a weak audio signal a boost. The amp takes the line-level signal and boosts it for output through the speakers. Depending on the type of speakers you have, you may want a less or more powerful amp. Typically, an amp with more watts is more powerful.
Needle
The needle is another name for the stylus. The stylus is the physical link to the grooves of the record and it generates the vibrations that are fed to the cartridge.
Turntable
This is the circular platform on the turntable. Its job is to hold and spin the record and the record mat.
Tonearm
The tonearm is a long, thin arm that connects to the pivot counterweight mechanism and terminates at the cartridge. The tonearm's job is to guide the needle and house the cables which deliver the sound signals from the stylus all the way to the outputs or amp.
Pickup
An automatic pickup turntable picks up the tonearm, placing it on the record player. Models with a manual pickup will require the user to pick up the tonearm and place it on the turntable.
Direct Or Belt Driven
The belt-driven record player uses elastic belts and several sets of bearings, in addition to an offset motor that will drive the turntable's rotation. The belt drive provides better sound and minimal interference.
On the other hand, it offers less torque, and speed control that lacks accuracy. It also must be replaced more often.
A direct drive unit is directly powered by a motor which is located right under the middle of the turntable platter. They usually offer better playback speed and torque, but the motor can interfere with sound, depending on where it is placed. Direct drive turntables also allow for reverse playback.
Counterweight
The counterweight balances the tonearm and controls how hard the stylus rests in the grooves. It the stylus sits too heavy, it can damage the record, so the counterweight acts to reduce the weight of the stylus.
Adapter
The adapter is a plastic insert that's used to play records with different RPMs than what your turntable supports.
Head Shell
This component connects the tonearm to the cartridge and keeps the cartridge in place.
Is Vinyl Right For Me?
Collecting records can be a fun and exciting hobby. But it can also introduce you to a totally new way to enjoy your favorite music.
It can open you up to new bands or genres that you've never come across when you were online streaming music.
Buying a new record is very much like going on a treasure hunt: searching for a particular favorite album or band, or even the thrill of checking out a new band you've never heard before.
But what makes listening to music on vinyl so special?
Vinyl is an analog format. Pure analog is considered much more accurate compared to digital. That said, when you're using high bitrates, the human ear is not able to pinpoint the difference between them.
The audiophile's love of vinyl mainly stems from the type of sound the record produces. It feels more natural and intimate than the sound from a digital track.
When you play a vinyl record you're hearing the music the way the musician intended you to, in a specific sequence. Vinyl records are also very beautiful in terms of appearance, especially when you consider the album covers.
Are There Any Drawbacks To Playing Vinyl?
Yes, there are both pros and cons. The biggest issue with vinyl records is how they tend to degrade or can easily become damaged over time.
Over the years, a record can get warped, dulled, or scratched, which will negatively impact sound quality. Dirt and dust can easily accumulate in the grooves, which is what creates that loud crackling sound you'll hear when you play older records. Proper storage can mitigate much of this.
Additionally, vinyl is more prone to imperfections, which means even a new record can have sound issues. This isn't really an issue with digital formats, especially if you normally stream your music.
Price is another issue if you decide to switch to vinyl. The price of a record can range from twelve dollars up to forty. Considering how fragile records can be, imagine paying forty dollars for a new record only to have it scratched days later.
Space can also be a problem. Records can take up a lot of space in the home as you continue to grow your collection, even if you have a dedicated stand for your vinyl and turntable.
Additionally, you should always store your records vertically in order to prevent them from warping. When the records are arranged vertically you'll notice that one of the sides will display both the album's name and the artist's name.
The Right Way To Stop A Record
Once you've finished listening to a record, it's important that you learn the correct way to stop it playing, in order to avoid scratching it.
Make sure you use the cueing level to raise the tone arm, moving it to the reset position. Push the power button and wait for the turntable to completely stop.
Next, remove the record gently by grasping it from the outer rim. Avoid touching the surface with your hands. Finally, place the record back into its sleeve slowly. And that's it.
Volume Issues
Many new turntable owners complain about the volume level.
As previously mentioned, the record player's needle will read the groove and transmit the audio info to the cartridge and then on to the speakers. If that is all that happens, the record won't sound very loud.
That's because you need something to take those small vibrations and amplify the sound, so that it is loud enough for the speakers. As you may have guessed, the something that does this is called an amplifier, or amp.
You can either get an external amp (they are always included in a receiver, for instance) or you can purchase a record player that comes with a built-in amp.
With a built-in amp, the volume is directly amplified in the unit, making the signal more powerful so that it is ready to be sent to the speakers.
You can also purchase speakers that come equipped with built-in amps. With this type of setup, the speakers will handle the amplification.
If you choose to go with a separate amp, the turntable will plug into that amplifier, which will then boost the signal and send it to the speakers. This requires more wiring, but is generally the best option, if you have several audio components, like a CD player, a TV, etc.
The Benefits of Higher Priced Record Players
Obviously, the more you spend, the better fidelity you'll enjoy. Higher end turntables reduce external noises such as vibrations, with the use of better cartridges and needles, a better isolated motor, better quality tonearm, and platters with some heft.
When you're shopping for a new record player, the goal is to get a model you can afford, but quality should also be a main priority.
If you can afford to spend more for a turntable that provides the type of sound you're looking for, go for it. In the long run, the higher priced models will last year after year. The cheap ones will soon need to be replaced.
Best Vintage Record Player: Final Thoughts
The best vintage record players provide the type of sound quality you're looking for and come loaded with modern amenities that do much more than just spin your favorite vinyl.
I hope that my reviews of the top models have helped you find the perfect one, so that you can enjoy your vinyl collection the way it was meant to be heard.