Vinyl has been loved by millions all over the world for decades.
Its unrivaled uniqueness, and indeed its nostalgia, has recently made way for a huge rise in vinyl sales. 4.1 million records were bought in 2017 alone, the highest annual number for 26 years.
However, the problems that led to vinyl being replaced by more modern forms of media still remain.
Below, I've put together a list of pros and cons of vinyl records, to help you decide whether its worth your investment!
Benefits Of Vinyl Records
We will begin by taking a look at the four biggest benefits of vinyl records.
The Nostalgic Feel
This is something you just can't get with CDs or digital downloads. Vinyl is way out front in this category, with absolutely no challengers in sight.
The nostalgic feel that comes with a vinyl record is rooted in the experience of owning, unwrapping, and playing them.
All the sleeves you have to unwrap, the old-time smell, the feel of the vinyl material. It's a whole experience. An experience that isn't matched in any other format. It has a tangible quality that can't be replaced in the digital realm.
The Unique Vinyl Sound
Again, it's all part of the experience of owning vinyls. The sounds that are unique to vinyl are those crackles, the warm tones and even the background noises.
Many music connoisseurs prefer these 'comforting' sounds over cleaner and more modern recordings. Vinyl holds a lot more character than other formats, which is what has made it such a popular format in the past, and again in recent times.
Nikki Sixx—co-founder, bassist, and primary songwriter of the band Mötley Crüe—talks below about his love for the unique vinyl sound.
"I remember opening up my first vinyl and seeing the incredible artwork it had. There's nothing like it. You also get that true gritty sound on vinyl that really makes a rock record sound great, which CDs can never achieve."
Vinyl Demands Attention
Walk into a room in which a vinyl record is playing and you will be drawn instantly to it. It will light up the room, no doubt about it. You'll unconsciously listen to that vinyl track much more intently than if a Spotify track was playing.
Music is so readily available these days that we often listen to it passively in the background while we get on with our daily tasks. We don't often sit down and listen.
Put on one of your vinyls and you'll find yourself glued to your armchair for the next hour, simply listening and doing nothing else. This is a rare pleasure in today's fast-paced world.
Your Taste In Music Will Improve
Are you reading this article to help you decide whether to buy a vinyl player or not? This point should convince you. Your taste in music is only going to improve when you invest in a turntable record player!
Go to any record store, and you won't find any top 40 tracks from at least the last 10 years. You won't find any albums that were at number 1 for 2 months and then disappeared off the radar.
What you will find is albums that were people's favorites for years. Michael Jackson, David Bowie, Led Zeppelin, The Beatles, Nirvana, etc. All legends of music. Artists who were on top of their game. They were artists that produced not just good music, but the best music, with the best production, the best lyrics, and the best riffs.
Top 4 Cons Of Vinyl
Next, we will take a look at the drawbacks of vinyl records.
Maintenance And Storage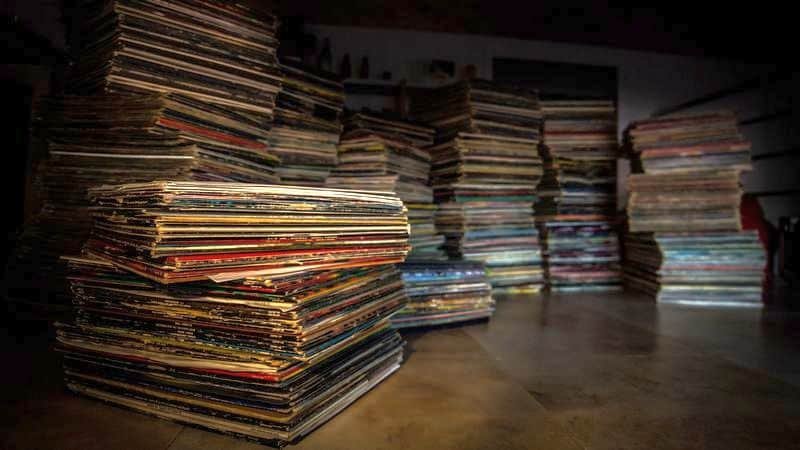 Looking after your vinyl is very time consuming. If you're looking for an easy, straight-forward music experience, then vinyl probably isn't for you.
You'll need to think about inner sleeves, outer sleeves, vinyl bags, shelf storage, archive storage, storage temperatures, cleaning brushes…phew. There's a lot to think about! Every step of storage is just as essential as the previous step. And if you're thinking you can just store your vinyl collection in the garage, that's rarely a good idea.
So if you're still convinced you want to invest in vinyl, make sure you research exactly how to clean and store your type of vinyl! Stick to the process, and they will survive for years.
Here are some great tips on how to store your vinyl.
They Do 1 Job, And 1 Job Only
Unlike CDs and digital downloads, you can't take vinyl with you everywhere you go. You can't have the records in your pocket like an iPhone. You can't plug headphones into your vinyl. You can't send copies of your vinyl records to your friends.
All you can do is simply listen. To be totally fair, many of you will have purchased a vinyl record for this reason. You will have wanted something unique and different to what's on offer today, and that's exactly what vinyl gives you. For that reason, this point this isn't a con at all, for most people reading this.
The Cost
Michael Jackson's Thriller album is free on Spotify, and $7.99 on iTunes.
What about the vinyl? $18.99.
When investing in vinyl, you have to be prepared to pay over twice the price of a CD or digital download. Vinyl records also hold less music.
In addition, prices have soared in the last 5 years as vinyl makes a sensational comeback. Read "Why Are Vinyl Records So Expensive?" for more
Following the decline in CDs and the rise in digital downloads, some still craved a physical form of music but weren't interested in CDs anymore. And so they turned to vinyl.
4.1 million vinyl records were bought in 2017 alone, the highest numbers since 1991. It's going to be very expensive to build up a vinyl collection that's for sure, but if you have the money to do it then why not? And while the albums are pricey, good record players are actually quite affordable.
Sadly, however, the days of browsing for albums in your local record store are over for most of us. These days, I buy all of my new records online. Not sure where to buy vinyls online? That article covers the best websites.
Crackling And Surface Noises
Unique vinyl noises can either be a pro or a con, depending on how you look at it. While many of these noises can be swept away with proper maintenance and care, some still remain.
Pops, clicks, and minor hiss noises will always be present on an analogue medium like vinyl. It's up to you to decide whether the excessive sounds annoy you or whether they add to your listening experience.
Are Record Players Worth It?
This is the big question, isn't it. And the answer is a solid: "it depends." If you love the unique sound you get from vinyl and/or you enjoy collecting records, thern it is worth it. But if you just like listening to music, this expensive hobby is not going to be worth it.
These days, a lot of people are jumping on the vinyl bandwagon. If you don't know much about it, but are considering getting into it because of a friend or because it seems cool, I'd urge you to do more research and really think about it.
All too many people buy an expensive player and shell out a bunch of money on records, only to have it all sit around unused a few months later.
Advantages And Disadvantages Of Vinyl Records: Final Thoughts
4 pros and 4 cons. The debate roars on! Of course, there are other pros and cons we could add too. A big one on the con side are the materials used in vinyl production. Are vinyl record toxic? Yes, especially for the workers making them and for the environment when they are disposed of.
Let us know your thoughts on this fiery debate in the comments below. And if you're thinking about taking the plunge, this article reviews the best vinyl record players.