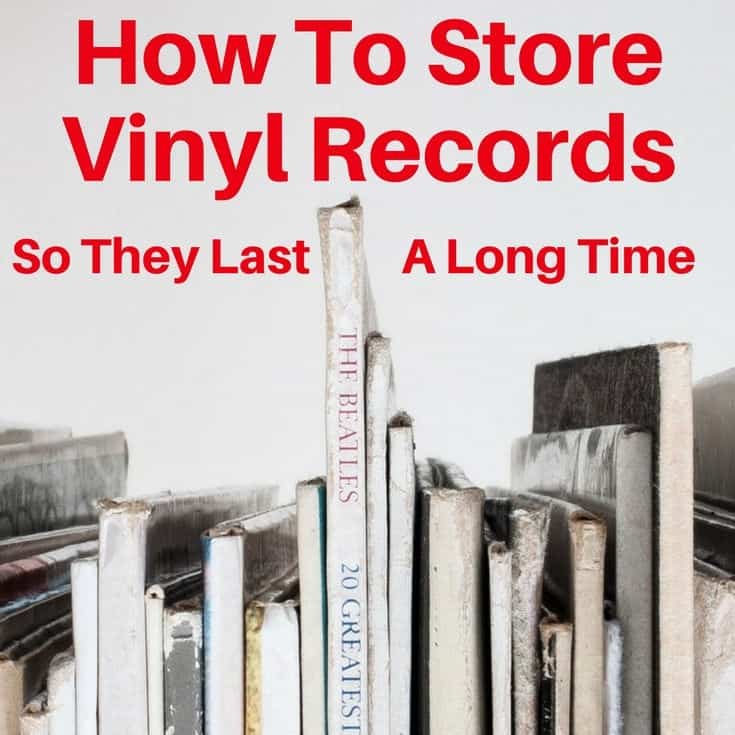 We've all had a prized album suffer damage.
It hurts.
Whether its a scratched surface, a bent sleeve, worn artwork, or a warped record, the damage can't be undone.
But you could have prevented it in the first place.
Improper storage is the number one cause of damaged records.
But it doesn't have to be.
That's why I've compiled 8 quick and easy tips for you. Follow them and damaged vinyl due to poor storage conditions will be a thing of the past.
How To Store Vinyl Records Properly
1. Inner Sleeves Are Essential
Having an inner sleeve for each of your vinyl records is the first crucial step to maintaining their quality. You need an inner sleeve that has a smooth and silky feel, in order to protect from scratching.
Warning: Avoid paper-like sleeves at all costs! These will act like sandpaper, slowly scratching away at the surface of your vinyl.
You can find affordable, good quality inner sleeves on Amazon, but be careful, because there are also a lot of bad ones on Amazon.
These work great and do not cost much at all.
Check out this great thread which debates the need for an inner sleeve.
2. Pair Your Inner Sleeve With An Outer Sleeve For Double Protection
Having just an inner sleeve is not enough. Pairing it with an outer sleeve that goes over the cardboard sleeve will go a long way to shielding your record from dust entirely.
Just like the inner sleeve, I recommend using a light and smooth material. Heavy plastic sleeves will weigh onto your vinyl, stick to your artwork, and peel it off over time. With this in mind, you also need a sleeve with plenty of room!
These sleeves are a great choice, and very inexpensive.
Still not sure whether you need an outer sleeve? Check out the video below to see exactly why.
3. Not A Fan Of Double Sleeves? Invest In Vinyl Bags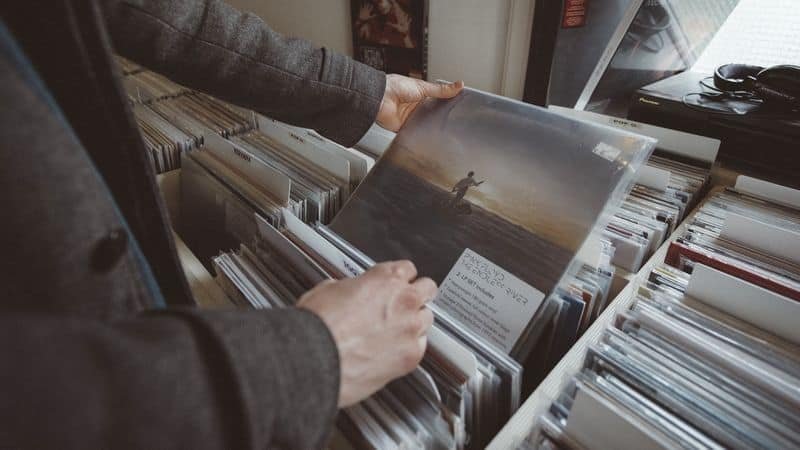 While the inner and outer sleeves protect the vinyl 90% of the way, the outer sleeve still leaves the vinyl exposed on one side.
How can you solve this?
Vinyl bags have a sealable fold at the top which keeps the vinyl airtight, giving you that extra 10% of protection.
These sleeves are actually sealable bags and work great.
Personally, I think using an inner and outer sleeve is sufficient for records in your everyday collection. But for long term storage or for collector's items, I would definitely go with the extra protection of a vinyl record bag.
4. A Strong And Sturdy Shelf Wins The (Vinyl Storage) Race
When vinyls are piled high, or horizontal in this case, it can cause the shelving to collapse like a pack of cards. Your entire collection will be ruined in the blink of an eye.
I've put together 3 quick mini tips to keep your shelving balanced and strong:
Invest in metal, L-shaped brackets to slip under each corner.
Create your own labeled dividers. This not only helps with maintaining a balance throughout the shelves, but also maintains the organisation of your vinyl records.
Don't store different vinyl sizes together. Always group in sizes! This will add to the overall balance of your shelf.
Good stands for turntables generally work for storing vinyl as well, as long as your collection is not overly large.
5. Plastic Is Your Answer For Archive Storing
Prefer to store your vinyls away? Heavy duty plastic is your answer. You need a strong plastic box with a good handle grip on it. Cardboard is not strong enough and will not be safe for lifting.
6. 46 To 50°F Is Vinyl's Temperature Sweet Spot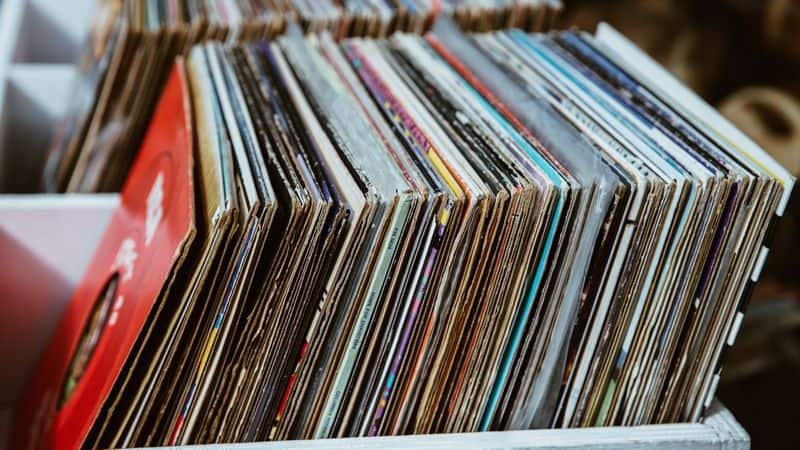 Surprisingly, vinyl can withstand low temperatures very well. It's the heat that you need to worry about.
Anything above 120+°F (50°C) and your records will begin to warp. When storing them, cooler is better. It's fine if you keep your records at room temperature, or around 65 to 70°F (18 to 21°C), but it is better to keep records in long-term storage below 50°F (7 to 10°C).
Suppliers changed the material of vinyl as soon as they realized their current material was causing records to crack in cold temperatures. The softer and more pliable texture used today withstands these cold temperatures, but unfortunately can cause this warping effect when placed in a heated environment.
So, stick to 45 to 50°F (7 to 10°C) for records in long-term storage! And yes, this usually means that you can't store your vinyl records in a garage, unless it is climate controlled. Garages tend to get too hot and humid in the summer months.
7. Swipe Your Record Clean With A Cleaning Brush
If you're like me, you will have attempted to clean your vinyls with the end of your t-shirt at some point. And, like me, you will have thought to yourself, "hmm, good enough!"
No matter how soft your t-shirt is, its fibers can damage and scratch your vinyl. So what can you use instead?
Record cleaning brushes are a quick and easy way to remove dust and dirt. Simply place the brush on the vinyl, in line with its line pattern, and spin the record. A record cleaning brush will wipe off even the smallest amounts of dust and dirt.
If this isn't enough, you can also purchase vinyl cleaning solution anywhere online. Simply spray onto the vinyl, avoiding the artwork and, using a microfiber cloth, wipe in a circular motion.
For much more on cleaning your records, check out our detailed guide.
8. Edges People, Edges!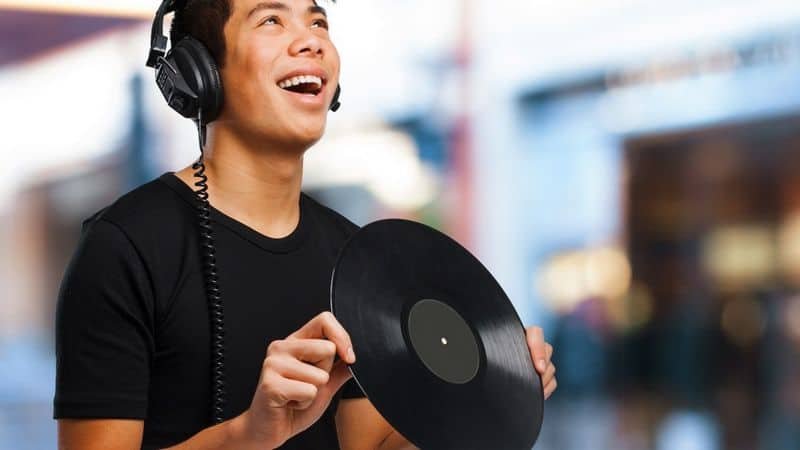 Have you tried all these tips, buy you're still not getting the sound you expect out of your records?
It's most likely down to the way you're physically handling them. Yes, it's essential to store them with care, but you must also handle them with care.
Try and only touch the edges. Touching the surface too much will inadvertently spread oils and grease from your finger to the vinyl.
How To Store Vinyl Records: Flat Or Upright
You should always store your records upright. Not only does that make it much easier to take out the record you need (imagine needing to pull an album from the bottom of a stack), but it also protects records better.
If you stack albums on top of each other, they will warp over time. The weight from other albums will continuously pressure the lower albums and cause some warping.
Vinyl Record Storage: Final Thoughts
So there you have it: 8 tips to storing your vinyl records so they last a long time! Follow these steps and in 20 years' time, your records will still sound just as golden as today. And that first pressing you have will be many times more valuable.
Let us know if these tips worked for you in the comment section below! Do you store your records in a different way? We want to hear all about it in the comments.
If you liked this article, impress your friends by sharing it with them, so that you can help them protect their precious vinyl collection as well. And then check out our article on organizing your vinyl records for the next step.