It can be confusing.
EP, LP, 33, 78, 10-inch, 7-inch…what does it all mean?
There are so many different types of vinyl records and so many different ways of referring to them.
And actually, there are more names than there are types of discs, which is where a lot of the confusion can come from.
A single vinyl disc can be referred to by several different names.
In this article I try to make sense of it all. By the end of it, you'll know the different types of vinyl records and you'll understand all the different names people use to refer to them.
I'll also answer a few common questions regarding vinyl toward the end of the article. Let's get started!
Types Of Vinyl Records: 8 Main Styles
You'll notice that I refer to some types of records by their RPM. RPM stands for revolutions per minute, which tells us how many times the record turns completely, in a period of one minute.
Most records are designed to play at one of three speeds: 78, 33 1/3, or 45 RPM. These days, you won't come across new 78 RPM records, so you won't have to worry about that speed. Those records are fragile and don't deliver the same sound quality, so they are no longer produced.
Most twelve-inch records are 33 1/3 RPM, however, there are some ten-inch records that can turn at 45 or 33 1/3 RPM. I'll go more in-depth on record RPMs, later in this guide.
If you've bought a brand new record player, then you're probably eager to learn all about the different types of records out there. Despite advances in technology, vinyl records haven't really changed too much in terms of size and speed, but there is still a good variety of them.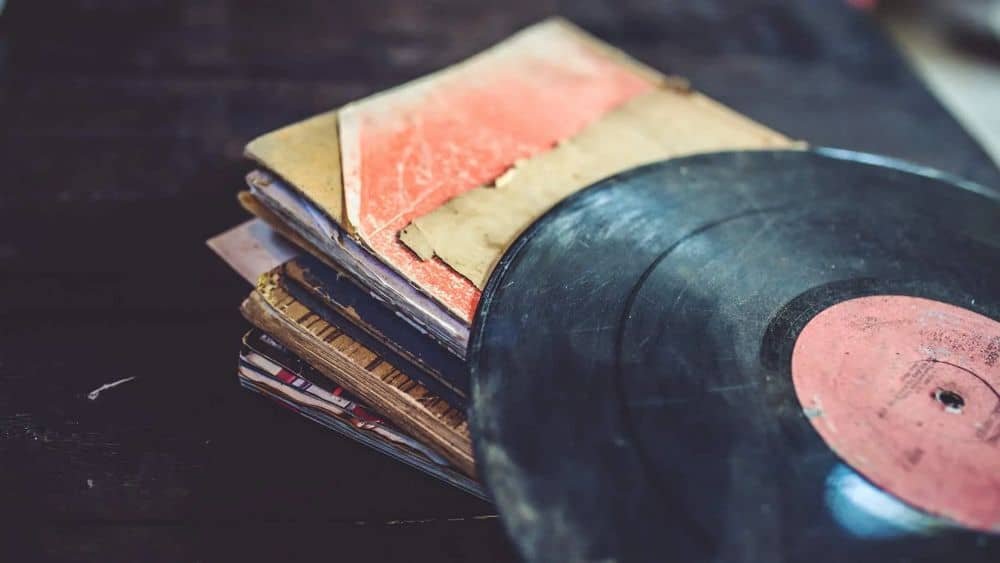 These days, the vinyl record can come in a number of different colors, shapes, and sizes. I'll start off with the most common type, the LP.
LPs
LP stands for long playing albums. These records were first introduced way back in 1948. They were a big step up from the 78 RPM records, which were limited to less than five minutes of play time per side, not to mention the fact that they were very brittle.
Modern long play albums are made out of vinyl and play at 33 1/3 RPM. Each side of the LP can hold up to twenty-six minutes of playback time, though this does vary greatly. It is a complicated topic we covered in our article "How Much Music Can A Vinyl Record Hold?"
The 33 1/3 RPM LPs don't offer the same type of sound quality that 45 RPM LPs do. The 45 RPM records allow for more waveform definition on the surface of the record, equaling more grooves.
They also travel at a much faster rate than the 33 1/3 RPM. Essentially, the higher the RPM, the more length of vinyl that can be picked up by the needle. This results in better sound reproduction.
Smaller angles in the grooves and longer wavelengths also lead to much simpler geometry. The 45 RPM can cut precise grooves with much finer detail. Additionally, the 45s tend to experience less distortion because the increased velocity helps to reduce the loss of high frequencies.
In the end, the 45s just sound much better, which is why most LPs these days are released at 45 RPMs.
Ten-Inch
In the past, most long-playing microgroove records were ten inches in diameter. In most cases, the albums consisted of several ten-inch long playing records that were grouped together for an album release.
In the beginning, most manufacturers assumed that classical music records would require a longer playback time and would thus need to be pressed on larger twelve-inch vinyl, while pop music would require a shorter playback time and could be presses on the smaller ten-inch discs.
But they were incorrect. The twelve-inch long playing records were a better option for both music genres.
Seven Inch Vinyl
The 45, also known as the seven inch, used to be the most common type of vinyl single. The seven-inch records were initially released back in 1949 by RCA and were considered much more durable compared to the 78 RPM records.
They were also cheaper to produce than the long playing twelve-inch records. Seven inch discs hit their peak in the 1950s.
Twelve-Inch Singles
Back in the 1970s, the twelve-inch single first appeared. When cut at 45 RPM, these records featured a shorter playing time and a wider groove than the long playing albums. This permitted a louder recording level and a much broader dynamic range.
The twelve-inch vinyl records also become the vinyl of choice by club DJs back in the 1980s. By this time, many record companies were releasing twelve-inch singles that contained popular extended versions of club music.
What Are EPs?
EP stands for extended play. The extended play record falls somewhere between the single and the long play records. The EP contains more music than the single but less music than the long play.
Typically, the EP will feature between two to five songs. There is no real standard format for the extended play record. EPs may be twelve inches or seven inches and run at 45 or 33 1/3 RPM.
EPs have also been produced on 10-inch discs, but they're not quite as common as the ten-inch singles or long play albums.
The Flexi Disc
The flexi disc is made out of a flexible, thin vinyl sheet. Back in the 1980s, many popular magazines would use these discs, which contained popular hits or exclusive tracks. However, the quality obviously wasn't very good and the shallow grooves and thin material didn't exactly produce the best sound.
What Is A Dub Plate?
A dub plate is a type of sample disc that's used in recording studios for test recordings before the album is ready for the mastering process. When a master is created the records are ready to be mass produced. Most mass produced records are ten and twelve-inch records.
Colored Vinyl Records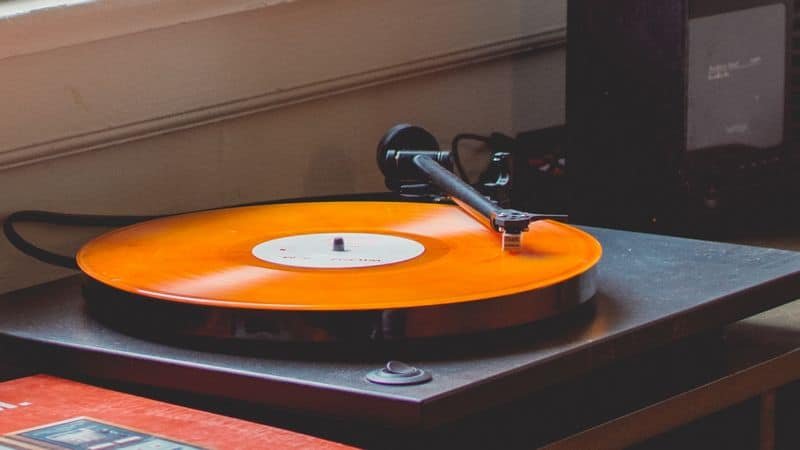 These days, colored vinyl is very popular. But there is some debate about how much the color impacts sound quality. Most engineers agree that there is not enough evidence to point to any specific color having a noticeable impact on the sound.
Even if there was a specific color that slightly affected the sound quality, there are a variety of other important factors that matter a lot more, such as the record production process and the quality of the master.
Unusual Shapes
While there are eight main types of vinyl records, it's not unusual to see records that come in different shapes and sizes. Some may even come with images printed on them.
The groove is what gives a record its sound, but some bands choose to add a shape to the non-grooved section of the record. Additionally, vinyl records with pictures on them are not uncommon, but many engineers agree that these images do have a negative impact on sound quality.
Vinyl Disc Types: Related Questions
The following are answers to common questions regarding the different types of vinyl records. If you have further questions, please ask them in the comments below.
What's A Great Three-Speed Record Player I Can Use For My New Vinyl Record Collection?
If you're feeling a bit nostalgic and looking for a versatile three-speed record player that you can use daily, then I recommend the Wockoder suitcase Bluetooth record player.
This model comes with some great features including Bluetooth connectivity. It's also one of the best vintage record players on the market, thanks to its versatility and portable design.
What Is Groove Distortion?
Groove distortion, also known as inner groove distortion involves issues with quality relating to the songs that are located closer to the label and spindle hole on a record.
These songs can sound very different compared to the other songs because the audio signal is cut across a shorter section of vinyl. Sound quality is increased the longer the signal is spread across the vinyl.
When you reach the shorter grooves that are located closer to the spindle hole, the signal is then transferred to a significantly shorter section. The valleys and ridges that make up the audio signal are placed too close together, so the sharp curve of the grooves will impact the needle's ability to read and accurately track the info.
Basically, during the production process, the bass-heavier, and louder tracks should be placed at the beginning of the record as opposed to closer to the spindle. The less dynamic, softer tracks should be kept closer to the spindle.
How Can You Clean Vinyl Records?
Cleaning your records is all part of ensuring they last for several years to come. Vinyl records should be wiped off each time you play them. This is because records attract dirt, dust, and debris, which can cause tiny scratches on the surface of the record. Obviously, this will eventually result in a dip in sound quality or may even damage the record to the point that it's no longer playable.
To clean a record, you can simply wipe it off using a microfiber towel. Another option is a vinyl specific soft bristle brush, which is designed to reach deep down into the grooves to remove dust.
You'll find a complete guide on cleaning your vinyl records here.
It is not only important that you keep your records in clean and pristine condition, but you should also clean your record player regularly. Removing dust and debris from the player means removing the ability for it to make contact with your vinyl discs.
Read my article on how to clean and maintain your record player here.
Do You Really Need A Box The Same Size As The Record To Send It By Mail?
Yes, but not exactly the same size. You actually want one slightly bigger, so that you can fit some protective bubble wrap in there, too. If the box is too big, chances are the record will eb able to move around, which could damage it.
You can, of course, use a larger box, but you really need to make sure to pack any empty space to prevent any possible movement. Our article on how to ship vinyl records has much more on this.
How Can I Dispose Of Old Records?
First off, please do not just throw them in the trash. I know it is easy, but they take over 100 years to decompose and they contain several harmful chemicals. Can you recycle vinyl records?
Unfortunately, alos no. But you do have a number of other options. And several of them end up with you having more money in your pocket, even if your collection is essentially worthless. Read that article on recycling records to learn more.
Are Heavier Record Worth It?
Most vinyl records are made from 120 to 160 grams of vinyl. But there are also heavier records available. The most common is 180 gram. What is 180-gram vinyl exactly? It is a record made with more vinyl pellets, giving it a heavier weight. This makes it more durable and stable.
Types Of Vinyl Records: Final Thoughts
These different types of vinyl records have all had their day in the limelight. While changes have been made to the sizes and speeds of these records, it's clear that the twelve-inch long play albums and the ten-inch records are here to stay.
These are the records that offer the best performance, sound quality, and feature a more durable design compared to the earlier brittle records that were produced in the 1940s.
They last longer and many of them have even become collector's items. Mint condition first pressings can be incredibly valuable. If you suspect you might have a valuable record, learn how to tell if a record is a first pressing.