A garage seems like the perfect place to store vinyl records.
You store everything else in there, after all.
And if it's good enough for Christmas decorations, your childhood artwork, clothes that haven't fit in 15 years, trophies your kids got for showing up to something, embarrassing yearbooks, and whatever, then it must be good enough for vinyl records.
But let me ask you this.
Would you store an original Picasso in your garage?
Now I know your vinyl collection is unlikely to be as valuable as a Picasso, but there's a reason you wouldn't keep the painting in a garage.
Does that same reason apply to vinyl? Let's find out.
Can You Store Vinyl Records In The Garage?
The short answer to this question is no. Storing vinyl records in your garage will lead to unnecessary damage and could cost you an entire record collection.
Why Shouldn't I Store My Vinyl In The Garage?
Since we have definitively stated that you should never store your vinyl collection in the garage, we should probably tell you why.
The usual purpose of a garage is to protect your car from the elements. However, researchers estimate that only 30% of people actually use their garage for parking the car. For most, the garage is where things go to take a long nap—and often to be forgotten forever. But that shouldn't include your vinyl collection.
Garages are notorious for poor insulation and extreme changes in temperature. The humidity can rise to oppressive levels, which leads to mold and moisture. In addition, storage space is often limited among the holiday decorations and other overflow items.
Harmful Elements In The Garage
The home garage is a sheltered version of the great outdoors. Temperature changes and humidity happen daily. The following are all common issues in a garage that can be harmful to your vinyl collection.
Heat
Heat is the most dangerous element in your garage. It can cause extreme irreversible damage to your vinyl collection. Vinyl is a type of plastic, which will not do well after a couple of scorching summer days.
The preferred temperature range for storing vinyl records is between 65° and 70° Fahrenheit.
Humidity
You know how awful that sticky feeling is on a hot, humid day. Well, that is how your vinyl records will feel in the garage.
Humidity higher than 40% causes warping. Fluctuations in humidity levels cause even more damage to your vinyl records. Then you end up with records that wobble when played.
Light
You have not spent hundreds of dollars and countless hours in record stores to have your collection ruined by light. A garage does not keep out ultraviolet light.
Ultraviolet light is a specific wavelength of light. It is one type of light included in sunlight. It is also included in the light from fluorescent bulbs. UV light can deteriorate album artwork and cause the record itself to become soft. If it gets too weak, you'll start to see warping.
Pressure
You may be wondering what pressure has to do with storing vinyl in the garage? Let me explain.
The garage is typically where we store any and everything. Space becomes limited when the shelves get full. You decide to stack your vinyl collection in the one dusty corner that's left.
What happens next is the pressure of all those records stacked on top of one another becomes too much. The heat builds up, and after time, those records start to wrap around one another.
Vibration
Most people don't consider the vibrations that occur in a garage since most of us don't even feel them. When you park your car in the garage or listen to loud music in there, vibrations happen. Enough vibration and those stacked records could begin to scratch against each other, which damages sound quality.
Can I Create A Suitable Storage Space In My Garage?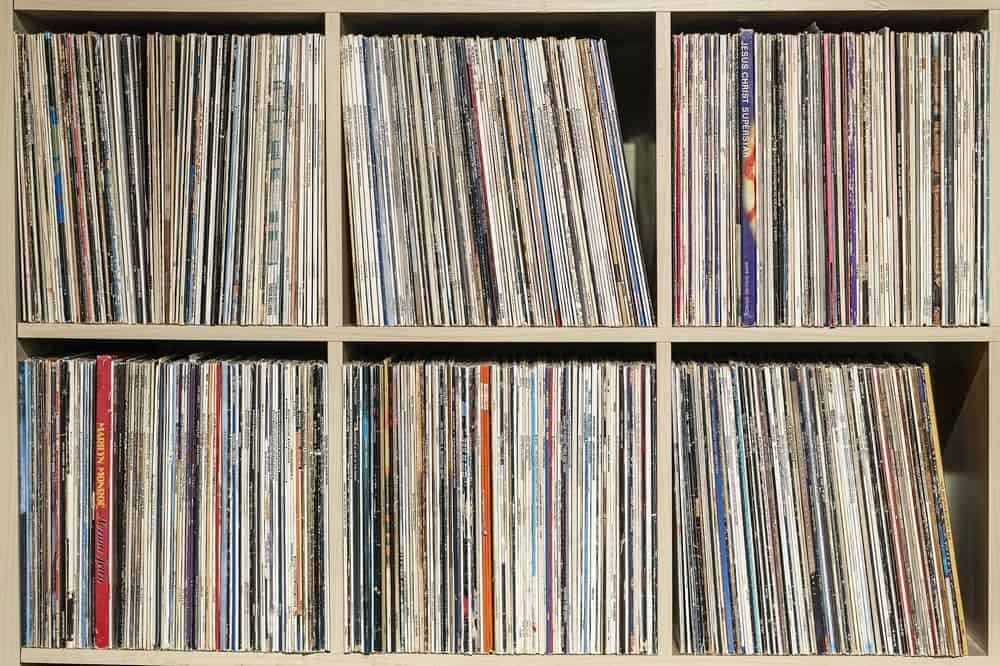 The avid vinyl collector would tell you that your best option for storage is purchasing a climate-controlled storage unit. While that is a good option, it is not financially possible for most of us.
It's also unnecessary, unless you have a bunch of valuable first pressings. If not, you probably want to access your records easily anyway, so you can listen to them whenever you feel like it.
To avoid a recurring bill, you can create a safe place for storing vinyl in your garage with one or two purchases. The most popular option is the ductless mini-splits. They do not require running duct work and have built-in thermostats. You can heat and cool your garage to just the right temperature.
Another option is to purchase a portable heating and air system. You can buy a system that acts as a dehumidifier as well. The size you will need will depend on the square footage of your garage.
Lastly, you can purchase a dehumidifier and window unit. Using these machines is helpful, but not the most preferred. You will need to keep a close eye on your temperature and humidity levels, adjusting them as needed.
Also, remember to store your vinyl out of direct sunlight. If your garage has windows, you might want to invest in room-darkening blinds or shades.
Can I Save Damaged Records?
Improper storage of vinyl records can cause damage, but it can, in some circumstances, be reversed. The process of restoration will take a lot of patience and meticulous care.
Warped records are the biggest problem facing vinyl collectors. There are a few avenues you can take to repair this issue:
You can place that large coffee table book you never look at on top of your record. This avenue is not a quick fix as it could take months to see a result.
You could go Rachael Ray and place a vinyl sandwich in the oven. Place your vinyl record between two panes of glass and place in the oven. Use your oven's lowest temperature setting and leave in for about 30 minutes. Let your record cool and check results.
If you want to spend some money, you can purchase a machine that will flatten your records using a combination of our first two choices. They are hard to find and cost in the thousands.
Of course, prevention is the best avenue in this situation. While you can potentially repair damaged vinyl records, it is a lot better to properly care for your records so that they don't get damaged in the first place.
Once records are irreparably damaged, you have no choice but to get rid of them. Or repurpose them as art or something else. Because getting rid of them is not always easy. You should not throw them in the trash and you can't recycle vinyl records either.
Best Places To Store Records
Properly storing vinyl records will ensure you a lifetime of good vibes dancing through your home. To keep your records sounding their best, you should store them in a clean, dry place. Proper storage is either inside your home or in an alternative climate-controlled space.
Record lovers that like to show off their collections can purchase media centers to put in their homes. There are retro, contemporary, and modern styles to choose from.
A media center will give you a place to put your player and store records in the proper position: standing vertically. (Warning: your guests may become envious). They allow you to choose how to organize vinyl records. You can do it in any way you like. Stands for your record player also generally have space for your vinyl collection, thought he space is usually limited.
If your home will not hold your collection, purchasing a climate-controlled storage unit is a good option. But, if you've got nowhere else to go than your garage, try going for ductless mini-splits or a portable AC system to keep your records at the right temperature.
Garage Storage For Vinyl Records: Final Thoughts
You can certainly store vinyl records in your garage, but it is usually a bad idea. The environment is just too variable and harmful to vinyl. However, if you have a climate controlled garage, then it ends up being like the indoors of your home. In that case, it would be safer to store your vinyl there.