If you want to listen to vinyl record using headphones, you need a pair that can faithfully reproduce a large frequency range.
That generally means paying a higher price. But not always.
While the Koss Porta Pro on-ear headphones are far from perfect, they deliver shockingly good sound quality, despite a budget price.
Koss Porta Pro On Ear Headphones
Pros:
Excellent sound quality

Foldable

Very low price

Comfort zone feature allows you to adjust tension

Lightweight

Comfortable
Cons:
Flimsy design

Will leak sound at a higher volume
View On Amazon
We earn a commission if you make a purchase, at no additional cost to you.
12/04/2023 06:41 am GMT
In order to keep costs down, the designers made sacrifices in construction and appearance, but not in the quality of sound or comfort.
If you're on a strict budget and don't mind a slightly flimsy and fairly ugly set of headphones, this may very well be the pair for you. Read the rest of this review to find out.
Koss Porta Pro Review: Overview And Features
Are these really the best headphones for vinyl? Only for those on a tight budget.
They are classic looking headphones that offer a rich sound. But the competition is steep, and this basic pair is often overshadowed by flashier models loaded with modern features.
But there is a reason this pair has been around for years. The manufacturer has done something right and produced headphones that have managed to stand the test of time.
Listening to your record player with headphones is not simply a matter of picking up any old pair and plugging them in. Many simply aren't loud enough or they otherwise negatively impact the sound quality.
The whole point of listening to your favorite music on vinyl is to enjoy that unique vinyl sound. But if you use headphones that are limited in terms of range and that deliver a flat sound, then you may as well just listen to MP3s.
This usually means spending more money on a better set of headphones, but there are a few deep budget models that still do a pretty good job of transmitting that warm vinyl tone. The Porta Pro from Koss is one of those.
Koss has been producing headphones for decades and they are one of the biggest manufacturers in the industry, thanks to their affordable models that offer excellent sound quality and adjustable designs.
Their versatile sound allows you to use these headphones for a wide range of genres, which is just one of the many reasons Koss products are such hot sellers among audiophiles. Any album sounds good on these headphones.
The Porta Pro headphones are made out of a durable plastic, equipped with small, yet thick foam pads that are bridged by an extendable, thin metal band.
They aren't the best quality materials, but they do keep the cost down, so it should come as no surprise that these headphones sell for a very low price. The materials used also keep the weight down, which makes them more comfortable during prolonged use.
Key Features
Highly adjustable
Comfortable
Includes switch that allows you to adjust headphone tension
Foldable
Low price
Excellent sound quality
Design
The Koss Porta Pro headphones have a vintage look. That means some will love it, while others will be disappointed with the design and consider it somewhat dated.
But if sound quality is more important to you than aesthetics, then the outdated design won't matter much. If you're looking for headphones that are durable, perfect for listening to your vinyl collection on your favorite vintage record player, then these no-frills headphones are a great choice.
These headphones are highly adjustable, comfortable to wear and feature an on-ear design with just the right amount of tightness. The dynamic elements combined with oxygen-free copper voice coils deliver excellent sound quality for the price, not to mention an impressively wide frequency response.
Adjustability
In most cases, headphones in this price range don't offer much in terms of adjustability. But this pair will surprise you. These headphones were designed with user comfort in mind.
On the side of the headphones you'll find a small switch that allows you to choose between several different fit options, including firm and light. The firmness switch prevents the headphones from feeling too tight, which can cause tension headaches and general discomfort.
The band is easy to adjust and will remain in place during use. But it's made out of a thin metal, so it does feel flimsy. You may want to invest in a carrying case to protect the headphones during transport, if you plan on traveling with them.
Foldable
If you do plan on taking your headphones with you when you're heading to the office or off to visit family or friends, you need a pair that's highly portable and easy to transport.
The Koss Porta Pro can easily and safely be transported in a purse, backpack or messenger bag, thanks to the foldable design. This model folds at the hinges, so you can collapse them and stuff them in your bag and they won't get bent or damaged when you're on the go.
That said, considering the lightweight materials used, we recommend using a hard carrying case or placing the headphones in a small compartment in your bag, to prevent them from getting jostled around and dinged up or when you're out and about.
Connectivity
At the end of the cord you'll find a forty-five-degree 3.5 millimeter connector, which is the standard for most headphones.
Sound
Belying their low-cost materials and old school look, these headphones offer surprisingly good sound quality.
The lows are impressively strong for a pair of on-ear headphones. The instruments and vocals in the mids don't sound as widely spaced as we'd like, considering this pair is semi-open.
But the sound does come through crystal clear. The highs are also more pulled back than most would consider ideal, but this does result in a warmer sound and a higher level of detail than you'd expect from headphones in this price range.
The bass response is also excellent, so you won't experience any distortion, even when you have the tunes cranked all the way up. If you regularly listen to bass-heavy tracks, you'll appreciate how these headphones handle the music.
They don't come equipped with a bass boost feature, however, so you can't compare this type of bass response to what you would get from a higher priced pair with the popular bass boost feature.
Because they are older, they were designed way before sound isolating studio-quality headphones existed. This means that they don't possess the same type of technology that many modern models do and they are not able to block out any ambient noise
This can be a big drawback for some users, especially those who often listen to music in a noisy environment. They're also prone to leaking sound, but this should not come as a surprise, considering the open-ear design.
Frequency Range
With a frequency range of 1500 to 2500 Hz, the Koss Porta Pro really surprised us in terms of how well it performed, whether listening to hip hop, country, metal, or some R&B. Many people enjoy various genres, so this type of versatility comes in handy.
Considering the price, this model will blow you away when it comes to the ability to maintain excellent sound quality at a higher volume. They can handle a wide variety of genres at a high volume, without a dip in sound quality.
But how is this possible, especially for headphones in this price range?
Koss had a goal of creating affordable headphones that can easily beat out higher priced competing models in terms of sound And that is exactly why they've done.
It's the main reason these headphones have remained one of their best-selling pairs for decades and why they are here to stay. It's also why we consider them the top budget headphones for vinyl available today.
Comfort
Initially, you'll notice the old school design that's reminiscent of the 1980s. That's because these headphones came out in 1984 and the manufacturer hasn't done much to alter their appearance or design.
Since these headphones have always scored big for their comfortable design and optimal sound quality, the manufacturer decided to keep them mostly as is.
As mentioned, these headphones rated well in terms of adjustability, but even apart from that, they're incredibly comfortable.
The temporal pads are designed to relieve any pressure placed on the ears. The lightweight design and open-air cushions allow you to sit back and relax as you take in the sounds of your favorite records.
A comfort zone feature with a few mechanical setting choices allow you to adjust the earpiece tension to your liking. The pads themselves feature an innovative design that prevents the headphones from slipping during use.
Unfortunately, there's no way you can lock the headphones in place and the sliders on the headband tend to get caught in your hair when you adjust them or remove them.
Pros
Excellent sound quality
Foldable
Low price
Comfort zone feature allows you to adjust tension
Lightweight
Comfortable
Cons
Flimsy design
Will leak sound at a higher volume
Koss Porta Pro Vs Audio-Technica ATH-M40x
The Audio Technica ATH-M40x also offers a highly adjustable design that includes ninety-degree swiveling ear cups, allowing you to use them for both casual listening and DJing. The ear cups are designed to contour to the shape of your ears, for ultimate comfort.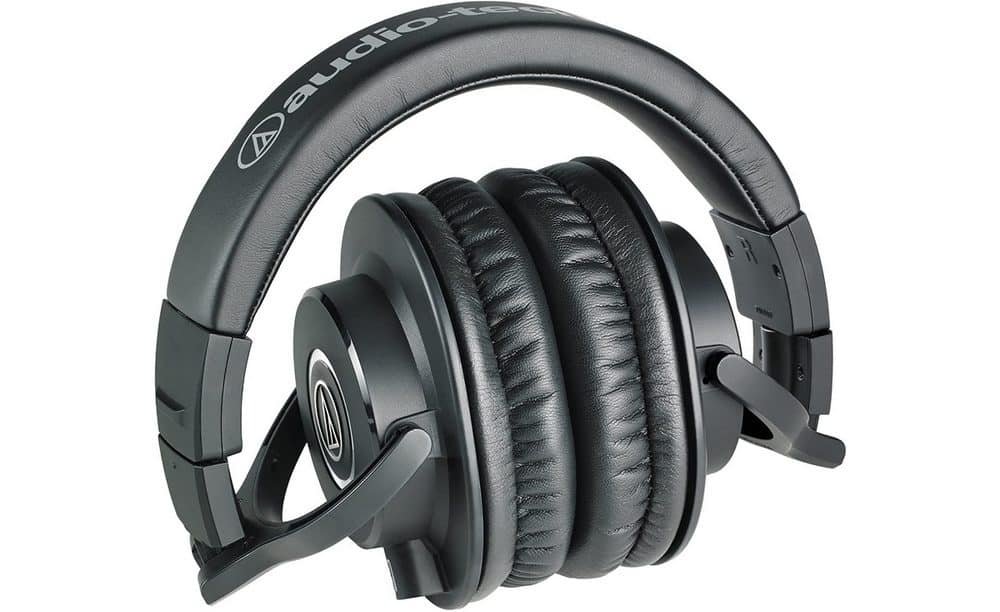 Overall, the Audio Technica headphones are more durable, they sound better and they are more versatile. They also cost twice as much, so they should be better.
In fact, we consider them the best value on the market. If you can afford them, get the ATH-M40x, for a pro sound, durability, and an open back design that makes them perfect for DJ use. You can learn more about them in our full Audio Technica ATH-M40x review.
If they are not within your budget, the Koss headphones make a great alternative that's more than enough for casual music listening.
Koss Porta Pro Review: Conclusion And Rating
The Koss Porta Pro headphones may feature a basic design that doesn't come with many frills or extras, but they are perfect for the classic listener who doesn't need a high-tech pair.
The Koss Porta Pro headphones feature the same classic design that they have for decades. While they aren't exactly perfect, they do offer better than average sound quality, a lightweight, portable design, and the type of adjustability you want
There's a reason these headphones have been one of the top-rated models in the manufacturer's lineup for years. They deliver a surprising amount of quality for a very low price. That is why they score a Top Record Players rating of 3.5 out of 5.