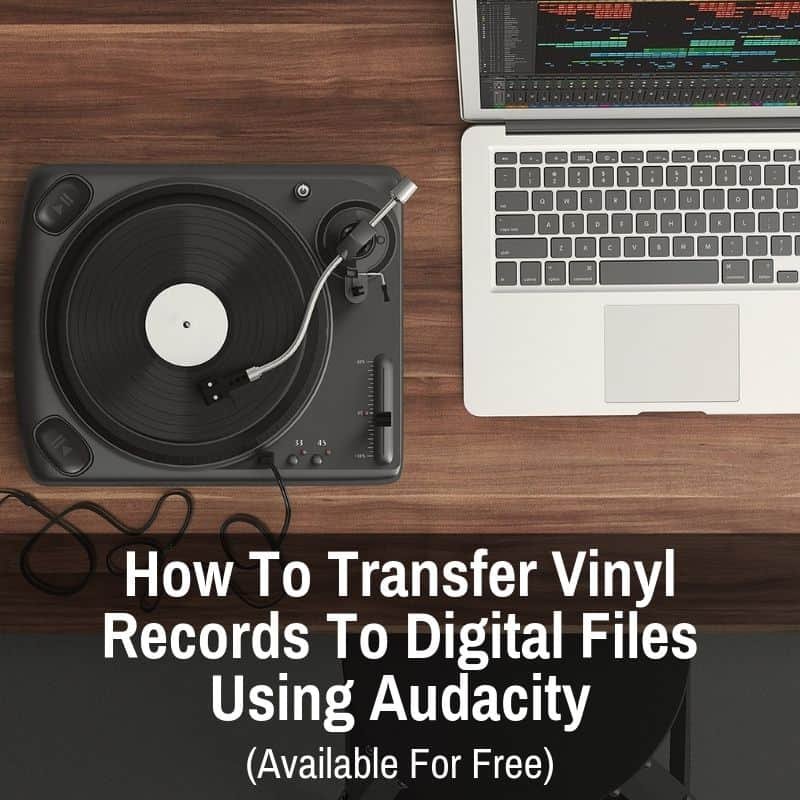 We love listening to our vinyl collection, but what do we do when we're not at home?
Or much, much worse, what if our precious vinyl records start to deteriorate?
Of course, storing them properly and taking good care of them can help ensure they last a long time, but just in case, wouldn't it be nice to have a backup?
Well, with today's digital technology, that is easily accomplished.
Many record players even come bundled with software that makes it easy to digitize your vinyl records, but for those of us who do not have access to such software, there is a great alternative.
A software program called Audacity allows us to quickly and easily record our vinyl records to our computers.
Best of all: it's completely free!
Not only does it work great to digitize your albums, it is also excellent for sampling, when combined with a good record player for taking samples.
You can download it on the Audacity website and then watch the following video, which takes you through the entire process of digitizing a vinyl record with Audacity.
Transcript for "Use Audacity To Digitize Your Records" Video
00:00 – Most record players come with the USB attachment that allows you to connect to a computer, so that you can copy all of your music over onto a PC or Mac.
00:06 – But that means that you can have one big audio file, so you need to split it down into separate tracks.
00:10 – Now using a free piece of software called Audacity, we can show you how to copy all that music over and separate things down into individual tracks.
00:21 – First off, you just need to download and install audacity.
00:27 – Once you've connected your record player, just go to your control panel and select Hardware And Sound.
00:34 – And then select Sound and then hit Recording at the top there.
00:37 – So you're going to need to locate your record player, so you'll see something probably called USB Audio Codec.
00:43 – So rename that to the name of your record player.
00:47 – Ok, so now go to Advanced and then the top four options—you need to look at the drop-down menu—select 2 Channel 16-Bit Audio and then whatever quality you want and just make sure the two boxes below it are both ticked.
00:58 – Last thing you need to do is go back to Playback and then select whether you want the audio to come out of your speakers or your headphones.
01:08 – There's a bit of configuration to be done in Audacity as well, so let's load the program up and then click Edit then Preferences.
01:15 – So from here just select Devices and you want to see one that says Mme: make sure that's selected and you should be able to see your record player that you renamed earlier—you want to click that.
01:26 – Finally just select 2 Channel Audio from the bottom menu, then on the left hand side just hit Recording and make sure that you've got Software Playthrough ticked.
01:38 – Now you're ready to start recording, so you've played your record, now you want to hit with the Record button on audacity.
01:44 – So once you start recording, if you see that the levels are going into the red, there's a small slider just below and if you turn that down until those levels are in the green and then you'll get a better sound when you're listening to it later.
02:00 – When you need to turn the vinyl over, just hit pause at the top there and then turn your record round and just press Record again and it will continue where you left off.
02:09 – When the recording is all finished, just save it.
02:11 – Now select File and Save Project As and just call it whatever your album is.
02:18 – So now you have a copy of your vinyl, it's time to start editing it, so open the file up and you see a nice long file and then you need to separate it into separate tracks.
02:26 – So, you need to hit the Skip Back button at the top and that means that you'll be right at the start of your album.
02:33 – Now click Track from the top menu and then Add Label At Selection and then just name that whatever the name of the track is.
02:40 – And then just drag along until you get to the next track and do the same process again.
02:45 – If you can't see a break in the track then just click along to where you think it might be and press Play at the top and you'll be able to hear just to confirm whether that's the end, and you know exactly where to put your cursor.
02:56 – If at any point you think the gap is too long there might be an issue when you flipped your record over.
03:00 – You can just delete the silence; that's really easy to do.
03:03 – Just use your cursor to drag and select what you want to remove and then just hit delete on your keyboard.
03:08 – Once all your tracks are labeled select File from the top bar and then Export Multiple and select the folder that you want to save your tracks to, followed by format.
03:18 – Windows users should stick with WAV 16-Bit and Mac users with AIFF 16-Bit and now just hit export and then you see this pop up come up and then you can add all the extra details that you want, so the name of the album, the artist, the year it was released.
03:32 – Once you're satisfied, then just click OK on all of your tracks and Audacity will start exporting them.
03:37 – Once all the songs are exported, you just need to find the folder on your hard drive and they'll all be in there ready to play and you copy those onto your smartphone or MP3 player for you to enjoy on the go. This works, no matter how much music your vinyl record holds.
Using Audacity To Transfer Vinyl To Digital: Final Thoughts
After watching the video and reading the instructions in the transcript, you should have no problem transferring your vinyl records to the digital format. You can also copy your vinyls to CD this way, by simply burning the digital audio files onto a CD. Whatever you do with them, having digitized copies of your albums means they will be preserved for all eternity!