Buying your first record player can be intimidating.
There are so many different models with so many different features.
What features do you need? Which ones are useless?
Salespeople can help, but can you trust them to have your best interests in mind, and not theirs?
What you need is a complete turntable buyer's guide.
And that's exactly what you've found! Keep reading for all the help you need in buying your first turntable.
Turntable Buyer's Guide
This guide will help you figure out what features are important to you, so you can narrow down your options to only the ones that have exactly what you need. Then you can check out my rundown of the best turntables for your money.
The 3 Different Types Of Turntables
The first aspect to understand before buying your first record player is the differences between the three main types of turntables: manual, automatic, and semi-automatic.
Manual Turntables
Manual turntables require you to manually place the tonearm on the record at the beginning of playback, and lift it off when it has finished. Manual turntables also require you to adjust the platter speed and anti-skate by hand.
While they are generally considered to offer the best sound quality, manual turntables can be a tad more tricky to set up and use than automatic turntables.
Automatic Turntables
Automatic turntables are, as the name implies, the easiest to use. With an automatic turntable, the tonearm is mechanically moved to the start of the record, and it also lifts it off at the end of playback on its own accord. They often have a button to stop play, too, eliminating the need to know how to stop a record player.
Automatic turntables also automatically adjust the platter speed, making setup easier. But they usually do not offer the same level of sound quality as manual turntables.
Semi-Automatic Turntables
Semi-automatic turntables offer a compromise between the two aforementioned categories. They automatically move the tonearm to the record and lift it off at the end of playback, but you still need to manually adjust the platter speed and anti-skate settings.
Semi-automatic turntables are a good option if you want the convenience of an automatic turntable without sacrificing too much sound quality.
Key Turntable Features To Consider
Once you have decided which of the three broad categories of turntables best suits your needs, it's time to hone in on the features and see which ones are most important when it comes to selecting your first record player.
Drive Type
The drive is the mechanism that powers the platter. There are three main types of drive systems to consider: belt-driven, direct-driven, and gear-driven.
Belt-Driven Turntables
Belt-driven record players are the most common type. They use a rubber belt to transfer power from the motor to the platter.
Belt-driven turntables are generally considered to offer the best sound quality, since they produce less vibration than other drive types. However, they can be more delicate and require regular maintenance.
Direct-Driven Turntables
Direct-driven record players use a motor that is directly connected to the platter. This makes them very durable and capable of starting and stopping quickly.
Direct-driven turntables are a good choice for DJs, but they can produce more vibrations than belt-driven turntables, which can affect the overall sound quality.
Gear-Driven Turntables
Gear-driven record players use a series of gears to transfer power from the motor to the platter. Gear-driven turntables are less common than belt-driven and direct-driven turntables. They offer a compromise between the two in terms of sound quality, durability, and the size of the price tag.
Platter Speed
Different records play at different speeds, with most records requiring either 33 1/3 rpm (revolutions per minute) or 45 rpm. 7-inch singles tend to require playback at 45 rpm, while LPs usually operate at 33 1/3 rpm.
If you have an older record collection, you may also have some records that are played back at 78 rpm. It's important to know what records you have in your collection, or which type you will most likely be buying, and choose a record player that will allow you to enjoy them all by adjusting the speed as needed.
Tonearm
The tonearm is the part of the turntable that holds the cartridge and stylus. It is important to choose a tonearm that is compatible with the type of cartridge you plan to use.
Tonearms are typically made of either aluminum or carbon fiber. Aluminum tonearms are more affordable, but the weaker material can be more susceptible to resonance.
Carbon fiber tonearms are more expensive, but they are also more rigid, less susceptible to resonance, and offer better sound quality.
Preamplifier
Some turntables have a built-in preamplifier, while others require an external preamplifier. A preamplifier is necessary to boost the signal from the cartridge to a level that can be played through your speakers or headphones.
If the turntable you are eyeing up does not come with a built-in preamplifier, you will need to purchase an external preamplifier separately, which may push the overall cost a little higher than you were expecting. Read internal vs external preamp for more.
Cartridge
The cartridge is arguably the most important part of a turntable system, because it is responsible for converting the physical vibrations of the record grooves into electrical signals.
There are two main types of cartridges – moving magnet (MM) and moving coil (MC) – and a few additional factors to bear in mind:
MM Cartridges
MM cartridges are the most common type of cartridge and are generally a little cheaper than MC cartridges. They use a small magnet to generate the electrical signal and are generally easy to install and use. They have a good output level, however, the sound quality is not quite as good as with MC cartridges.
MC Cartridges
MC cartridges are generally more expensive than MM cartridges and are a little less common. They use a moving coil of wire to generate the electrical signal and can be more tricky to setup and use, because they require a higher gain preamplifier. However, they offer superior sound quality to MM cartridges, with cleaner resolution and dynamics.
Other Cartridge Factors To Consider
There are two other factors you should consider when it comes to the cartridge. They are the stylus and the tracking force.
Stylus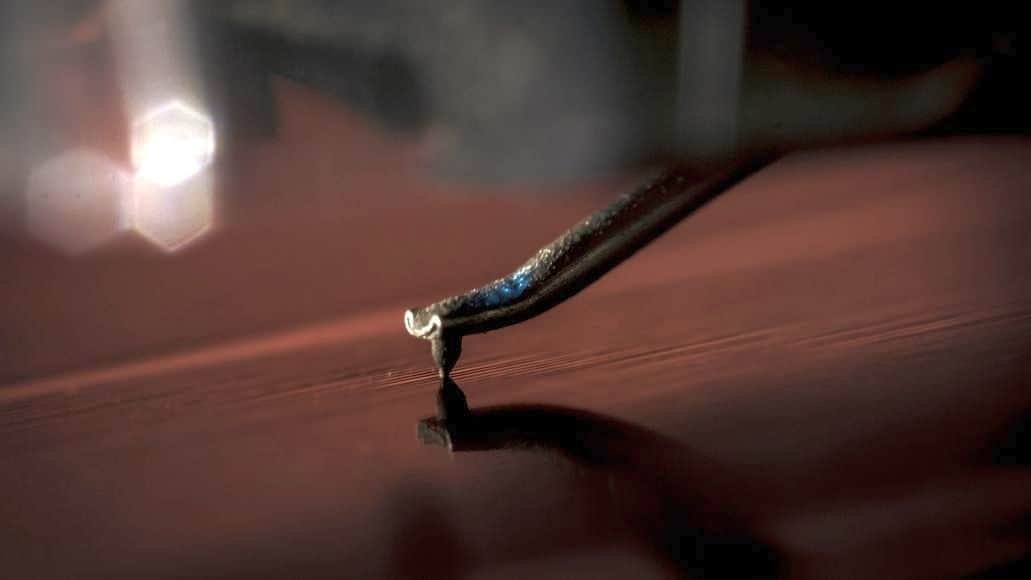 The stylus is the part of the cartridge that makes contact with the record groove. They are made of diamonds or other gemstones and come in a variety of shapes, including conical, elliptical, and line contact.
The shape of the stylus affects the sound quality, with the line contact style offering the best performance. My article on the different types of stylii has more.
Tracking Force
The tracking force is the amount of pressure that the stylus applies to the record groove. Too much tracking force can damage the record, causing excessive wear, while too little tracking force can cause distortion.
Other Features
While the features above are the main ones that will have an effect on the overall sound quality of your first record player, there are a few more features that you may want to consider before committing to buy.
Bluetooth Connectivity: A record player with Bluetooth connectivity allows you to connect to speakers without the need for running wires. Be aware that many "Bluetooth" players on send and do not receive. this means you can play music from a smartphone, but not send music to Bluetooth speakers.
USB Output: If you want to make digital copies of your records, you should also look for one that allows you to connect it to your laptop via a USB port.
Built-In Speakers: Buying a record player with built-in speakers means that you do not also need to splash out on a pair of external speakers. That said, the internal speakers are never very good.
Record Player Buying Guide: Final Thoughts
Hopefully this turntable buyer's guide has helped you narrow down what kind of record layer you want. If not, my guide on choosing a record player may also help.
Armed with the knowledge from these two posts, you should then be able to select a turntable that will work for you. My recommendations for the best affordable turntables are good starting points. See if any of those models fit your needs.