The Byron Statics Briefcase Turntable With Built-In Speakers has one big selling point.
An incredibly low price.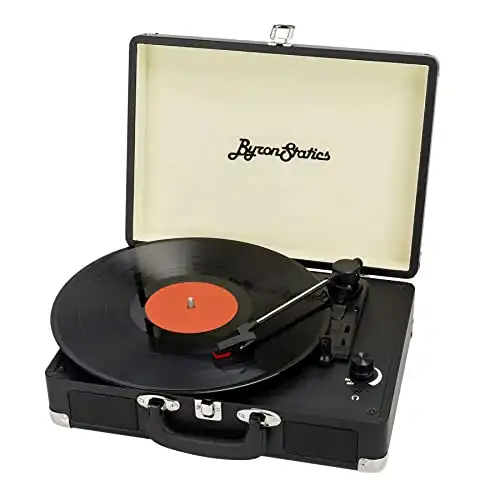 ByronStatics Suitcase Record Player
Pros:
Lightweight design

Ultimate portability

Low price

Beginner-friendly

Upgradable components

Beautiful faux leather case
Cons:
Tonearm is not adjustable

Bass output is poor

Average cartridge

Low volume from built-in speakers
View On Amazon
We earn a commission if you make a purchase, at no additional cost to you.
03/22/2023 07:34 pm GMT
Naturally, that means sacrifices had to be made, in order to keep the cost low.
Sound quality was impacted the most, but to be honest, no suitcase style record player has great sound quality. It just isn't possible.
That's why most of them allow you to hook up external speakers, so that you can enjoy much better sound than the internal speakers provide.
This unit has that capability as well. How does it stack up against the best portable record players in other areas?
We already know it's the lowest priced unit. What else does it have going for it? And where does it lag behind?
Let's find out.
Byron Statics Portable Record Player Review: Overview And Features
We all remember those classic suitcase record players. Their biggest selling point was their portable design and that is true for this model as well.
It is made by Byron Statics, who are known for producing low-cost record players with few frills. They play records and do it well, all for a very low price, but they obviously can't match top models.
Their latest model offers a new take on the classic suitcase turntable design. It is the briefcase turntable. This newer, sleeker style is class all the way. It as light as a laptop and has a modern look that allows it to blend in well at the workplace or at home.
Main Features
Lightweight design
Three speed options
Built-in speakers
Highly portable
Beautiful faux leather case
Low price
Speeds
If you know how record players work, then the fact that this model comes with three speed options shouldn't surprise you. The three speed settings are 33, 45, and 78 RPM. This means the sound will be pitched correctly for any common vinyl size.
Keep in mind that you'll need to purchase a special needle if you want to play 78s, specifically this special stylus. It is much bigger than the two that come with the Byron Statics player.
This is because 78s have much wider grooves than 45s and 33s. Using the included styluses could potentially damage your records, since they're too small for the 78's grooves.
Speakers
The two front-facing speakers provide a decent sound, despite their smaller size. But any model that comes with built-in speakers is not going to offer the same type of sound quality that you'll get from external speakers.
In terms of bass, the sound is very weak. But considering the turntable's design, this is to be expected. If these speakers were heavier on the bass, the vibration would cause the tonearm to bounce around, resulting in a ruined listening experience. It could also cause serious damage to your vinyl.
However, for acoustics and other styles of music, the sound quality is about what you would expect. It's nothing to brag about, and the volume is seriously lacking, but if you're looking for a highly portable and extremely low-priced turntable, then sound quality and volume are a necessary sacrifice.
And the good news is: you can attach more powerful external speakers via the RCA jacks. We always recommend one of these best floor speakers for vinyl.
Do you need speakers for a record player that comes with internal speakers? Of course not. But if you want the best possible sound quality from your record player, you do. Built-in speakers are never great. There simply is not enough space available for great speakers inside the turntable body.
Controls
Adjust the volume via a knob located next to the platter. This knob will also switch the turntable on and off.
Design
I have to hand it to the manufacturer. The idea of creating a briefcase turntable is pretty brilliant. It's not as bulky as a standard suitcase turntable and the rather modern design allows it to blend in well with every type of environment, including the office.
The wooden case is done up in a matte black finish and can easily handle life on the road or even air travel.
The turntable is mounted on springs in the housing. These springs actually do a great job of reducing vibrations. As a static turntable, vibrations resonate through the body and can impact the stylus, causing it to skip and negatively impact sound quality. The addition of the springs counters that.
Stylus
This model is equipped with a couple of styluses that are good quality. Considering the turntable's lower price I was expecting a cheap stylus that was equipped with a plastic cantilever.
However, these needles have metal cantilevers. The needle's design consists of a sapphire attached to a thin arm at one end. As the needle moves through the grooves of the vinyl it vibrates to produce sound. The cantilever transmits the sound. Metal cantilevers are known to produce much better sound quality than plastic ones.
Outputs and Inputs
This model comes equipped with a 3.5 millimeter jack and an RCA jack. The RCA jack allows you to connect an external device such as speakers or a receiver, while the 3.5 mm jack allows you to connect your smartphone or other device to play music from it.
Cartridge
This player comes equipped with a standard Chuo Denshi CZ800 ceramic cartridge that rates at two to four grams. It doesn't offer the type of stellar performance some buyers will be looking for, but as a stock cartridge, it performs about how you would expect it to.
It doesn't offer the best sound, but it's the type of cartridge you'll find on dozens of newer turntables. It is known for a bit of a muffled sound and a low bass quality.
If you're serious about sound quality, you'll want to upgrade this component or go with a different model. Both options cost more.
Also keep in mind that changing the cartridge means that you will have to rebalance the tonearm by finding a way to add or subtract from the counterweight. This could be a problem, because the tonearm is not adjustable (see next).
Tonearm
Tonearms are one of the most common upgrades audiophiles make, along with the cartridge. The wrong tonearm can cause damage to vinyl by applying too much pressure. An adjustable tonearm will allow you to tweak the level of pressure used in order to prevent this.
This tonearm tracks at five and a half grams which means that the needle is placing approximately five and a half grams of pressure on the vinyl as it spins. Considering that the needle has a very fine point, this is quite a bit of force that's concentrated on one area.
Unfortunately, this tonearm picks up the rumble of the motor and has a crackling sound that doesn't do much for the sound quality. Since it lacks any type of adjustability, there's really no way you can make this tonearm track any lighter. Fortunately, this component is also upgradable.
Maintenance
Unlike larger record players, this model won't require much in terms of upkeep. However, it's still important to inspect your turntable regularly, especially if you notice a change in sound quality.
Since this model is housed in a case, you won't have to worry as much about dust, dirt, and other contaminants collecting on the platter and other components. However, you should still dust all of the surfaces once a week.
If you're a beginner, you may initially struggle to use your record player due to the fear of bending the stylus. This is a common issue among beginners and with good reason: it can happen. Fortunately, replacing the needle is pretty cheap.
Inspecting the needle and ensuring it's not bent is also important. In the beginning, you should inspect it prior to each use. Once you get the hang of your new turntable, inspect it weekly. Playing records with a bent stylus can cause damage to the vinyl.
Keep in mind, to minimize contact with dirt and other contaminants, your vinyl should also be cleaned weekly. Dirty vinyl is one of the leading causes of that crackle sound most people associate with vinyl use.
Overall, this is a fairly easy model to care for, especially if you keep the case closed after use and inspect the components weekly.
Byron Static Turntable Vs. Wockoder Portable Bluetooth Turntable
I'm making this comparison, because both are portable turntables, housed in a suitcase-style case complete with a handle, for ultimate portability. They also both made it onto my list of the best record players with speakers.
The Wockoder portable Bluetooth turntable features a bulkier design, but still weighs in at just a little over seven pounds.
It comes with an SD card slot and a USB port. The SD card slot allows you to upload your vinyl music collection to your PC, so you can listen to it wherever you go, while the USB port allows you to connect external devices such as a smartphone or an MP3 player.
The Byron Static has an arguably sleeker design and weighs just under five and a half pounds. It also has a more low-key look to it, whereas the Wockoder model is obviously a portable turntable.
In terms of sound quality, the Wockoder model wins easily. Price-wise it loses, costing nearly twice as much as this briefcase player from Byron Statics.
And that's what it comes down to in the end.
If you just want to play records and spend as little as possible to do it, this record player from Byron Statics is the one for you. If you want a much better sound quality and don't mind paying more for it, get the Wockoder suitcase player.
If you can't decide, there is a third option that lies in between. The Digitnow suitcase player costs slightly more than the Byron Statics, but it also gives you a better sound quality. That said, it is not as good as the Wockoder and costs less than that one too.
Byron Statics Portable Briefcase Turntable Review: Conclusion and Rating
The Byron Statics Vintage Suitcase Record Player doesn't offer the same type of killer sound that you'll get from a large permanent setup. But that's an issue you'll run into with any type of portable turntable.
This model is perfect if you want to pay very little to play your vinyl in your office, bring your vinyl collection with you on vacation or on the road, or you're simply looking for a compact model that you can easily store when not in use.
While it may not offer the biggest sound, it's a good buy for the price, though I would pay more for either the 1byone or the Wockoder models mentioned above. Overall, I give it a Top Record Players rating of 3.5 out of 5.