It's always scary.
Sending anything valuable by mail makes me nervous. Especially when it is something as delicate as a turntable.
By now, we've all seen the videos of mail sorters, mail carriers, delivery drivers, etc. mishandling packages.
They make little money, work exhausting hours under a lot of pressure and simply do not care about your package.
But if you want to send something, what other option do you have?
None. That is why you need to ensure you package everything up correctly. If you do that, you can ship your record player without any fear of damage.
How To Ship A Turntable
There are two great packing methods we recommend, which we'll get to below. We prefer the cheaper and easier one, because it is still plenty secure.
Whichever you choose, you will need to buy some supplies, if you don't have them on hand already. And if you want to ship vinyl record with your turntable, it is best to mail them separately and read our article covering how to ship a vinyl record.
If you decide to transport your vinyl records yourself, instead of sending them in the mail, we also have an article detailing how to travel with vinyl records.
Materials You Will Need
You are going to need so accept that it will cost some money to safely ship your turntable.
Do not cut corners or skimp on the shipping supplies, just to save a buck. If you get the urge to skimp, just think of your expensive turntable being tossed around by some FedEx guys!
Money
It can cost between 25 and 40 bucks to safely ship a turntable, depending on how you decide to ship it.
Time
Depending on your method (covered later) it takes between 20 and 50 minutes to pack correctly.
Cardboard Boxes
You are going to need high quality cardboard boxes. Two of them: one for the inner box and one for the outer box. I recommend double wall boxes.
Some may say this is overkill, but better to err on the safer side that to end up with a broken turntable.
Before you get your boxes, measure your turntable and buy one box that is 2.5 to 3 inches bigger than the record player on all sides. This box will be the inner box.
The second box should be just barely bigger than the first box. If you cannot get one that is just barely bigger, you can buy one that is up to 2 inches larger on one side (but only on one, not on two or three sides) and have them cut it to size. Or you can cut it to size yourself.
Shrink Wrap
You can get a roll of shrink wrap at Wal-Mart or Target for about five bucks. This stuff will be worth it, and after you use it to secure your turntable, you will find many great uses for it around the house.
Bubble Wrap
This is one of the key ingredients, and you need to make sure you get enough. You can get big rolls of this stuff at any local home store.
Make sure you get the big bubble kind: ¾" bubble it is called. Try to get the rolls that are perforated every 12 inches. This makes things much easier during the wrapping process.
Packing Tape
Don't get normal masking tape. Make sure you get the thick rolls of packing tape. It is a few bucks per roll and is usually 2 inches wide.
I like the 'duck' or 3M brand. Many of them come with a plastic holder that will also cut the tape.
Optional Styrofoam
This can really drive up the cost and is not 100% necessary. You can find Styrofoam in pack and ship specialty shops, but they tend to charge a lot for it.
You will have to do meticulous measuring before you order it. Of course, you could also just buy it uncut and do the cutting yourself, but this can be a messy process.
Is it worth all the trouble? Only you can decide.
Packing your deck in Styrofoam is probably the ultimate in safety. But I probably wouldn't do it myself, unless I was shipping a record player worth several thousand dollars.
Fragile Stickers
These can be about 5 bucks for a big roll, though you won't need more than 8 of them. But you might find other uses for these in the future. If not, many pack and ship places sell them individually too.
Two Packing Options
There are really two different methods to pack your record player for shipping. There is the Styrofoam custom size method or the bubble wrap double box method.
Foam Packing Method
The foam packing method can be expensive, if you get the pieces custom cut (this is the fastest and best way).
You can save some money and buy the foam uncut and then cut all the pieces by yourself, but it takes a long time and makes a huge mess.
The foam method, when done correctly, is almost perfect. But if you do the next method right, the foam method is not necessary.
Double Box Method
The double box bubble wrap method is my preferred option because it is easier, and I have lots of experience with it. It is also generally cheaper.
It involves securing the turntable, wrapping it in bubble wrap, and then boxing it up. Then you put that box inside a second box.
This method works great and does not take overly long either. This guide will focus on the double box bubble wrap method.
Packing Your Record Player For Safe Shipping
Step 1: Preparation of the Turntable
Before you do anything, you need to secure the turntable. Think about the box being tossed around by busy people who care nothing for your gear, and pack accordingly.
What I like to do is make sure the tone arm is clipped down. If yours has that option make sure you use the clip. If not, you can use the shrink wrap to wrap the tone arm to the body of the deck.
Dust Cover On Or Off?
Some people will tell you not to leave the dust cover on, but I find this to be a silly extra step. It drives up the cost of the shipping, and means you will need bigger boxes. Since shipping costs are based on weight and size, the bigger the box, the more you pay.
Shrink Wrap Time
Once the tone arm is secure make sure you wrap the entire turntable in shrink wrap, like a cocoon. The idea here is that nothing can move at all.
The dust cover should not move, the tone arm should not move, etc. The other reason I like to wrap the deck in shrink wrap is to keep the finish safe. Once you have secured it with shrink wrap, it is time for the bubble wrap fun.
Step 2: Wrapping in Bubble Wrap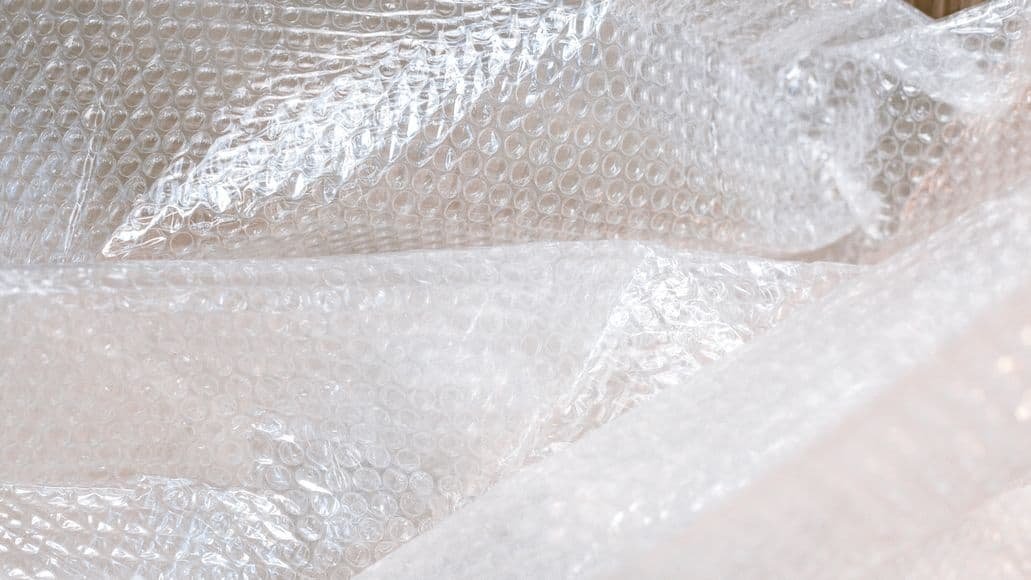 You want to make sure you have a full 3 layers of the ¾" bubble wrap on all sides of your deck. To wrap It the smart way, make sure you have a good 6 feet of open floor or table space.
Unroll your bubble wrap and set your turntable upright on the wrap. Tightly hold the bubble wrap to the deck and start rolling it end over end slowly until you have 3 layers of bubble wrap on it.
The edges may have excess bubble wrap hanging over, or they may be bare, depending on which bubble wrap you got and how big your turntable is.
Make sure you cover the edges with 3 layers of bubble wrap as well and use packing tape to secure the edge pieces to the main body. Now use packing tape to secure the bubble wrap cocoon so it cannot open.
Step 3: Box Preparation
Open the inner box and tape the bottom seam very well, with at least 3 rows of the 2″ packing tape. Also make sure you tape all the side seams and corners.
Once you have created the inner box you can place the turntable cocoon right in the box and it should fit perfectly. If there is any wiggle room inside, fill it with enough bubble wrap to ensure nothing can move, not even a little!
Step 4: Final Step
Now create the outer box in the same way you made the inner box. The inner box should slide right into the outer box with no wiggle room at all.
If there is any extra room between the boxes, you can fill it with some thick paper or other material. The thicker the better.
The idea of the outer box is to make a strong barrier between the record player and the outside world. Now take your fragile stickers and put them on each side of the box. Also draw big arrows pointing up to signify this side up!
How To Ship Your Turntable: Final Thoughts
One last bit of advice. DO NOT use the USPS to ship your turntable!
It will cost way more, and they are the most careless handlers of fragile packages. They also got used as a political tool, which has left them decimated and even less reliable than before.
FedEx is the best and UPS is second best, though it does depend on your local distribution center and drivers. There is some variance, but both FedEx and UPS much more careful than the USPS.
If you follow my advice and get 2 double wall boxes and pack your player the way I described, it will arrive safely. And if you have a portable turntable, it makes shipping a lot easier, since they are built to withstand more moving around.
No matter what, you should always buy insurance, in case a shipment gets lost or stolen, in addition to the risk of damage. Better to be safe!