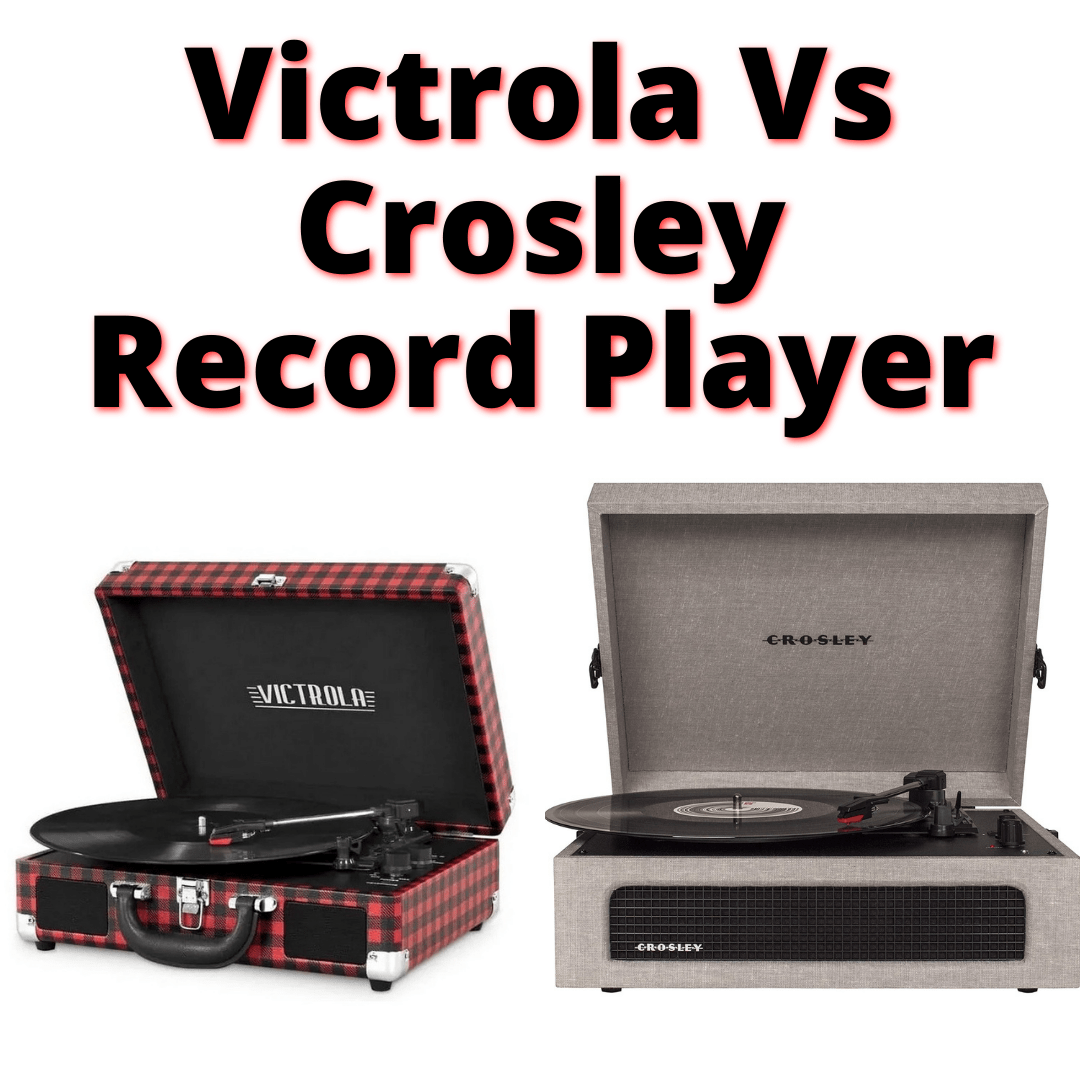 Victrola and Crosley are both entry-level brands.
They make low cost record players that work well, but they won't blow anyone away with their quality.
They don't sound amazing and they generally only have basic features.
But they're a good value.
So which brand is better?
To be honest: they're very close. In the end, deciding between a Victrola vs Crosley record player will come down to personal preference.
Get whichever has the features you want and looks more appealing to you in terms of design.
Keep reading for a detailed comparison of Crosley and Victrola turntables, to help you decide which one is better for you.
Victrola Vs Crosley Record Player
We'll begin by taking a quick look at each brand individually, before looking at the similarities and differences between each Victrola's and Crosley's top models.
Note that both brands certainly have better models than the ones we compare here. These are simply two of the most popular. But for something higher quality, take a look at the Crosley C200, for example.
Victrola Turntables
Victrola has an interesting history, starting in 1906 in New Jersey. They manufactured the iconic old crank style record players called gramophones.
They had the big horn looking thing on top that would amplify the sound of the needle. They have since revised their brand and are now one of the top makers of portable record players.
Victrola Turntable Overview
For our purposes today we are going to be looking at the Victrola 550BT-BK which is by far the most popular and best selling portable record player by any brand. It competes with other brands like Crosley and Jensen for entry level low budget turntable buyers.
Victrola VSC-550BT
Victrola VSC-550BT Suitcase Record Player
Pros:
Inexpensive

Great sound quality for the speaker size

Plays all common record speeds and sizes

RCA outputs for external speakers

Bluetooth capable

33 color options

Fully automatic cueing
Cons:
Flimsy tonearm

Cheap platter
View On Amazon
Our Review
We earn a commission if you make a purchase, at no additional cost to you.
12/04/2023 07:41 am GMT
This is a portable record player that comes in a sturdy suitcase style case. It comes in an outlandish amount of color options and has some useful and interesting features.
Features
3 speeds (33/45/78 RPM)
Sound isolation feet
Portable (even has suitcase handle)
Built in Bluetooth receiver
Line input for non-wireless devices
RCA outputs
Built in speakers
Like many competing products on the market, the Victrola is designed for entry level record player enthusiasts.
The features and design make it easy to interface with wireless or wired devices you already own. It allows you to use the built in speakers to amplify other sources on the go.
The price point is under sixty bucks, so it is affordable to just about anyone. Of course it is also cheaply made, as are all suitcase players. That's why we have an entire article on victrola suitcase record player troubleshooting for skipping issues.
Crosley Turntables
Crosley started out making radios back in the early 1900s and has become one of the most successful portable turntable manufacturers operating today. You can learn more about the company here.
They make a wide variety of portable turntables, but for the sake of our comparison here we are going to choose the direct competitor of the Victrola 550BT-BK which is the CR8017A Voyager.
Crosley CR8017A
Crosley CR8017A Voyager
Vintage-inspired, belt-driven 3-speed turntable; plays 33 1/3, 45, and 78 RPM records
Built-in Bluetooth receiver allows you to stream music wirelessly to the Voyager's stereo speakers
Easily plug the Voyager turntable into your existing stereo system with the RCA outputs
Adjustable pitch control
Auxiliary in; headphone jack for private listening
View On Amazon
We earn a commission if you make a purchase, at no additional cost to you.
12/04/2023 07:26 am GMT
This is a portable record player in a sleek black case that has many similar features to the Victrola. It is designed to be used with your existing setup with no need for external amplification or speakers. It is almost the exact same price as the Victrola 550BT.
Features
Portable
Headphone Jack
Aux input for wired devices
Pitch control
Bluetooth receiver
3 speeds (33/45/78)
Hard case with suitcase handle
RCA outputs
It will play your records on the go and allow you to use the internal speakers to amplify your Bluetooth devices like tablets or cell phones.
It will also let you plug in wired devices you have and amplify them without need for dedicated speakers. It will cost you under sixty bucks just like the Victrola. If you spend a bit more, you can get the Crosley CR6232A Nomad, which is a big update in terms of quality, but still a budget model.
Differences Between Victrola And Crosley Turntables
The first glaring difference is the sound isolation feet that the Victrola model provides. These are absent from the Crosley model. The Crosley does have little feet, but they are not specifically for sound isolation.
The other main difference is that the Victrola has a pitch control, and the Crosley does not. The Victrola, by adding the sound isolation feet, has really set itself apart from the competition. Whether or not it makes a big difference will be explored later.
Design And Look
The Victrola has a bit more of a sturdy look and feel than the Crosley. It has metal corner guards on the outside of the case, where the Crosley just has raw corners.
The Crosley case is a bit more luxurious, though. It has some padding, making it softer. The overall vibe is that it is less rigid and dense.
Sound
Both units get poor ratings for sound. This should not be a surprise when you consider the price. There is no real difference in the sound quality between the two units.
The Victrola does supply an extra stylus in case yours breaks. Let us be honest: a good stylus can cost over 200 bucks and having an extra included in a sub-60 dollar record player tells you all you need to know about the quality.
In fact, a cheap stylus is the main reason cheap record players don't sound great. It is also the reason some people think Crosley turntables ruin record. We strongly recommend upgrading the stylus on any budget player.
Similarities
Both units are designed similarly. They both have the hard case and all the extra features that entry level buyers will want.
They share many of the same features, such as:
3 Speeds
Built in speakers
Bluetooth capability
RCA outputs
Hard case with handle
Portable
Almost the exact same price
Either record player will give you the same result. You can use it for your other devices and take it with you anywhere. They will both play any record (of any speed) and they both sound about the same.
They also have the negatives in common: poor quality control and a higher failure rate than we would like. That means you may get a Crosley record player not turning on right out of the box. Or one that breaks down within a few years.
Make sure you buy from a source that allows returns. If you get a bad unit, simply return it and get a new one. It's a bit of a hassle, but that's the risk you take when you buy deep budget turntables that are manufactured in China.
Advantages Of The Victrola
The Victrola has the special sound isolation feet which will help with the vibrations that inevitably happen when you set it on a desk or any other surface. The company has been making turntables since 1906 so they know the design and technology very well.
The other perks with the Victrola are the hard case with the metal corner guards, and the extra stylus they provide as a backup in case yours breaks.
Overall, Victrola is a slightly better brand. They make a lot of vintage themed models, like the Navigator and a 50's Retro inspired turntable.
That said, both are budget brands and you can expect some issues, like your Victrola record player not powering on, at some point down the line.
Advantages Of The Crosley
The Crosley has a softer and more expensive look to it. The case is padded and when you open it, it has a tiny bit more of a classy look than the Victrola, although the parts on both are very clearly cheap plastic.
Some people said the speakers sounded better on the Crosley but honestly, nobody is buying these for the sound quality. For good sound, you'll want to hook them up to external speakers.
Who Should Get The Victrola (And Why)?
If you travel a lot and tend to be rough on the things you own, the Victrola may be better for you. The case is sturdier and made for a rougher journey.
The look of the Victrola is more like a road case you may see a DJ using when they are on tour, so if that look appeals to you, this unit is right up your alley.
Who Should Get The Crosley (And Why)?
The Crosley looks a little more impressive with the padded case and semi-gloss finish. The corners are softer and safer in case you smack yourself or a loved one with it when you are traveling.
The components appear to be a tiny bit higher quality, but that is just an aesthetic observation. There is no proof or data to back it up.
It just looks more expensive. If you like your things to look fancy the Crosley is more your style than the Victrola.
Victrola Record Player Vs Crosley: Final Thoughts
Victrola and Crosley are both budget brands that make turntables for beginners. As such, none of their models are going to deliver amazing sound quality. This makes them similar to Jensen. We compare Jensen and Crosley in another article.
If you are having trouble deciding between these brands, just go with the one you think looks nicest, or the one that has the more useful sounding features. Since they are all so similar, it usually comes down to the appearance in the end when deciding between a Victrola vs Crosley record player.