Headphones allow you to enjoy your favorite music without disturbing others (or being disturbed by them).
But they have one drawback.
They tether you to the source. Unless you get a pair of wireless headphones, like the Sony H900N.
Sony H900N Hi-Res Noise Cancelling Wireless Headphone
Pros:
Lightweight design

Durable

Highly portable

Wireless

Can be used with any type of turntable when it's plugged directly in via the cable

Long battery life
Cons:
Thin padding on headband

Small ear cups

Wireless mode may not be compatible with all types of turntables
View On Amazon
We earn a commission if you make a purchase, at no additional cost to you.
10/02/2023 06:51 am GMT
These headphones offer incredible sound quality and comfort and they even have an active noise cancellation feature. And they let you move around while listening to your favorite music.
Do they have any weaknesses?
Of course. One big one. The same one that all wireless headphones have.
Read the rest of this in-depth review to learn what that is and if these high-quality headphones are right for you.
Sony H900N Review: Overview And Features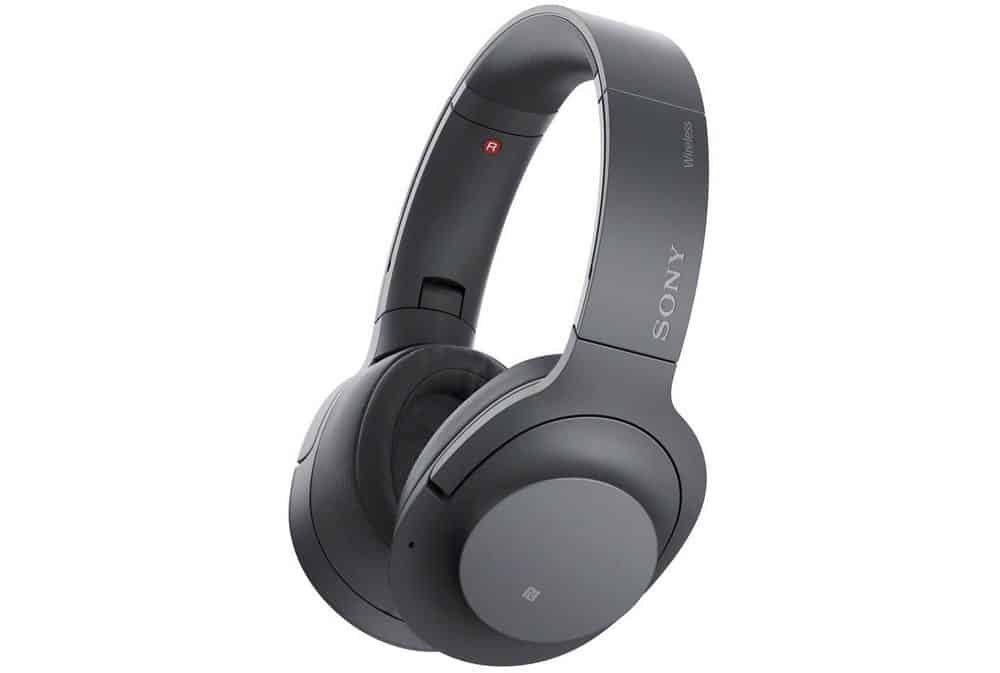 Everyone is familiar with Sony. They produce a large variety of high-quality, top-of-the-line tech devices, including some of the best headphones for vinyl. Their latest model, the H900N can even connect to turntables wirelessly, if the turntable has these capabilities.
If it doesn't, you can also just use the included cable and plug the headphones right in. That makes this an incredibly convenient pair of headphones.
They are also extremely well made, comfortable, and they have active noise canceling, so you can easily shut out the outside world and concentrate completely on your music. Especially if you are listening to any of these best headphone albums of all time.
Key Features
Lightweight
Wireless
Long battery life
Cable included
Excellent sound quality
Can handle bass-heavy tracks
Design
If you're tired of your outdated headphones that come with a cord that's too long or short, and basically leaves you chained to your record player while you listen to music, then you'll love this model's wireless design.
Now, you can listen to your vinyl while you clean the house, cook dinner, work in the garden, or hangout anywhere around the home, free from clumsy cables.
And if you have a vintage turntable that does not have wireless capability, you can use the included cable and plug directly into your record player's headphone jack.
Ear Cups
The ear cups are somewhat smaller than you'd normally find on headphones designed for adult use. The covers of the ear cups are made out of synthetic leather, which feels great, but can make the headphones uncomfortable to use in hotter weather.
Durability
Many models in this price range still have a somewhat thin, flimsy design that can make them susceptible to damage during transport, if you don't store them in a hard case. But this pair from Sony is different.
In terms of durability, you won't be disappointed. The H900N also has a foldable design that allows you to collapse the headphones for storage or when you're headed out of the house for the day. And even though these headphones are fairly bulky, they still feel quite lightweight.
Comfort
The headband is highly adjustable, so you can get a custom fit and don't have to worry about the headband sliding backward or forward during use. That said, the headband's padding is a little thinner than on some competing models, which can make them a bit uncomfortable to wear for longer periods of time, for more sensitive users.
Sound
The H900N offers excellent sound quality, even above its price tag. It has a 5 Hz to 40,000 Hz frequency response for crystal clear treble, mids, and bass.
If you enjoy bass-heavy music, you'll appreciate how these headphones can keep a tight control over the bass, so the sound isn't too boomy and distortion is kept at bay.
The overall output at every frequency allows you to hear even older vinyl with fine detail, so you'll get a totally new listening experience.
The H900N can also be used with a headphone amp, when the cable is plugged in. Using an amp, combined with your turntable, gives you more juice, so you can listen at an even higher volume.
These headphones offer an outstanding performance on their own, but if you believe the louder the better, then an amp or receiver are both great ways to really boost the output.
Noise Canceling
Noise canceling headphones are a must, if you like to concentrate c completely on your music, whether you listen at home or on the go. Noise canceling technology prevents both sound leakage and ambient noise from interfering with your listening experience.
This feature works to essentially pull you into your own world. People talking, kids yelling and playing, the TV turned up, nothing will interfere with your soundscape.
If you're tired of listening to music with your surroundings competing for your attention, the noise canceling in these headphones is good enough that you can enjoy a listening experience that's completely free of distraction, so you can listen to your music the way it was meant to be heard. Simply turn on the digital noise canceling and ambient sound mode and use the touch sensor control panel to control what you hear.
Battery Life
Of course, with a wireless model, you're at the mercy of the battery. Yes, with a corded pair headphones, you are tied down to your record player or other source of music, but you can listen for as long as you like, without the headphones dying on you.
Sony has created a design that gives you the best of both worlds. You can listen in wireless mode until the batteries run low, then you can plug it in and continue to listen while the batteries recharge.
In terms of battery life, you easily get 28 hours between charges. But it does take approximately 6 hours to fully charge. However, you also have a quick charge feature. Ten minutes of quick charging gives you 65 minutes of playback time.
When placed in standby mode, the battery holds a charge for 200 hours, if the noise canceling feature is disabled. With the noise canceling feature on, it will stay charged for 48 hours.
As mentioned, this model supports passive playback. This means, even when the battery is dead, you can connect the cable and continue to enjoy your favorite tracks, as loud as you want.
Cable
The cable is durable and straight, not coiled, so it doesn't have any extra give. If you want to upgrade and purchase a longer cable, the manufacturer offers a variety of cables to choose from in different lengths and styles.
Pros
Lightweight design
Durable
Highly portable
Wireless
Can be used with any type of turntable when it's plugged directly in via the cable
Long battery life
Cons
Thin padding on headband
Small ear cups
Wireless mode may not be compatible with all types of turntables
Sony H900N Vs Behringer HPM1000 Headphones
If you're on a budget and looking for a more affordable model, then the Behringer HPM1000 headphones offer a great, lower priced alternative. They are nowhere near the Sony in terms of quality and features, but they are cheap.
The Behringer model does have an ultra-wide frequency response, a high dynamic range, and oval shaped ear cups for improved comfort. They are hardwired, so you can't use them wirelessly. If you're only using them headphones for your turntable, this may not be an issue.
The HPM1000 can be used to listen to a variety of genres and can handle bass fairly well for the price, though not nearly as well as the Sony. They can also be used for monitoring, recording, and mixing. Considering the extremely low price, the HPM1000 is impressive.
But they don't come anywhere close to the Sony pair in terms of sound power and clarity. They also aren't as comfortable or durable and they do not have noise canceling.
If you only have a limited amount of money to spend, the Behringer headphones are a good choice. But if you can afford to pay more, get the Sony. They are in a completely different league.
Read our full Behringer HPM1000 review for more information.
Sony H900N Review: Conclusion And Rating
Sony has done it again by designing a high quality, versatile model that you can use around the home wirelessly or corded. Add in noise cancellation and the Sony H900N headphones are among the most versatile headphones on the market.
When in wireless mode, they'll only work with compatible devices, but you can always just use the included cable and plug right into the headphone jack on devices that do not have wireless capability.
The H900N offers excellent sound quality, a comfortable and adjustable fit, a durable but lightweight design, and portability. A long battery life and a quick charge feature round out an excellent set of features.
These are incredibly headphones and they get a Top Record Players rating of 5 out of 5.