Suitcase record players are many things.
Well-made is not one of them.
They are portable, convenient, and cheap. But they are cheap both in price and in quality.
For that reason, it is not uncommon to have issues with these players.
And one of the most common issues is skipping.
If your Victrola suitcase turntable keeps skipping, there are a number of possible causes.
Keep reading for a rundown of the most common causes of skipping in a suitcase turntable, plus tips of fixing the issues.
Victrola Suitcase Record Player Troubleshooting
If your record player is skipping, the first thing to try is a different record. If playing other records fixes the issue, then the problem is obviously with the vinyl record. Most skipping issues come down to the record, so let's start there, before moving on to issues with the player itself.
Problem With The Record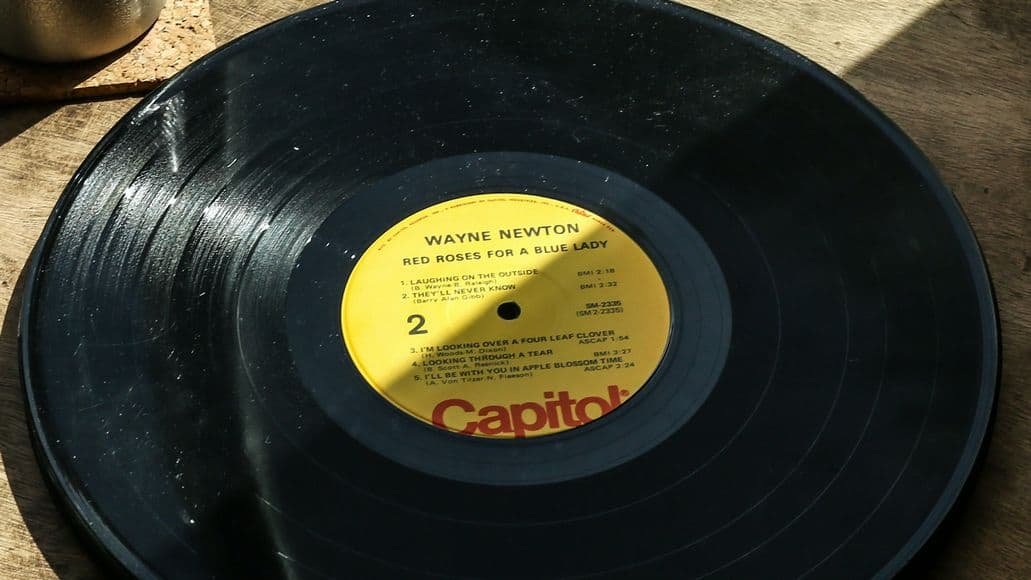 There are a two main issues that can cause a record to skip. The first is dust, grime or other debris on the surface of the record and the second is a warped record.
Dust And Other Nonsense
Whenever your record is skipping on any record player, not just a Victrola suitcase player, the first place to look is the physical media. As somebody who has more than a few 20+-year-old records, I know from experience that dirt, dust, and other debris can land on and settle in your record grooves over time.
Even if the record is stored properly, there can still be an accumulation of dust or other nonsense that settles in the grooves. The most common issue I have when I acquire an old record is that it is filthy.
Even if the previous owner did a good job of storing it or not letting it get scratched, it never surprises me how often people put their dirty Cheeto-coated hands-on records. Just stop! Don't touch the vinyl!
Sharp Warps
Now and then you will come across a record that has a nasty warp on it. I can't figure out how these get there. If I had to guess, I'd say maybe the record was scorching hot and somebody lifted it from the edge and it makes a finger indent on the first couple of songs. If your record is warped, you will definitely get some skipping or skating.
Vibrations
I need to get this out of the way, and I apologize in advance. Portable suitcase-style record players are generally some of the lowest quality record players on the market. They are never well made. They are more like toys than audio equipment.
Are suitcase record players bad without exception? Yes, if you use them to play prized albums. There is too high a chance of scratching or other damage.
But that does not mean these players are useless. There are good reasons to buy them, as long as you know what you are getting. Put simply, they are not made to actually play records properly.
Any vibrations in the environment can cause them to skip, because the suitcase chassis actually acts as a vibration amplifier, in the same way that a closed dust cover amplifies vibrations on a real record player.
You already know these units are not well made, so I am not telling you anything new. Just remember as you troubleshoot the skipping issue that you are using what is essentially a toy to do the job that audio equipment is specifically designed for.
In other words, it's amazing these things don't skip on every record all the time. To fix the vibration issues:
Place the unit on foam or silicone mat.
If you are using external speakers, make sure the speakers are not resting on the same surface as the record player.
If none of that works, the issue may not be the vibrations.
Tonearm Rest Too High
The little plastic thing on which the tonearm rests when a record is playing will frequently be just a tiny bit too high. This happens because the tonearm is too light and the rest below it needs more weight to push it all the way down.
This is a known issue with these Victrola suitcase-style players. It is a simple fix, thankfully.
Just push the tonearm lever down so that the tonearm and the tonearm rest are in the down position.
Once the tonearm is down and the rest is down, gently push down on the tonearm rest until it goes all the way to the seated position.
If that does not work, there could be some debris under the tonearm rest that is forcing it to stay up higher than it needs to. If this is the case, you can tape a penny to the tonearm to keep the stylus on the record and avoid it bouncing. This is bad for your records, though, so please try to avoid it.
Platter Too Small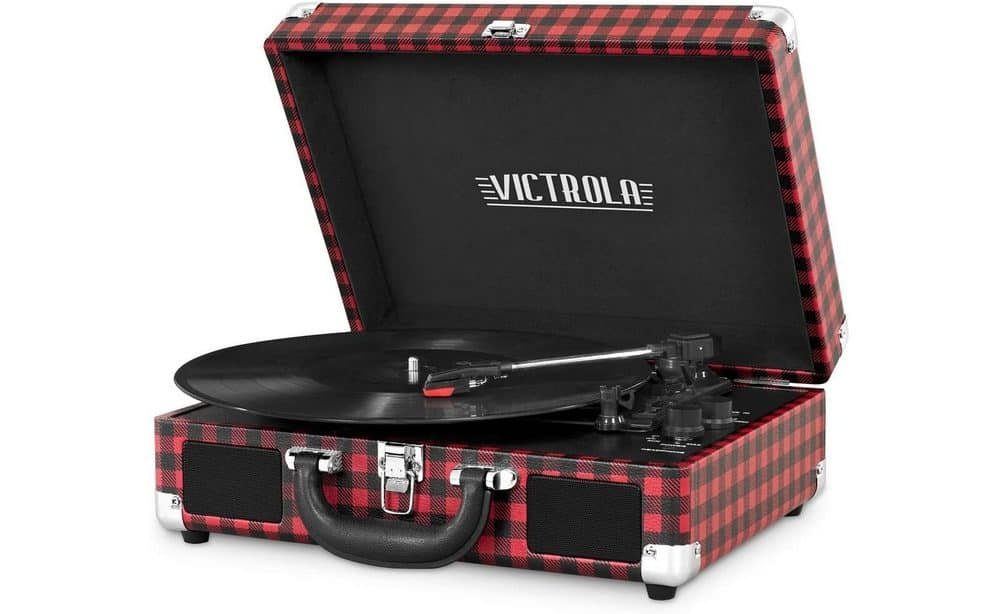 These units are made to be compact and easy to carry around. As a result, the platters are way too small for the records.
This causes more than just a skipping issue, but for now, let's focus on the skipping. You see, the outside half of the record has nothing to rest on so it will wobble more than if it was sitting on a platter that was 10 or 12 inches in diameter.
A possible solution is to buy heavier records. For example, there are 200 gram and 180 gram vinyl records (standard records weight 120 to 160 grams). As a result of their thicker build, these record are more resistant to warping. Of course, a much better solution is to get a new record player that does not cause record to warp.
Usually, when a record gets warped, it is the outer section that gets the worst of it. There are high-end turntables that come with special spindles, and they have a record compressor that you can screw down which flattens the record more. Sadly, this is not an option here.
There is a fix, but it is pretty silly (but it works).
Make a cardboard disc and put a hole in the middle.
Place the disc on the platter.
Play the record.
This will only work if your record is warped toward the outer edge (first couple of songs).
Stylus Too Worn Down
This one is unlikely to happen very often with a suitcase-style machine, because the machine itself is usually broken before the stylus gets worn down. However, it does happen from time to time.
When the stylus gets worn down too much, it causes there to be less spring in the cartridge. The stylus is not only the thing that transfers the vibration in the grooves to the wires and then to the system, but it also acts as a lever between the tonearm and the record.
When the stylus gets too short, the cartridge and headshell get too close to the record and simultaneously there is less give in the cartridge. This causes skipping, especially on big bass hits or other deep grooves.
To fix this:
Remove the cartridge.
Replace the cartridge with a new one.
A word of advice here. Cartridges can be expensive, so if you are going to buy a good cartridge, please consider buying a better record player or you will be wasting your money. Just buy a cheap cartridge to replace the one that comes with your suitcase unit.
Warped Platter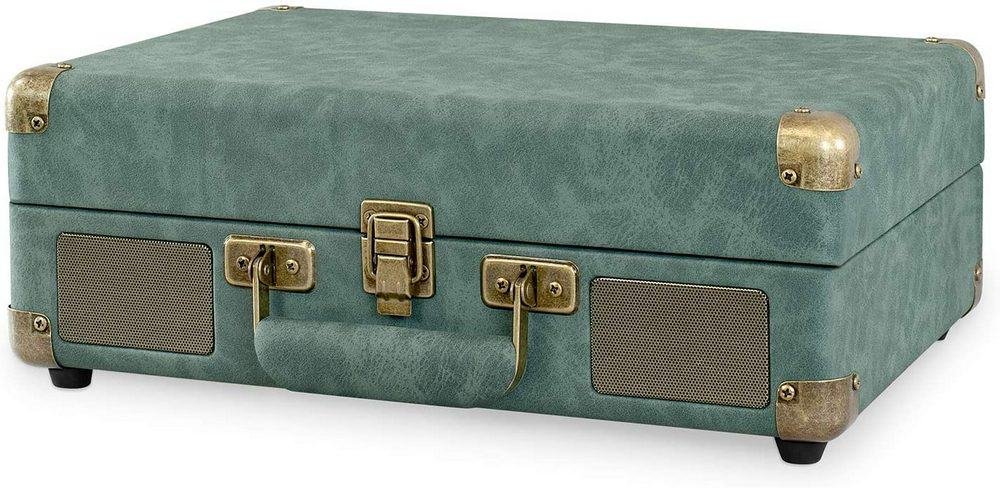 This happens fairly often, but it is usually a subtle warp. The plastic platters that come on these cheap players are often warped from the heat during shipping. There is no real way to fix this, since paying for a replacement platter seems unreasonable when you do a cost analysis. See the next section for my best advice.
How To Fix Victrola Record Player Skipping
I gave you a quick fix for each of the potential issues above, apart from the warped platter. There is no fix for that, since buying a new one costs almost as much as a new suitcase turntable itself. For that reason, my best advice is actually to not fix these players at all.
Skipping is not the only common issue. A lot of owners report their Victrola record player won't turn on within a few months of getting it. That is generally an easy fix, but why should you have to troubleshoot something like that at all?
I would urge you to save up a little more money and purchase a better turntable. Records cost 25 bucks now and these record players cost close to $100 usually. If you were to spend about $350, you could get a nice turntable that will not damage your vinyl. It will also sound so much better.
Victrola Record Player Keeps Skipping: Final Thoughts
Cheap suitcase record players from brands like Victrola or Crosley are prone to issues like skipping. It is not uncommon at all. In fact, it is more likely that you will have this problem with your Victrola suitcase record player than not.
If yours is skipping, my best advice is always to spend a bit more and get a better record player. If that is not an option, hopefully one of the fixes above remedies the skipping problem for you.